A week after becoming the last-ever Pro Stock Motorcycle race winner at Denver's Bandimere Speedway, Vance & Hines/Mission Suzuki rider Gaige Herrera became the first-ever Pro Stock Motorcycle winner at the Flav-R-Pac NHRA Northwest Nationals at Pacific Raceways in Kent, Washington, on Sunday.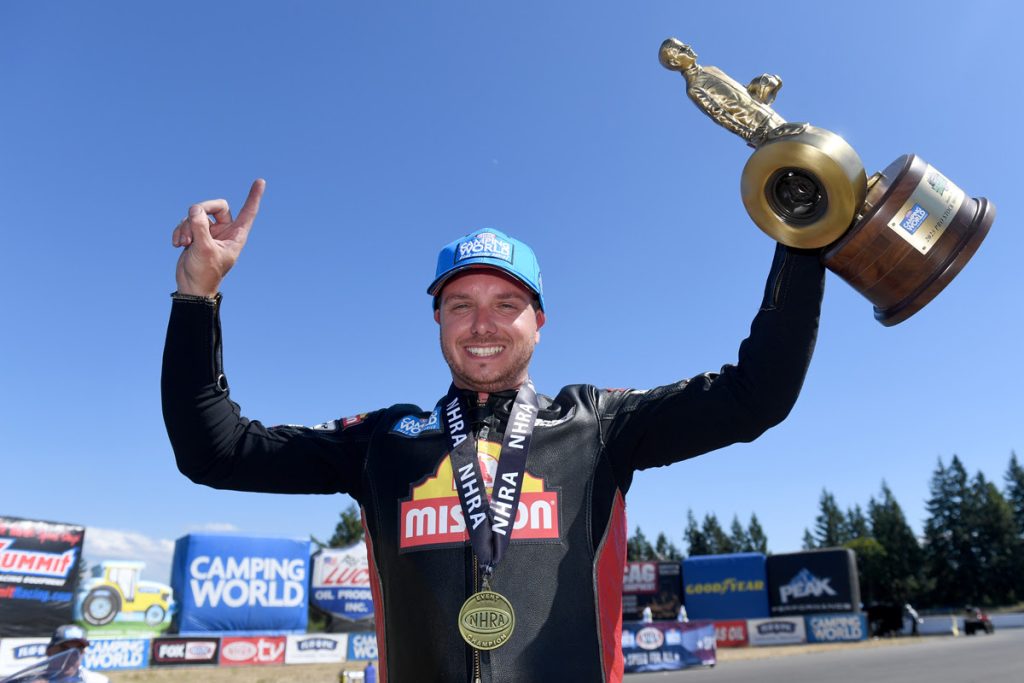 Picking up where he left off last week in Denver, Herrera qualified his Gen 3 Suzuki Hayabusa in the number one position for the sixth time this season with a 6.767-second/198.09 mph run. That pass set the first elapsed time track record at Seattle-area Pacific Raceways, where the Pro Stock Motorcycle class raced for the first time this weekend. During Saturday's qualifying rounds, Herrera also won the Mission Foods #2Fast2Tasty Challenge, a specialty race that pits the semi-final round winners from the previous race against each other in the first and final rounds of qualifying for additional prize money and bonus points.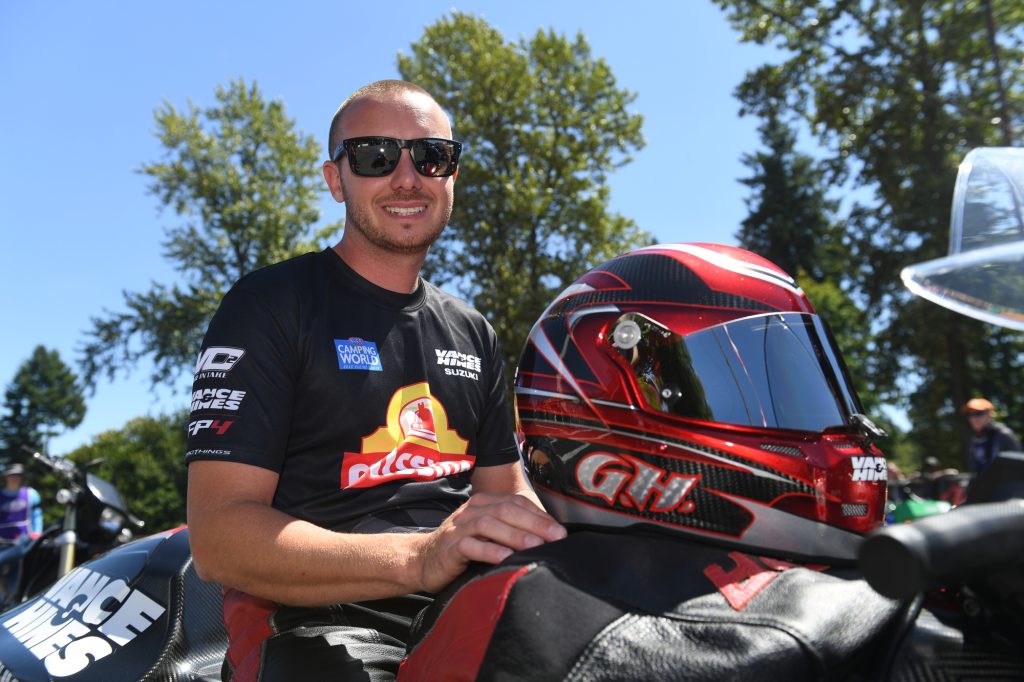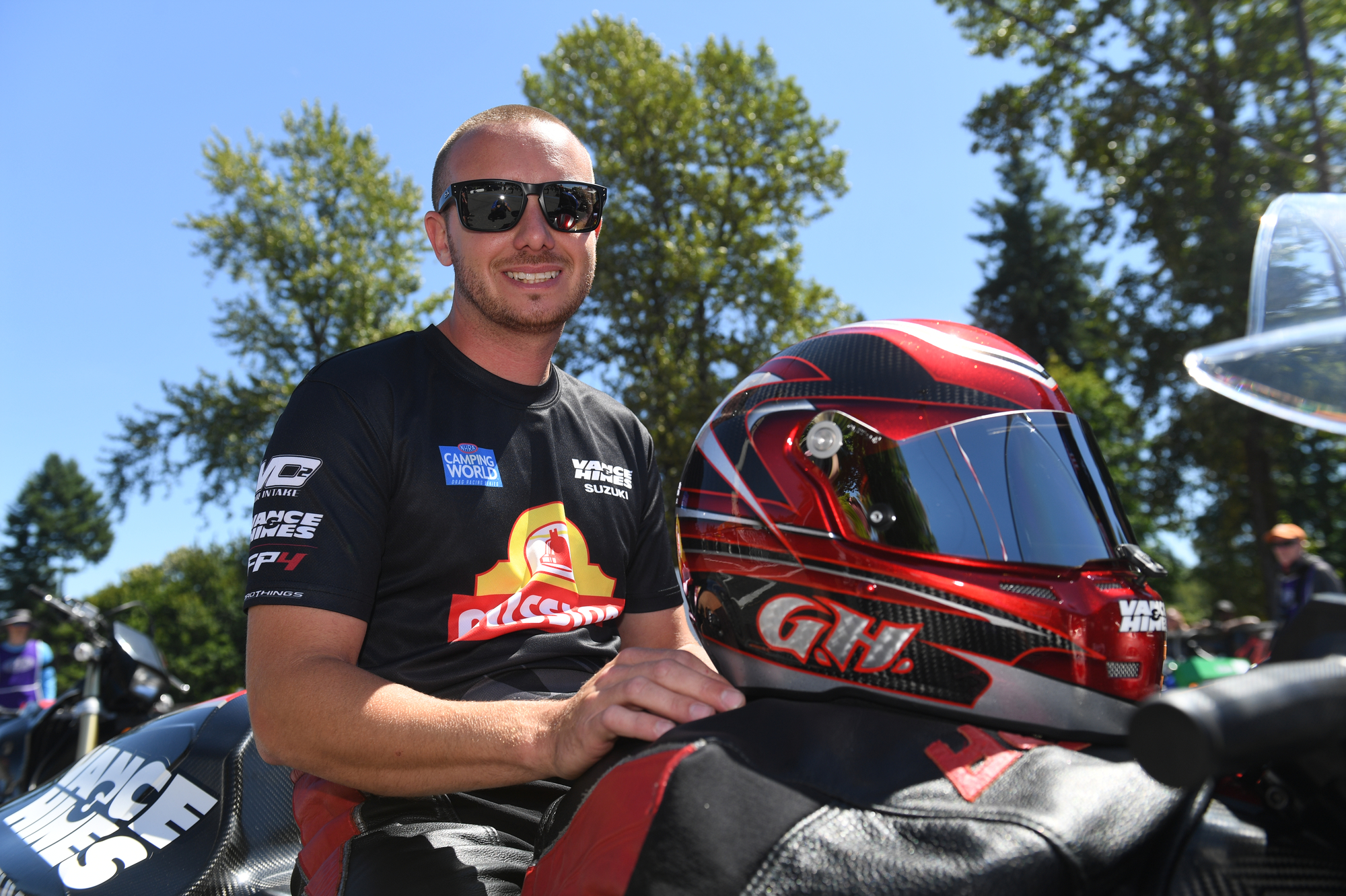 Continuing the dominance he has displayed throughout his breakout rookie season, Herrera swept through the field on Sunday, beginning in the first round by knocking off Lance Bonham, who fouled at the starting line, with a 6.729-second/197.36 run that lowered his existing track record. Herrera next ran 6.780 seconds at 199.08 mph in a solo bye run in the second round to advance into the semi-final round against Hector Arana, Jr. That matchup produced his closest competition of the weekend, with Herrera coming on top with a 6.825-second/197.16 mph run over Arana's 6.852-second/197.80 mph pass.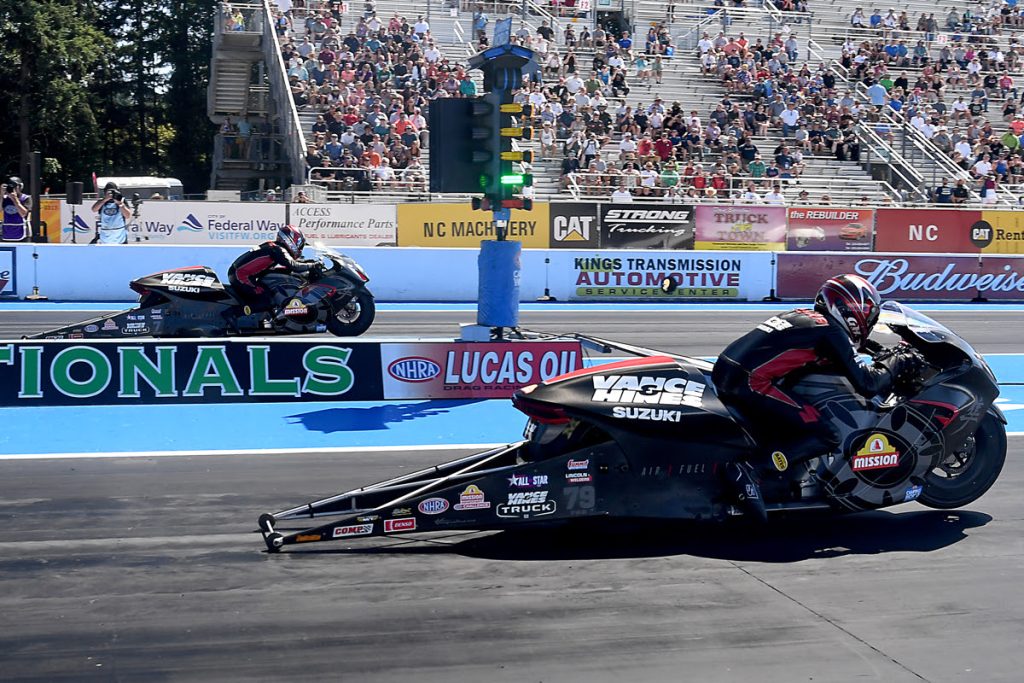 In another first, the semi-final victory set up the first final round matchup ever between Herrera and his Vance & Hines/Mission Suzuki teammate Eddie Krawiec, who was vying for his 50th career win. But proving there are no "team orders" in the Vance & Hines camp, Herrera powered away with a 6.764-second/198.99 mph run to win his fifth race of the season and deny Krawiec (6.809-seconds/198.85 mph) the milestone. In doing so, Herrera kept alive his chances of becoming the first Pro Stock Motorcycle rider to sweep the NHRA's fabled three-race Western Swing that began in Denver and concludes next weekend at Sonoma Raceway in Northern California.
"Starting off by qualifying number one and two was awesome for the whole Vance & Hines/Mission Suzuki team, and then for us both to meet in the finals, it can't get any better than that. It was a great race against Eddie, and I'm happy to come out on top against someone I consider one of my teachers. I'd rather he win his 50th against someone other than me! It's a final I'll never forget," Herrera said. "Now we'll put our heads down and see what we can do in Sonoma. It would be awesome to sweep the Western Swing, but I'm treating each race as they come. In drag racing, anything can happen."
After exiting the last three races with consecutive second-round losses, Krawiec sought redemption in Seattle and found it by qualifying in the number two starting spot with a 6.776-second/198.82 mph run and advancing to his first final-round appearance of the season.
En route to the finals, Krawiec defeated Ryan Oehler (6.847 seconds/198.26 mph vs 6.931 seconds/194.24 mph), Chase Van Sant (6.821 seconds/198.23 mph vs. 6.860 seconds/195.96 mph) and defending champion Matt Smith (6.865 seconds/197.54 mph vs. no time) in the first three rounds.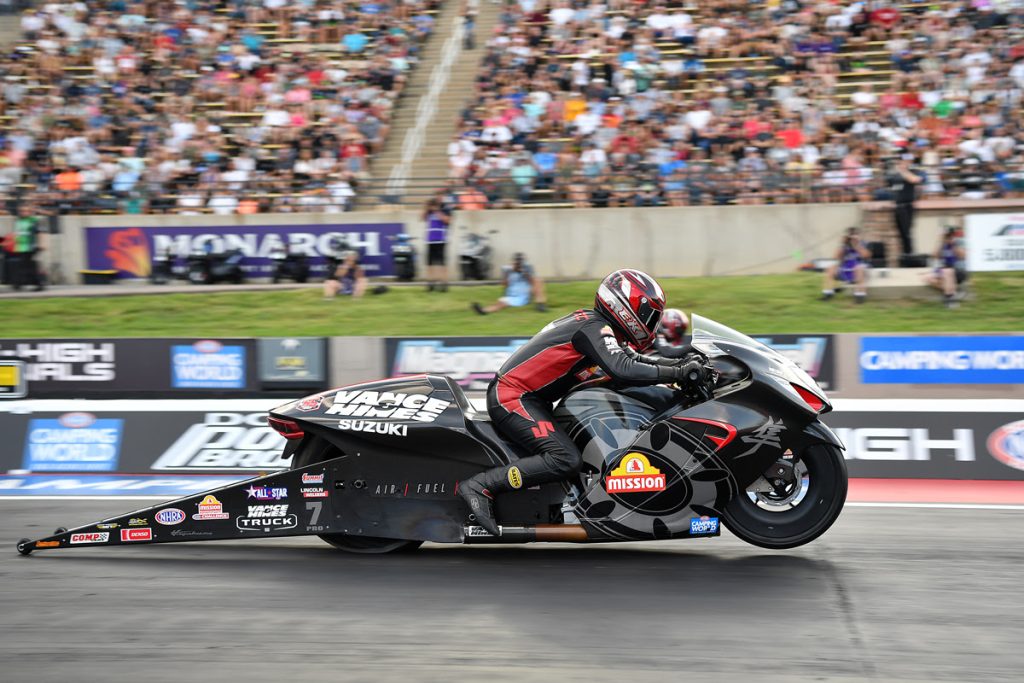 The four-time Pro Stock Motorcycle champion was hoping to earn his 50th career NHRA win, but victory eluded him in the form of Herrera and the fastest Hayabusa in the class. Krawiec's 6.809-second/198.85 mph pass was simply no match for his red-hot teammate's 6.764-second/198.99 run, but Krawiec's result boosted him to third in the championship points standings and puts him solidly back into the competition frame.
"Everything was forward progressing today. Gaige and I put both bikes in the final and it was a team win, so overall it was a great day and helped me greatly in the points," Krawiec said. "To be quite honest, I should have more results like this. I have a fast motorcycle, but I'm still struggling a little bit on the starting line, so I need to work on getting it to react better off the starting line. That will be my focus in Sonoma."
Vance & Hines/Mission Suzuki crew chief Andrew Hines was elated by the team's near-perfect performance this weekend.
"It's fantastic to leave the track with the number one qualifier and race winner hats, all the prize money, and the pride of winning the first time Pro Stock Motorcycles have raced here in Seattle. We had to change the engine on Gaige's motorcycle between rounds one and two. It was the first time we've been under pressure like that for an engine swap in a while and we got it done and made another good lap second round. It's fantastic to reap the benefits of how hard our Vance & Hines/Mission Suzuki team works," Hines said. "We're going for the full sweep next week in Sonoma. There are really five races on this swing with the three Wally races, the Mission Foods #2Fast2Tasty Challenge here, and the All-Star Callout coming in Sonoma. We're trying to win them all."
After seven of 15 rounds, Herrera and Krawiec currently sit first and third in the Pro Stock Motorcycle championship standings with 796 and 483 points, respectively.
The Vance & Hines/Mission Suzuki team is back in action July 28-30 at the DENSO NHRA Sonoma Nationals at Sonoma Raceway in Sonoma, CA.
There are more videos on the Cycledrag Youtube channel (please subscribe here) and the Cycledrag Facebook page (Please like here) and more will be coming soon. Check back daily.