Vance & Hines' Eddie Krawiec won for the first time in 2021 in Pro Stock Motorcycle, and it came through at the biggest event of the season, the prestigious 67th annual Dodge//SRT NHRA U.S. Nationals at Lucas Oil Raceway at Indianapolis.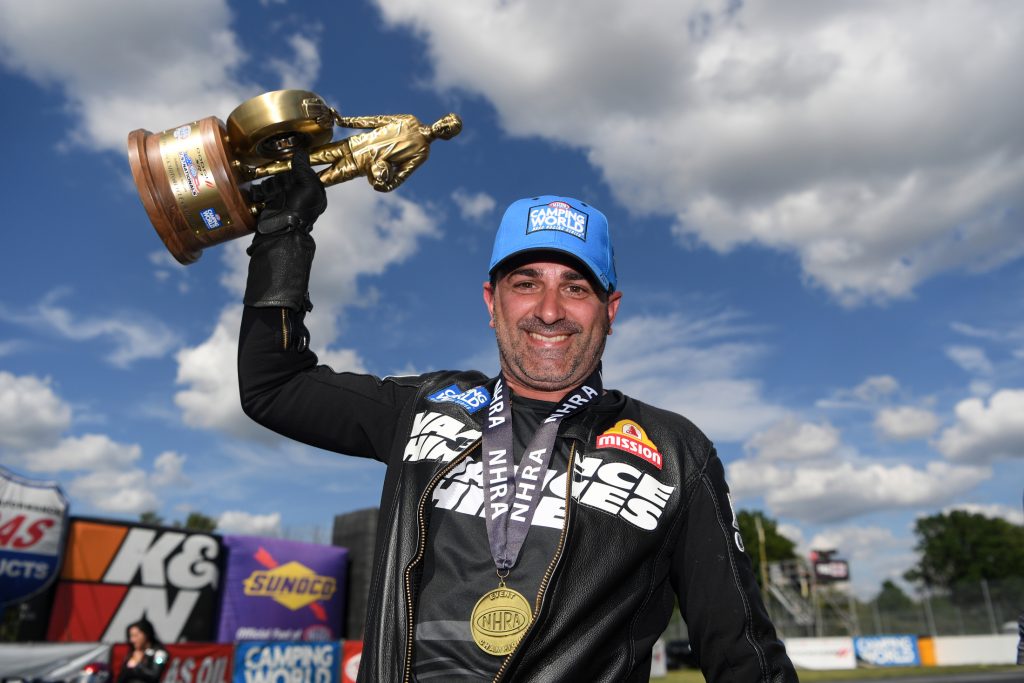 Krawiec had an impressive weekend at the ideal time, picking up his first victory of the season by taking out Vance & Hines teammate Angelle Sampey in the final round with a run of 6.844 at 198.58 on his Buell. Krawiec qualified No. 1 for the first time this season and then rode that momentum to the winner's circle for the 49th time in his standout career. He also won for the third time at the Big Go, taking out teammate Andrew Hines, Michael Phillips and Joey Gladstone to reach the final round. He raced past Sampey and appears to be rolling at the perfect time, heading into the playoffs fourth in points thanks to his tremendous Indy showing.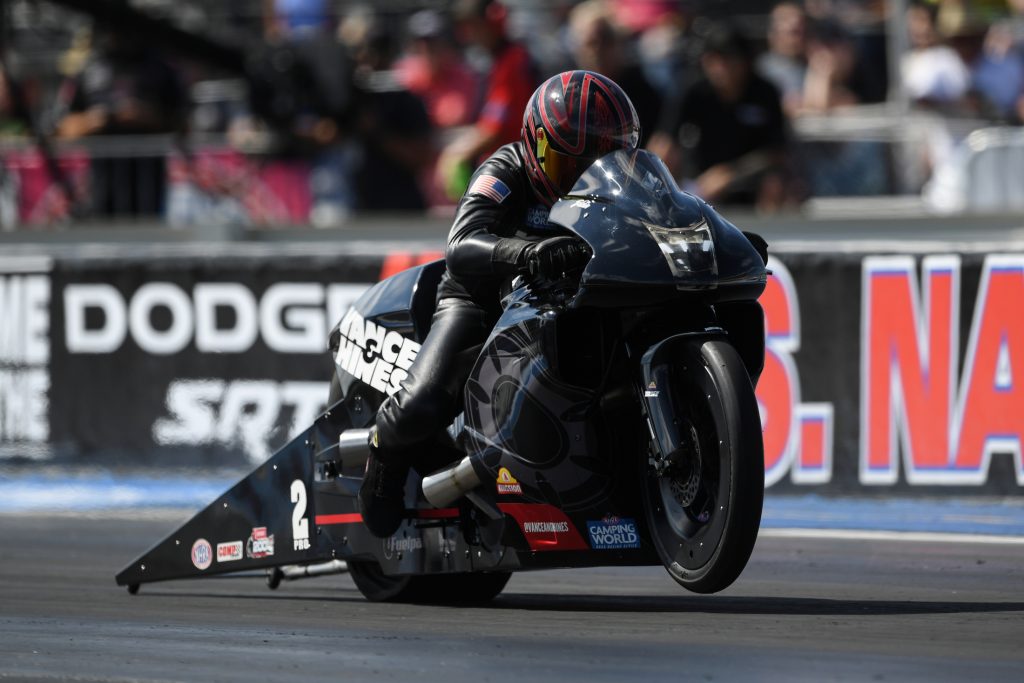 "It was a little bit of luck, a little bit of good and hopefully things just fall your way," Krawiec said. "We came out with the No. 1 motorcycle right off the trailer and second round was my lucky round. In the final round, I knew we had to be good and I was just excited. We're back in (the class) and that feels good. To get two team bikes in the final round, that was something special. This is a true Vance & Hines win and it's really cool to do that for everybody. It's just really great to get this."
Sampey reached the final round for the second straight race and 76th time in her career, knocking off Cory Reed, Steve Johnson and defending event winner Scotty Pollacheck. Defending world champ Matt Smith will enter the playoffs with the points lead and Johnson is second.
The NHRA Camping World Drag Racing Series returns Sept. 9-12 with the Mopar Express Lane NHRA Nationals presented by Pennzoil at Maple Grove Raceway. It is the first race of the Countdown to the Championship playoffs.
PRO STOCK MOTORCYCLE:
ROUND ONE — Michael Phillips, Suzuki, 7.092, 190.11 def. Karen Stoffer, Suzuki, Foul – Red Light; Joey Gladstone, Suzuki, 10.891, 74.60 def. Angie Smith, Foul – Red Light; Angelle Sampey, Suzuki, 6.835, 194.30 def. Cory Reed, Suzuki, 6.979, 192.47; Scotty Pollacheck, 6.846, 196.93 def. Ron Tornow, 7.217, 186.43; Hector Arana Jr, 6.878, 196.70 def. Jianna Salinas, Suzuki, 7.063, 186.79; Steve Johnson, Suzuki, 7.044, 185.56 def. Marc Ingwersen, Buell, 7.163, 188.15; Eddie Krawiec, Buell, 6.848, 198.38 def. Andrew Hines, Buell, 7.199, 195.56; Ryan Oehler, 7.020, 192.91 def. Matt Smith, 9.692, 89.33;
QUARTERFINALS — Gladstone, 7.004, 191.73 def. Arana Jr, Foul – Red Light; Krawiec, 9.685, 90.68 def. Phillips, Foul – Red Light; Pollacheck, 6.881, 196.24 def. Oehler, 7.043, 192.44; Sampey, 6.806, 196.16 def. Johnson, 6.843, 196.16;
SEMIFINALS — Krawiec, 6.918, 198.12 def. Gladstone, 6.936, 192.17; Sampey, 6.831, 194.18 def. Pollacheck, Foul – Red Light;
FINAL — Krawiec, 6.844, 198.58 def. Sampey, 6.880, 195.51.
Pro Stock Motorcycle
1. Matt Smith, 864; 2. Steve Johnson, 638; 3. Scotty Pollacheck, 606; 4. Eddie Krawiec, 588; 5. Angelle Sampey, 583; 6. Ryan Oehler, 520; 7. Joey Gladstone, 498; 8. Angie Smith, 480; 9. Karen Stoffer, 478; 10. Andrew Hines, 429.
There are more videos on the Cycledrag Youtube channel (please subscribe here) and the Cycledrag.com Facebook page (Please like here) and more will be coming soon. Check back daily.