VANCE & HINES HEAVY DUTY HAYABUSA CAM CHAINS
Vance & Hines Motorsports Hayabusa Cam Chains are produced from the strongest and finest steel available. Recommended in all high performance street and racing applications. Cam Chains do wear and need to be replaced anytime an engine is rebuilt.Available in 3 different lengths to suit stroker cranks, long

Vance and Hines Cam Chain from Schnitz

rods, or thick base plate/gasket engines.

136 Pin – Stock crankshaft and up to .080″ baseplate
138 Pin – Stroker crankshafts up to 9mm and up to .180″ baseplate
140 Pin – Stroker crankshafts over 10mm and up to .300″ baseplate
ECU REFLASHING YAMAHA YZF-R1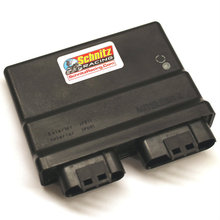 Schnitz Racing now offers ECU Reflashing for the Yamaha YZF-R1 to increase performance and removed OEM/government restrictions.Most new motorcycles are restricted in one or more of the following ways:
Decreased Ignition Timing at High RPM and/or Lower Gears (1-2-3-4)
Limited Hard Acceleration by Restricting Secondary Throttle Blade Opening
Reduced Peak Power Output by Limited Ignition Timing and/or RPM
Top Speed Limit or High Gear RPM Limits
These restrictions are used to control power output to allow easier control of the motorcycle for street conditions. However, these will limit the full potential of engine for racing use.  Allow us to eliminate these restrictions and allow your engine to run the way it should.
FLO LIFETIME REUSABLE STAINLESS STEEL OIL FILTERS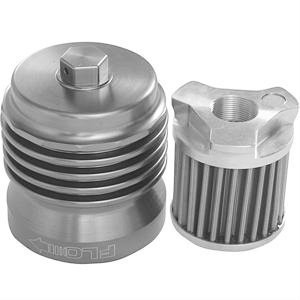 This should be the last oil filter you will ever buy! The FLO Reusable Oil Filter is made from laser cut, medical grade, 304 stainless steel micronic filter cloth, this filter provides 200% more filter area in many cases.Our stainless filter catches items down to 35 microns, which is about 3 times better than most good paper or brass filters. Unlike glued paper filters, the FLO Oil Filter pleat seam is welded and able to withstand up to 600 degrees.
SCHNITZ 750cc HAYABUSA FUEL INJECTOR KIT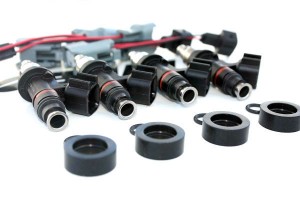 These injectors incorporate a single hole disc-type fuel delivery nozzle with a wide cone spray for excellent fuel atomization.Features
Fits Stock/Schnitz Fuel Rails
Plugs Into Stock Harness with Plug and Play Adapters
Great for Turbo, Dry Nitrous, or Monster Motor Applications
Comes Complete with O-rings and Seals
Set of 4