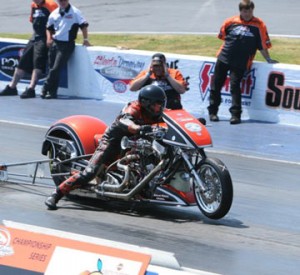 It took AHDRA Pro Fuel rookie Douglas Horne a mere five races to garner the first Nitro victory of his career.
AHDRA's youngest pro rider, Douglas Horne, 19,  didn't wait long to make a name for himself in the daunting Pro Fuel category. Horne, who was named the AHDRA's sportsman rookie of the year last season for his success in the V-Rod Destroyer class, earned his first ever Pro Fuel win in just his fifth attempt at the AHDRA Southern Nationals in Commerce, Ga. May 26-27.
"This is so much more than I ever expected in my first season.  I was just focused on riding safe, learning the basics and getting my feet wet. I hoped that maybe we could be a competitor by end of the season," Horne said.  "Now it's like an addiction. That win felt so amazing I want to feel it every weekend.  It makes everything from the thrashing, to the qualifying, to all the hard work, to the long drive home all pay off."
"I'm very excited and I'm very proud of Doug and the entire team for progressing so quickly," Horne's father and team member Steve said.  "Now that I see how much work is involved with a pro team I think that anybody who can even get their bike to fire up and make it to the starting line deserves a standing ovation from the crowd."
Horne qualified in the No. 2 spot with a 6.82 and defeated top qualifier Jay "The Bulldog" Turner in the final on the strength of a brilliant .017 light and 6.74 at 204 mph.
"We didn't get the lane we wanted but our clutch man Rex Harris put an incredible tune-up in the bike to carry us through," Horne said.
To facilitate the jump from the sportsman class to Pro Fuel Horne Racing hired one of the most respected builders in all of Nitro Harley racing – two time defending Top Fuel champion Mike Romine.
"Mike has built us a very reliable machine and has been a tremendous help," Horne said. "After every race he takes the bike home and goes over it to make sure everything is safe."
Horne says Romine is not only the man who constructed his Nitro V-Twin, he's also a valuable mentor.
"He has been helping me the whole way.  You can never learn too much from a guy like that," Horne said. "He explains to me how to ride it, how to move my body, how to cut lights, what to do if I get in trouble. He's been a huge help."
The team has also utilized the vast drag racing knowledge of former NHRA Pro Stock racer and father of Horne Racing team rider L.E. Tonglet, Gary Tonglet, Sr. At the Southern Nationals even former Vance and Hines/ Screamin Eagle Pro Stock standout G.T. Tonglet was on hand to offer guidance and assistance.
"Gary has given me so much support and has taught me so much on the Destroyer. They have really taken me under their wings," Horne said. "G.T. and L.E. are two guys that have been there and I have changed my whole riding style because of them.  I'm hitting my lights and hitting my shifts much better."
"It's a great deal," Gary Tonglet said.  "Our families get along great. It's exciting to help these young guys out.  A lot of what we learned it Pro Stock carries over to Destroyer.  You aren't dealing with 300 horsepower but you are still tuning the bike and the rider to the track. The basic riding style is about the same. I watched some film of Doug and I saw him do a couple of things I didn't like on the launch.  Once he made changes we instantly got better short times."
Steve Horne said, "Everybody involved is really making this a winning effort."
Despite his recent success in the Nitro category much of Horne's passion still resides in the V-Rod Destroyer class.  Along with teammate L.E. Tonglet at least one member of the duo has appeared in each of the first five final rounds, and following the Georgia race the teammates rank No. 1 and No. 2 in the point series.
"We are just trying to prove a point to everyone who said we can't run them both," Horne said.  "I still love the Destroyer class and it makes me a better rider.  I'd love to be able to end the season No. 1 or No. 2"
Horne continued, "I want to thank my family, the Romine family, the Tonglets, Rex Harris and everybody involved. It's awesome."