Despite a strong start to the race, including a fifth-straight lockout of the top qualifying spot, a pair of upset second-round losses brought an early end to the competition for the Vance & Hines/Mission Suzuki Pro Stock Motorcycle team at the Summit Racing Equipment NHRA Nationals in Norwalk, Ohio, on Sunday.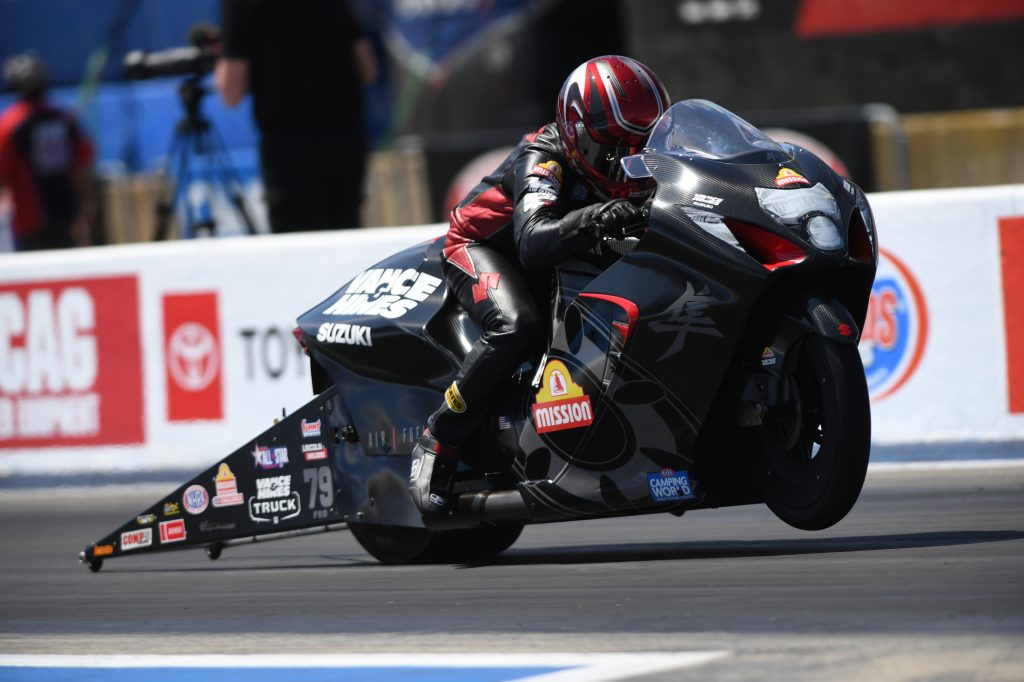 Race Highlights
Gaige Herrera qualified number one for the fifth race in a row, and reset the track elapsed time record but failed to advance out of the second round following a mechanical problem.
Eddie Krawiec qualified fourth and advanced to the second round, losing on a holeshot to Suzuki rider Steve Johnson, the runner-up finisher at Norwalk.
Gaige Herrera (79) sets elapsed time record at Summit Racing Motorsports Park.
Herrera came into the Norwalk round as the series points leader following a string of three straight wins to open the 2023 season, with a rare final-round loss two weeks ago at Bristol being the sole blemish to an otherwise perfect season. Picking up where he left off, Herrera rocketed to the top of the qualifying sheet in a rain-shortened session on Saturday, posting a 6.785-second/198.76 mph performance to extend his qualifying streak to five straight number-one starting positions.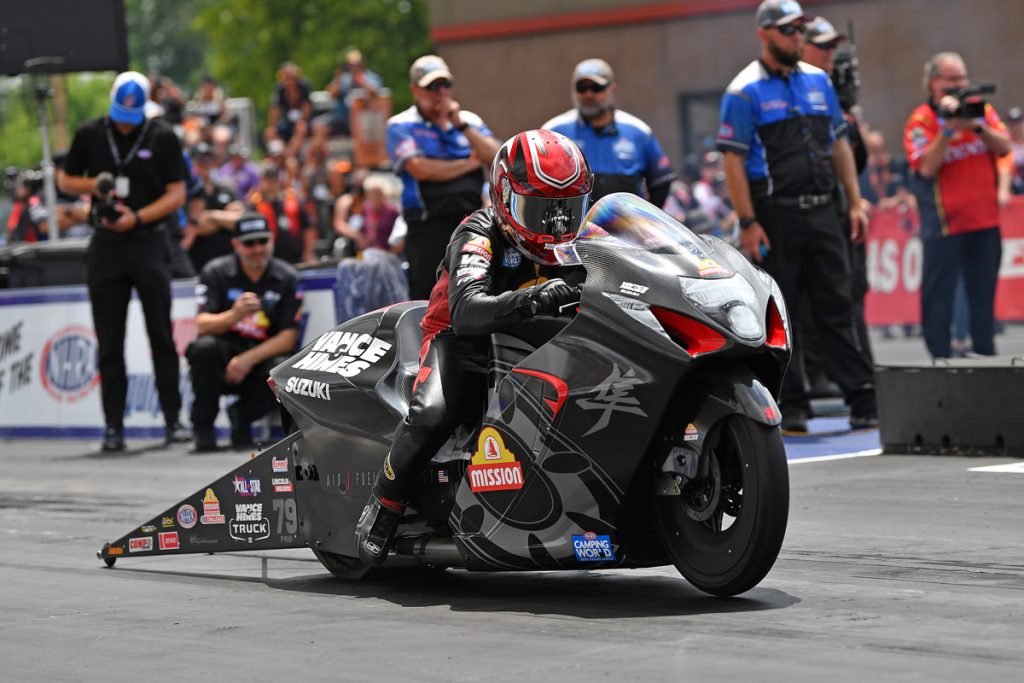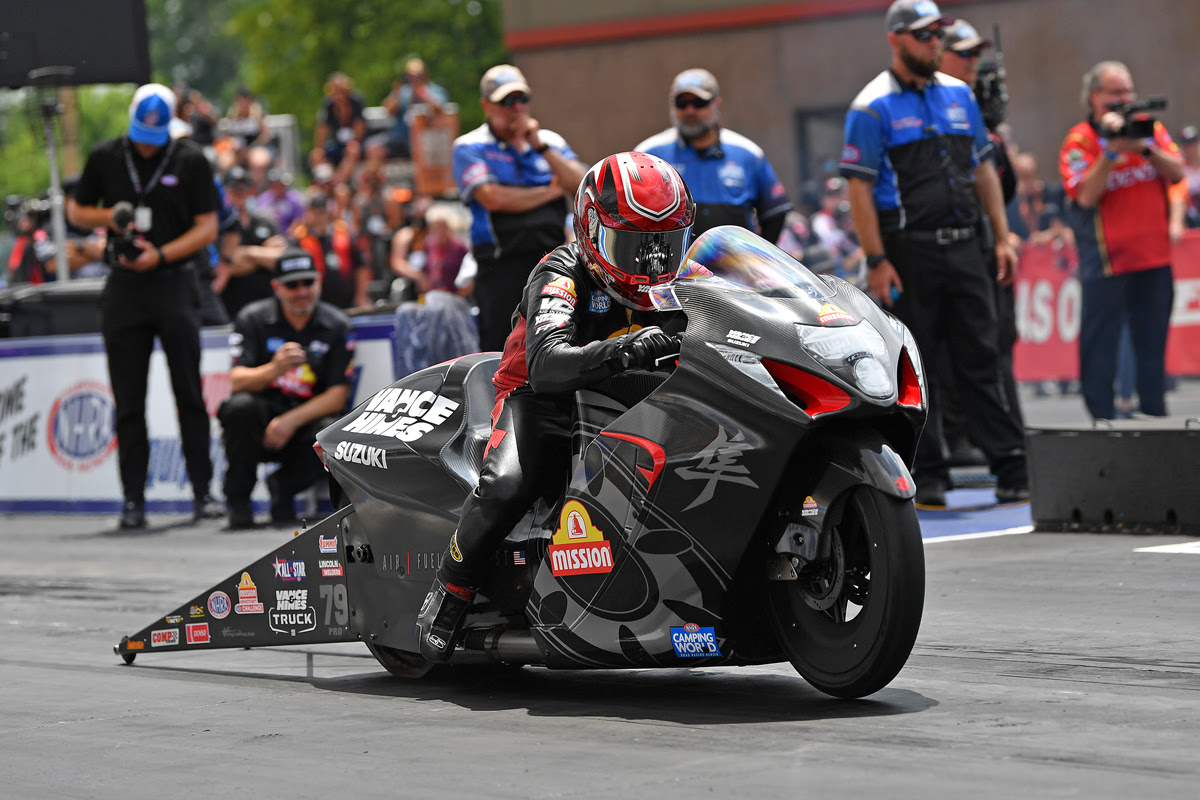 In round one, Herrera showed his Gen 3 Suzuki Hayabusa continuing to be the fastest motorcycle in the class by making an unopposed 6.777-second/199.88 mph bye run to set a new Norwalk track record, a feat made even more impressive considering rules adjustments that added extra weight to the Suzuki Hayabusas after each of the previous two races. However, disaster struck in round two, when an engine failure caused him to fall short to Jianna Evaristo, who advanced against him with a 6.897-second/196.02 mph run to Herrera's 6.988-second/189.76 mph pass.
"When I let go of the clutch off the starting line the motorcycle bogged a little bit. It felt like something wasn't right. I was hoping we would make it to the finish line and get the win, but unfortunately, we didn't," Herrera said. "However, we continued the streak of being the number one qualifier and ran great considering the extra weight, so overall I'm happy. I'm excited to go to Denver for the next round. I've been there, but I've never raced there."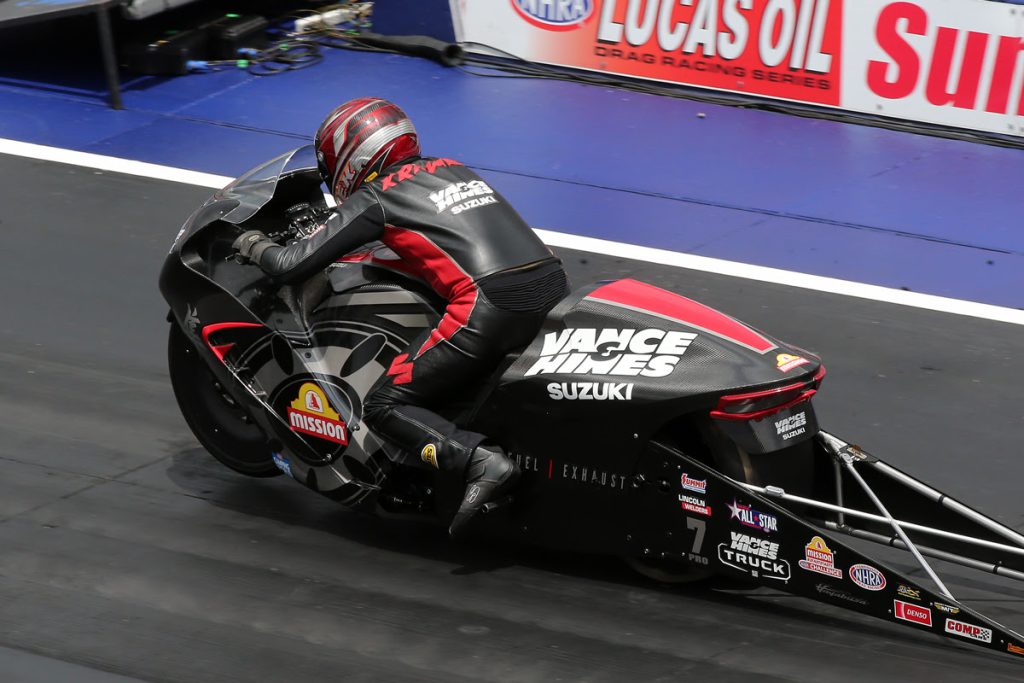 After finding more speed Eddie Krawiec (7) has positive takeaways from Norwalk, OH.
Eddie Krawiec came into Norwalk hoping to rebound from an early exit at Bristol, and Krawiec got off to a strong start by qualifying in the fourth starting position with a 6.827-second/197.71 mph run.
Finding even more speed on Sunday, Krawiec defeated John Hall (7.039 seconds/194.38 mph) in the first round with a 6.791-second/200.98 mph pass that was the second quickest of the round. But in a repeat of his second-round matchup in Bristol, Krawiec succumbed to a second consecutive holeshot loss to Steve Johnson's Gen3 Hayabusa. Krawiec's 6.793-second/199.67 mph run was scuttled by a slow starting reaction time, forcing him to watch Johnson advance with a slower 6.848-second/195.90 mph pass.
"I've been struggling to get off the starting line, so I need to analyze what I'm doing and get back to the basics," Krawiec said. "We made some changes coming into this race that resulted in better 60-foot times. It's a huge progression for my Hayabusa. It's a lot easier to tune and refine the package now, so I need to focus on cutting better, more consistent starting lights. We'll go to Denver next and continue to give it our best shot."
Vance & Hines/Mission Suzuki crew chief Drew Hines explained how rules adjustments have added a cumulative 15 pounds of additional weight to the Suzuki Hayabusas following the races at Charlotte and Bristol, the added weight resulting in more stress on their engines, contributing to the premature failure in Herrera's motorcycle.
"Unfortunately, we had an engine expire and didn't make it to the finish line. We're running our engines a lot harder than we have in the past. Revving and gearing them higher takes its toll, and in this case, a little earlier than we anticipated," Hines said. "We'll go to Denver and work off our notes from last year and try to get our Suzukis back in the winner's circle. It will be our last event there because they're shutting the track down after we're done with that national event. It will be bittersweet for us because that was our home track for Vance & Hines for many years, and I started my career there. I hope we will come out with a win."
After five of 15 rounds, Herrera and Krawiec currently sit first and fourth in the Pro Stock Motorcycle season championship with 552 and 328 points, respectively.



The Vance & Hines/Mission Suzuki team is back in action July 14-16 at the Dodge Power Brokers NHRA Mile-High Nationals at Bandimere Speedway in Morrison, CO.
There are more videos on the Cycledrag Youtube channel (please subscribe here) and the Cycledrag Facebook page (Please like here) and more will be coming soon. Check back daily.
To take advantage of some amazing discounts at Brock's Performance, click – http://brocksperformance.com?aff=12
USE cycledrag5 coupon code.