The 20th annual DENSO Spark Plug NHRA Four-Wide Nationals was a race to remember for Lucas Oil backed Hector Arana Jr., who picked up the win on his EBR amongst a quadrant of champions consisting of reigning champ Matt Smith, five-time champion Andrew Hines and four-time champion Eddie Krawiec. The win comes after NHRA penalized all v-twins by adding 15 pounds to the minimum weight in an attempt to maintain parity in the class.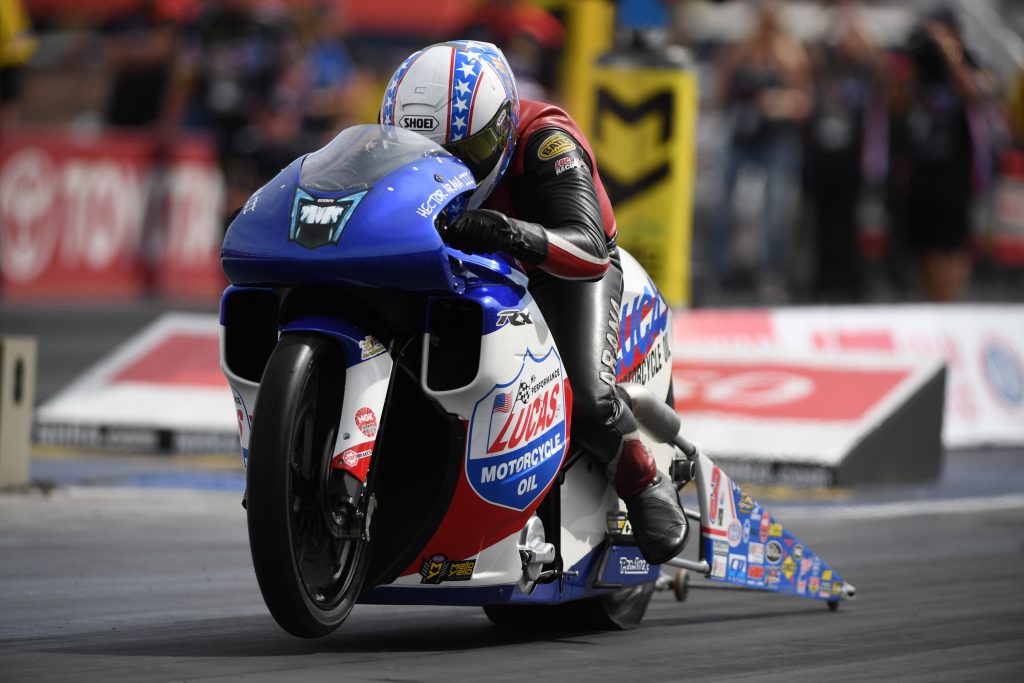 Fellow Lucas backed and v-twin rider M. Smith came in second as Hines broke on the starting line and Krawiec fouled out with his red light start.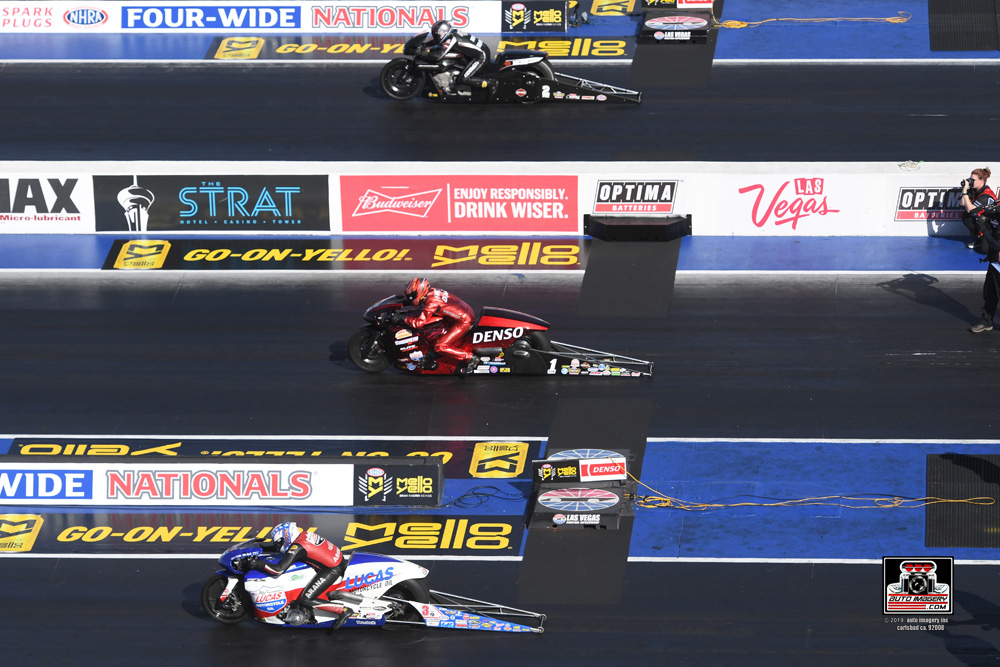 Arana Jr. cruised to a 6.907 at 195.97 to pick up his second win at the Strip at Las Vegas Motor Speedway facility.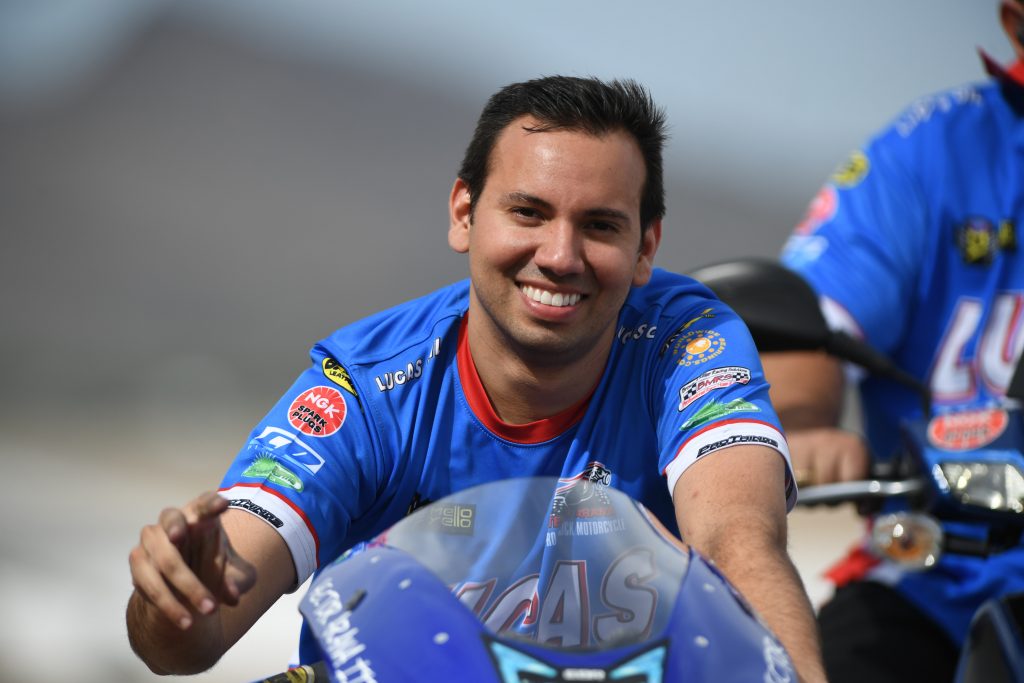 "That Lucas Oil motorcycle, she's bad to the bone," Arana Jr. said. "That's just a testament to my team and the consistency. We weren't the fastest but we were consistent all weekend. I worked on my lights and they got better and better and I stepped it up when I needed to step it up in the final because the final was stacked. I love going up against those guys. It makes me put out my best. It's just something about racing those guys that you just dig deep and really go for it."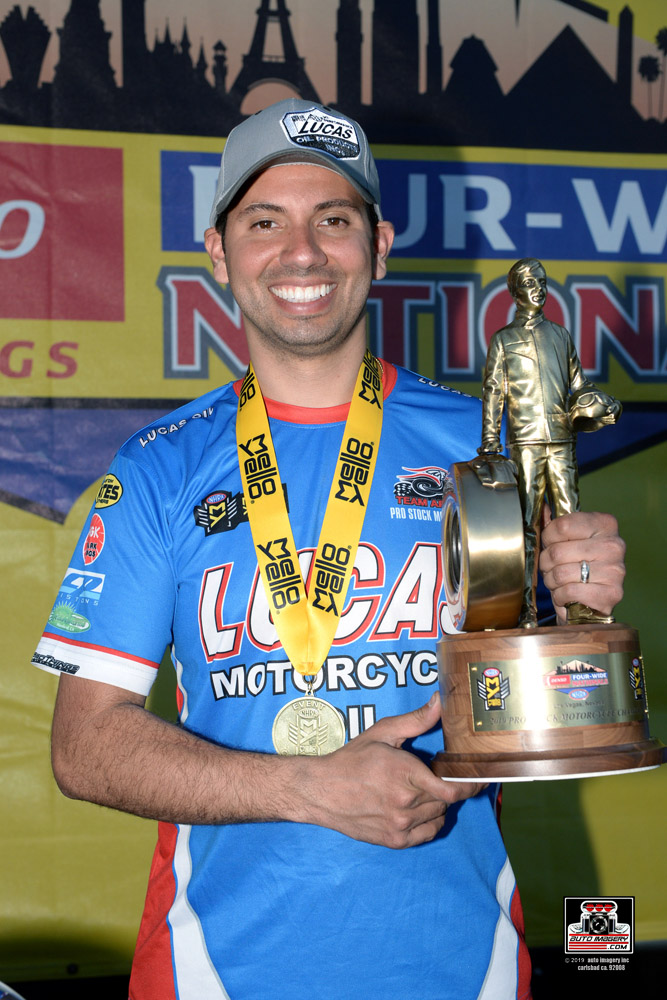 The NHRA circuit will travel to Houston to the Mopar Express Lane NHRA SpringNationals Presented By Pennzoil April 12-14 for the fifth race of the 2019 season. The Pro Stock Motorcycles will be off but the Nitro Harleys will be in action.
PRO STOCK MOTORCYCLE RESULTS:
ROUND ONE — Karen Stoffer, Suzuki TL, 6.942, 193.21 and Andrew Hines, Harley Street Rod, 6.901, 195.51 def. Joey Gladstone, EBR, 6.999, 191.38 and Jim Underdahl, Suzuki GS, 7.064, 192.22; Eddie Krawiec, Street Rod, 6.903, 195.48 and Jerry Savoie, TL, 6.944, 191.81 def. Cory Reed, EBR, 7.127, 191.27 and Freddie Camarena, Suzuki GSXR, 7.355, 180.02; Hector Arana, EBR, 6.917, 196.39 and Hector Arana Jr, EBR, 6.891, 195.62 def. Steve Johnson, TL, 6.978, 189.98 and Kelly Clontz, TL, 7.009, 191.95; Matt Smith, EBR, 6.886, 197.31 and Angie Smith, EBR, 7.012, 193.18 def. Angelle Sampey, Street Rod, 6.970, 193.65 and Ryan Oehler, Buell, 6.980, 195.39;
SEMIFINALS — Krawiec, 6.924, 194.46 and Arana Jr, 6.915, 195.62 def. Arana, 6.995, 195.76 and
Savoie, 6.985, 192.38; Hines, 6.902, 195.19 and M. Smith, 6.919, 196.22 def. Stoffer, 6.942, 192.80 and A. Smith, 6.995, 194.55;
FINAL — Arana Jr, 6.907, 195.79 def. M. Smith, 6.903, 197.02, Krawiec, foul and Hines, broke.
LAS VEGAS — Point standings following the 20th annual DENSO Spark Plug NHRA Four-Wide Nationals at The Strip at Las Vegas Motor Speedway, race No. 2 for Pro Stock Motorcycle in the NHRA Mello Yello Drag Racing Series –
Pro Stock Motorcycle
1. Andrew Hines, 201; 2. Hector Arana Jr, 198; 3. Eddie Krawiec, 188; 4. Matt Smith, 170; 5.
Jerry Savoie, 105; 6. Joey Gladstone, 103; 7. Karen Stoffer, 88; 8. Ryan Oehler, 87; 9. (tie)
Hector Arana, 85; Jim Underdahl, 85.



There are videos on the Cycledrag Youtube channel (please subscribe here) and the Cycledrag.com Facebook page (Please like here) and more will be coming soon. Check back daily.