Hector Arana Jr. has now won eight straight rounds and picked up his second straight Pro Stock Motorcycle victory, knocking off points leader Matt Smith on a holeshot in the final round on his GETTRX Buell at the 22nd annual NHRA Nevada Nationals to cap off a dream weekend at The Strip at Las Vegas Motor Speedway.
Arana went 6.866 at 196.42 in the final round, using a .009 reaction time to hold off Smith and his run of 6.862 at 198.47. It hands Arana his 17th career win and his third in Las Vegas, and the standout did it after qualifying No. 15. He knocked off Angelle Sampey, Eddie Krawiec and Angie Smith to reach the final round, ending his day with three holeshot victories and plenty of momentum to take into the off-season.
"It was a fight just to get here," Arana Jr. said. "Dallas was supposed to be our last race. Honestly, we weren't prepared. We had to go home and rebuild engines after Dallas. I struggled a little in qualifying, but we had a back-up plan for race day. I did win a couple of races on holeshots, but you've got to have the pace to get there, and we had that. I have a lot of confidence right now. I can't wait to go to Pomona and keep going. We found our groove pretty quickly. Now, our mission is to get the funding we need to come back next year."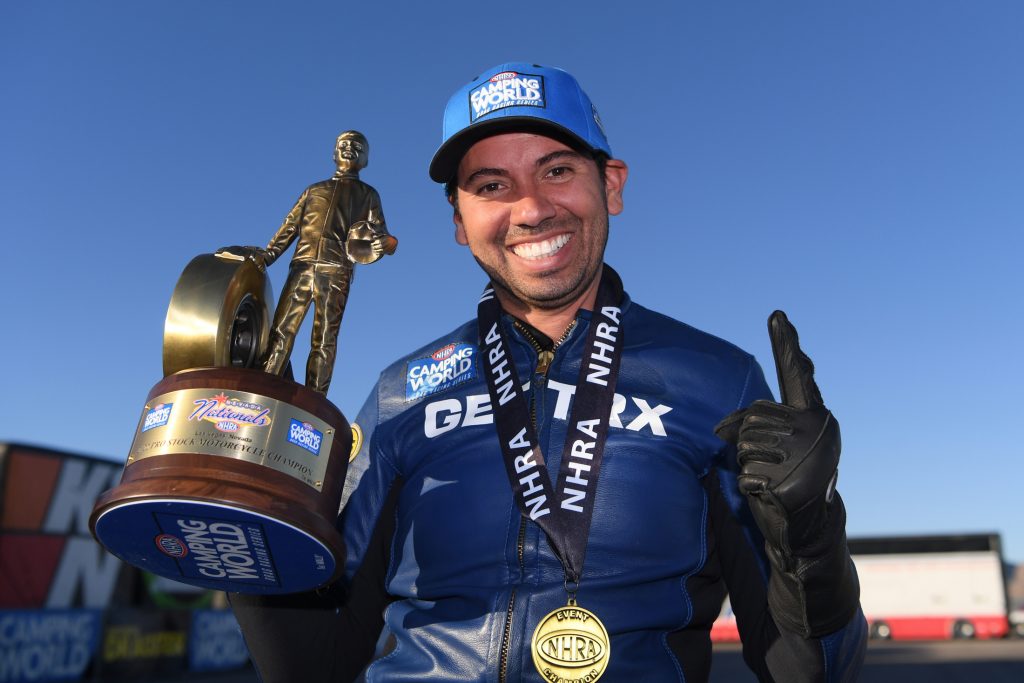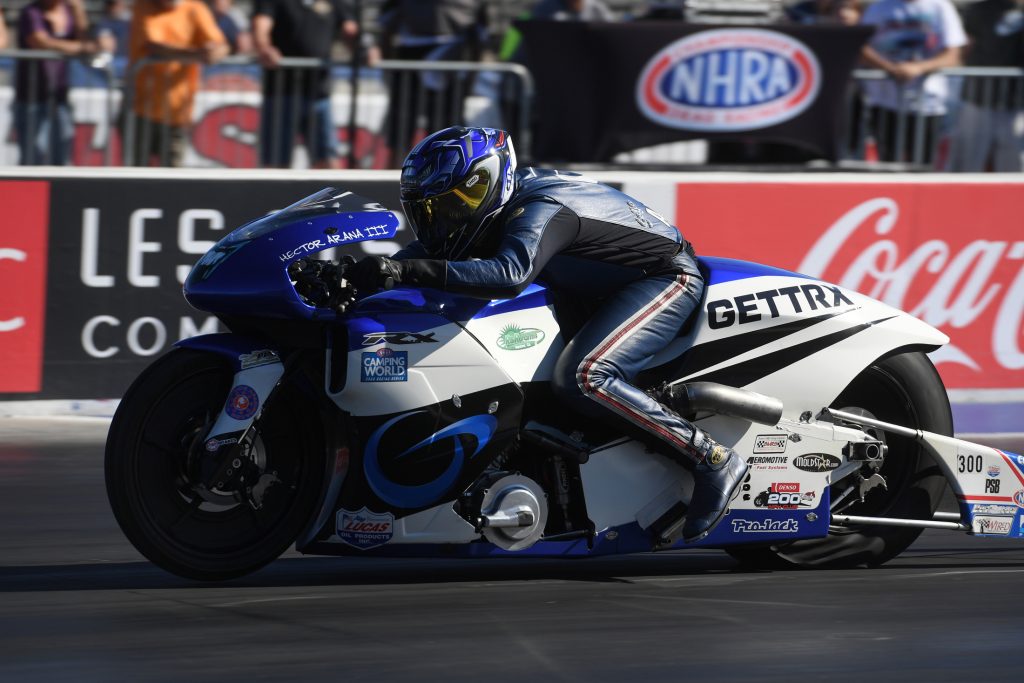 Smith reached the final round for the 71st time in his career and the sixth time in 2022 thanks to round wins against Katie Justice, Chip Ellis, and Jerry Savoie. Smith also built his points lead and now has a 104-point advantage over Joey Gladstone heading to the finale.
ROUND ONE — Chip Ellis, 6.915, 195.28 def. Marc Ingwersen, 7.793, 124.11; Eddie Krawiec, Suzuki, 6.892, 195.03 def. Chris Bostick, Suzuki, 7.250, 158.82; Angie Smith, 6.907, 195.82 def. Jianna Evaristo, Suzuki, 6.990, 191.21; Joey Gladstone, Suzuki, 6.918, 194.52 def. Karen Stoffer, Suzuki, 6.987, 192.91; Jerry Savoie, Suzuki, 6.881, 195.59 def. Gaige Herrera, Suzuki, 6.974, 189.87; Ryan Oehler, 6.971, 192.74 def. Steve Johnson, Suzuki, 6.928, 192.88; Hector Arana Jr, Buell, 6.905, 195.85 def. Angelle Sampey, Suzuki, Foul – Red Light; Matt Smith, Buell, 6.872, 197.77 def. Katie Justice, Suzuki, 7.032, 190.92;
QUARTERFINALS — A. Smith, 6.910, 195.19 def. Gladstone, 6.928, 194.02; Arana Jr, 6.884, 195.99 def. Krawiec, 6.904, 194.77; Savoie, 6.908, 194.69 def. Oehler, 7.060, 190.43; M. Smith, 6.870, 198.73 def. Ellis, 6.931, 194.69;
SEMIFINALS — Arana Jr, 6.908, 196.22 def. A. Smith, 6.900, 195.17; M. Smith, 6.867, 198.15 def. Savoie, 6.912, 194.44;
FINAL — Arana Jr, 6.866, 196.42 def. M. Smith, 6.862, 198.47.
Points
1. Matt Smith, 2,484; 2. Joey Gladstone, 2,380; 3. Jerry Savoie, 2,348; 4. Angie Smith, 2,336; 5. Steve Johnson, 2,297; 6. Eddie Krawiec, 2,291; 7. Angelle Sampey, 2,259; 8. Marc Ingwersen, 2,204; 9. Ryan Oehler, 2,180; 10. Karen Stoffer, 2,172.
There are more videos on the Cycledrag Youtube channel (please subscribe here) and the Cycledrag Facebook page (Please like here) and more will be coming soon. Check back daily.
To take advantage of some amazing discounts at Brock's Performance, click – http://brocksperformance.com?aff=12
USE cycledrag5 coupon code.