There was no chance of running the first 200-mph Pro Stock Motorcycle pass Friday at the 33rd annual Dodge NHRA Nationals, so Lucas Oil Racing TV pro Hector Arana Jr. did the next best thing by claiming the provisional pole on his red, white and blue Buell.
"Yeah, it was a little too warm, especially in Round 1, to go for anything close to 200 mph so that will have to wait," Arana said. "But we are very happy to be on the pole, even if it's just for one night. It's one of the goals you have every weekend and to get the job done is a really good feeling.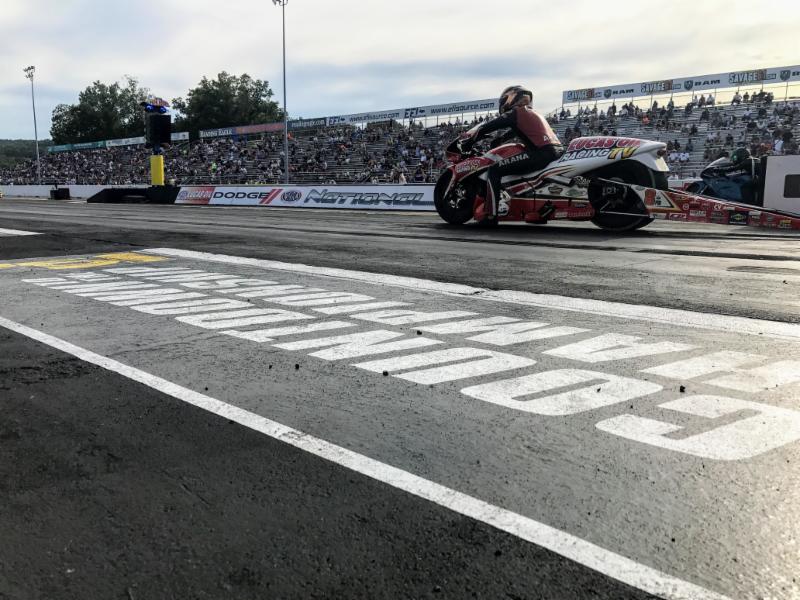 "Plus, when you're one of the three quickest qualifiers of any session you get bonus points so we earned three right there, which, who knows, could be the difference at the end of the season. We simply cannot overlook anything and if there are points on the table, we want them."
After not getting down Maple Grove Raceway under power in the first qualifying session early Friday afternoon, crew chief Jim Yates and crew redoubled their efforts to give their star a perfect tune-up in Round 2. The extra work paid off with Arana running a 6.834 at 196.76 mph to pace
the field.
"The clouds rolled in later in the afternoon and everyone was chasing a better tune-up," Arana said. "Our team found the right spot for the bike in relation to the conditions and it went straight down the groove. I could tell it was a good pass. I wasn't sure it would hold as the No. 1 spot since we went first in Q2 but it held, which says a lot about the work that went into that run.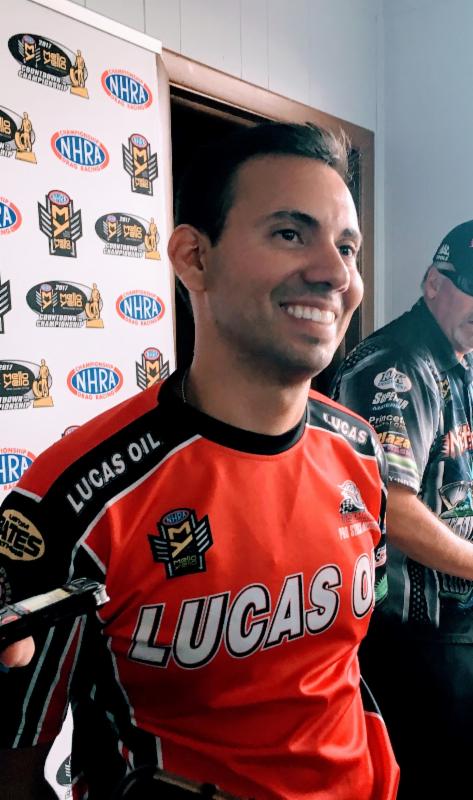 "I haven't looked at the data completely just yet but we all kind of feel like there may be more in there. We'll have to see what the weather does. We're used to cooler temps here. It's weird to see mid-80s this late in the year but we have a good hot weather tune-up, as you can see, so I feel like we'll run well no matter what happens."
Currently third in the Mello Yello title chase, 52 points out of the lead, Arana knows this weekend's event could be pivotal in the ultimate outcome. Reading is the second of six races in the Countdown to the Championship.
"Qualifying points are great and they definitely add up, but winning rounds on Sunday earns you 20 points at a time," Arana said. "Depending on the weather we might try some things tomorrow or we'll work on fine-tuning this Lucas Oil Buell for race day. The forecast is pretty much the same all three days here so it'll be whoever adapts the best that does well on Sunday."
Pro Stock Motorcycle qualifying continues with two more sessions at 12:45 and 3:15 p.m., Saturday. Eliminations begin at 1 p.m., Sunday. Live eliminations will air on FOX Sports 1 from 2-5 p.m., Sunday. (All times are local and subject to change.)