The conditions awaiting Hector Arana Jr. at this weekend's 35th annual Mopar Mile-High NHRA Nationals at Bandimere Speedway will be nothing like the one he experienced at the most recent NHRA Mello Yello Drag Racing Series event in Chicago.
But thanks to that Pro Stock Motorcycle victory at Chicago's Route 66 Raceway, Arana Jr.'s first of the season, he will take plenty of momentum into one of the most challenging events on the 2015 schedule.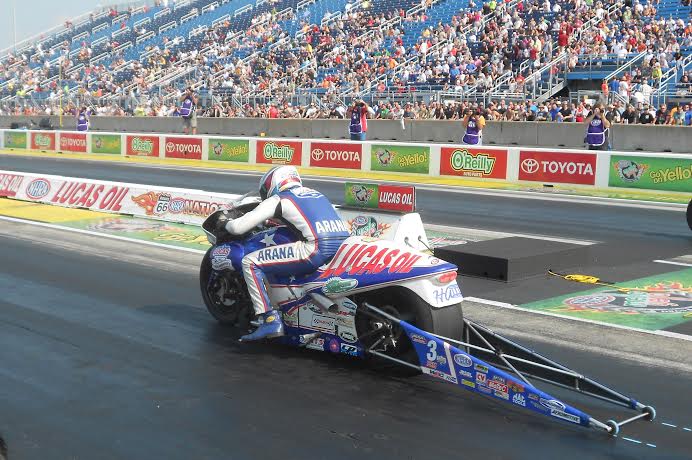 Arana's set-up on his Lucas Oil Buell will also be entirely different from the last race compared to this weekend but a confident team and rider can make a major difference.
"When you start doing well, your confidence increases," Arana said. "You're able to relax a little more and focus on your riding so you can get better lights. I was a little more relaxed in Chicago and I hope to be even more relaxed in Denver."
J.R. Todd (Top Fuel), Robert Hight (Funny Car), Allen Johnson (Pro Stock) and Andrew Hines (Pro Stock Motorcycle) are the defending winners of the event, which will be televised by ESPN2. It is the seventh of 16 events during the 2015 Pro Stock Motorcycle season and only three events follow this weekend's race before the Mello Yello Countdown to the Championship begins.
Currently second in the points standings behind only Eddie Krawiec, Arana Jr. appears to be in championship form after his victory in Chicago, which was No. 10 in his young and successful career. It was also his first since the 2014 race in Chicago, meaning the 10th win was a long time coming.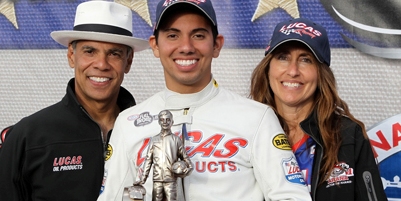 "It's really awesome," Arana Jr. said. "This is my fourth year racing, and to be able to have 10 wins in four years is great. I'm sure there are a lot of people who can't say that. It's pretty exciting to have that even number now. Now we've just got to go for 11."
Arana Jr. and his team will certainly be considered one of the favorites in Denver based on how his season has gone. He had already advanced to three semifinal appearances in the first four races, but knocking off two-time world champion Matt Smith in the final round in Chicago provided another major boost to Arana Jr. and his Lucas Oil team.
"I needed that win," said Arana, who also has two No. 1 qualifiers this season. "I felt like I had a lot of pressure built up, and I was finally able to get the monkey off my back. I knew we were going to win, but sometimes, for whatever reason, you push yourself too hard and put too much pressure on yourself. In Chicago I tried to lay back and relax, and it worked. I went back to what I used to always say, 'One round at a time,' and it paid off."
That calm and collected approach could pay dividends down the line as Arana Jr. chases his first world championship. With the Countdown to the Championship playoffs approaching, Arana Jr. knows he must be on top of his game in a talent-filled Pro Stock Motorcycle class.
"All that matters is that we get the bike ready for the Countdown," Arana Jr. "We got at least one victory this year, and hopefully there's many more to come."
To get his second win of 2015 and his first at Bandimere Speedway, Arana Jr. will have to be locked in racing at an altitude of more than 5,800 feet. He must also contend with defending winner and reigning world champion Andrew Hines. Along with Matt Hines and Krawiec, the Screamin' Eagle Vance & Hines Harley-Davidson team have combined for nine wins on the track.
Gainesville winner Karen Stoffer, two-time race winner Angelle Sampey, Atlanta winner Hector Arana, Jerry Savoie and more will provide major challenges to Arana Jr., who is looking forward to keeping his momentum going in Denver.
"Now it's off to Denver, and we're going to start with Q1," said Arana, who was the Denver runner-up in 2013. "We've had great success there, and we think we have a good combination for the mountain. I'm looking forward to sealing the deal there because we've done really well and reached to the finals before. We just haven't been able to close the deal, so hopefully this year we can do that."
In Top Fuel, Bandimere Speedway has been a highlight for the speedy dragsters of Kalitta Motorsports throughout the years, including Todd's win last season. Doug Kalitta claimed a victory there in 2010 and a slew of contenders to challenge for the win this week also includes Antron Brown, reigning world champion and current points leader Tony Schumacher, five-time season runner-up Larry Dixon, last year's event runner-up Brittany Force, three-time season winner Richie Crampton, Spencer Massey, 2013 world champ Shawn Langdon and veteran driver Clay Millican
Bandimere Speedway has been a favorite for John Force Racing's stable of drivers throughout the years with a combined 11 Funny Car wins among three drivers. John Force, a 16-time world champion, has six wins at Denver and teammate Hight has three victories. Other Funny Car stars who are among the pre-race favorites include two-time event winner Jack Beckman, Ron Capps, reigning world champion Matt Hagan, Del Worsham, Alexis DeJoria, two-time race winner Cruz Pedregon, Tommy Johnson Jr., who won the most recent event, Tim Wilkerson and Funny Car's winningest female, Courtney Force.
No driver has had more recent success at a certain track than Allen Johnson has had at Bandimere Speedway in Pro Stock. Johnson, the 2012 world champ who won recently in Chicago, has claimed the last three in a row and six of the last eight at Denver. Four-time world champ and current points Greg Anderson has had one of the hottest hot rods in the category with four wins on the season. Defending world champ Erica Enders has four wins this season and Phoenix winner Rodger Brogdon, rookie Drew Skillman, Houston runner-up Chris McGaha and Vincent Nobile are all expected to be major contenders in the popular factory hot rod category.
The Mopar Mile-High NHRA Nationals also will feature thrilling side-by-side competition in the NHRA Lucas Oil Drag Racing Series.
As always, fans will have the opportunity to interact with their favorite drivers as they're granted an exclusive pit pass to the most powerful and sensory-filled motorsports attraction on the planet. This unique opportunity in motorsports gives fans direct access to the teams, allowing them to see firsthand the highly-skilled mechanics service their hot rods between rounds, and get autographs from their favorite NHRA drivers.
Mello Yello Drag Racing Series qualifying begins Friday, July 24, with sessions at 5 and 7:30 p.m. The final two qualifying sessions will take place Saturday, July 25, at 4 and 6:30 p.m. Final eliminations are scheduled for 11 a.m. on Sunday, July 26.
To purchase tickets, call (800) 664-UWIN (8946) or visit www.bandimere.com. For more information about the NHRA visit www.NHRA.com.
* * *
MOPAR MILE-HIGH NHRA NATIONALS FACT SHEET
WHAT: 36th annual Mopar Mile-High NHRA Nationals, the 14th of 24 events in the NHRA Mello Yello Drag Racing Series. Drivers in four categories – Top Fuel, Funny Car, Pro Stock and Pro Stock Motorcycle – earn points leading to 2015 NHRA Mello Yello Drag Racing Series world championships.
WHERE: Bandimere Speedway, Morrison, Colo. The track is 10 miles west of Denver, just north of the historic town of Morrison. From Denver, take Interstate 70 west to C-470 and travel south to the Morrison Road exit. Take Morrison Road west to Rooney Road and go north to the track.
COURSE: Championship drag strip; Track elevation is 5,860 feet above sea level; Track direction is south to north.
WHEN: Friday through Sunday, July 24-26
SCHEDULE:        
FRIDAY, July 24 – LUCAS OIL SERIES qualifying
MELLO YELLO SERIES qualifying at 5 and 7:30 p.m.
SATURDAY, July 25 – LUCAS OIL SERIES eliminations
MELLO YELLO SERIES qualifying at 4 and 6:30 p.m.
SUNDAY, July 26 – Pre-race ceremonies, 10 a.m.
MELLO YELLO SERIES eliminations begin at 11 a.m.
TELEVISION:
Saturday, July 25, ESPN2 will televise two hours of qualifying coverage at 11 p.m. (ET).
Sunday, July 26, ESPN2 will televise three hours of eliminations coverage starting at 9 p.m. (ET).
SATELLITE (Digital HD feed):      
Saturday, July 25, 11:30 p.m. – Midnight (ET), SES 2/Transponder 05C
Sunday, July 26, 8 – 8:30 p.m. (ET), SES 2/ Transponder 05C
(3800 MHz, horizontal; Data Rate: 40.46147055 Mbp; Symbol Rate: 29.27 Ms; FEC: ¾; Bandwidth: 36 Mhz)
Video news release contains race action highlights each day and winners' interviews on Sunday.
2014 EVENT WINNERS: J.R. Todd, Top Fuel; Robert Hight, Funny Car; Allen Johnson, Pro Stock, Andrew Hines, Pro Stock Motorcycle.
MOST VICTORIES: Bob Glidden, 7, PS; Joe Amato, 6, TF; John Force, 6, FC; Allen Johnson, 6, PS; Warren Johnson, 5, PS; Matt Hines, 4, PSM
TRACK RECORDS:            
Top Fuel – 3.823 sec. by Tony Schumacher, July '14; 322.96 mph by Steve Torrence, July '14.
Funny Car – 4.049 sec. and 318.39 mph by John Force, July '14
Pro Stock – 6.916 sec. by Allen Johnson, July '12; 199.23 mph by Johnson, July '14.
PS Motorcycle – 7.178 sec. and 186.72 mph by Hector Arana Jr., July '14.
NATIONAL RECORDS:    
Top Fuel – 3.701 sec. by Antron Brown, Oct. '12, Reading, Pa.; 332.51 mph by Larry Dixon, June '15, Norwalk, Ohio.
Funny Car – 3.965 sec. by John Force, Feb. '14, Pomona, Calif.; 325.06 mph by Courtney Force, May '15, Topeka, Kan.
Pro Stock – 6.455 sec. by Jason Line, March '15, Charlotte, N.C.; 215.55 mph by Erica Enders, May '14, Englishtown N.J.
PS Motorcycle – 6.728 sec. by Andrew Hines, Oct. '12, Reading, Pa.; 199.88 mph by Hector Arana Jr., April '15, Charlotte, N.C.
TICKETS: Order tickets by phone at (800) 664-UWIN (8946). Tickets also are available online at www.bandimere.com.