Pro Stock Motorcycle rider Hector Arana Jr. recorded his first elimination-round win of the young season with a quarterfinal finish at Sunday's 37th annual Lucas Oil NHRA Southern Nationals. Despite his Lucas Oil Buell being set up exactly the same way as his son's machine, Hector Arana Sr. wasn't quite as lucky, losing in Round 1 even after a great launch.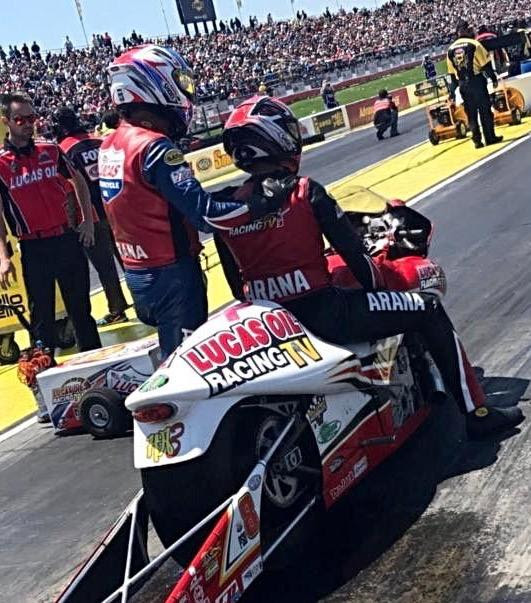 After qualifying a lofty fourth on the race day ladder, Arana Jr. posted a convincing win over first-round opponent Mike Berry, leaving the starting line first (.007 to .014 seconds) and arriving at the finish line well ahead of Berry, with a 6.844 at 195.85 mph on his Lucas Oil Racing TV bike to Berry's 7.047 at 186.51 mph.
"I've been feeling really good all weekend," Arana Jr. said. "We have been amped up in our pit. We've got both bikes running strong and are finally back up to speed and running with the rest of the class. Leaving here with just one round win isn't enough. I believe we definitely are a force to be reckoned with and we will continue to be as time goes on and we get more notes. We're only going to get faster."
Arana Jr. was a little too fast in the quarterfinals, leaving the starting line -.015 seconds before the green light, which resulted in a disqualification against reigning champ Jerry Savoie.
"I'm a little bummed out about that," Arana Jr. said. "I was obviously a little too excited there. We looked at the graph and I pulled in the clutch when I saw red just because I was so frustrated. A moment later I was thinking 'I should've run the bike out just to see what it would've run.' It would have helped in our notes. Like I said, I was amped up and ready to go this weekend and I saw the red light and it just threw everything off."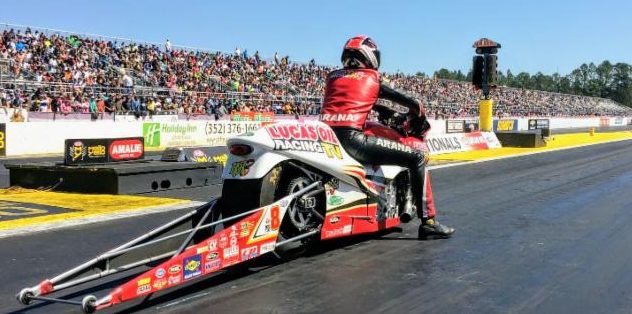 On the other side of the ladder, sixth-ranked Arana Sr. was certainly ready for what should have been a fairly easy test against Scott Pollacheck. However, despite earning a large .033-second reaction time advantage at the starting line, Arana's Lucas Oil Buell couldn't transfer all of its horsepower to the track, allowing Pollacheck to steal the win with a 6.860 at 193.63 mph to Arana Sr.'s 6.995 at
195.65 mph.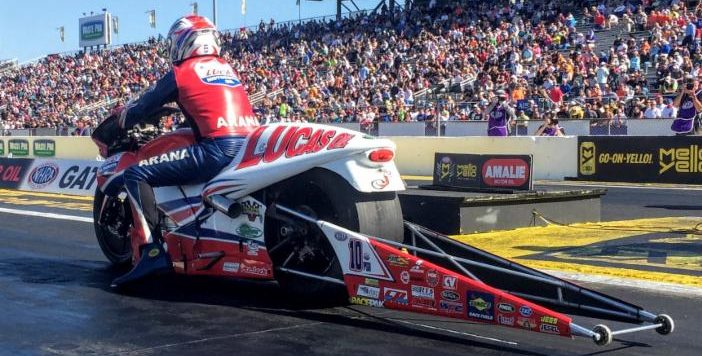 "We had it set up to repeat the 6.86 we ran in qualifying and with that light I would have been fine," Arana Sr. said. "But when I dropped the clutch I could feel the bike spinning the tire really bad. From there it started moving towards to the center line and I had to correct. By then it was done. It didn't recover fast enough and that was it for me.
"We definitely did some positive things this weekend. We were consistent and we kept improving so to me that's a good thing. I looked at my reaction times and they were all pretty decent so I can't ask for any more than that. We'll be okay."
The Pro Stock Motorcycle class has a month off before returning to action with the 48th annual NHRA Summernationals,
June 9-11
at Old Bridge Township Raceway Park in Englishtown, N.J.