Chris Matheson and his Nitro Voodoo Top Fuel Motorcycle Team have continued to dominate the 400 Thunder Australian Championship, racking up yet another race final appearance last weekend at Sydney Dragway.
Matheson said he was a little nervous when he arrived at Sydney Dragway a few days before the meeting to see the track as bare concrete. We had struggled all season with our set up, smoking the rear tyre and the last thing I wanted to see was a track with little rubber on it.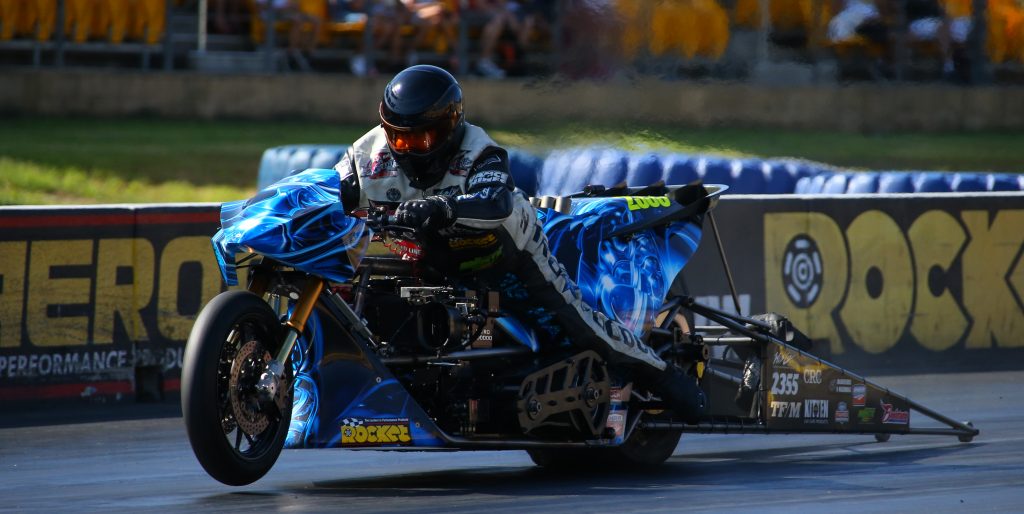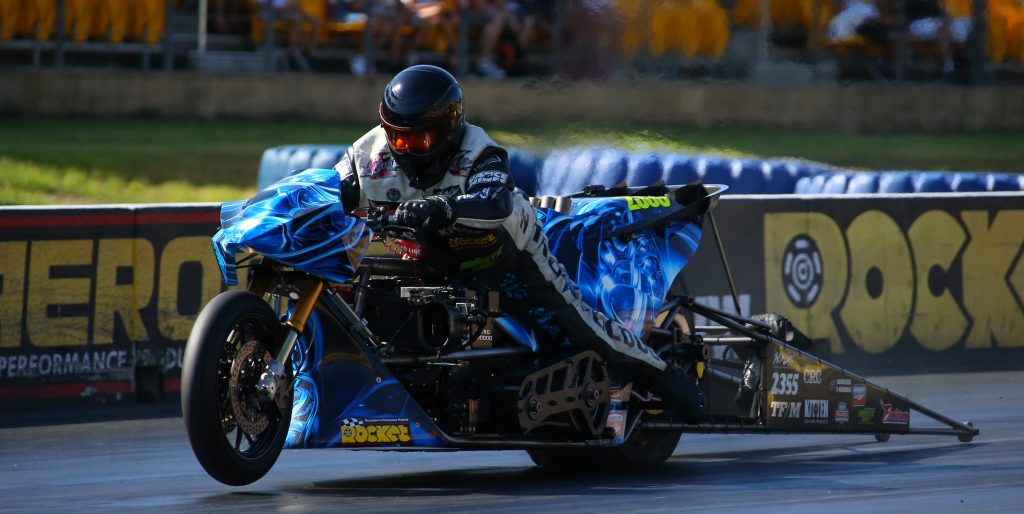 "Sydney Dragway worked wonders over the next couple of days and it really came around. We went out for the first non-compulsory pass and ran a high 6 second pass with an early shut off. We broke our high pressure oil line to the engine after hitting some debris at half track, which covered the bike with engine oil, luckily I kept the bike in control and got to the finish".
We knew if we could get down the track in the Friday session, we would have a better track race day, with more rubber from the big field of cars and bikes going down the track.
Saturday shaped up to be one of those ideal events, good weather, excellent track and a good crowd of spectators.
We quickly advanced to the final, only to be delayed by light rain. The stage was set, we had rookie Damian Muscat, who was running as quick as any V-Twin had run in Australia, with a previous pass in the 6.3 second zone.
Matheson's Nitro Voodoo machine had lowered their times with each pass, as they increased the power heading to the final. Matheson said "we knew our previous 6.4 sec pass was not going to get us the win, so we added some to it!"
Matheson said "we fired and headed for the water box, I knew I had a problem the minute I powered to the burnout zone, the bike felt like it had a flat rear tyre! I cracked the throttle and it drifted around like a boat during the burnout".
"I knew when I took the light I was in for a wild ride, as it turned out, it blew the rear tyre off at the hit, with only a couple of pounds of air in it. My crew really excelled all weekend, only to be let down at the last run. We found that the valve stem had come away from the rim, which had caused the sudden deflation".
Despite the second placing, Matheson has continued to add to his points lead over his rivals in the Championship points chase. With only the Winternationals to run next month, Matheson and his Team will be the ones to beat. Matheson's history at Willowbank is unrivalled, with his own Track Record of 6.04 firmly set in his sights.
Matheson went on to say "well done to Muscat and his Team for setting a new V-Twin Track Record in Sydney".
Matheson thanked his Sponsors & Supporters:
GT Radiators & Machining, Kitten Car Care Products, CRC, Rocket Industries, Performance Wholesale, Great Southern Diesel Service, WebCam, PDS Graphics, Worldwide Bearings, Hi-Side Leathers, Boninfante Friction Inc., Ballistic Racing, Aeroflow, with special thanks to Steve and Larry McBride.