AHDRA Headquarters is pleased and proud to announce that Hawaya Racing/Vreeland's Harley-Davidson will sponsor the Pro Drag Class for 2012. We appreciate our long time relationship with Hawaya Racing and Vreeland's Harley-Davidson and look forward to working with both organizations in the future.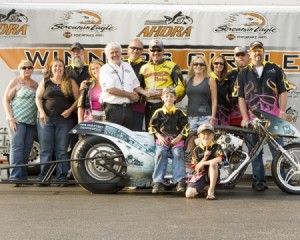 More great news – thanks to the generosity of Johnny Vickers, Rich Vreeland and Bill Purvis, the Pro Drag Winner will receive $1000.00 for the 2012 racing season.
Hawaya Racing, Johnny Vickers, officially became the quickest man on the planet on a Pro Dragster at the Manufacturers Cup fall race held in Valdosta, Georgia November 11th – November 13th, 2011.  Johnny will be holding two HAWAYA RACING NITRO BIKE SCHOOLS in 2012.  Stay tuned for more details.
For more information, contact:
Hawaya Racing, Inc
1333 N. Minton Rd. Millers Creek, N.C. 28651
Ph. 336-973-5078 Fax 336-973-5079
www.hawayaracing.com
Vreeland's Harley-Davidson Racing made the jump from gas to Nitro Power in 2011. Rich Vreeland piloted the Numidia Dragway sponsored 121 c.i. Nitro powered drag bike at eight events in 2011. Rich Vreeland said, "We are so proud to have Numidia Dragway support our move into Nitro powered drag racing".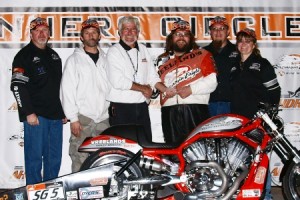 Vreeland's Harley-Davidson has been a Factory Authorized Dealer since 1990 and is owned and operated by Brothers Rich and Ray Vreeland.
For more information, contact: