The Gulf Oil International Group has announced an extension to its agreement for multi European Champions and Record Holders King Racing to manage the operations of the Gulf Oil Top Fuel Motorcycle Dragracing team in 2016.
In an exciting year for the group King Racing are joined by English Premier League Football Club Manchester United, World Superbike Team Milwaukee BMW, Indian Premier League Cricket team Rising Pune Supergiants   and the WEC Gulf Racing Porsche GTE AM team in a formidable sporting line up of Gulf Oil International partners.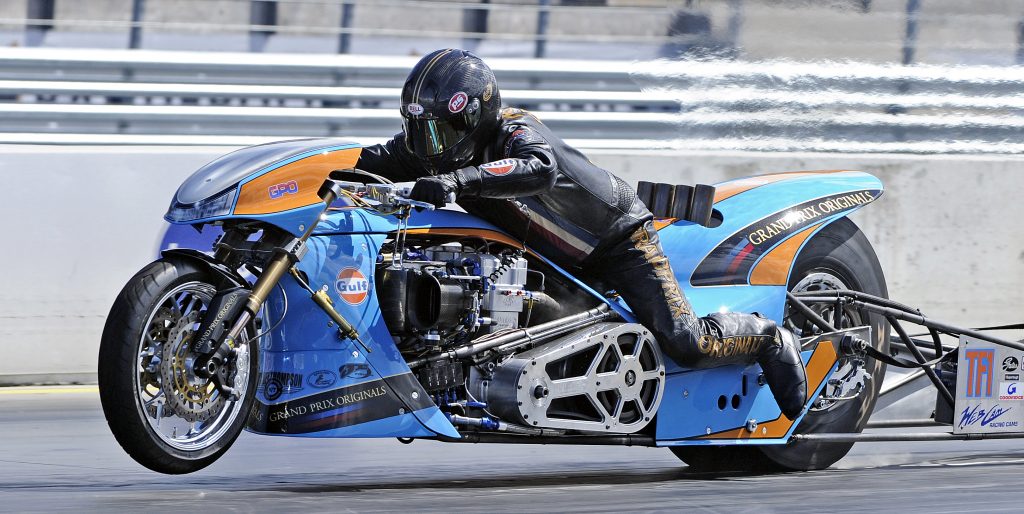 Team Principal Ian King said:
 "All of us at King Racing are extremely pleased that Gulf Oil International has decided to extend their partnership with our team activities in 2016. We are very proud to carry the most iconic brand in motorsports history on our record breaking machine for a sixth consecutive season alongside Grand Prix Originals and all of our `blue chip' technical and service partners who have committed to help make this another record breaking season".
The Gulf Oil Dragracing team will contest the FIM European Dragbike Championship, have been invited to appear once again at the world's biggest and most diverse motorsport event – the Goodwood Festival of Speed, and are planning an attempt to break an official FIM land speed record – news to follow.
Their next event is at the opening round of the European Championship – The FIA / FIM Main Event at Santa Pod Raceway in England on the 28th – 30th May –     http://www.santapod.co.uk/e_main.php



For more information on the team go to www.gulfoildragracing.com
Twitter: @kingracing
Facebook: https://www.facebook.com/ian.king.73113
YouTube: https://www.youtube.com/kingracingpuma
For more information on Gulf Oil International go to www.gulfoilltd.com
-2-
The Gulf Oil – GPO Dragracing team uses and endorses exclusively Gulf Oil greases and lubricants in their history making machine.  The team is extremely proud to be supported by many leaders in their chosen markets in their endeavours to secure a 10th European Championship:-
APE  – The world's most innovative manufacturer of aftermarket parts for race bikes
BELL HELMETS (UK) – The most iconic name in helmets – since 1954
COMETIC GASKETS – The Premier Manufacturer of racing gaskets
DRIFT INNOVATION  – Europe's leading source for action sports cameras
GATES – The world's most trusted name in drive belts, hoses and hydraulics
GOODRIDGE – The most innovative and the best in fluid transfer systems
GRAND PRIX ORIGINALS – The brand for drive and lifestyle, past and present
GULF OIL INTERNATIONAL – The world's most iconic brand in automotive fuels and lubricants
GRAPHITE ADDITIVE MANUFACTURING – A leader in 3D printed technologies and rapid prototyping
HOTROD HANGAR – Home of the world renowned custom artist Knud Tiroch
HYPERPRO – The leading producer of progressive suspension products for motor bikes
JE PISTONS – The world's premier manufacturer of high performance forged pistons
JOHN AND DEA MORGAN RACING – The creators of the world's most advanced New Age Funnybike
KIBBLEWHITE PRECISION MACHINING – The highest quality valve train components available
KING RACING – The most successful Top Fuel Bike team in European Dragracing
MICKEY THOMPSON – Simply the best drag race tyres in the world
MRE – Leaders in trackside support for drag race components and air shifting systems
MTC ENGINEERING – Manufacturer of clutches for the fastest motorcycles in the world
NITROSHUTTER – Europe's leading dragracing photojournalists
NCTENGINEERING – Manufacturer of the world's leading non-contact motorsport torque sensors
NGK SPARKPLUGS UK – The world's number one spark plug manufacturer
PAR WILLEN – Master webmeister and proprietor of HarleyDrags.com
PORTABLE SHADE – The best custom branded collapsible canopies available
PRO ALLOY MOTORSPORT – The UK's leading fabricator of alloy tanks, intercoolers and radiators
PUMA ENGINEERING – Manufacturer of the world's most powerful motorcycle engines
RSG CUSTOMIZE – The UK's most creative website designers and vinyl artists
SUPERTOUGH – Custom cases and covers for the Film, TV, Music and Motorsports Industries
SPIES HECKER – the world's leading supplier of paint for car, commercial and industrial finishing.
TRYKA LED – the UK's cutting edge LED lighting manufacturer.
VAN ES MOBILITY – The leading manufacturer of telematic products for management of moving objects
VANSON LEATHERS – The most iconic brand in motorsport leather goods
WEB CAMSHAFTS INC – Simply THE company for Top Fuel Bike camshafts
WORLDWIDE BEARINGS – The world's leading supplier of ceramic bearings for racing
ZODIAC – Europe's largest supplier of performance and aftermarket HD parts