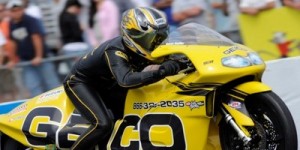 GEICO Suzuki's Karen Stoffer became the latest member of the Pro Stock Motorcycle class to reach the Countdown to the Championship after her first-round win in the Lucas Oil NHRA Nationals at Brainerd International Raceway on Sunday.
With one race remaining before the NHRA playoffs, Stoffer is locked in the Countdown. She secured her spot by advancing one round further than Steve Johnson, as she beat Jim Underdahl in the first round, and Johnson fell to Scott Pollacheck.
"That was cool," Stoffer said. "That isn't necessarily our objective, as we have bigger fish out there to fry, but it's nice that we're locked in."
After taking out teammate Underdahl, Stoffer fell to Pro Stock Motorcycle points leader Eddie Krawiec in the second round despite getting an advantage on the Christmas Tree. Still, Stoffer was pleased with the effort and performance of her GEICO team this weekend.
"The GEICO Suzuki is still the fastest Suzuki on the block," Stoffer said. "Props to (crew chief) Gary (Stoffer) and the team, specifically Gary. He's been a tuning machine out there, and on Sunday, I've been racing good. We've been throwing down the lights we need to get these big guys – all the V-motors."
Stoffer threw down two good lights Sunday, leaving first on Underdahl with a .023-second reaction time (to his .031) and on Krawiec with a .012 (to his .037).
"You've got to race them," Stoffer said. "You can't beat them on horsepower, but you've got to race them. I look back, and I've raced every one of them and Treed every one of them. Props to the team. We are definitely putting our best foot forward every attempt. We're getting the light and getting good ETs. We're just going to keep chugging away and do what we've got to do."
Stoffer made a pass of 6.926 seconds at 192.14 mph in the first round, beating Underdahl's 7.014-second run at 192.06 mph. That put her against defending class champion Krawiec, who also had lane choice.
"We had struggled in the right lane all weekend long," Stoffer said. "Everybody was favoring the left lane, and we knew Eddie was going to put us in the right lane, so we had to swag at the clutch on that pass. The right lane was really, really tricky for us, and we did slow down a tic."
Despite Stoffer's starting-line advantage, her pass of 7.000 at 191.73 mph wasn't enough to hold off Krawiec, who went 6.876 seconds at 194.94 mph.
"But even if we had our best pass of the weekend by a couple hundredths, we wouldn't have beaten that .87," Stoffer said. "They throw it down in the heat of the day, and it's just unbeatable."
Now, Stoffer looks ahead to the Mac Tools U.S. Nationals at Lucas Oil Raceway in Indianapolis on Aug. 31-Sept. 3.
"We're in the Countdown now," Stoffer said. "I don't know how we can change any strategy, but we'll certainly look at things to see what we've got to do."