Gaige Herrera will clinch his first Pro Stock Motorcycle world championship on Saturday and enjoyed a strong Friday as well in Pomona, going to the provisional No. 1 spot on his Mission Foods/Vance & Hines Suzuki with a run of 6.721 at 200.59. Should that hold, Herrera would extend his PSM single-season record with his 14th top spot in 15 races, one of the many examples of his dominance in 2023. Herrera will wrap up his world title at the conclusion of qualifying on Saturday on the strength of 10 wins during his record-setting season.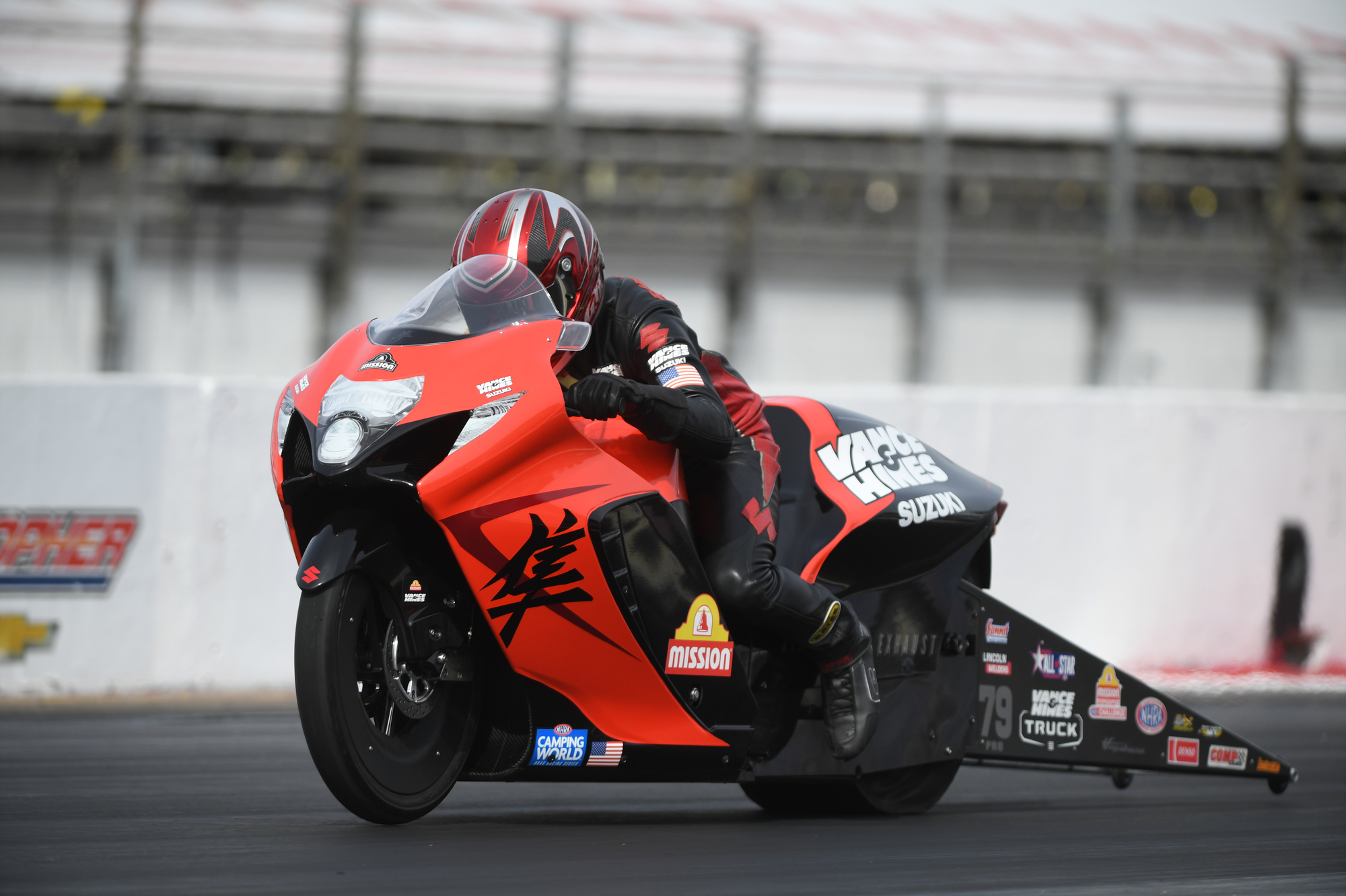 "It's really starting to set in, what all has been accomplished," Herrera said. "We're basically wrapping up the championship tomorrow, and it's a lot to take in. I was talking to a good friend of mine and he was like a year ago at this time, did you think you'd be in the position you're in? That's a definite no. Even though I joined one of the best teams out here, you can't expect to have a season like this. It's just, it's remarkable. It's incredible. I'm literally living the dream I had as a little kid and I'm just having fun with it. I don't think it can get any better than this.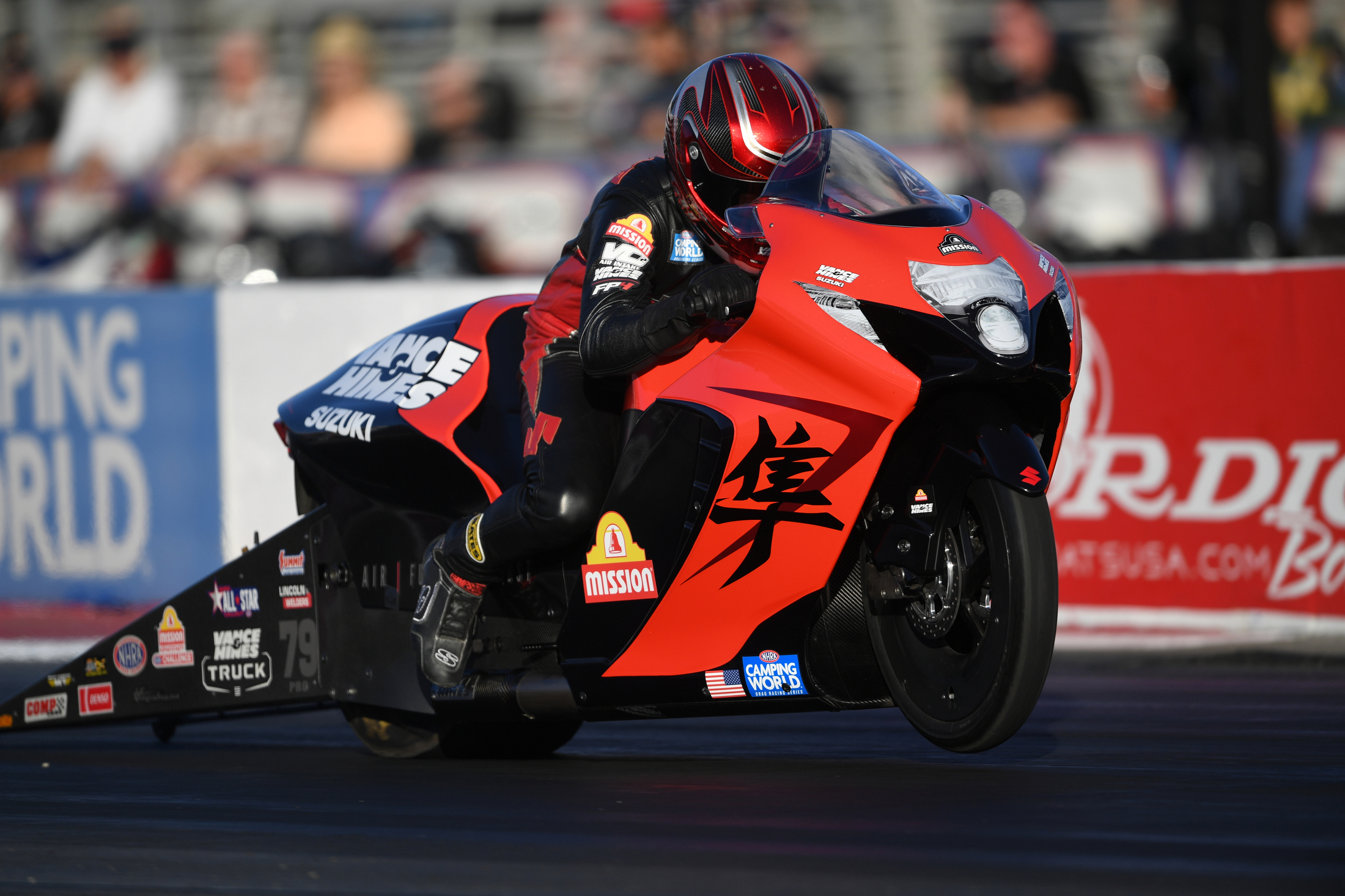 "I'm definitely thinking about the championship, but I'm not even nervous about this, I'm more worried about the banquet on Monday."
Hector Arana Jr. is currently in the second spot after going 6.729 at 201.28 and Eddie Krawiec, who is seeking his 50th career win, is third thanks to a 6.742 at 201.52.
Qualifying continues at 12:00 p.m. PT on Saturday at the In-N-Out Burger NHRA Finals at In-N-Out Burger Pomona Dragstrip.
Pro Stock Motorcycle — 1. Gaige Herrera, Suzuki, 6.721, 200.59; 2. Hector Arana Jr, EBR, 6.729, 201.28; 3. Eddie Krawiec, Suzuki, 6.742, 201.52; 4. Kelly Clontz, Suzuki, 6.751, 200.26; 5. Steve Johnson, Suzuki, 6.765, 197.59; 6. Jianna Evaristo, Suzuki, 6.784, 197.77; 7. Marc Ingwersen, EBR, 6.793, 197.28; 8. Jerry Savoie, Suzuki, 6.797, 197.25; 9. John Hall, EBR, 6.825, 196.87; 10. Matt Smith, Suzuki, 6.828, 198.38; 11. LE Tonglet, Suzuki, 6.832, 198.82; 12. Ryan Oehler, EBR, 6.941, 194.38; 13. Chris Bostick, EBR, 6.952, 193.96; 14. Katie Justice, Suzuki, 6.972, 189.90; 15. Blaine Hale, Suzuki, 7.007, 191.40; 16. Angie Smith, Buell, 7.027, 156.52.
Not Qualified: 17. Lance Bonham, 7.070, 186.77.
There are more videos on the Cycledrag Youtube channel (please subscribe here) and the Cycledrag Facebook page (Please like here) and more will be coming soon. Check back daily.