Multi-time DME Racing Real Street champ Jeremy Teasley showed up for the
International Drag Bike League's Pingel Spring Nationals at Maryland
International Raceway without a ride in the class. Bike owner Roger Starrette had
decided he was sitting out the Maryland commute this season, and his trailer full
of race bikes was parked at his South Carolina home.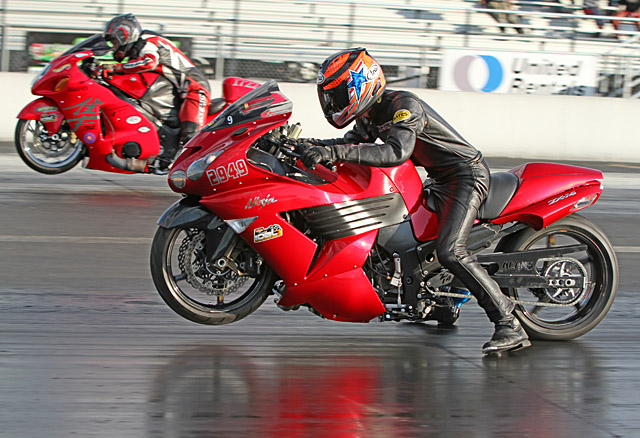 Starrette was on his way to get barbecue for Saturday night dinner when he
heard from Jeremy's dad—James "Crow" Teasley—that the second round of
qualifying at MDIR had been postponed by rain until Sunday. His heartstrings
pulled, the wheels in his brain turning, and Starrette had only to turn the wheel on
his truck to change his dinner plans. One U-turn and an overnight drive later and
he was unloading the trailer in Maryland.
And unloading in a big way. Riding teammate David Merks' turbocharged Suzuki
Hayabusa, Starrette qualified number one with a 7.85 and Teasley qualified third
behind Rickey Gadson. But Starrette scattered Merks' motor all over the track on
an E1 bye pass. Teasley beat supercharged record holder Tom Federici in the
semi to set up the final with "Super Dave" Stewart, who was way late at the tree
and came up short on the big end against the champ and his nitrous-huffing,
Kawasaki ZX14.