When it comes to the Mission #2Fast2Tasty NHRA Challenge, the Pro Stock Motorcycle category gets to join the fun for the first time as part of this weekend's Gerber Collision & Glass NHRA Route 66 Nationals presented by PEAK Performance.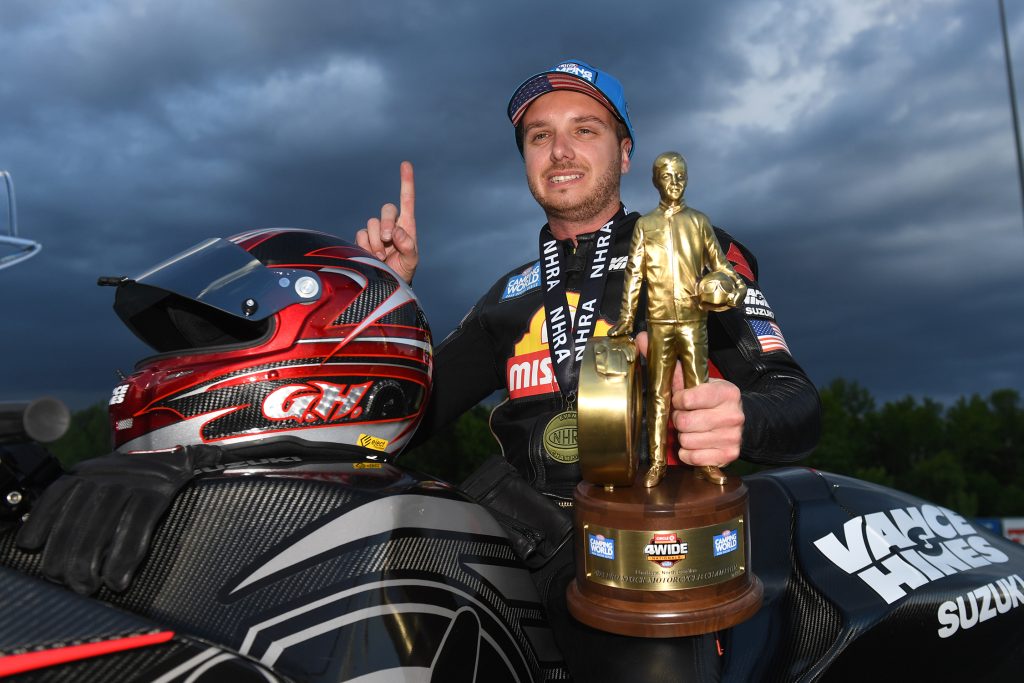 The Mission #2Fast2Tasty NHRA Challenge brings competitive racing to the qualifying schedule at regular-season events during the NHRA Camping World Drag Racing Series campaign, pitting semifinalists from the previous race against each other in a pair of rematches, with the two winners then matching up in the final qualifying session.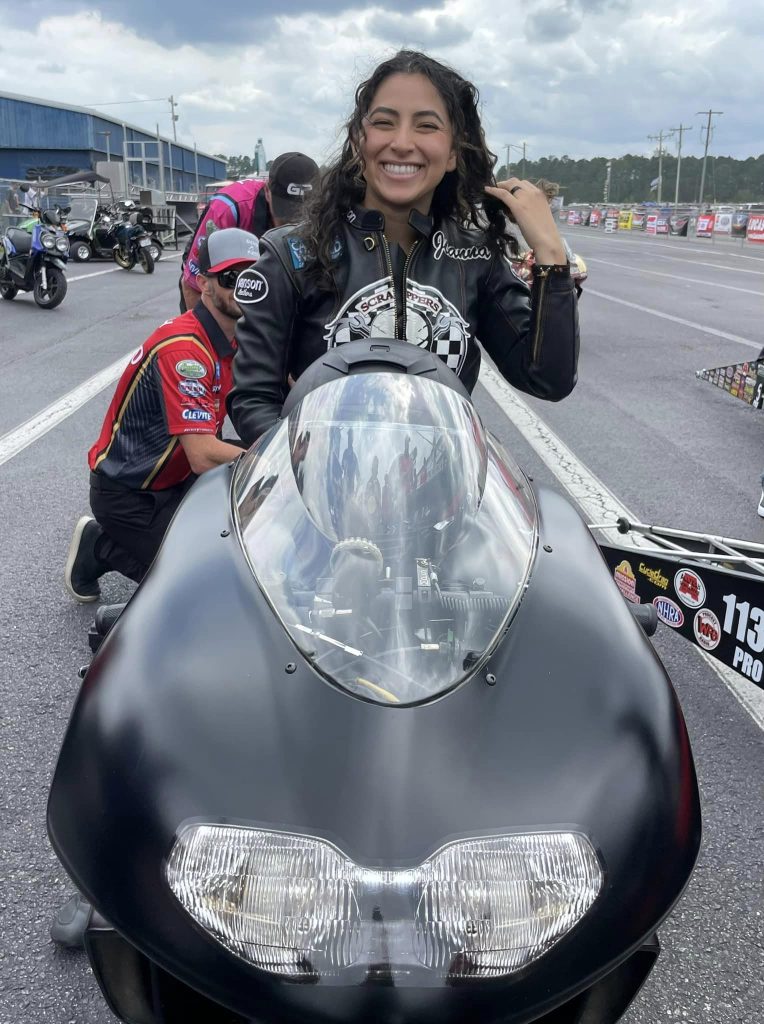 This weekend's return to Chicago will be the first chance for Pro Stock Motorcycle to take part in the specialty race, with four semifinalists from the season-opener in Gainesville racing on Saturday for a bonus purse and bonus points in the Countdown to the Championship.
Points leader Gaige Herrera will take on Jianna Evaristo in one matchup, while Gainesville runner-up Angie Smith will race against rookie Chase Van Sant. For Herrera, it's another opportunity to continue his dominant start to the year. He's won the first two races of 2023 on his Vance & Hines/Mission Foods Suzuki and Herrera hopes there's no slowing down his fast start.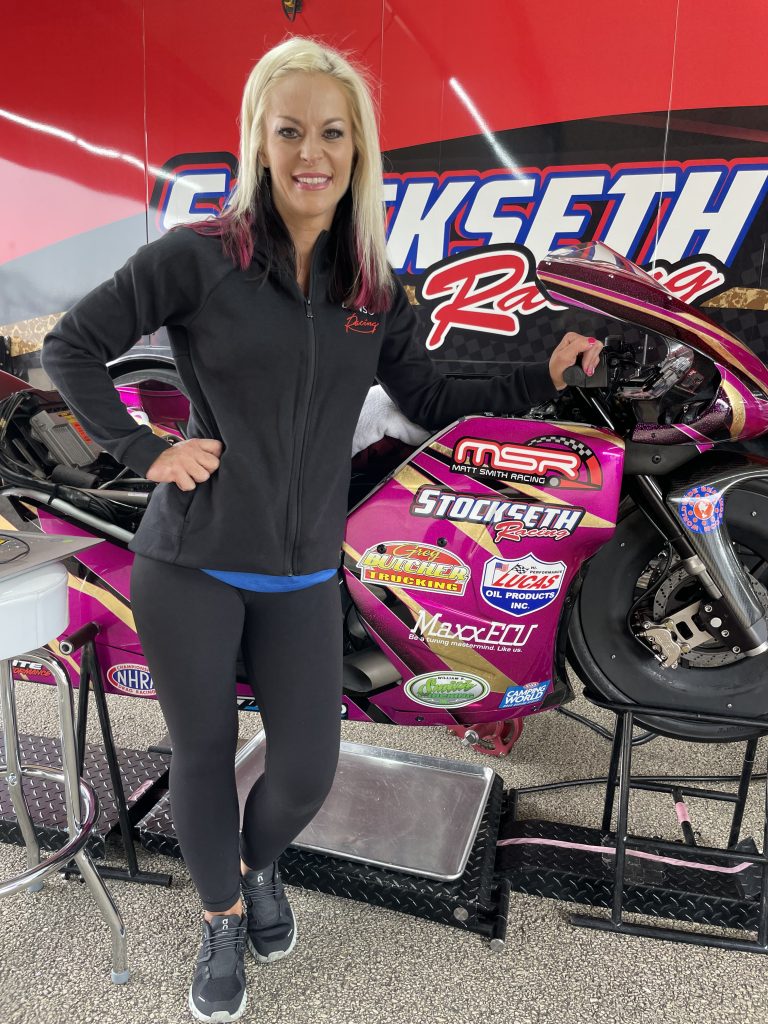 "I'm looking forward to it. I've got one bad hot rod right now," Herrera said. "(Crew chief) Andrew Hines has all the confidence in the world with me and that makes me feel good. That bikes, it goes A to B on rails. I'm really looking forward to the weekend and as a team, I feel like we're really doing well."
Evaristo impressed in Gainesville en route to the semifinals, qualifying fifth and beating defending world champion Matt Smith to get to the final four. A victory over Herrera on Saturday would be perfect redemption, as well as another huge step in her career.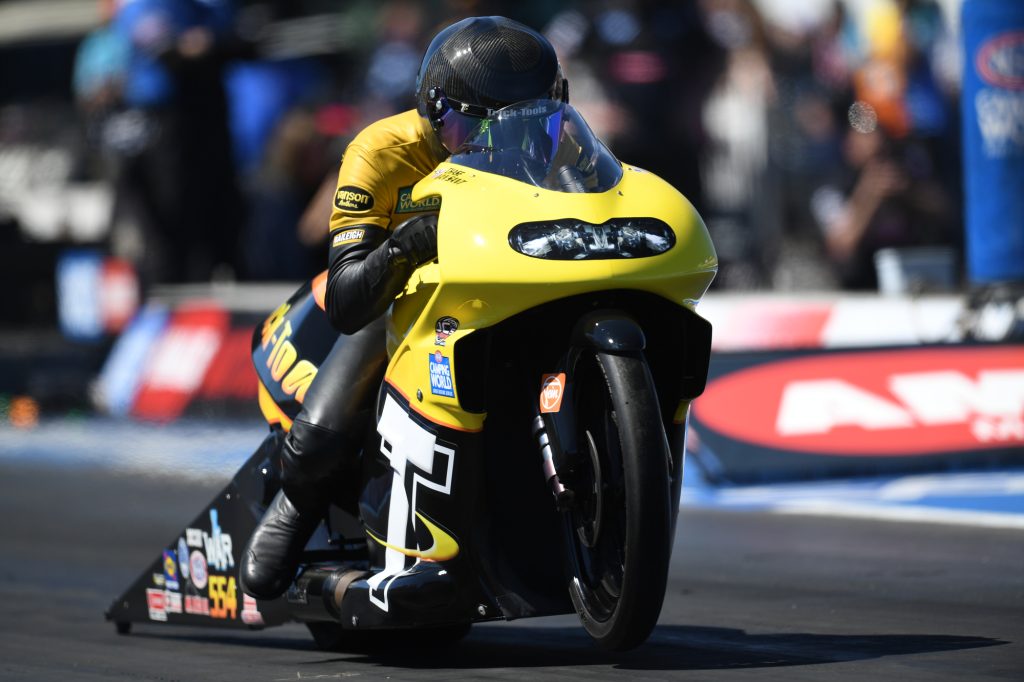 On the other side of the Mission #2Fast2Tasty NHRA Challenge bracket, Smith won her semifinal matchup against Van Sant on her Denso Auto Parts Buell but fell in the final to Herrera. They could very well meet in the final of the specialty event on Saturday and Smith has big goals in mind for the weekend. Her husband, defending world champ Matt Smith, has won the past two races at Route 66 Raceway and she's eager to replicate that success on her bike.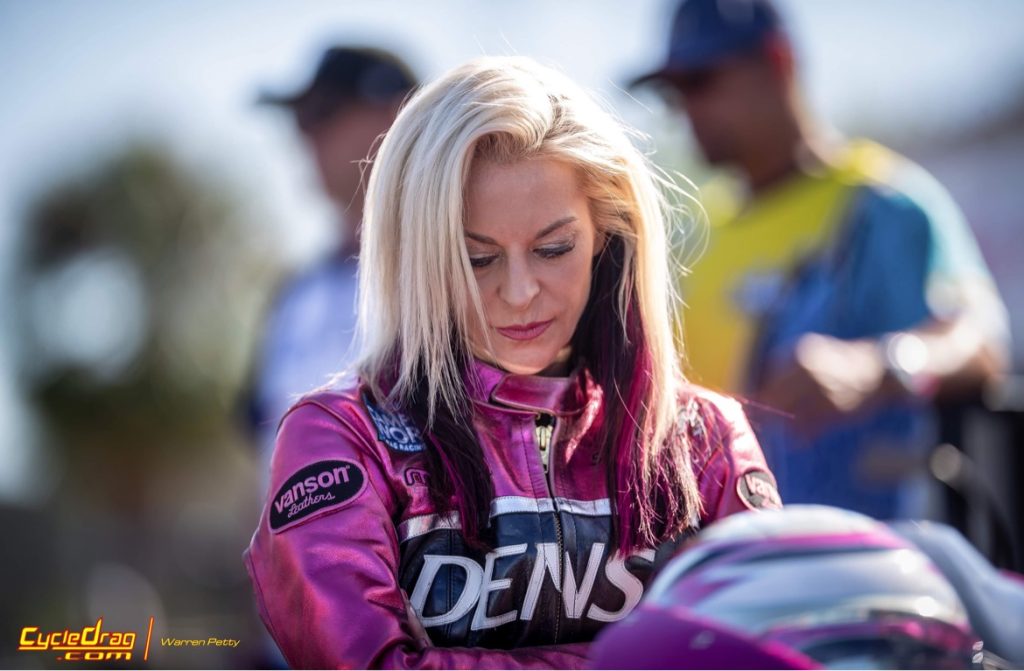 "I'm excited to race in the first motorcycle Mission #2Fast2Tasty NHRA Challenge," Smith said. "Matt Smith Racing has a really good record at Route 66 Raceway and my mission is to keep that going. I'm hoping to be too fast for my competition and bring home a little extra cash from the weekend as well."
Van Sant sees the weekend as a chance for redemption in what's already been a solid start to his rookie season. He advanced to the semifinals in Gainesville on his White Alligator Suzuki and considers it an honor to be involved in the first Mission #2Fast2Tasty NHRA Challenge for the Pro Stock Motorcycle category. The only thing that would top it would be winning on Saturday.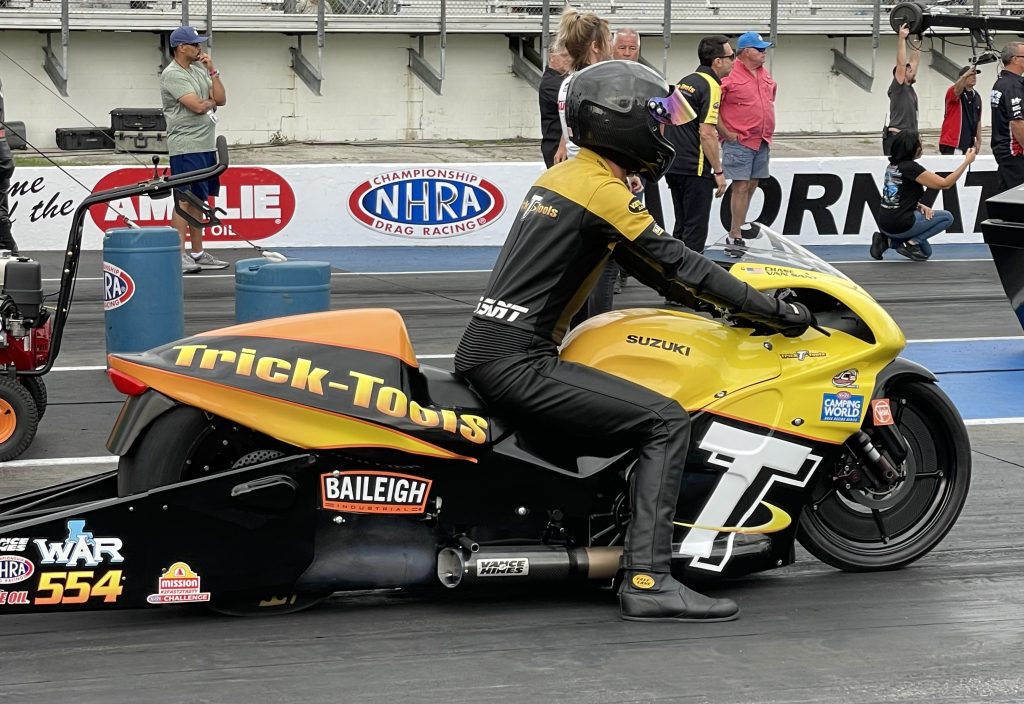 "This is a cool deal to be a part of. When I first heard of the Mission Challenge, I was hoping we'd see some new faces in there and then I ended up int the first one," Van Sant said. "I also like that we're highlighting racing on Saturday and it's more than just another qualifying run. I am still fairly new (to NHRA) so I need more seat time in race scenarios. Every round I try and get more and more used to the bike and to have a shot in an actual race is a great bonus.
"So far, we've had two engine failures that cost us at worst time. It happens sometimes and nobody can do anting about it but now I get a chance to make up for the semis in Gainesville and hopefully win a couple of rounds. It would be so cool to say you've won the first one."
As another added storyline Peggy Llewellyn will make her return to the class for the first time since November 2008.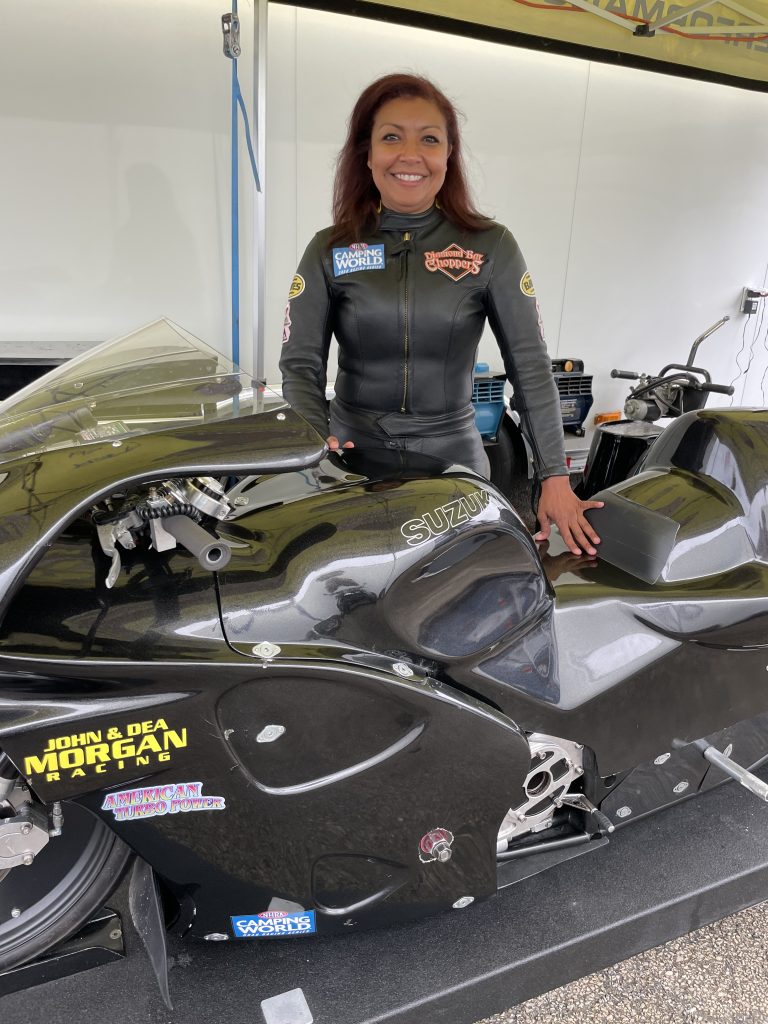 Also Larry "Spiderman" McBride and Dave Vantine will thrill fans with their Top Fuel Motorcycles.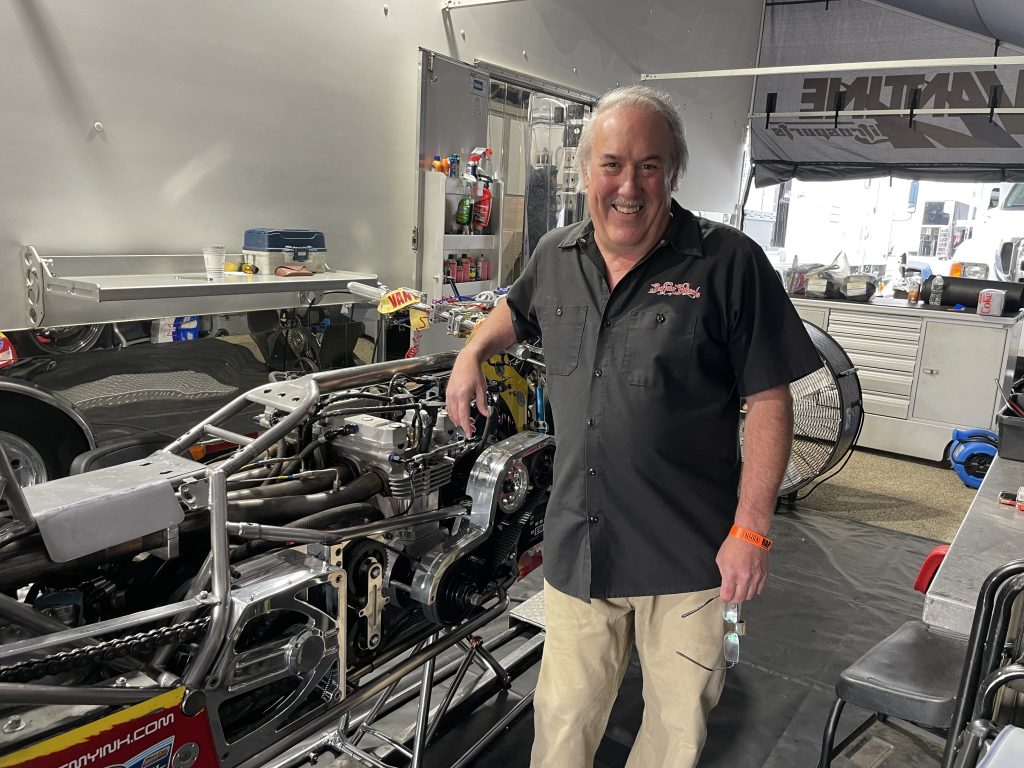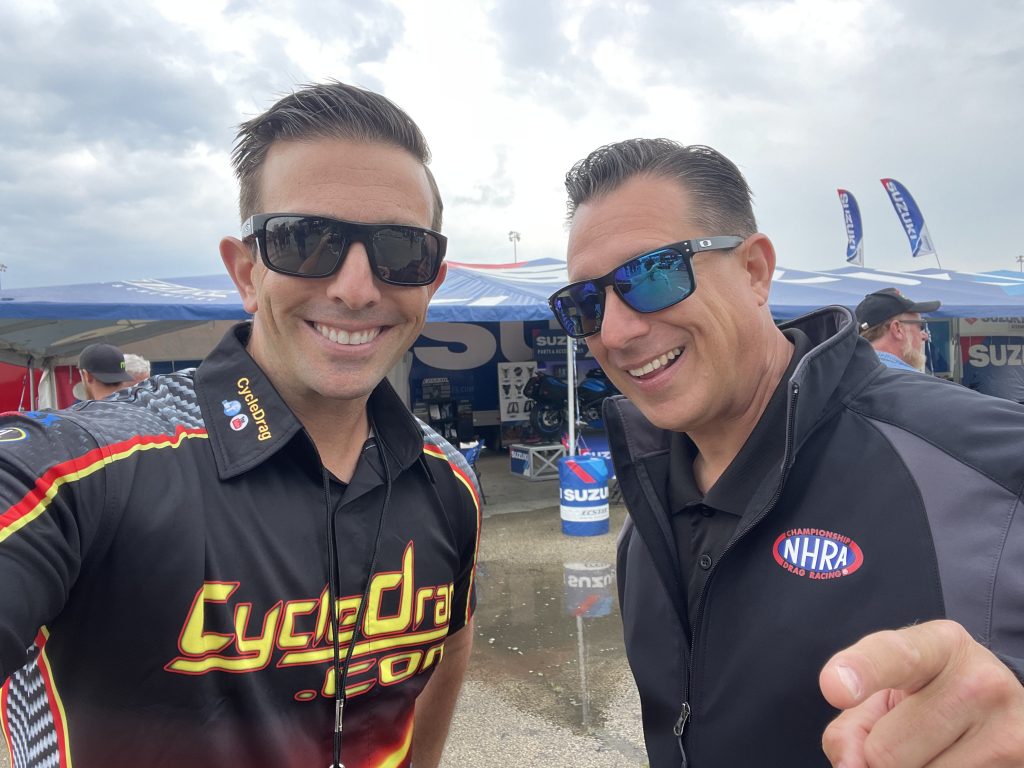 Steve Torrence (Top Fuel), Tommy Johnson Jr. (Funny Car), Deric Kramer (Pro Stock) and Matt Smith (Pro Stock Motorcycle) all won the most recent race in 2019 and this year's event will be on Fox Sports 1 (FS1). It is the sixth of 21 races during the 2023 campaign and the weekend will also include the NHRA Pro Stock All-Star Callout on Saturday as part of a thrilling return to Chicago.
Qualifying opens on Friday, May 19 at 5 p.m. CT, leading into qualifying at 1 and 4:30 p.m. on Saturday, May 20. Eliminations begin at 11 a.m. CT on Sunday, May 21. The opening round of the NHRA Pro Stock All-Star Callout takes place at 1 p.m. CT on Saturday, followed by the semifinals at 3:15 p.m. and the final round at 4:55 p.m. CT.
There are more videos on the Cycledrag Youtube channel (please subscribe here) and the Cycledrag Facebook page (Please like here) and more will be coming soon. Check back daily.