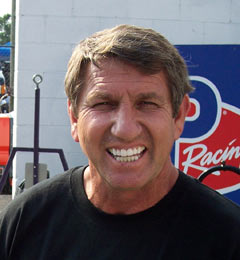 Jimmy "The Hulk" Brantley is taking a hiatus from racing and putting his 5.80-proven Top Fuel dragbike up for sale.
2005 AMA/Prostar Top Fuel Champion Jimmy Brantley has decided to sell his Cycle Specialist/McBride-built record smashing nitro Kawasaki.  Last November Brantley recorded the quickest dragbike run ever, piloting this machine to a staggering 5.80.
Brantley, who owns his own business specializing in land drilling, has become involved in a very large project and has determined he won't have time to race in 2007.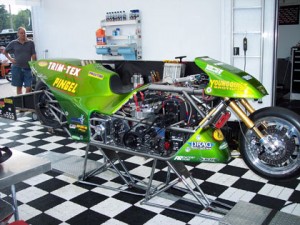 "We are really going to miss him this year," Brantley's bike builder and mentor Larry "Spiderman" McBride said.  "He matured into a pro caliber rider much more quickly than we thought possible.  The competition he provided me with was something the fans really enjoyed."
As for now Brantley hopes to return to motorcycle drag racing in years to come.
"I don't think we've seen the last of him," McBride said.  "He's a true competitor and he'll be back.  Whenever he's ready we'll build him another bike."
McBride is also hopeful the rapid machine will be purchased by someone who will continue to run the bike in the AMA/Prostar series.
"As of now the majority of the interest has been from racers in England," McBride said.  "I'd love to see this bike stay in the states.  We need it in this class.
Serious buyers please contact Larry McBride at Larry@LarryMcBride.com or 757-599-5236. Please no Top Fuel tire kickers.
Bike Specs
?Wheelbase: 100 inch axle center to center
?Weight: 1030 lbs
?Fuel Usage: 4 gallons per run
?Fuel Capacity: 6 gallon capacity
?Aluminum body & carbon fiber body panels
?Rear Tire Size: 14″ x 31.5″
?Performance Machine Brakes – 11" diameter rotors, front and rear
?1200 Horsepower, estimated
?70mm stroke, 83mm bore
?6.4 compression
?BME Rods (Bill Miller Engineering)
?Kawasaki GPZ style Vance & Hines Cylinder Head
?Puma crankshaft and case assembly
?Dailey Engineering 3 stage dry sump oil system
?Steve McBride engineered drive system
?Belt Drives Ltd. Belt Drives
?1 Gallon oil capacity
?Whipple "Screw Charger"
?2.4 compression ratio
?B&J Planetary Transmissions
?2 speeds – 1.43:1 under drive – 4.50:1 overall gear ratio
?Cycle Specialist's Multiple Stage Clutch