Flyin' Ryan Oehler went from nearly not making the call for Round No. 2 of eliminations to collecting his second career NHRA Camping World Drag Racing Series victory Sunday at the DENSO Spark Plugs NHRA Four-Wide Nationals at The Strip at Las Vegas Motor Speedway.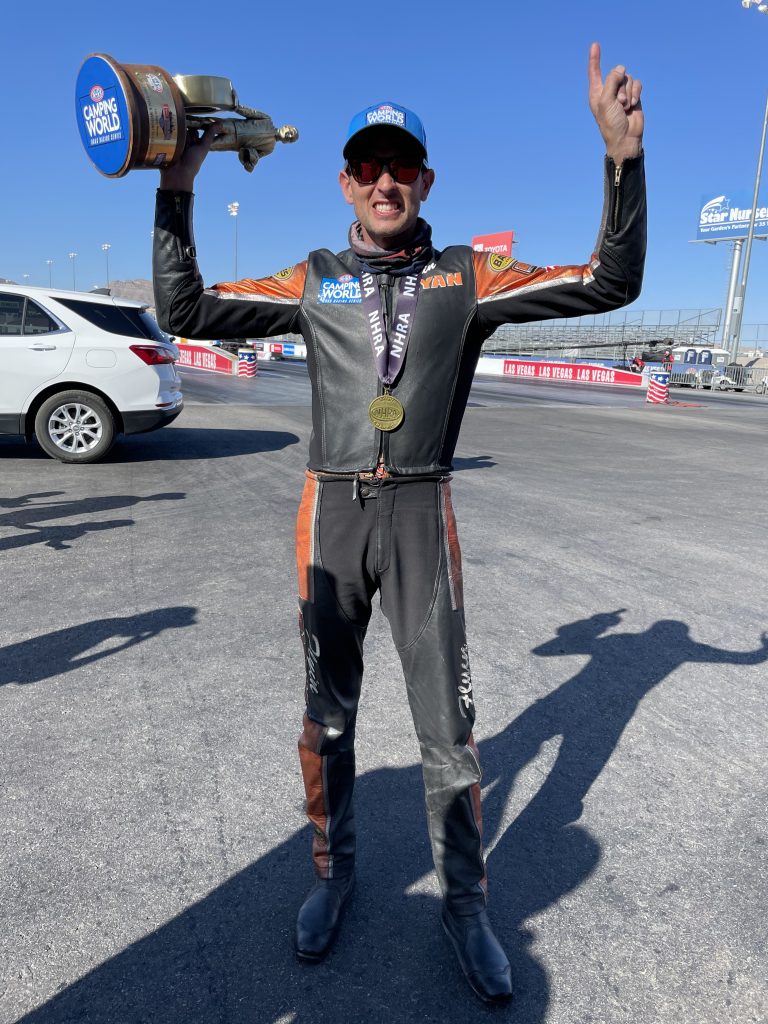 Oehler was in a celebratory mood after earning his second career Pro Stock Motorcycle victory on his Flyin' Ryan Racing EBR, going 6.911 at 194.83 in the final round to beat Cory Reed, Steve Johnson and a red-lighting Scotty Pollacheck. He overcame significant adversity throughout the weekend to gain his first four-wide victory, winning his first-round quad and finishing second a round later to Johnson to move to the final round. Oehler, who earned his first career win last season, was impressive in the final round, posting a great reaction time and picking up the strong wire-to-wire win.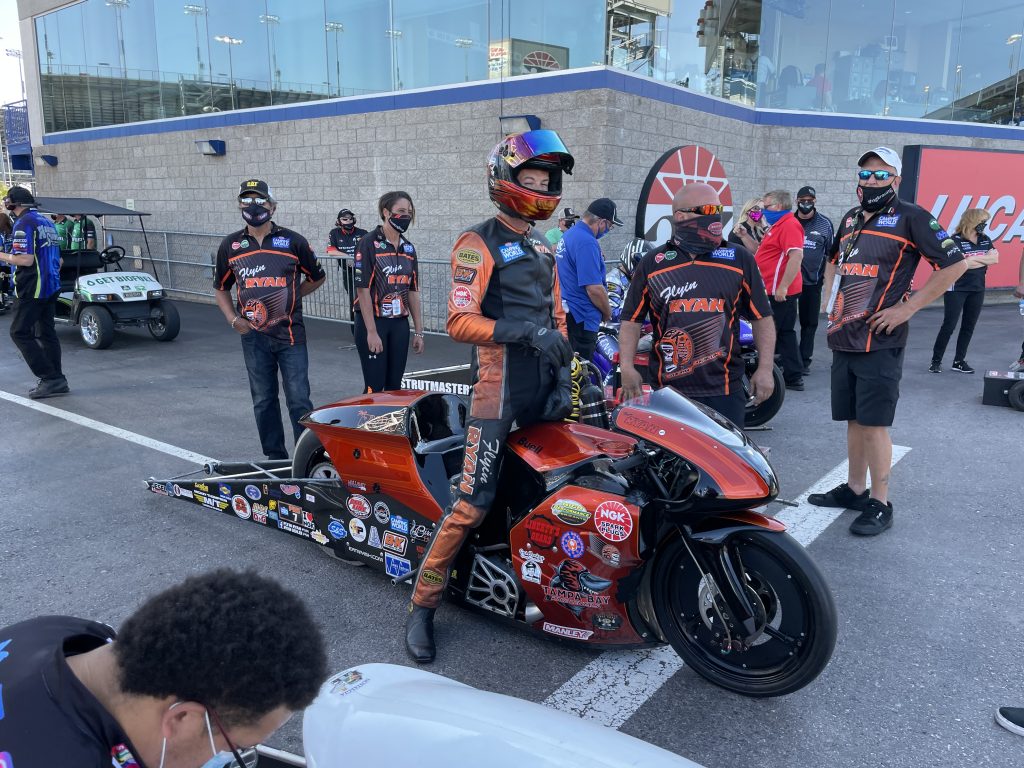 "We started the weekend off in the sand at the end of the track and round one, we basically ruined the engine," Oehler said. "We changed motors and made a rapid turnaround, and I can't thank my family, my team, my crew and my sponsors enough. This is awesome. We got our second Wally and there's going to be more."
Reed finished as the runner-up after going 6.948 at 193.10, advancing to his second career final round. He took second in all three quads on Sunday.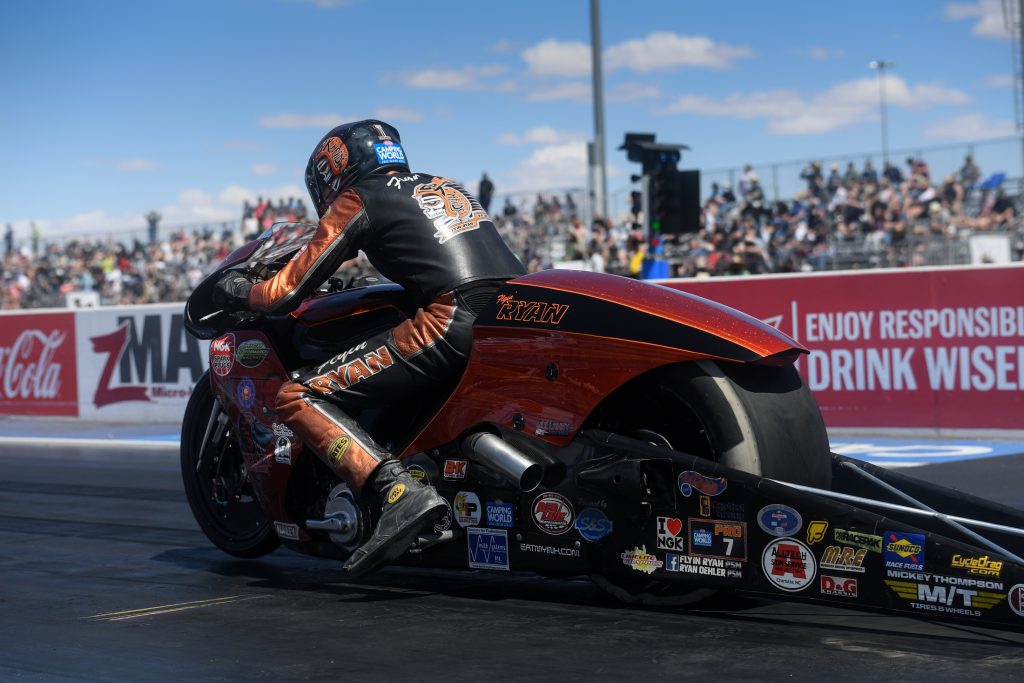 The NHRA Camping World Drag Racing Series returns to action April 30-May 2 with the Lucas Oil NHRA Southern Nationals at Atlanta Dragway, marking the final event at the facility.
ROUND ONE — Scotty Pollacheck, EBR, 6.920, 194.10 and Angelle Sampey, Suzuki, 6.889, 192.22 def. Jerry Savoie, Suzuki, 7.071, 189.73 and David Barron, EBR, broke; Ryan Oehler, EBR, 6.971, 193.68 and Angie Smith, EBR, 6.944, 195.76 def. Kelly Clontz, Suzuki, 7.219, 186.72 and Chip Ellis, Harley V-Rod, 6.952, 192.96 and Steve Johnson, Suzuki, 6.938, 191.87 def. Freddie Camarena, Suzuki GSXR, 7.156, 187.83 and Matt Smith, EBR, 6.888, 196.87 and Cory Reed, 6.985, 192.17 def. Karen Stoffer, 6.924, 192.82;
SEMIFINALS — Johnson, 6.931, 191.62 and Oehler, 6.984, 192.69 def. Ellis, 7.063, 191.00 and A. Smith, 7.196, 189.12; Pollacheck, 6.936, 193.27 and Reed, 6.972, 191.70 def. Sampey, 7.077, 162.68 and M. Smith, 7.722, 128.29;
FINAL — Oehler, 6.911, 194.83 def. Reed, 6.948, 193.10, Johnson, broke and Pollacheck, foul.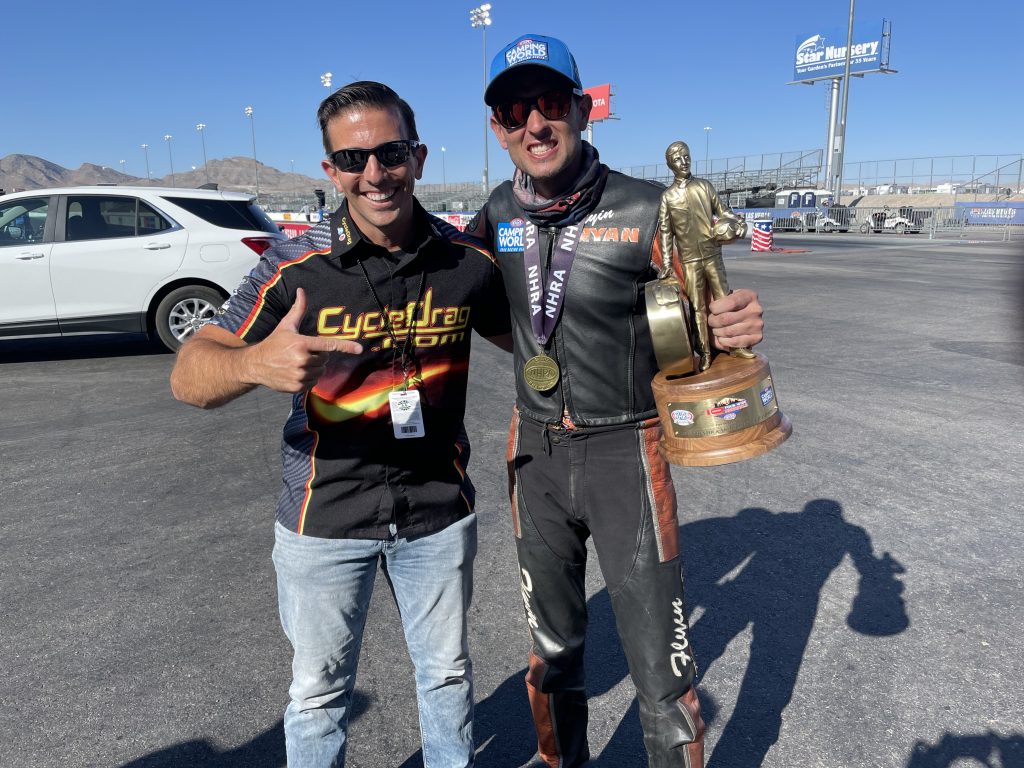 Pro Stock Motorcycle Points
1. Ryan Oehler, 209; 2. Matt Smith, 183; 3. Steve Johnson, 152; 4. Scotty Pollacheck, 151; 5. (tie) Cory Reed, 124; Angelle Sampey, 124; 7. Angie Smith, 91; 8. Karen Stoffer, 88; 9. Kelly Clontz, 64; 10. Jerry Savoie, 63.
There are more videos on the Cycledrag Youtube channel (please subscribe here) and the Cycledrag.com Facebook page (Please like here) and more will be coming soon. Check back daily.