Despite a rain delay on Saturday, a large field of motorcycles turned out at Lucas Oil Raceway in Indianapolis for the opening round of the 2013 NHDRO season. With final rounds run in blazing sunshine, both pro classes produced upsets and sportsman racers fought through enough rounds to have a real sense of accomplishment in the winners circle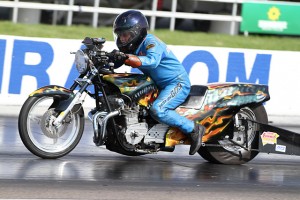 And none felt the achievement more than veteran Michigan racer Doug Fisher. There's nothing a racer loves better than to double—winning two classes at one event—and Fisher pulled it off at Indy, winning the Hornish Brothers Top Gas final over Rod Bland and Super Comp over 22 year-old female sensation Ceslie Shellhaas.
NHDRO is starting off with a fresh record book this season and McIntosh Machine & Fabrication Pro Street racer Bud Yoder wasted no time writing his name all over it aboard Ronnie Mitchell's Detroit-built, pink "Rizzo" Suzuki Hayabusa. Yoder headed into the final with a 7.064 at 207.56 mph to his credit and seemed like a shoe-in to take the win back to Michigan. But Bud got aggressive on his launch and spun, letting Ohioan Doug Gall get away to claim his second major win of the season on what looks to be a break-out year for NHDRO racer Gall.
A similar scenario played out in Schnitz Racing Pro Comp, where multi-time champ Keith Lynn set the standard with a 4.151 on his Kawasaki turbo Funnybike and ran that way consistently all weekend. He faced Michigan surgical instruments sharpener Mark Paquette in the final, and Paquette was carrying his own record book entry with him—a 180.65 mph top speed on his similar Kawasaki combination. Still, Lynn had consistency while Paquette had many shut-off passes on his way to the final. But Lynn went -.003 red at the starting line and Paquette scored the big check.
NHDRO is proud to showcase the 2 stroke Super Eliminator bikes in action and veteran racer Roger Wilhelm took the final round over redlighting Scott Allen. The Catalyst Racing Composites Crazy 8s win went to Brad Gott over Chuck Fleener, Gott taking it at the start with his .050 light to Fleener's .137.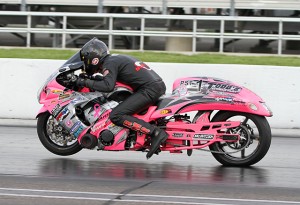 Shawn Books took Tsukigi Racing Streetfighter over Ben Knight, but don't feel too bad about Ben. He won Dennis Insurance Street ET over Jaden Hall on Sunday, while Saturday's Street ET win went to Ryan Schnitz. G&G Metal Spinners Pro ET wins went to Greg Mallett on Saturday and Dalton Markham over US Nationals winner Craig Treble on Sunday. Yes, the NHDRO field even humbles NHRA superstars.
Schnitz was the big grudge racing winner on the weekend, taking a another big Michigan vs. Ohio race Saturday night on the nitrous assisted "Orange Crush" 'Busa over Jeremy Teasley on the supercharged "Fugitive," the new official MSP-built grudge bike of the NHDRO. There was quite a bit of action going on with 39 grudge bikes at LORP Saturday night, more than the category has generally seen so far this year.
And the "backside" of the facility was lively as well, featuring the backsides of Indy's wildest bikini models and the good time club activity of the Midwest Biker Round-Up. John "Spooky" Markham won the Slow Roll competition.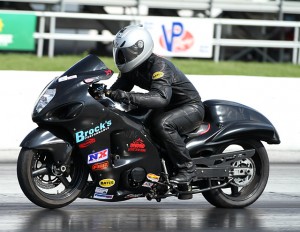 The NHDRO returns to action on June 7-9 at National Trail Raceway in Columbus, Ohio.
Find out more about the NHDRO at http://www.nhdroracing.com/
This report was prepared by Tim Hailey. Photos are for editorial use only. Enjoy everything there is to read, see and watch about motorcycle drag racing and more at http://www.eatmyink.com
-end-
High-res images for editorial use are available by e-mailing timhailey@earthlink.net