The Xtreme Dragbike Association (XDA) delivered another exciting round of Motorcycle Drag Racing to Virginia Motorsports Park (VMP) with the 33rd annual MTC Engineering Summer Nationals. And for the second year in a row, the weather did not slow down the XDA War Machine.
A weak forecast will typically keep racers at home on a race weekend, but not the XDA troops. With 690 entries, this event set the VMP record as the largest motorcycle participant count in history. Rain came in Friday morning, and again with a torrential downpour on Friday night during round one of qualifying soaking the track and pits to delay Saturday's start time to noon. The weather also didn't deter spectators as they came out to support the event in record numbers.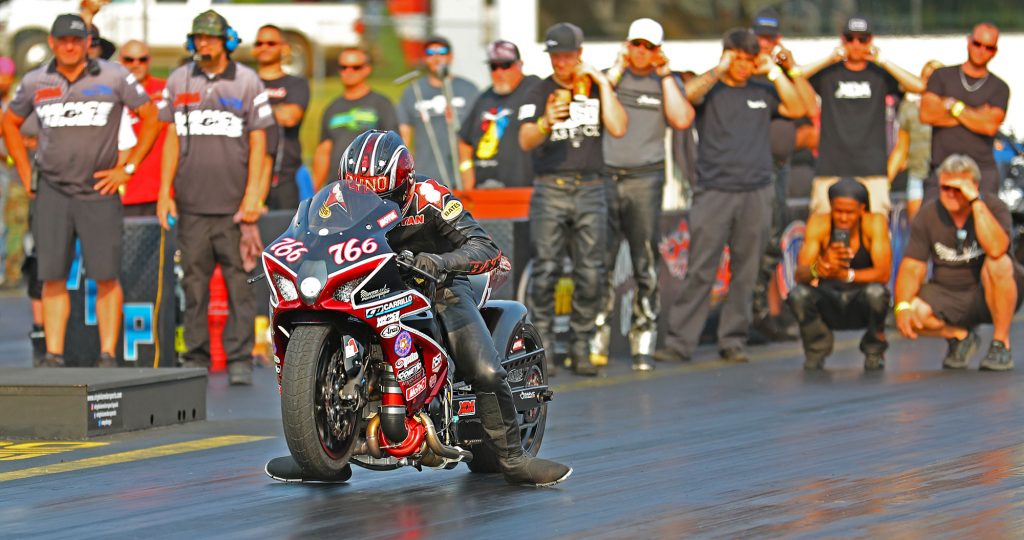 With a late start time on Saturday, XDA adjusted the schedule to make the best of what mother nature handed them. Pro ET and Street ET re-entry and the fourth qualifying session for the Pro classes were canceled. This decision would give spectators a solid show on Saturday while providing both Sportsman and Pro racers the best possible outcome for the day.
Orient Express Racing Pro Street
Winner – Jordan Haase 6.684
Runner-up – Rodney Williford 16.809
#1 Qualifier – Rodney Williford 6.538
Twenty-Eight Orient Express Pro Street racers entered this event to make XDA the series to watch for the most exciting two-wheeled action in the country. And despite the rain and the cancellation of a Pro qualifying round, nine personal records were broken throughout the weekend. Chris Klassen of Quicktime Racing became our quickest Canadian with his 7.347 pass. Brett Ware made his XDA debut running a 7.24, and Lorenzo Ortiz, Brad Christian, Chris Edwards all improved as well. DME Racing's Chris Connelly not only improved his ET but also his MPH to a 222.28, making him the fifth-Fastest racer in Pro Street.
Outspoken grudge racer Chris Moore has kept his promises to become a dominant force in the class. For weeks he promised he had something special for the class, and on Saturday he ran a 6.64 to put himself among the top ten quickest racers of the class.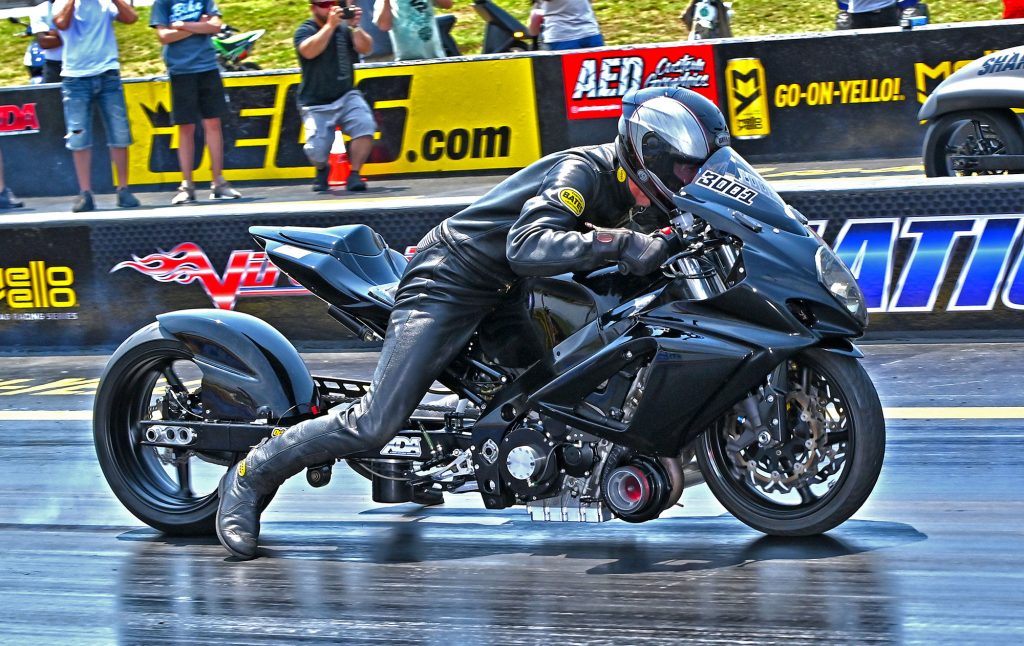 But the record-breaking this weekend was dominated by the Williford Racing camp. Rodney Williford called his troops to the front lines when he ran a 6.53 in the first round of qualifying. Ehren Litten followed the next round breaking into the fifties running a 6.580, becoming the fourth quickest racer on the GOAT list.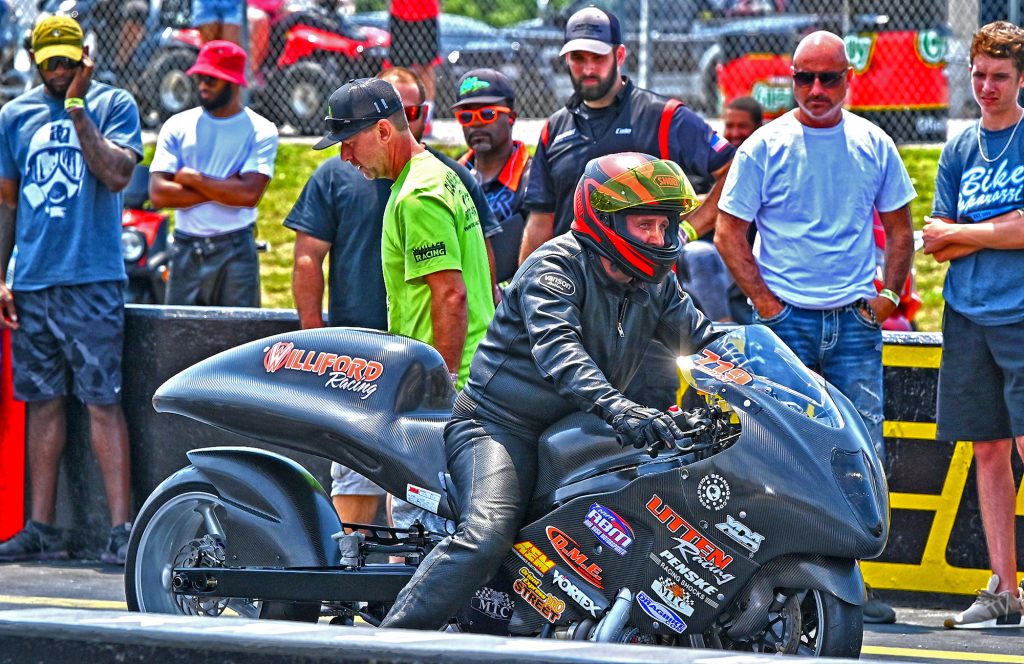 In the first round of eliminations, the entire Williford team would take wins, along with Chris Moore, Ryan Schnitz, Gaige Herrera, Chris Connelly, and Jason Dunigan. Dunigan whose bike sparked a small oil fire while he rolled through the shutdown area, suffered melted hoses, wires, and bodywork damage. The DME Racing team scrambled to pull the bike apart and attempt to get it ready for the next round. When the last call was made two hours later to report to the lanes, they were able to make it just in time to be the first pair out.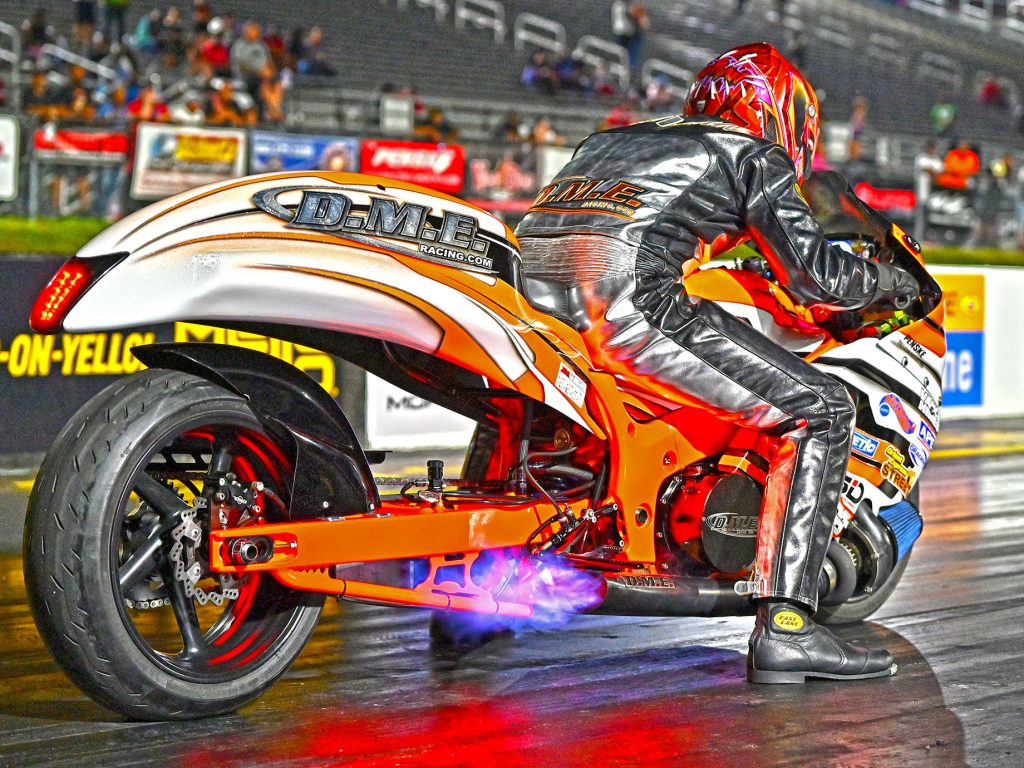 In round one of eliminations Gaige Herrera pulled the upset taking out GOAT Jeremy Teasley, and went on to take out Ryan Schnitz in round two on a holeshot win. Williford took a win against Dunigan who couldn't recover from a starting line tire spin. Jordan Haase would win against teammate Ehren Litten who had problems and could not make his pass. And the most entertaining win of round two went to Chris Connelly who showed up prepared to take on Chris Moore's starting line games with a matched stare down before rolling into the lights. Connelly also took home an undisclosed amount of money from Chris Moore on a side bet on that run too.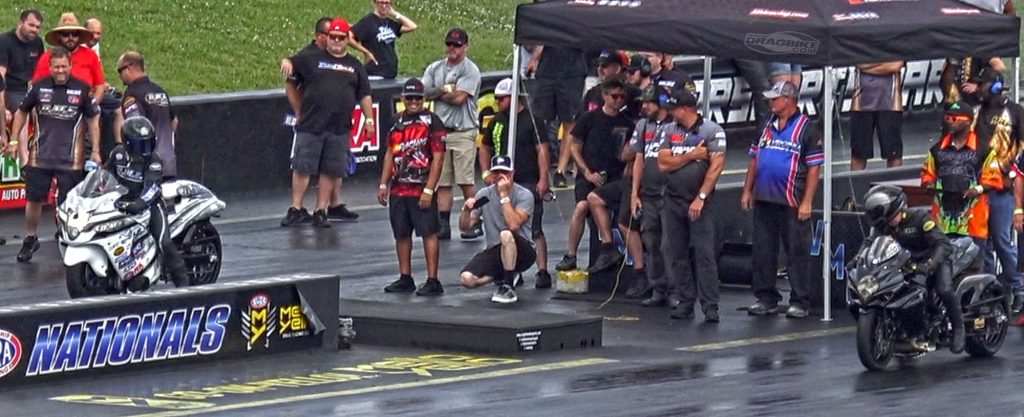 Chris Connelly and Jordan Haase who may be rivals on the track are also friends that look forward to their on-track competition. Connelly, who currently has a better win ratio to Haase was looking to keep his winning streak alive. Unfortunately for Connelly it was time for Haase to deliver a payback in the closest win of the day. Haase cut a .029 light to Connelly's .044 giving him that edge to take the stripe with a 6.87 to his 6.89. Williford then put an end to Herrera's wins with a 6.63 pass to make it an all Williford Racing Final for the second time at VMP.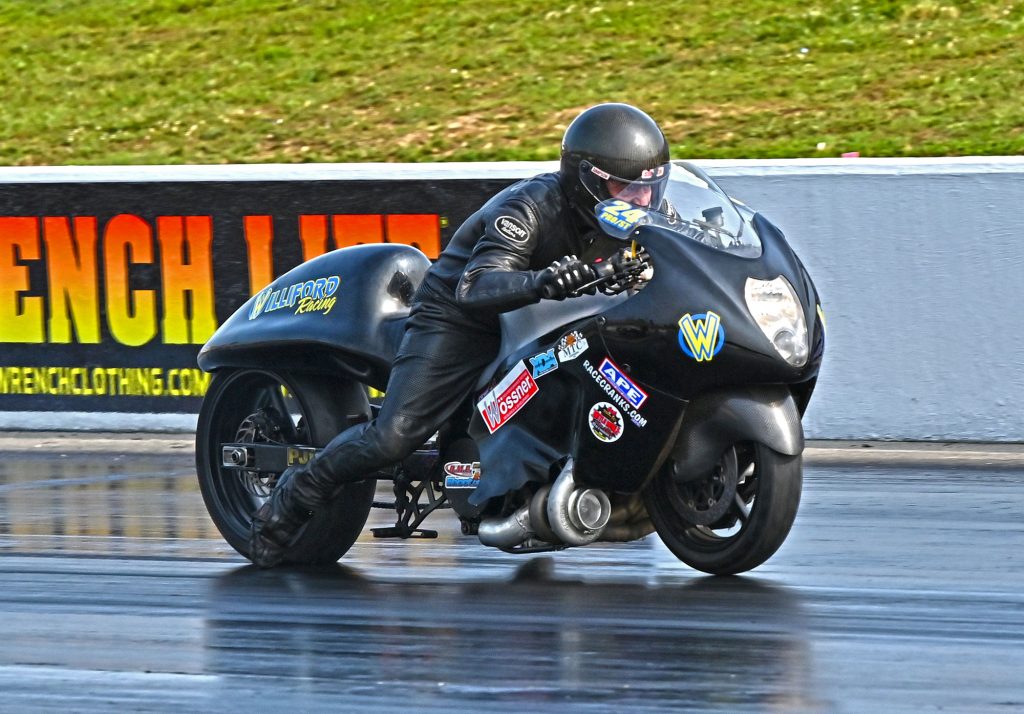 Last year Jordan Haase saw his best performance of the year at VMP. And this year he would officially mark his dominance at this track with another final round appearance. Last year Williford took the win over Haase in the final, but the table would turn this year as Jordan not only got the win over Williford, but also set his personal ET record to a 6.684! Tuner John Gover may have been speechless for a just a slight moment after this win. This new record puts him in the top ten of the quickest racers of all time, and puts him second in points for the Championship chase.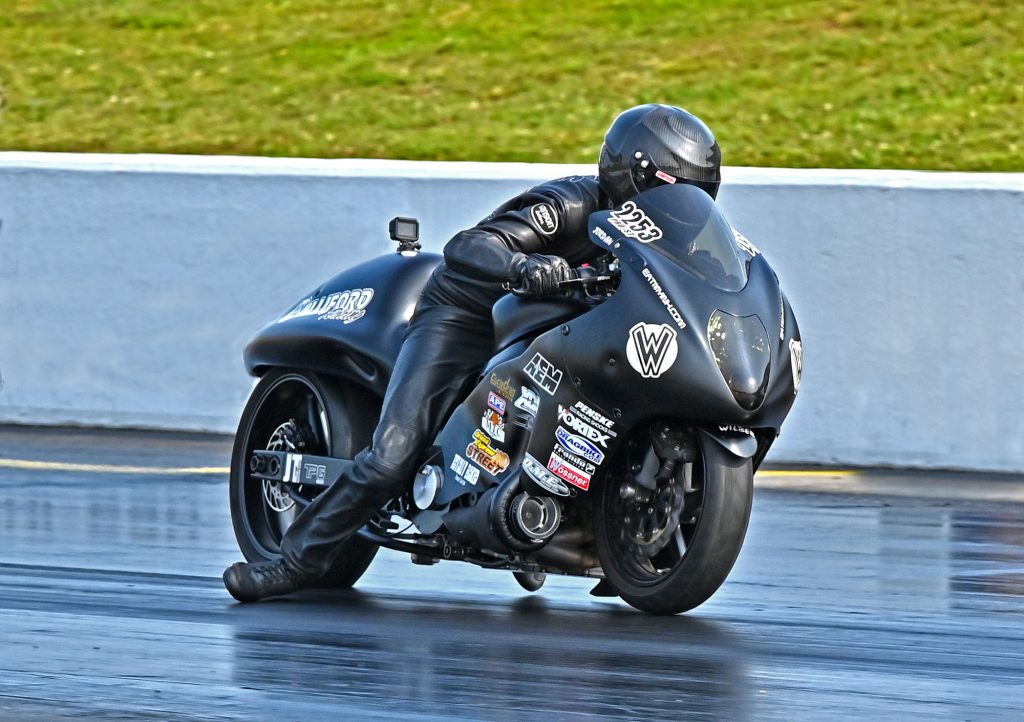 The twelve racers that didn't qualify raced in the Pro Street 'B' class on Sunday. Quicktime Racing's Brad Christian who has seen a steady improvement in performance took the win over Mike Kovacevich on the Ronnie Mitchell tuned Hayabusa.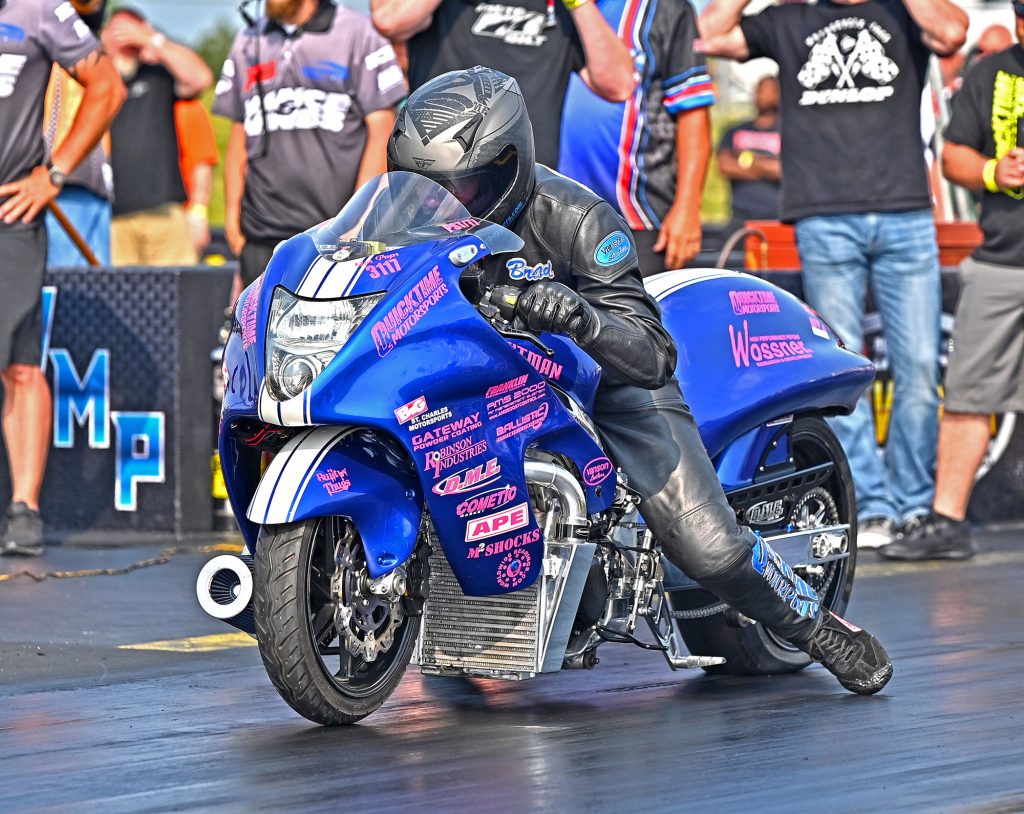 DME Racing Real Street
Winner – Anibal Merced 7.76
Runner-up – Brad Stinnett
#1 Qualifier – Anibal Merced 7.718
The DME Racing Real Street action started on Friday during test and tune with a friendly side bet between rivals Spencer Claycomb and Jeremy Teasley. In weeks leading up to the event, Devin Ragland called out Claycomb for an 'Off the Trailer' race for a nickel. Both bikes were in legal Real Street trim, with Claycomb getting the back tire. For you non-grudge racers, this means Claycomb got the starting line advantage of staging his back tire as opposed to the front tire. Claycomb got the win running a 7.91 to Teasley's losing 7.83. Do that math?!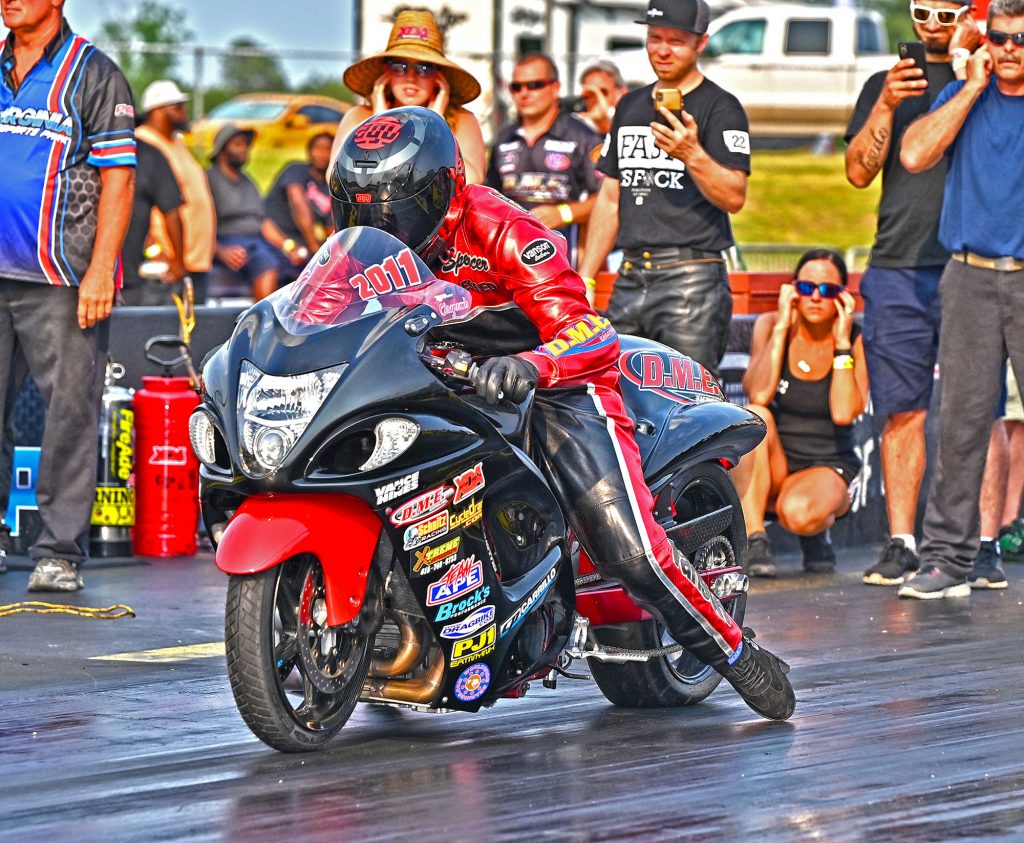 On Saturday the Schnitz Racing Real Street Shootout delivered the drama for the day when Mark Hylton took his third Real Street win this season making him undefeated in the first three races. Hylton took out champion Anibal Merced in the final with a 7.79 to his 7.91 to put an extra $1,200 in his pocket.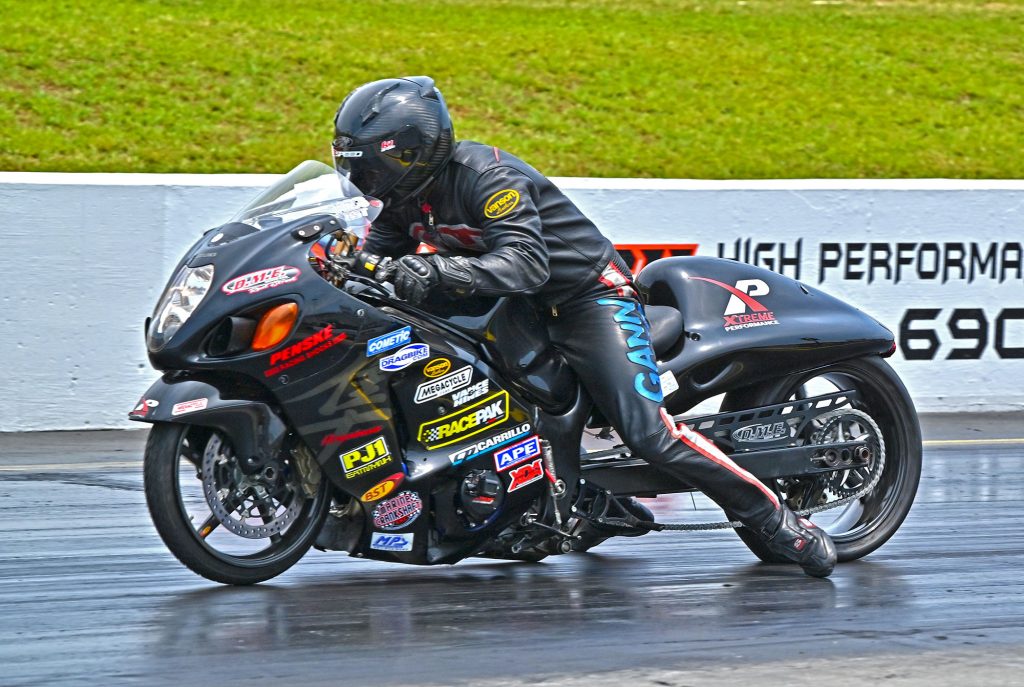 Anibal Merced took the number one qualifying position with 7.718 and would look for redemption on Sunday.
In round one of eliminations, four racers with bike troubles wouldn't make it to the lanes giving half the ladder an easy advance to round two. Racers who advanced after beating competition were Brandon Teasley, Devin Ragland, Brad Stinnett and Chad Sosnowski.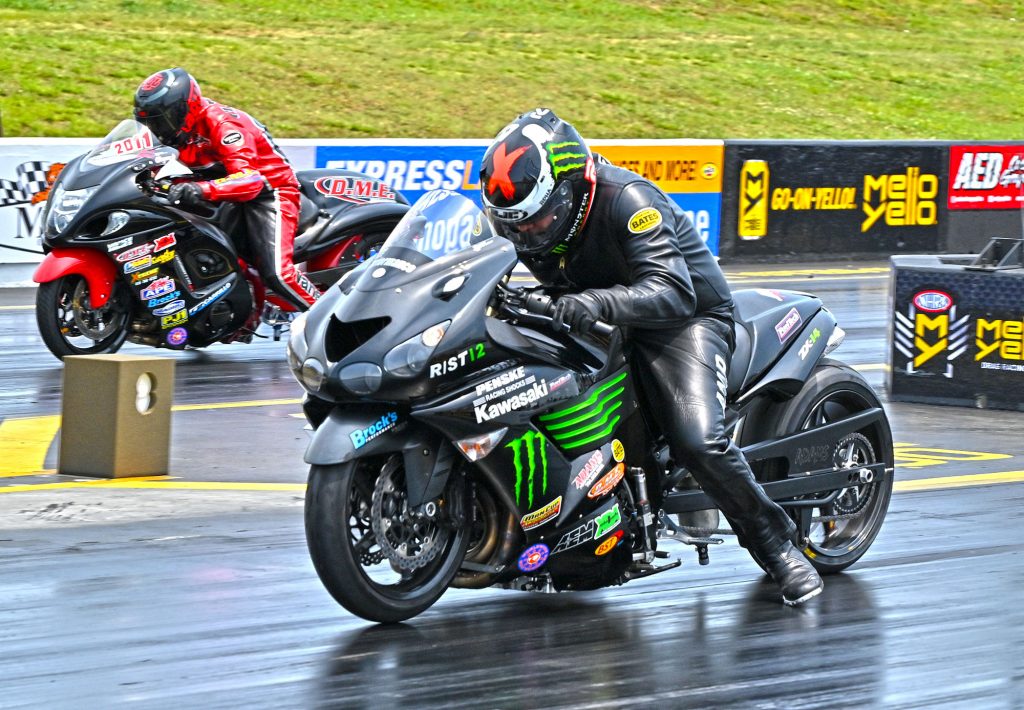 In round two of eliminations, Hylton, Merced, Sinnett, and Ragland would all take wins to advance to round three. And in round three Anibal Merced would be waiting for his biggest rival at the tree, Marcus Hylton. At the season opener, Hylton took the win in the final over Merced, and again on Saturday during the Shootout final Merced would take a second lose to him. But not this time, Merced would deliver a 7.66 pass to put a stop to Hylton's three-race winning streak.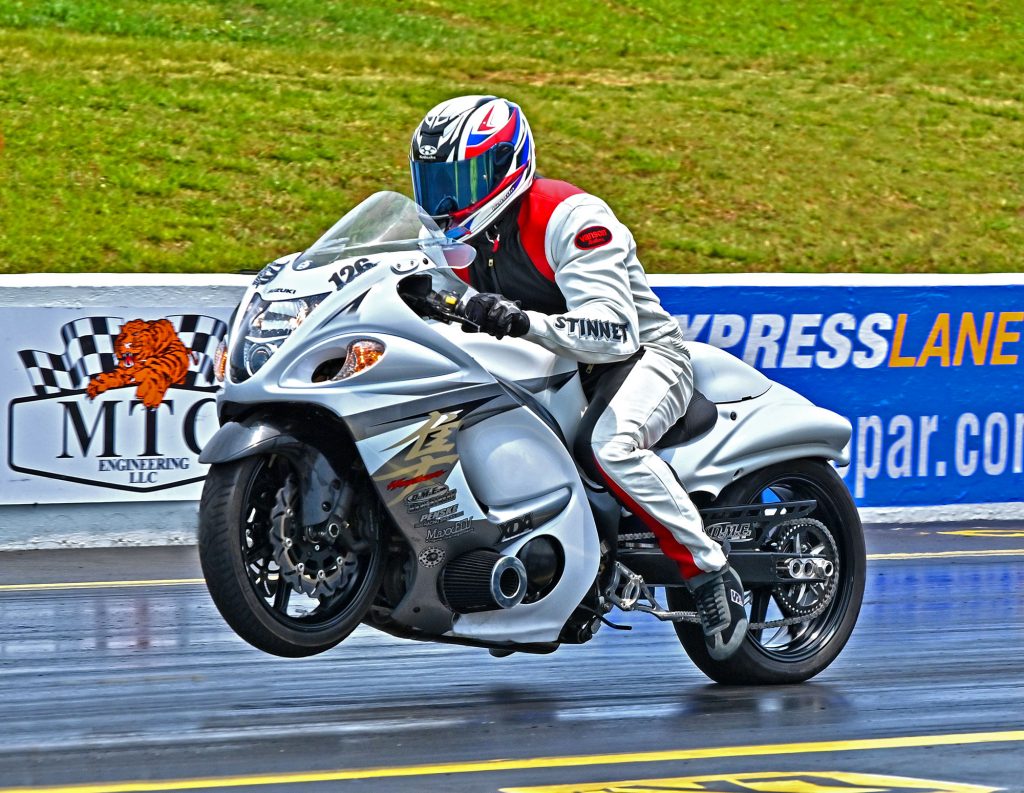 Brad Stinnett won over Devin Ragland sending him to his first final to face Merced, but the race would be uneventful as Stinnett had starting line problems to give Anibal Merced an easy path to the winner's circle and the championship points lead.
APE Nitrous Bulls
Winner – Kenneth Grate / Hannibal
Runner-up – Lavar Delee / Jizzle
In APE Nitrous Lavar Delee made it to the final again, apparently 'High Roller' isn't doing it for him anymore because this time he was on 'Jizzle' when he took out Brandon Tyree on 'Mad Max' and Caleb Holt on 'Bad News' to earn his spot in the final. Kenneth Grate on 'Hannibal had the easier side of the ladder with a bye and a takedown of Dave Norris on 'Yellow Jacket'. And in the final, the $6,600 payday went to 'Hannibal' as 'Jizzle' just couldn't keep up. The grass isn't always greener on the other side.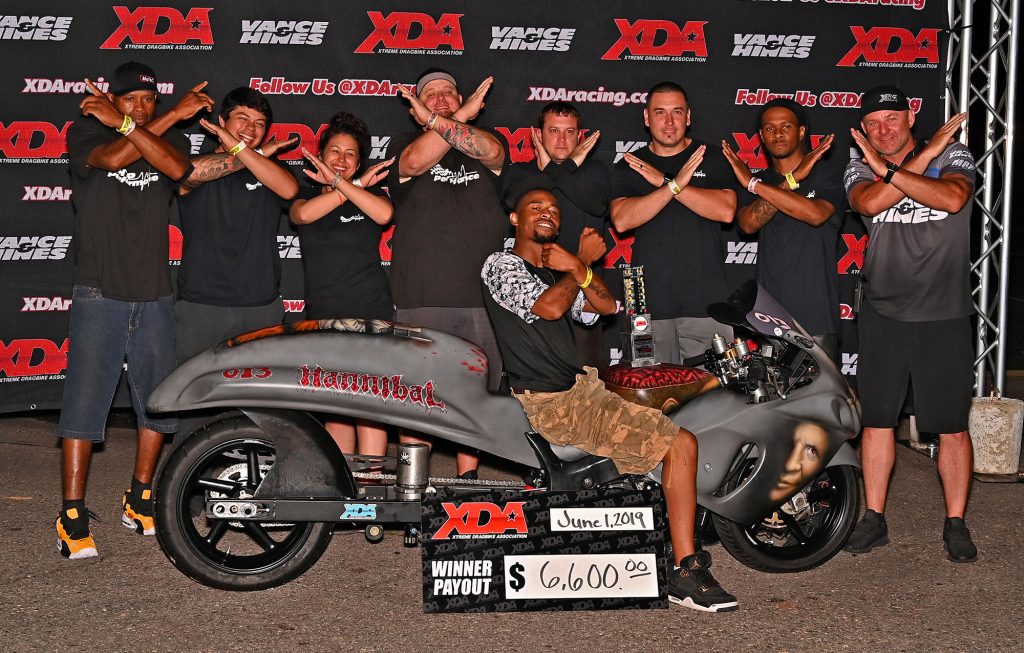 Monster Bulls
Winner – David Page / Pickin Pockets
Runner-up – Jon Herlong / Moneytrain
The Williford camp took their Pro Street domination into the nitrous only Monster Bulls class for riders weighing between 200 and 249lbs with no wheelbase restrictions. David Page on 'Pickin Pockets' barely had to put in any effort to defeat 'Harley Quinn' and 'Black Panther' to make it to the final. Jon Herlong on 'Moneytrain' took out 'Spawn' and got a bye to end up in the final for a face-off with 'Pickin Pockets'.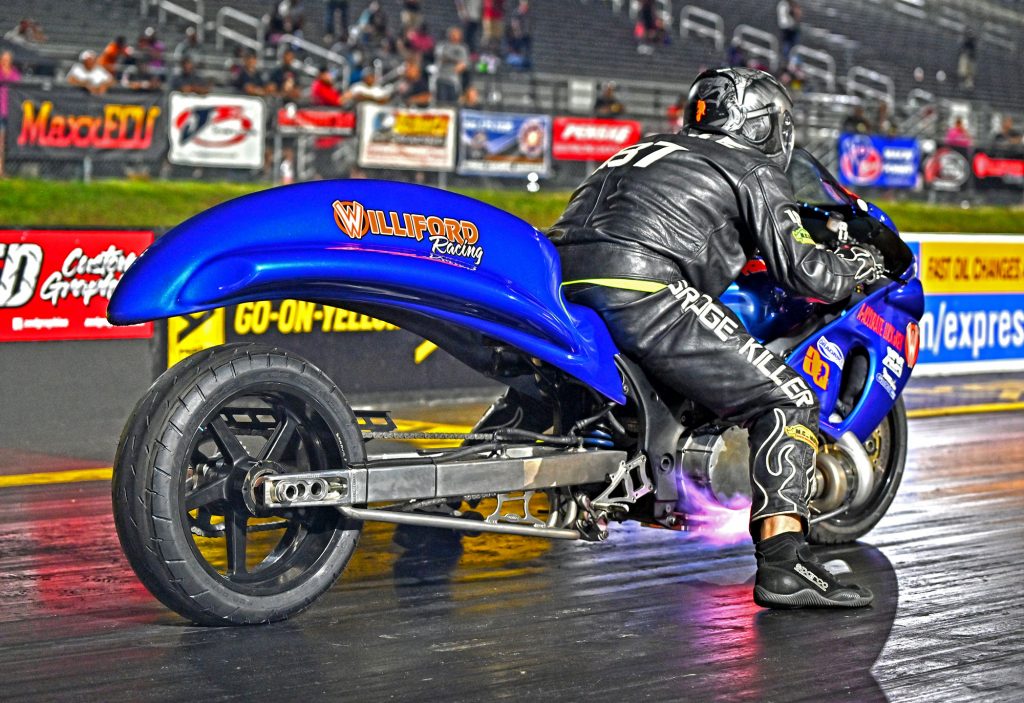 And once again 'Pickin Pockets' cleaned out the other lane to take the $3,400 win back to the Williford Racing camp for Saturday night celebration festivities.
Unit 5 Components Brahma Bulls
Winner – Desmond Spalding / BBN
Runner-up Nick Mazeika / Clockwork
The Unit 5 Brahma Bulls 63″ maximum wheelbase all-motor grudge class had two new entries with Kill Bill on 'BBN' and CJ Fair on 'All Pro Joe'. Nick Mazeika on 'Clockwork' got the first round bye and was looking to defend his title in the final against 'BBN' after he took out the 'All Pro Joe' in round one. In the final Clockwork had a big wheelie out of the gate and could not recover, giving the win and the 2K payout to 'BBN'.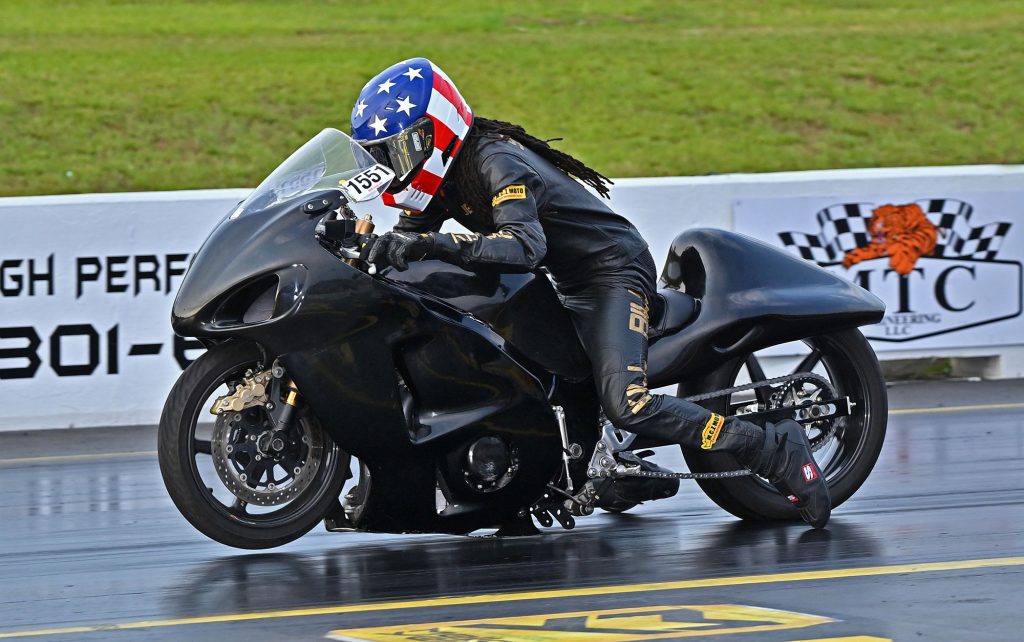 Vance & Hines 4.60
Winner – Darryl Hollins 4.60
Runner-up – Tyler Cammock 4.65
#1 Qualifier – Darryl Hollins 4.60
The Vance & Hines 4.60 class continues to grow with the biggest turn-out of thirty-six bikes, leaving four racers not qualified for the show on Sunday!
Virginia racer, Darryl Hollins edged out the competition for the number one qualifying position with a 4.601. He would then go on to win four rounds of competition to meet Tyler Cammock in the finals. At the season opener, Cammock also made a final round appearance taking a loss to Ronald Procopio.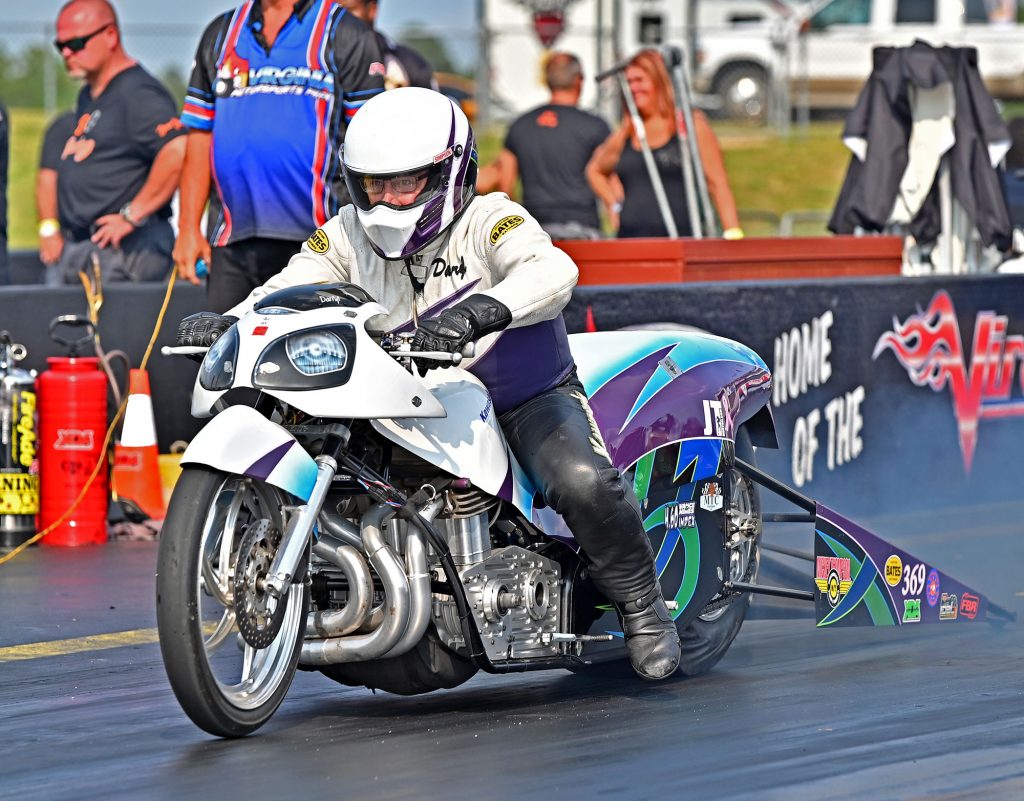 With points on the line for a championship chase, Cammock hit the tree hard and cut a rare red light of -.010 against Hollins ending his own chance at a win and sending Hollins to the winner's circle! This is Hollin's first win in 4.60, making him the second racer of the weekend to finally break through to the winner's circle. Despite another final round lose for Cammock, he now overtakes the lead in points for the championship chase.
The FBR Shop 5.60
Winner – Harvey Hubbard 5.61
Runner-up – Taylor Dunham 5.63
#1 Qualifier – Jeremy Teasley 5.60
The FBR shop saw another great turnout with fifty-eight racers filling the lanes for a chance at the eight-mile title. Jeremy Teasley took the number one qualifying position with a dead on 5.60.
Harvey Hubbard who struggled in qualifying on Saturday was able to get his bike straightened out for Sunday to make a performance comeback running consistent 5.60's every round with killer lights as he put five racers on the trailer before meeting Taylor Dunham in the final.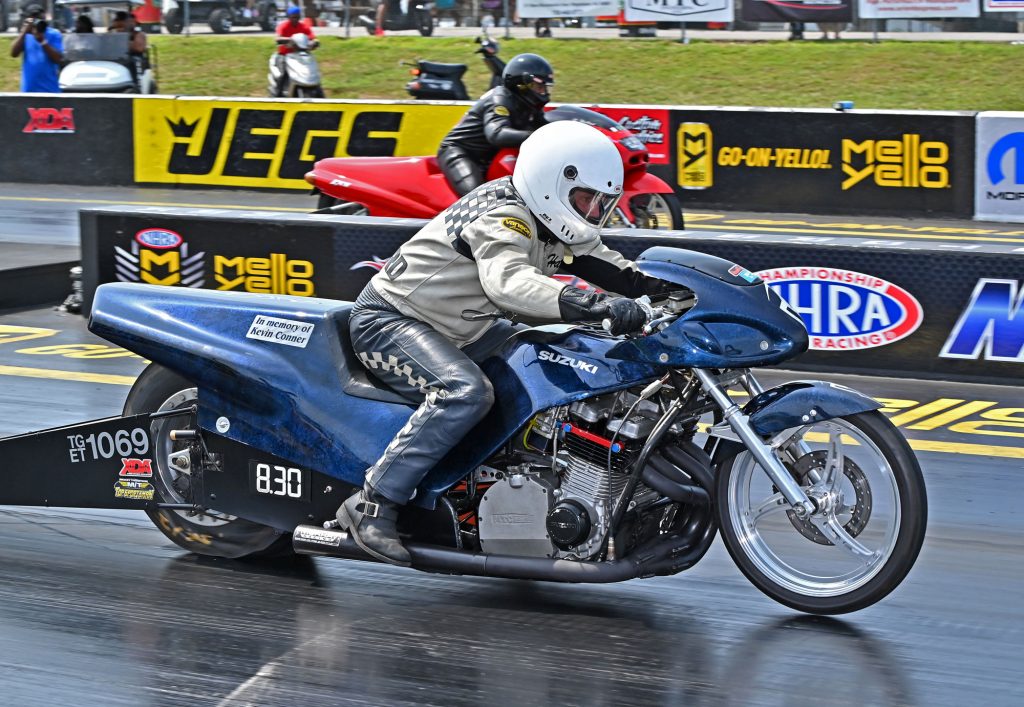 Taylor Dunham who came into the race third in points, was matching Hubbard's performance on his side of the ladder as he too sent racers home with good lights and consistent ET's. This made their pairing for the final exciting for spectators watching Dunham on his 2002 GSX-R street bike take on Hubbard's 1984 Suzuki wheelie-bar bike.
With matched reaction times, it would be a race won on the stripe. Hubbard looked over right before the finish and lifted on the throttle a bit which probably kept him from almost breaking out and taking the win with a 5.62 to Dunham's 5.63.
Shinko Tires Crazy 8's
Winner – Dustin Lee 8.89
Runner-up – Duane Jackson 8.79
#1 Qualifier – Boo Brown 8.89
In Shinko Tires Crazy 8's Boo Brown took the number qualifying position with a 8.890 over forty other competitors. Brown would win two rounds on Sunday before being taken out by Andrew Ritchey.
Dustin Lee and Duane Jackson who are some of the toughest racers in the XDA sportsman ranks both took five round wins to face each other in the final. On Lee's side of the ladder, he would take out CJ Fair, Wes Brown, Taylor Dunham, and Thomas Miceli Jr. including one earned bye. On Jackson's side, he would take out Stephen Knight, Turon Davis, Herbert Simons, and Andrew Ritchey with one earned bye as well.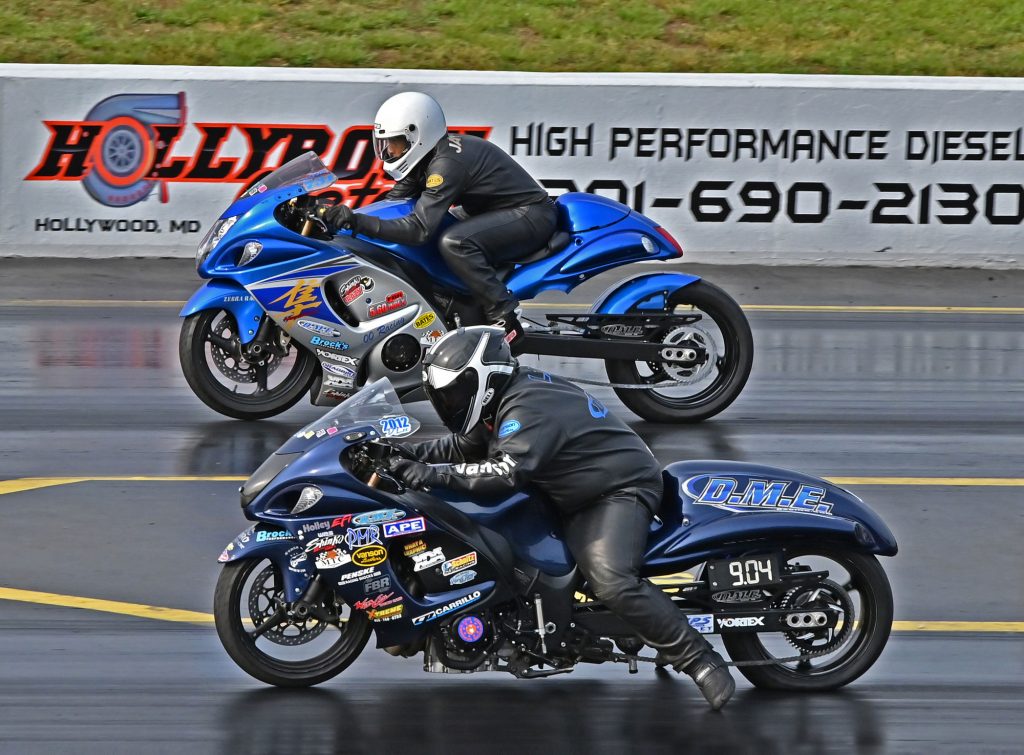 Both races went into the final equally matched on their reaction times for the day, however when the bulbs dropped in the final, Jackson left late with a .107, while Lee has his best reaction time of the day in Crazy 8's with a .020. Jackson would try to make up the reaction time with ET, but it would be his demise as he broke out with an 8.79 giving Lee the win with his better overall package running an 8.89.
Mickey Thompson Tires Top Sportsman
Winner – Bob Carlson
Runner-up – Gary Clontz
#1 Qualifier – Ryan Bonitatis 7.55
In Mickey Thompson Tires Top Sportsman the Fastest ET racers compete for a chance at a possible 9K payday. The winner of Top Sportsman gets entered into round six of Pro ET on Sunday for a chance at an additional payout. And the Summer Nationals delivered this double payday for one racer.
Gary Clontz and Bob Carlson were both qualified twenty-five and twenty-six with a 8.27 and 8.28 respectively out of thirty-two qualified racers. Their qualifying time was over a second slower than the number one qualifier Ryan Bonitatis's 7.55 showing that being fast isn't everything.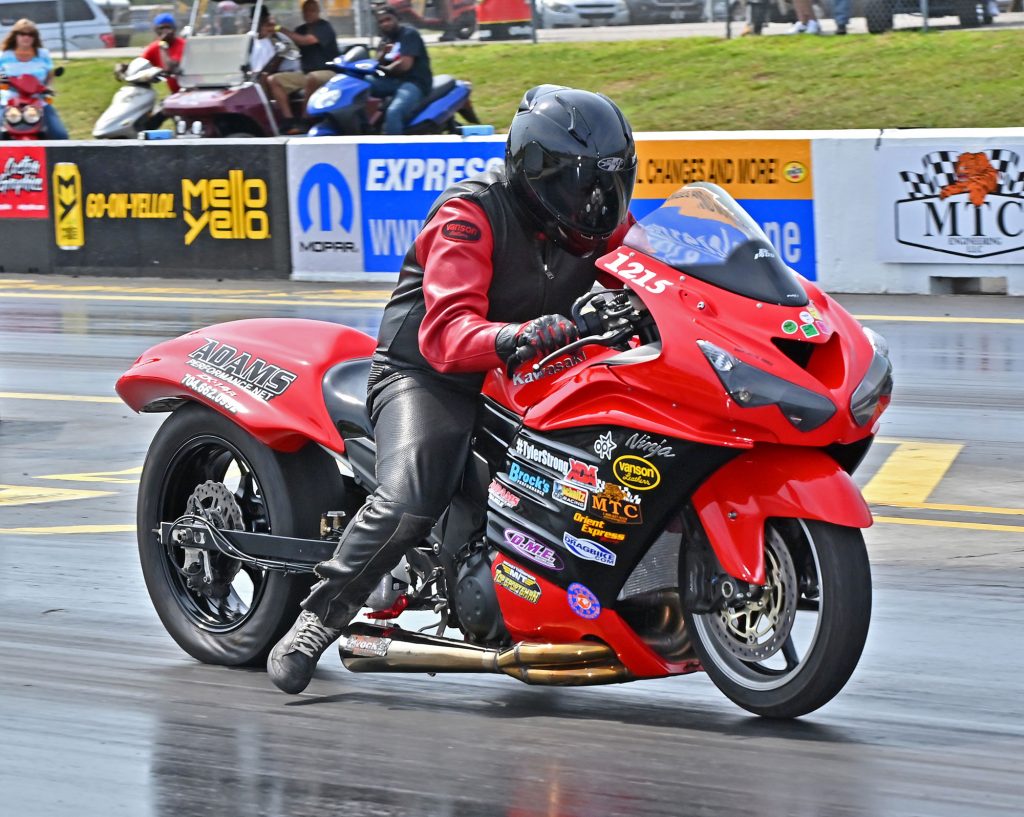 Carlson had the reaction time advantage over Clontz going into the final. Carlson ran a 8.43 on his 8.36 dial to take the win over a 8.32 on the 8.28 dial of Clontz. Carlson then takes his win and heads back to the lanes to compete in the remaining rounds of Pro ET.
MPS Racing Pro ET
Winner – Bob Carlson
Runner-up – Shayne Proctor
In MPS Racing Pro ET Bob Carlson lost the battle in round five to Logan Mathias, but went on to win the war. XDA currently allows double entries in their ET classes, so if you have two bikes, you can enter them both in the same class for a chance to race yourself in the final! So while Carlson took a fourth round lose on his black ZX-14, his win in Top Sportsman on his red ZX-14 gave him entry back into Pro ET for the sixth round.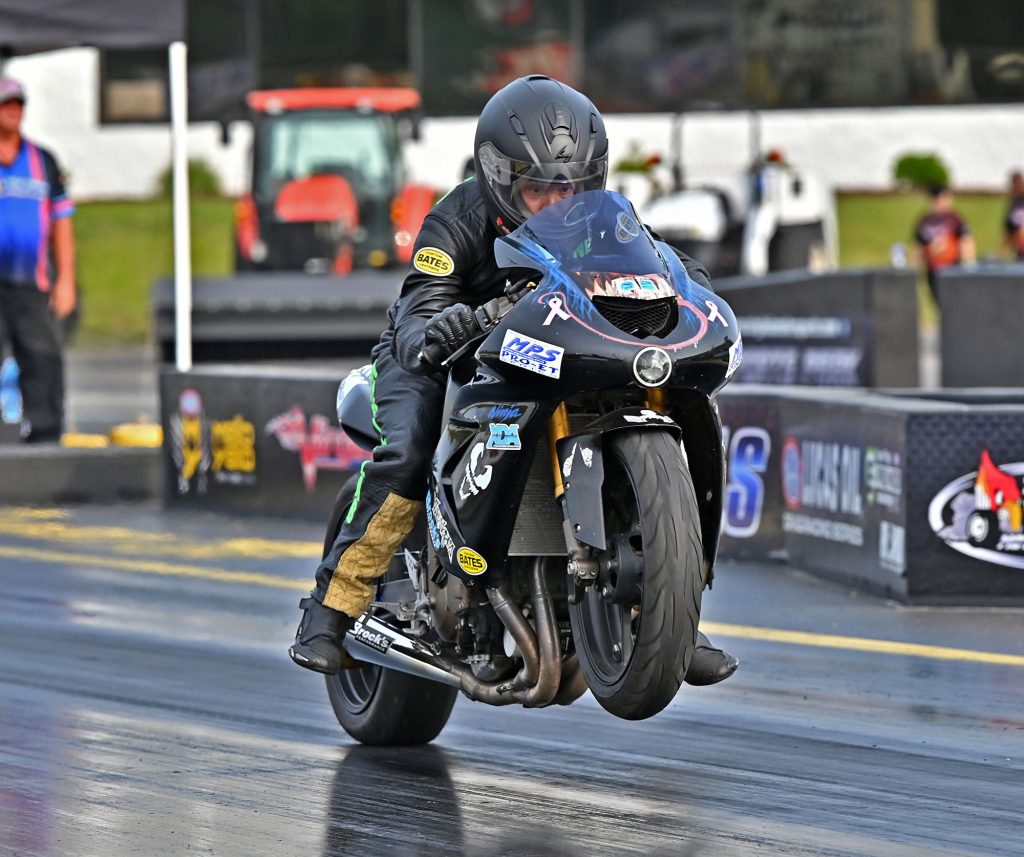 Carlson went on to win two more rounds to face Shayne Proctor in the final. Proctor had only entered one bike, but did take advantage of re-entry in round one after he took a loss with a -.003 red light. Once he was back in the game he became an unstoppable force for the next six rounds until he met Carlson for the finals. Proctor would push the tree too hard and again turn on the red light, giving Carlson a double-up win that earned him $6K on Sunday. And while you might think this double win is like a lightning strike, Carlson doubled at a VMP race last year as well! This win will also put him in the lead for the championship.
Brock's Performance Street ET
Winner – Duane Jackson
Runner-up – Clay Davies
Brock's Performance Street ET racers have an option to re-enter the race if they take a first-round loss. Clay Davies is an example of how re-entry gives you a second chance if you think you still have a shot to make it all the way. After his first-round loss and re-entry back into the race, he was able to win the next five rounds to join Duane Jackson in the final round.
Jackson was on top of his game by the time Street ET finals came around. In the Crazy 8's final Jackson ran an 8.79, he then went on to make two more passes in Street ET running back to back 8.80's creating deadly consistency.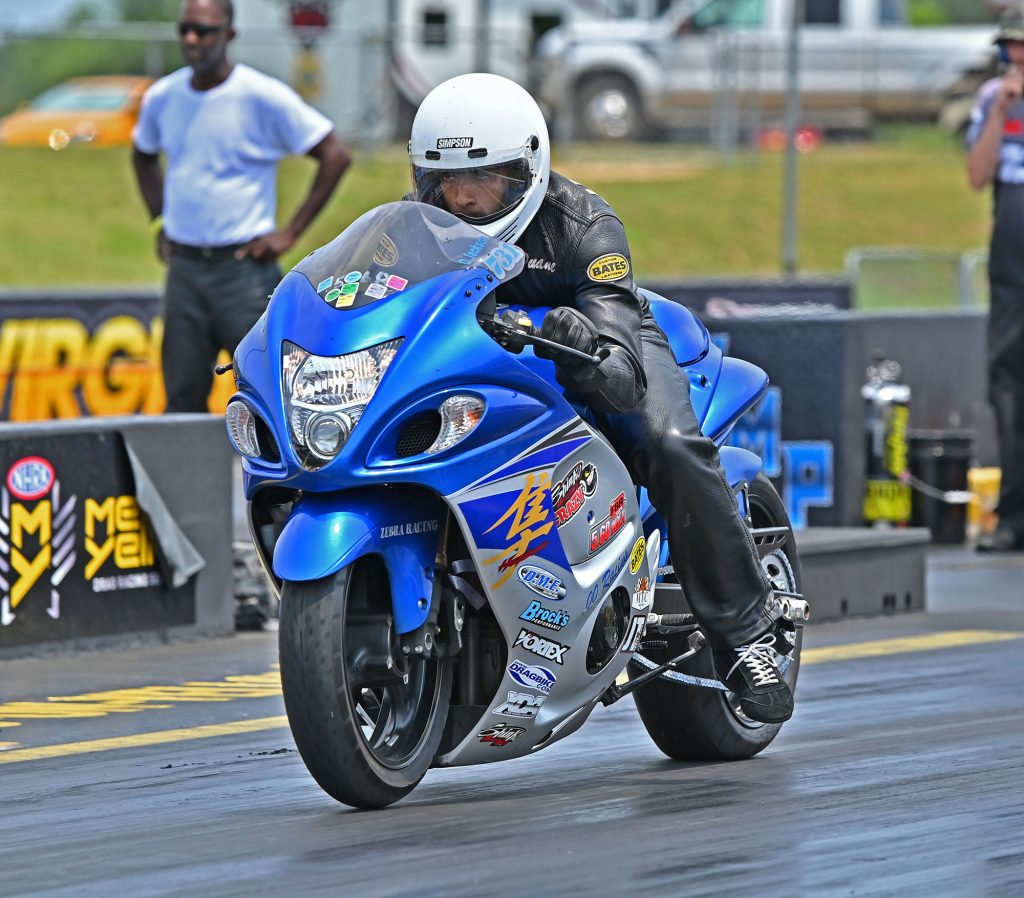 In the final against Davies, Jackson dialed an 8.80 with a conviction that this round would be his. Both riders left the tree with close reaction times. Davies dialed an 8.53, and as both riders were side-by-side all the way down the track, they weren't taking their eyes off where the other was at. Davies never lifted and broke out with 8.52 giving the win to Jackson who ran another dead on 8.80, and putting another notch in the .00 Racing team belt.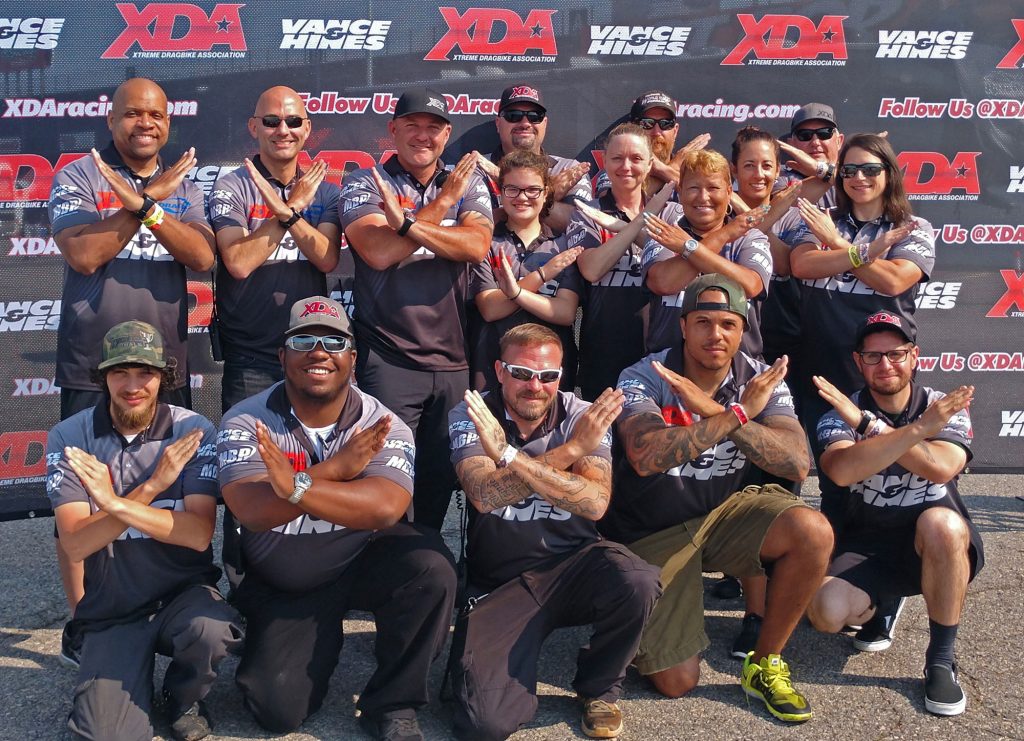 Teamwork defined: The combined action of a group of people, especially when effective and efficient. This couldn't be more accurate for the officials of the XDA. Led by brothers Jason and Chris Miller, their dedicated staff has years of experience officiating drag racing events. "Chris and I feel honored and blessed to work with such a dedicated and hardworking team," stated Jason Miller. "No matter what comes our way, our XDA team and the VMP and MDIR teams give 110%, and they are a huge part of the XDA's success. Our racers feel at home as they see the same faces at each race, knowing it's conducted in a safe, fun, and professional manner. "
The next stop for the 2019 XDA season will be back at Maryland International Raceway for the 2nd annual Superbike Showdown on June 21-23. Championship chases will rage on in a few weeks as the series hits the halfway point in the season, make plans now to come out and watch the action, or better yet, enter your bike and join the fun!
Visit www.XDAracing.com for event information, class rules, schedule and more.
There are more videos on the Cycledrag Youtube channel (please subscribe here) and the Cycledrag.com Facebook page (Please like here) and more will be coming soon. Check back daily.