Gulf Oil Drag Racing kicks off the season with a bang!
After their foray in the USA Manufacturers Cup series in 2017 the Gulf Oil Top Fuel Motorcycle team returned to the opening round of the FIM European Championship with a new rider and significant changes to their traditional tune.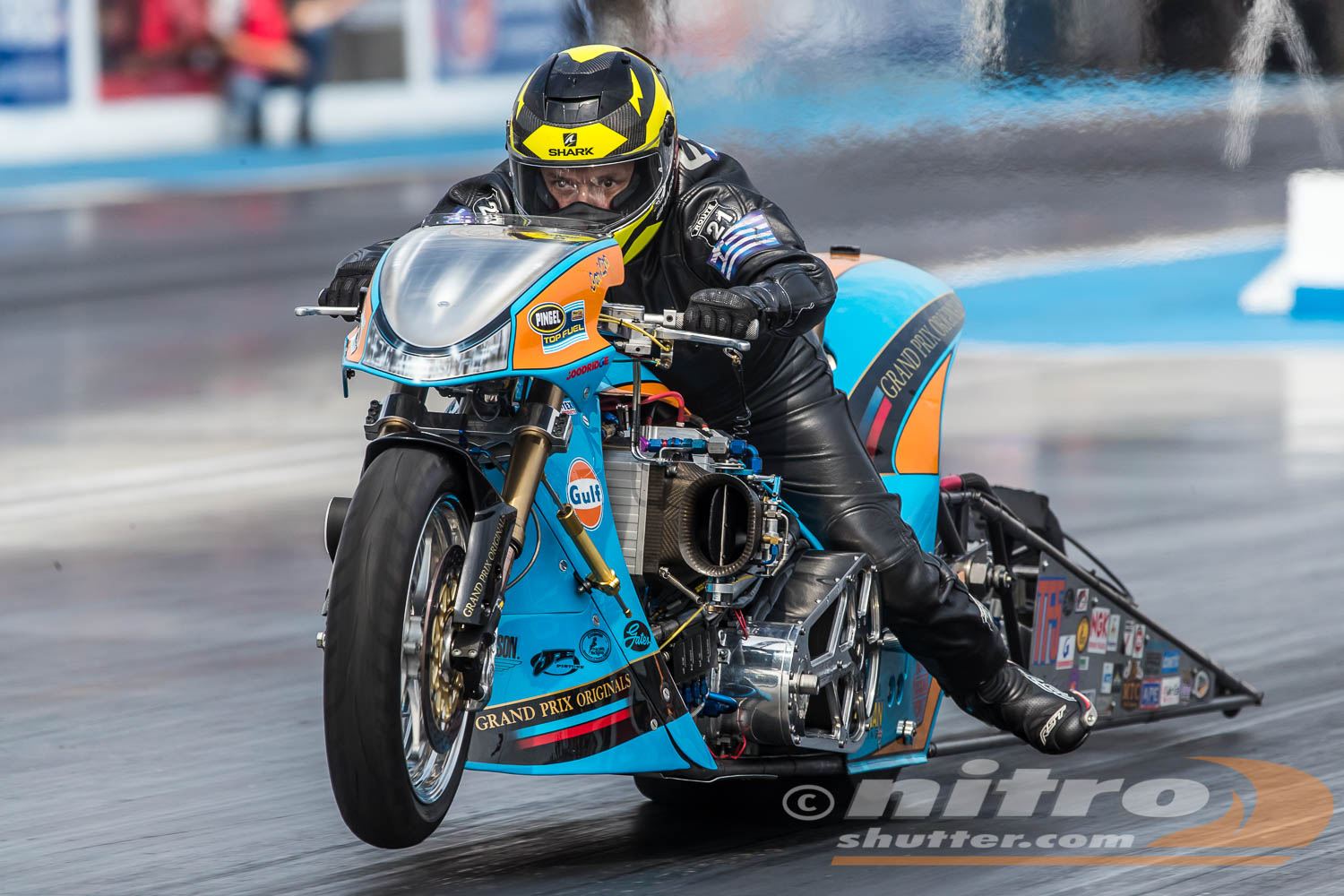 Greek nitrous Pro Mod rider Filippos Papafilippou aka `Fast Fil' steps into the seat traditionally filled by 10 time European Champion Ian King, whilst King continues to run the team with his experienced crew formed over almost two decades. With Filippos fulfilling riding duties in the European Championship King will still be seen in the seat for some of additional events including the 115th Anniverary HD event in Prague, Goodwood Festival of Speed and the Manufacturers Cup Finals in Georgia, USA in November.
However, any illusions that the team had for Filippos to spend a few events getting the feel for riding the 1500HP machine (and prescribed first half pass) were quickly dispersed when he ran an outstanding 6.099s @ 214.08mph on his very first pass on a Top Fuel Bike to put him immediately as number one qualifier, a position he did not relinquish for the entire event.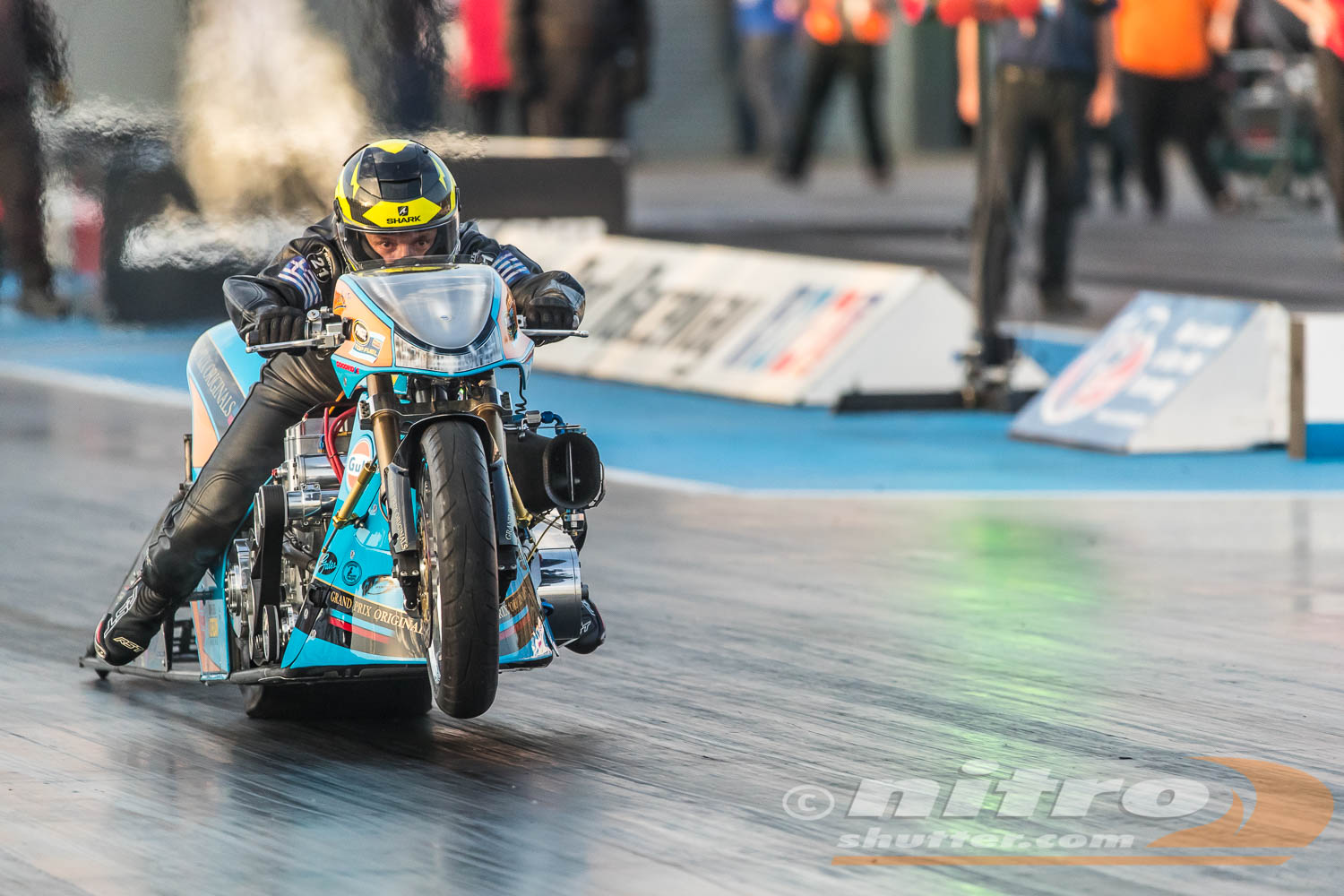 But the best was yet to come when he ran a fantastic 5.783s @ 236.16 in only his second ever run on the bike, the changes the team had made to the bike over the winter clearly working and with Filippos a `rookie' but competent rider able to handle the new tune.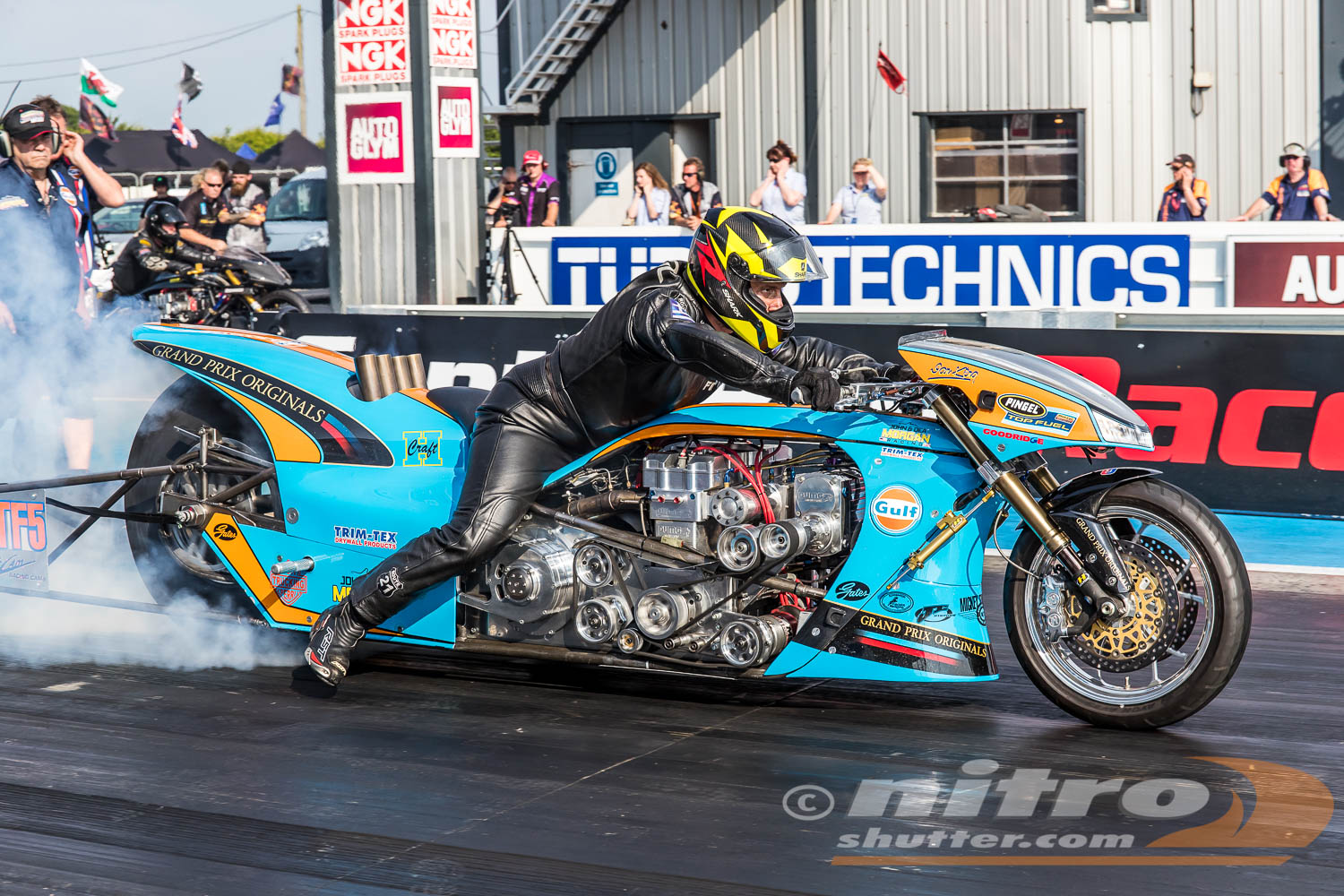 Day two saw further quick qualifying runs of 6.16s and 6.041s, and the team looked forward to eliminations and a first round against Swedish Funnybike rider Thomas Petersson. A timing malfunction saw no times recorded for their match up but a clear winner in Filippos who progressed through to a semi-final against UK `New Age' Funnybike rider Lorcan Parnell on his unique Puma Powered twin turbo machine. Despite a fine 6.74s @ 218mph for Lorcan it was no match for the supercharged nitro Puma which ran 6.25s @ 195.55mph that saw Filippos to the final against Swedish rider Rikard Gustafsson (who had earlier set a new European Speed record).
The final was a nail-biting affair for the Gulf Oil team, but Filippos took the event in his stride with a 6.017 @ 227mph (despite the chute being deployed just after the 1/8th mile) to see off the current FIM European Champion on a similarly powered nitro Puma
Filippos takes his lead in the championship to the next round in Hockenheim, Germany for the NitrOlympX but the next outing for the bike and team will be at the Harley Davidson 115th Anniversary event in Prague, Czech Republic in conjunction with Lubrand followed by the Goodwood Festival of Speed the very next weekend, both events with Ian King assuming his regular riding duties.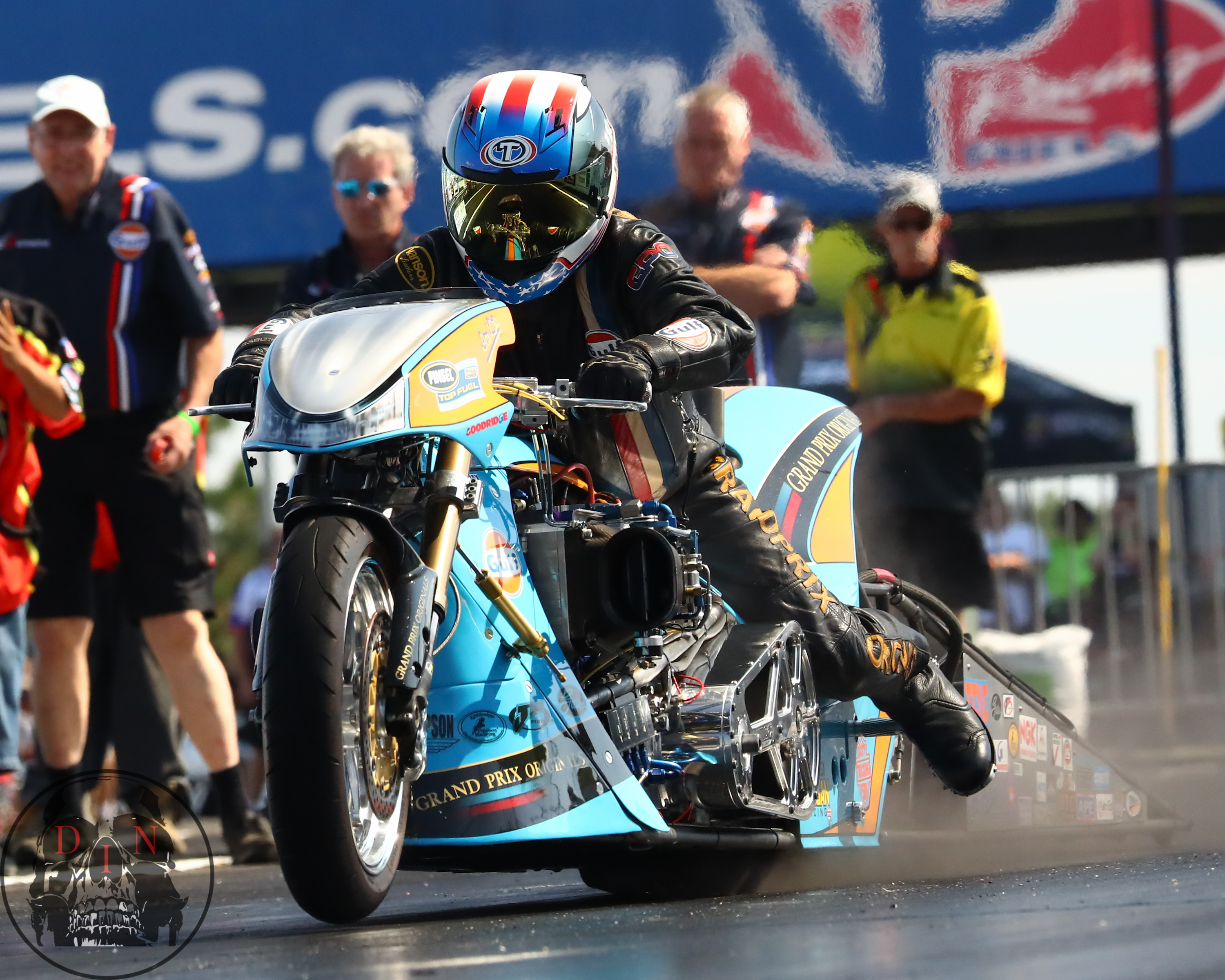 Pictures courtesy of Ivan Sansom and Rose Hughes.
For more information on the team:
Website: https://www.gulfoildragracing.com
Facebook: https://www.facebook.com/ian.king.73113
YouTube: https://www.youtube.com/kingracingpuma
Email: admin@kingracing.com
Twitter: @kingracing
For more information on Gulf Oil International go to www.gulfoilltd.com
The Gulf Oil Dragracing team uses and endorses exclusively Gulf Oil greases and lubricants in their history making machine. The team is extremely proud to be supported by many leaders in their chosen markets in their participation in the 2018 FIM European Championship: –
APE – The world's most innovative manufacturer of aftermarket parts for race bikes
BARNSDALE LEISURE – The UK's Premier Knaus Caravan dealer
COMETIC GASKETS – The Premier Manufacturer of racing gaskets
GATES – The world's most trusted name in drive belts, hoses and hydraulics
GOODRIDGE – The most innovative and the best in fluid transfer systems
GRAND PRIX ORIGINALS – The brand for drive and lifestyle, past and present
GULF OIL INTERNATIONAL – The world's most iconic brand in automotive fuels and lubricants
GRAPHITE ADDITIVE MANUFACTURING – A leader in 3D printed technologies and rapid prototyping
H CRAFT CUSTOMS –- Race car preparation, roll cages, fabrication and custom projects
HOTROD HANGAR – Home of the world renowned custom artist Knud Tiroch
HYPERPRO – The leading producer of progressive suspension products for motor bikes
JE PISTONS – The world's premier manufacturer of high performance forged pistons
JOHN AND DEA MORGAN RACING – The creators of the world's most advanced New Age Funnybike
KIBBLEWHITE PRECISION MACHINING – The highest quality valve train components available
MICKEY THOMPSON – Simply the best drag race tyres in the world
MRE – Leaders in trackside support for drag race components and air shifting systems



MTC ENGINEERING – Manufacturer of clutches for the fastest motorcycles in the world
NITROSHUTTER – Europe's leading dragracing photojournalists
NCTENGINEERING – Manufacturer of the world's leading non-contact motorsport torque sensors
NGK SPARKPLUGS UK – The world's number one spark plug manufacturer
PAR WILLEN – Master webmeister and proprietor of HarleyDrags.com
PORTABLE SHADE – The best custom branded collapsible canopies available
PRO ALLOY MOTORSPORT – The UK's leading fabricator of alloy tanks, intercoolers and radiators
ROSE AND COMPANY – The UK's largest importer and stockist of Thule RV products
SCOTT PERRI TRUCKING – Logistics solutions par excellence
TRIM TEX – The premier manufacturer of vinyl drywall beads & accessories
TRYKA LED – the UK's cutting-edge LED lighting manufacturer.
VAN ES MOBILITY – The leading manufacturer of telematic products for management of moving objects
VANSON LEATHERS – The most iconic brand in motorsport leather goods
WEB CAMSHAFTS INC – Simply THE company for Top Fuel Bike camshafts
WORLDWIDE BEARINGS – The world's leading supplier of ceramic bearings for racing
ZODIAC – Europe's largest supplier of performance and aftermarket HD parts