Top Fuel Motorcycle racer "Fast" Filippos Papafilippou of Greece made history at the FIM FIA European Drag Racing Championships at Santa Pod Raceway in England by shattering the European motorcycle record and becoming only the second drag bike racer to reach the 5.60s with consecutive runs of 5.662 and 5.663.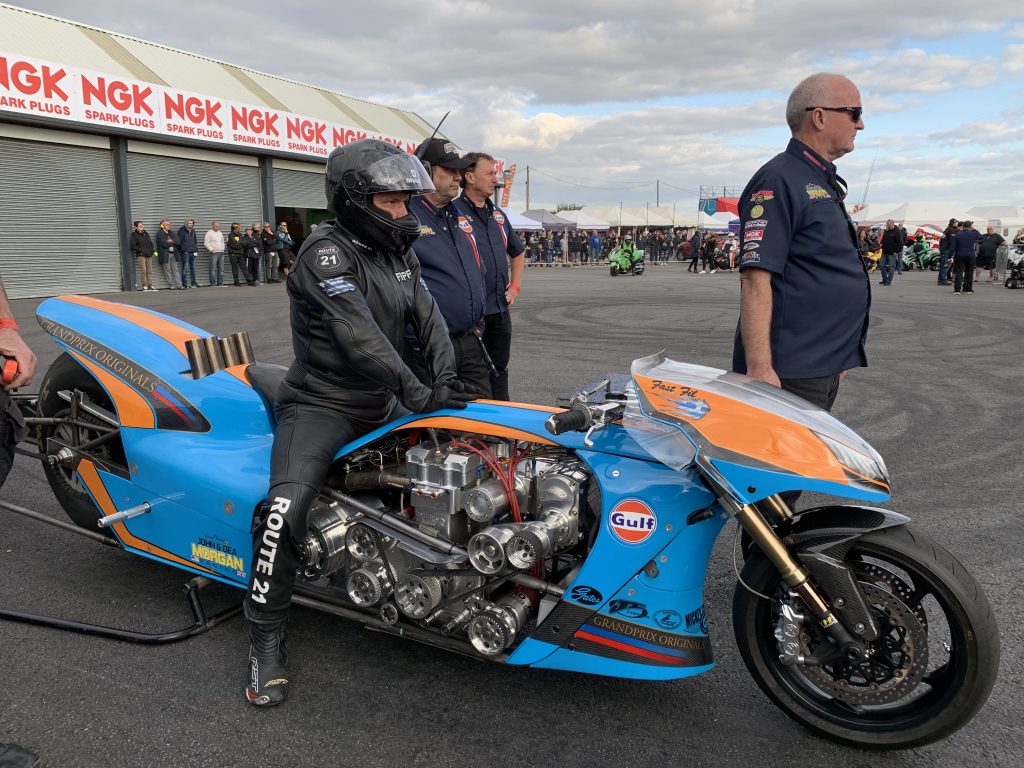 "We are very proud," Papafilippou said, who now owns time tickets for the second and third quickest runs of all-time. "We have run all five championship rounds with just one engine and we are very proud of that as well. It's truly amazing for a Fuel bike."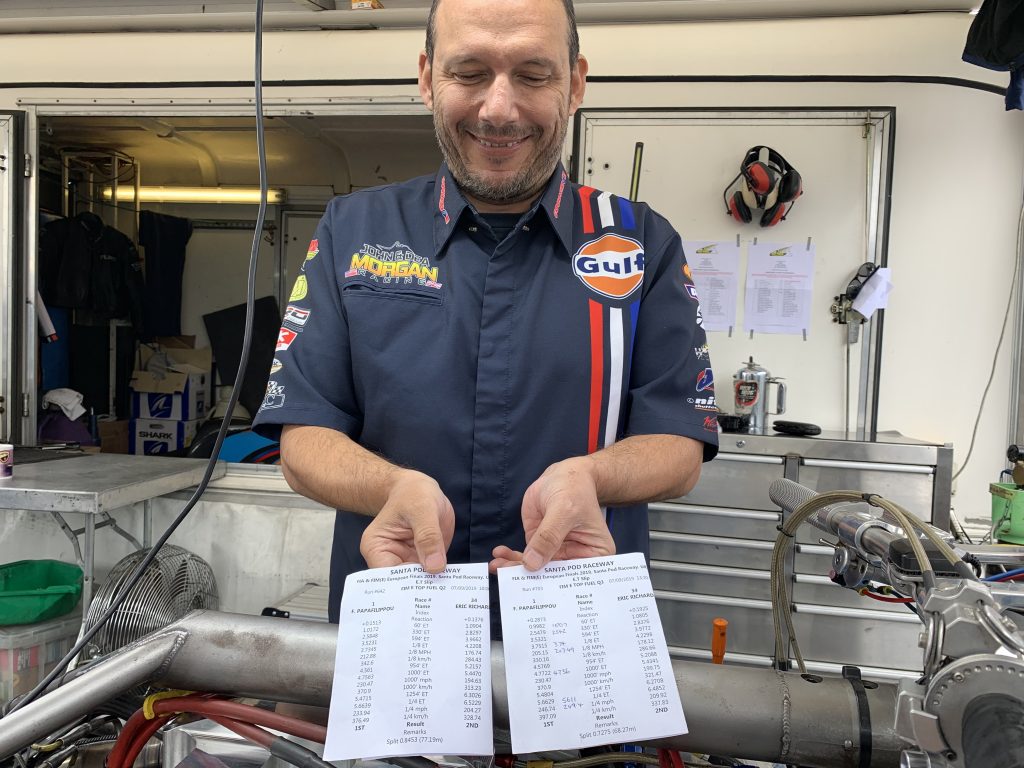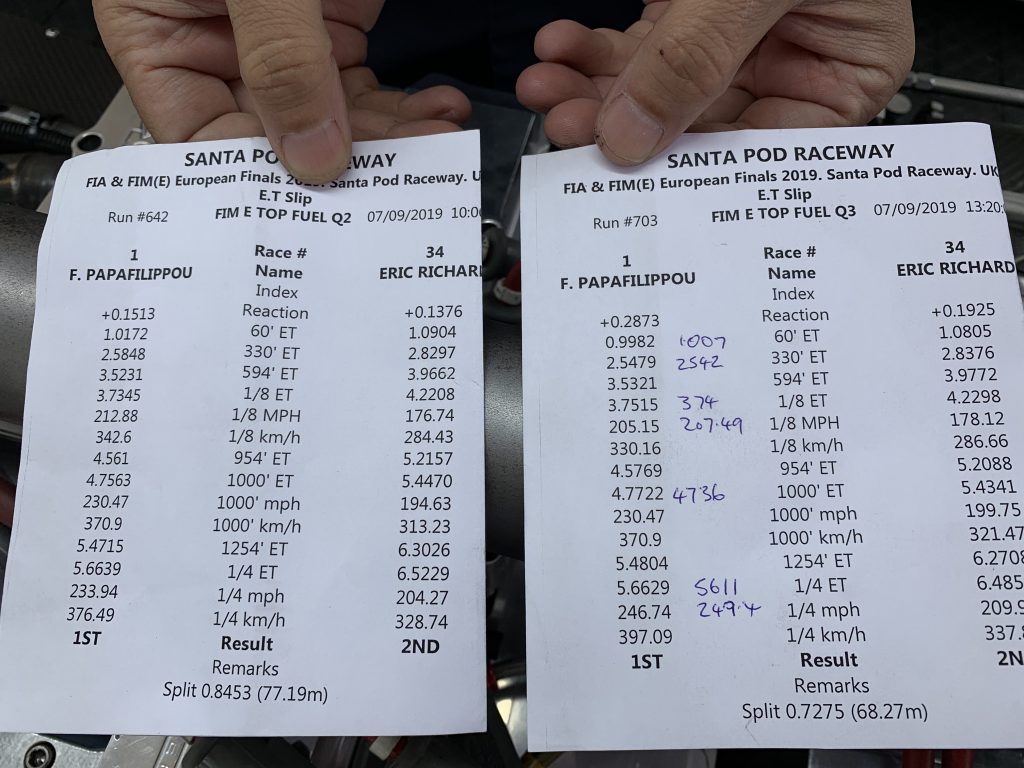 Papafilippou trails only the 5.61 of Larry "Spiderman" McBride from the Man Cup Finals in Valdosta, Ga. in November of 2017. Prior to this meeting it was the only event in history to see a motorcycle racer hit the 5.60-zone.
Papafilippou said the first 5.66 felt quick but he had no idea it was a record when he crossed the finish line.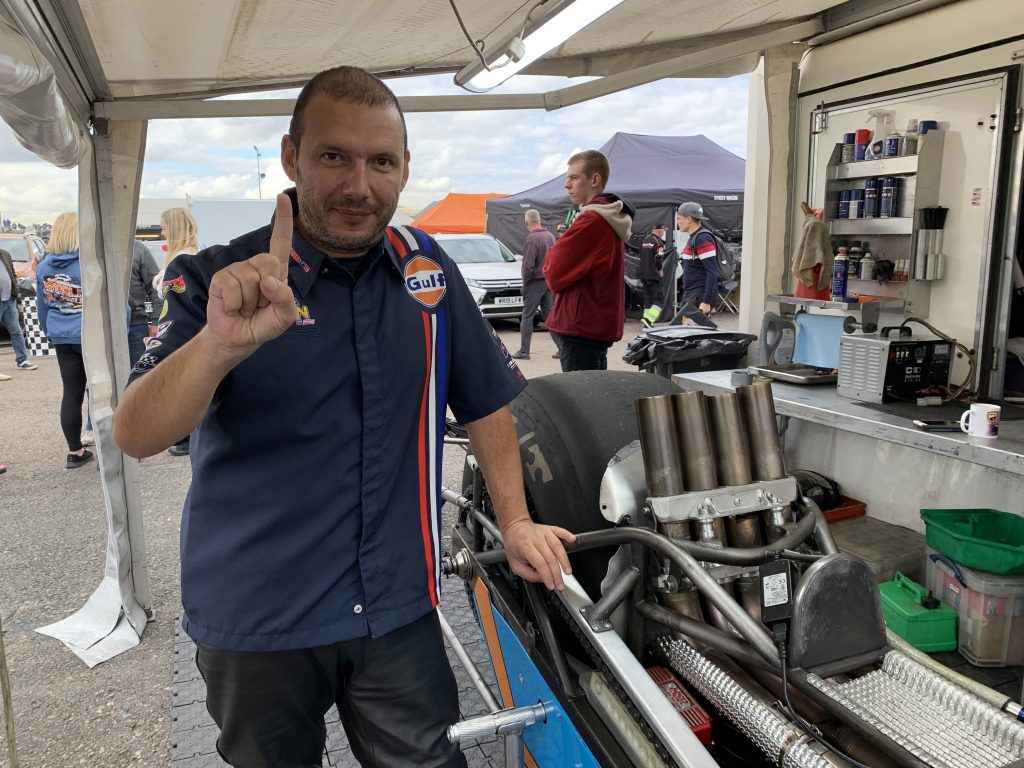 "It felt like 5.7s," said Papafilippou, who ran 5.72 earlier this season. "I kept the throttle on across the line on the 5.662 and we had a much higher speed than we usually do."
The 246 mph terminal speed was the best of Fast Fil's career.
In only his second year of competition, Papafilippou takes another step closer to a second consecutive championship, building on the 29-point lead he has over Sweeden's Rikard Gustafsson, who damaged a crank in opening qualifying and spent all Saturday rebuilding.
When asked whether is motorcycle has 5.50s in it for a world record performance Papafilippou smiled.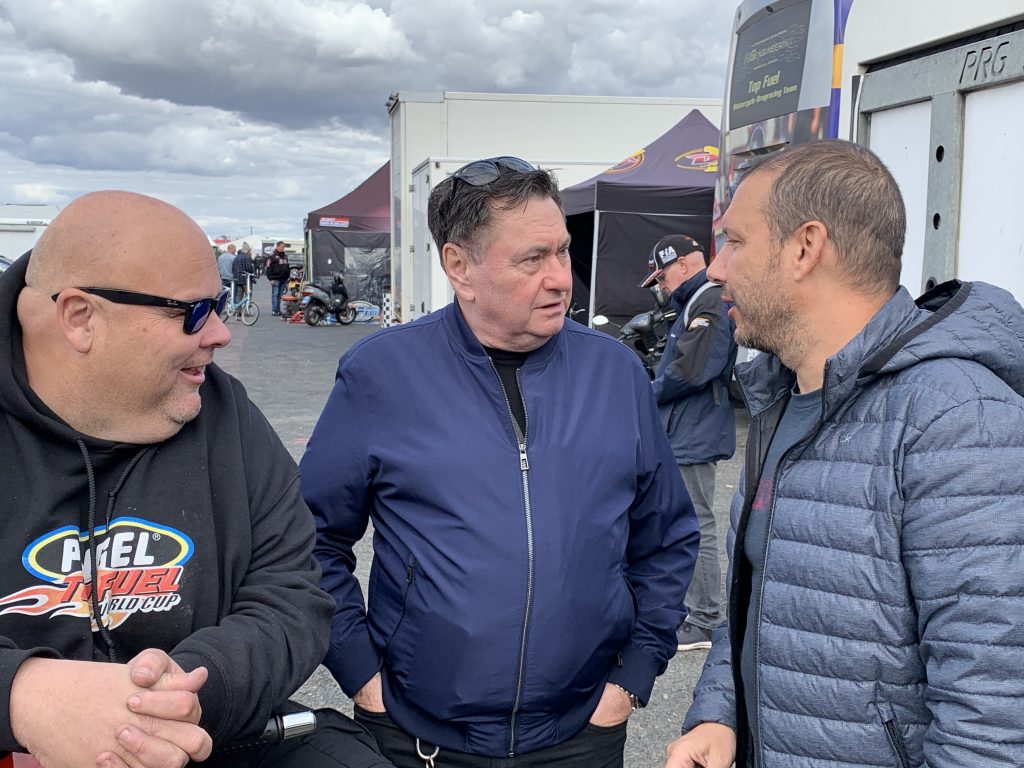 "I'm sure it can. Records are meant to be broken," Papafilippou said. "My second run ever on this bike was a 5.78. It felt right from the very first moment, the whole team and atmosphere."
Prior to Top Fuel Motorcycle Papafilippou has raced Pro Mod cars, Pro Stock Bikes, Funny Bikes and many other race machines. Clearly his extensive experience is shining through.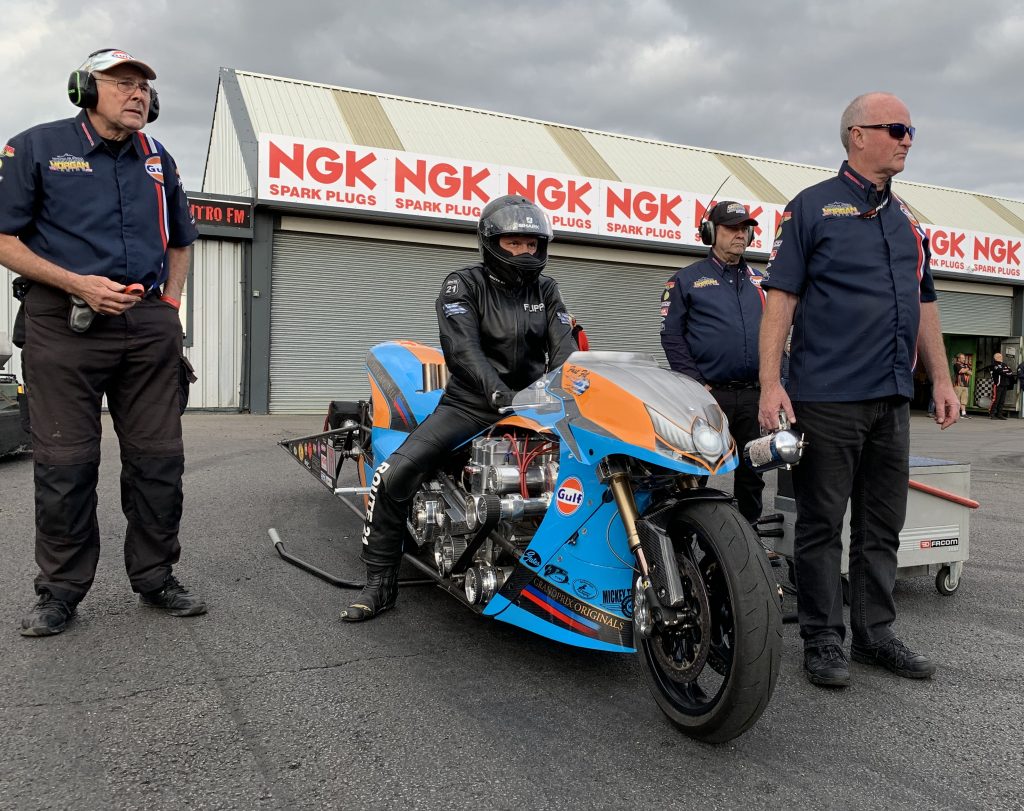 Although Papafilippou is quick to admit nothing compares to a merciless, unforgiving Top Fuel Motorcycle.
"They are heavy and they don't react quick. You click off two seconds into the run and it can stay on for another two seconds. The air pushed your air, body and head," Papafilippou said. "You have to react and make the correct decision early or you are in trouble."
10-time champion and teammate Ian King was equally pleased.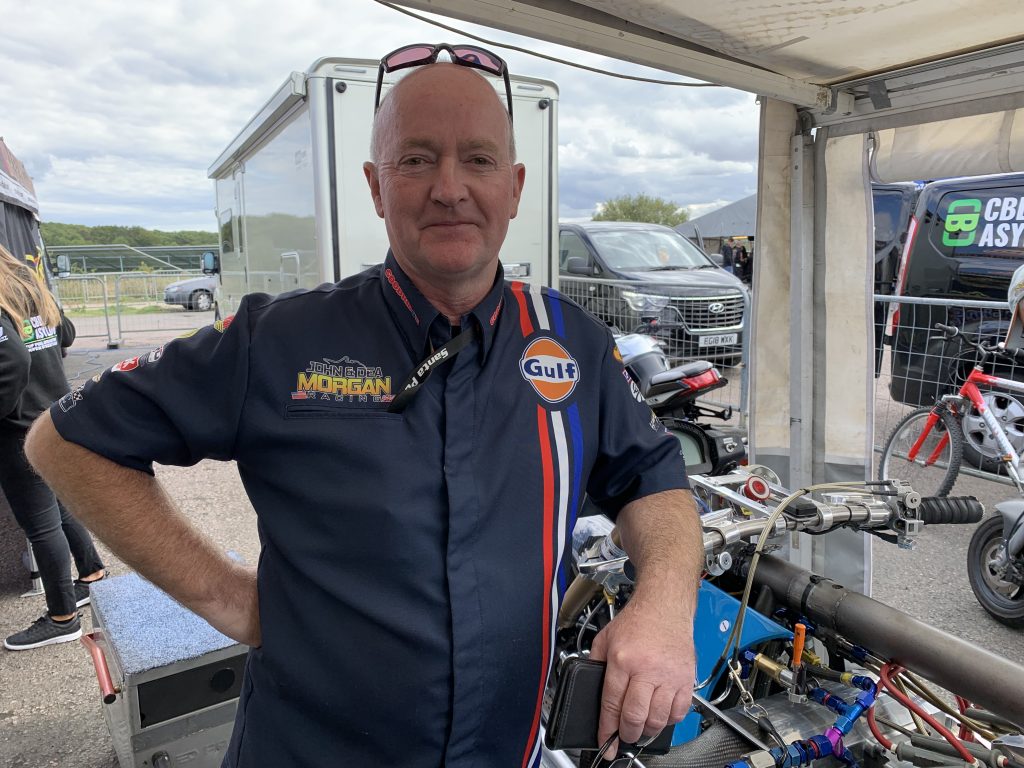 "We just made a few small changes. We are learning all the time," King said. "There is room to step up but it's always in the hands of the weather and the track."
Video of the record run! Please leave a comment on YouTube of where you are watching from if you watch it!
There are more videos on the Cycledrag Youtube channel (please subscribe here) and the Cycledrag.com Facebook page (Please like here) and more will be coming soon. Check back daily.
This coverage sponsored by John and Dea Morgan Racing of J & E Automotive