It's absolutely staggering how quickly turbo-charged motorcycle drag bikes are advancing. In an era where much of drag racing has become stagnant, seemingly working tirelessly to find only modest gains, all involved in the testing, development, parts manufacturing and other areas of the Pro Street Motorcycle class should be extremely proud. It has become the paradigm of warp-speed progression.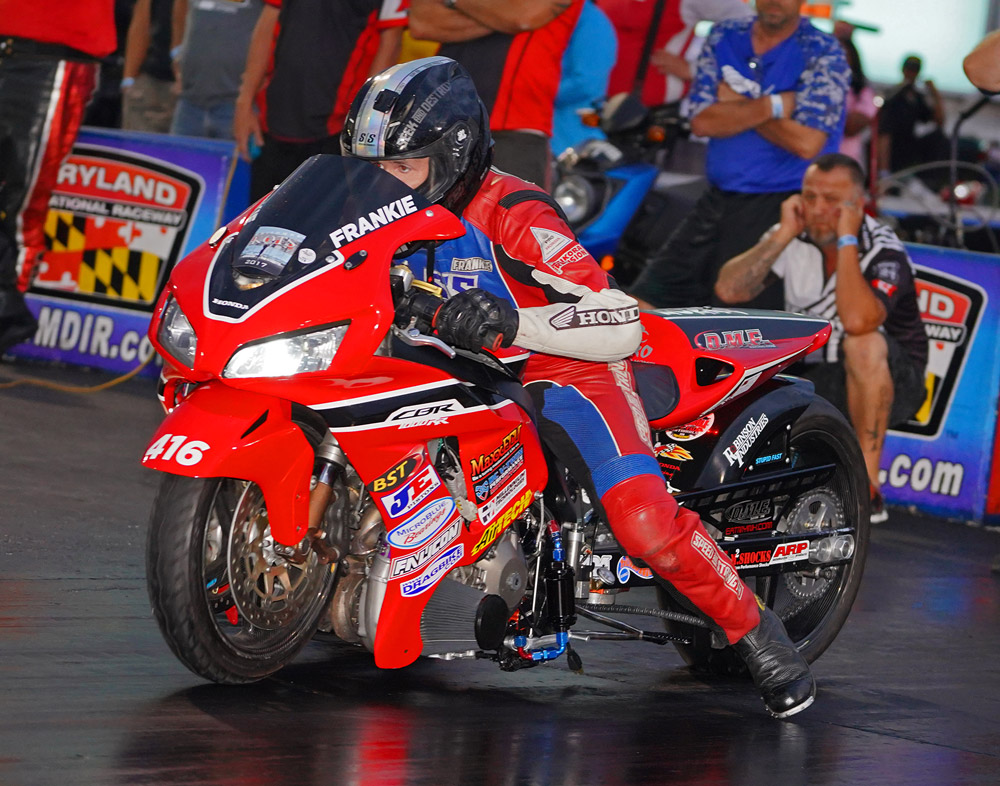 At Maryland International Raceway in late April Jeremy Teasley accomplished what was apparently unthinkable by ushering in the 6.40-era in Pro Street Motorcycle. It was a shot no one saw coming. The event's pre-race hype focused on the possibility of seeing the first 6.50. Teasley decided to move beyond the .50s and treated tenths like hundredths. Frankie Stotz, Rodney Williford, Richard Gadson and many other talented racers also pushed new boundaries. It was uncanny progression.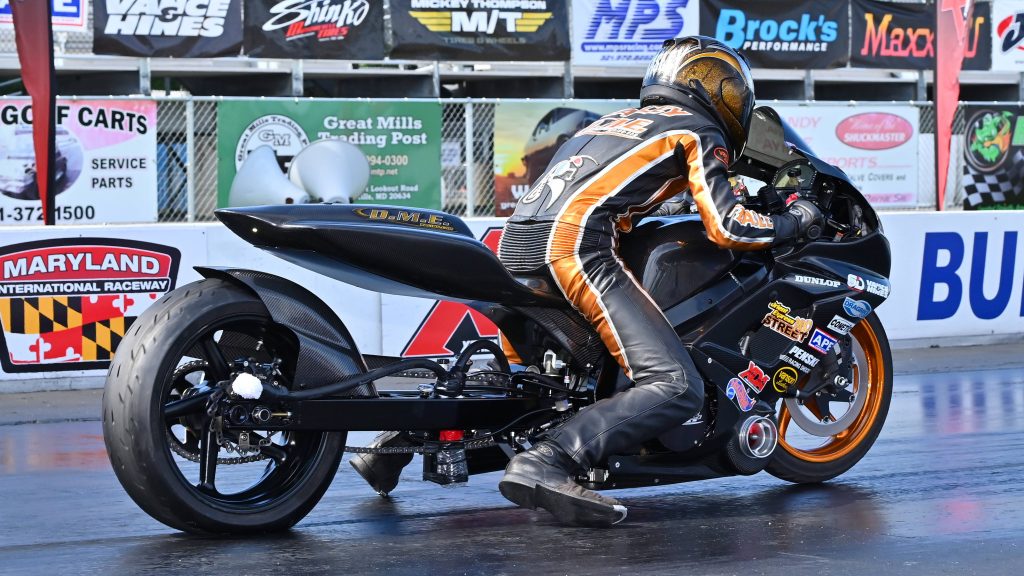 A few months later in June the class was forever changed again. At the XDA Superbike Showdown, a traditionally hot and humid event, few saw the opportunity to break any records. Ehren Litten of Williford racing had other plans when he reasserted the Hayabusa as the dominant no-bar bike with a new elapsed-time and speed record of 6.48 at 232 MPH. The numbers stole the show on Saturday and had many racers wondering how they could keep up on Sunday.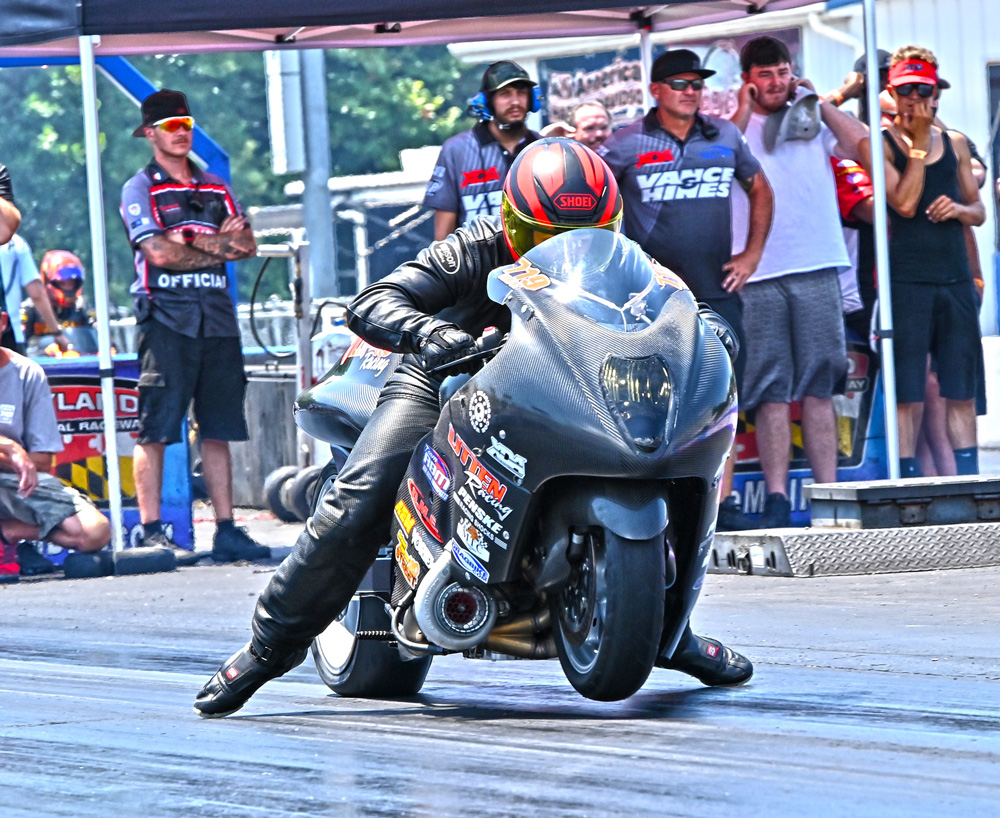 The record-smashing was far from over. Sunday June 23rd was a day the category was forever changed. It was a day folks started realistically talking about 6.30, no wheelie bar, street tire racing. Read that again because it still doesn't seem right, does it? The reality is the class is nearly there.
Personal bests and new records came all day. In an unforgettable and mesmerizing final round Teasley annihilated the world record with a 6.42, defeating Frankie Stotz's 6.46, the best run of his career and the quickest anyone other than Teasley has ever been on a Pro Street Bike. What a way to lose, huh?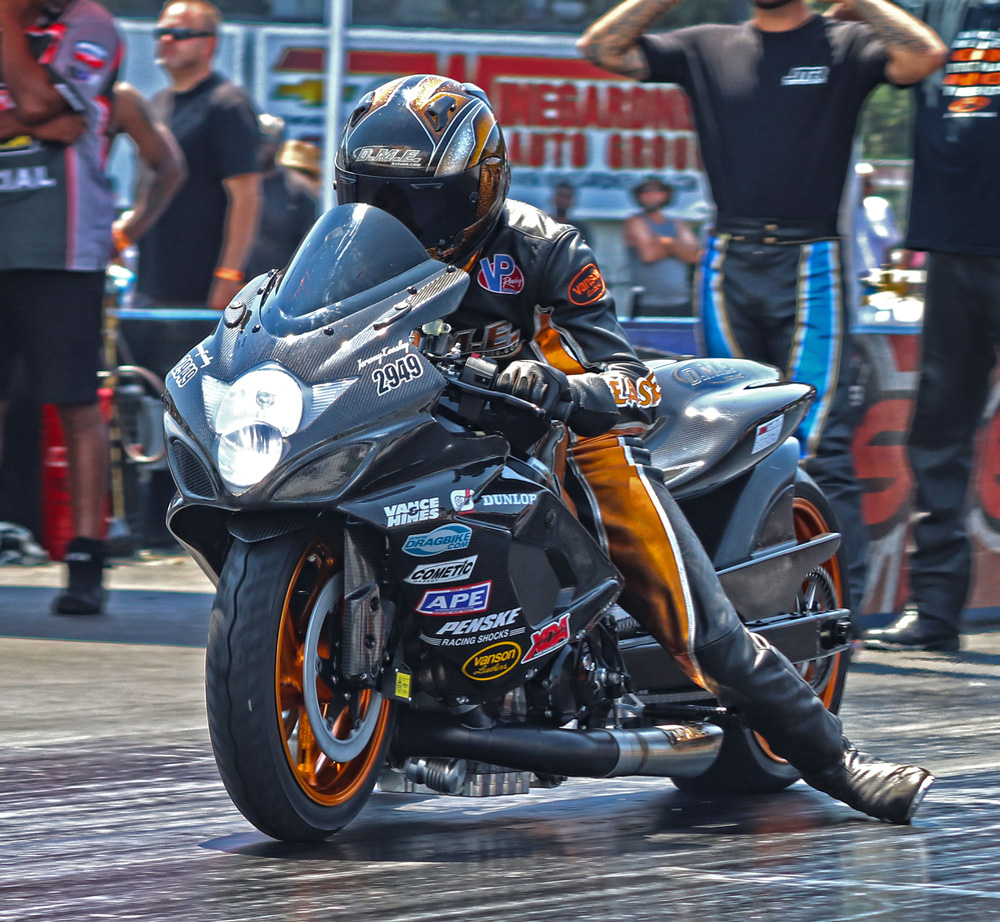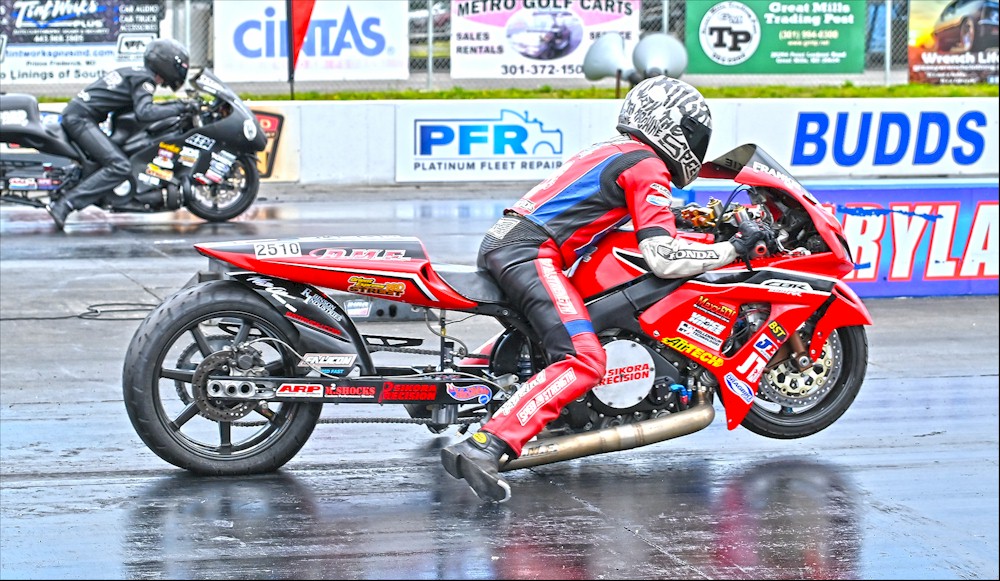 It begs the question, at this pace, where does the class go from here?
As a point of reference at the 2011 Man Cup Finals Honda's Stotz became the second Pro Street racer to crack into the 6s with a 6.98. A short seven years later at the same event Stotz picked up nearly four tenths, lowering the class record to 6.601.
2011
2018
2019
There are more videos on the Cycledrag Youtube channel (please subscribe here) and the Cycledrag.com Facebook page (Please like here) and more will be coming soon. Check back daily.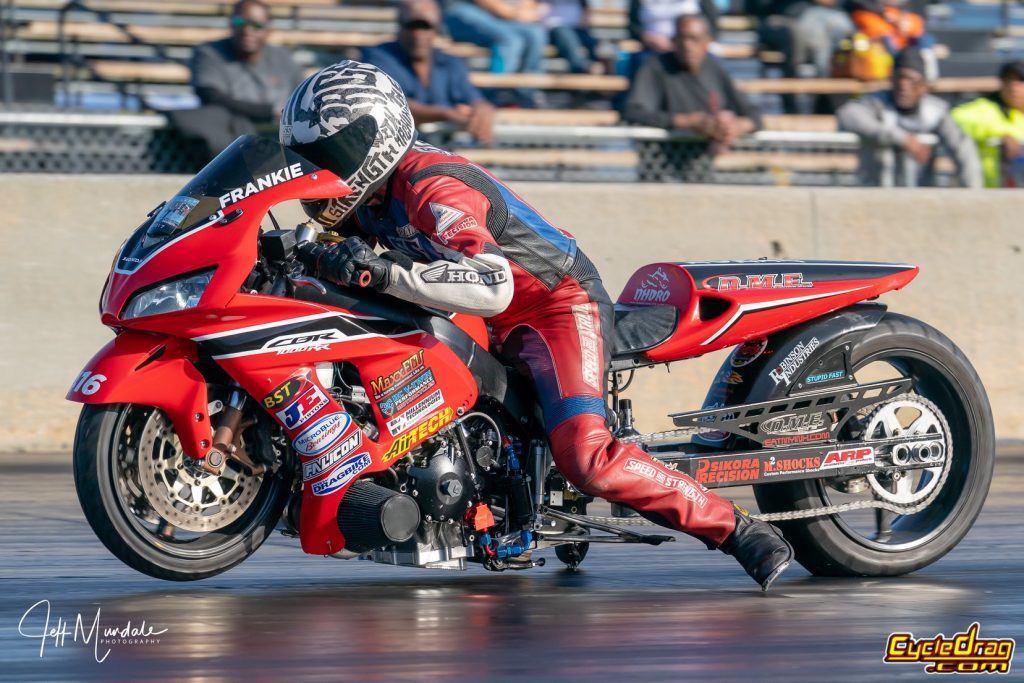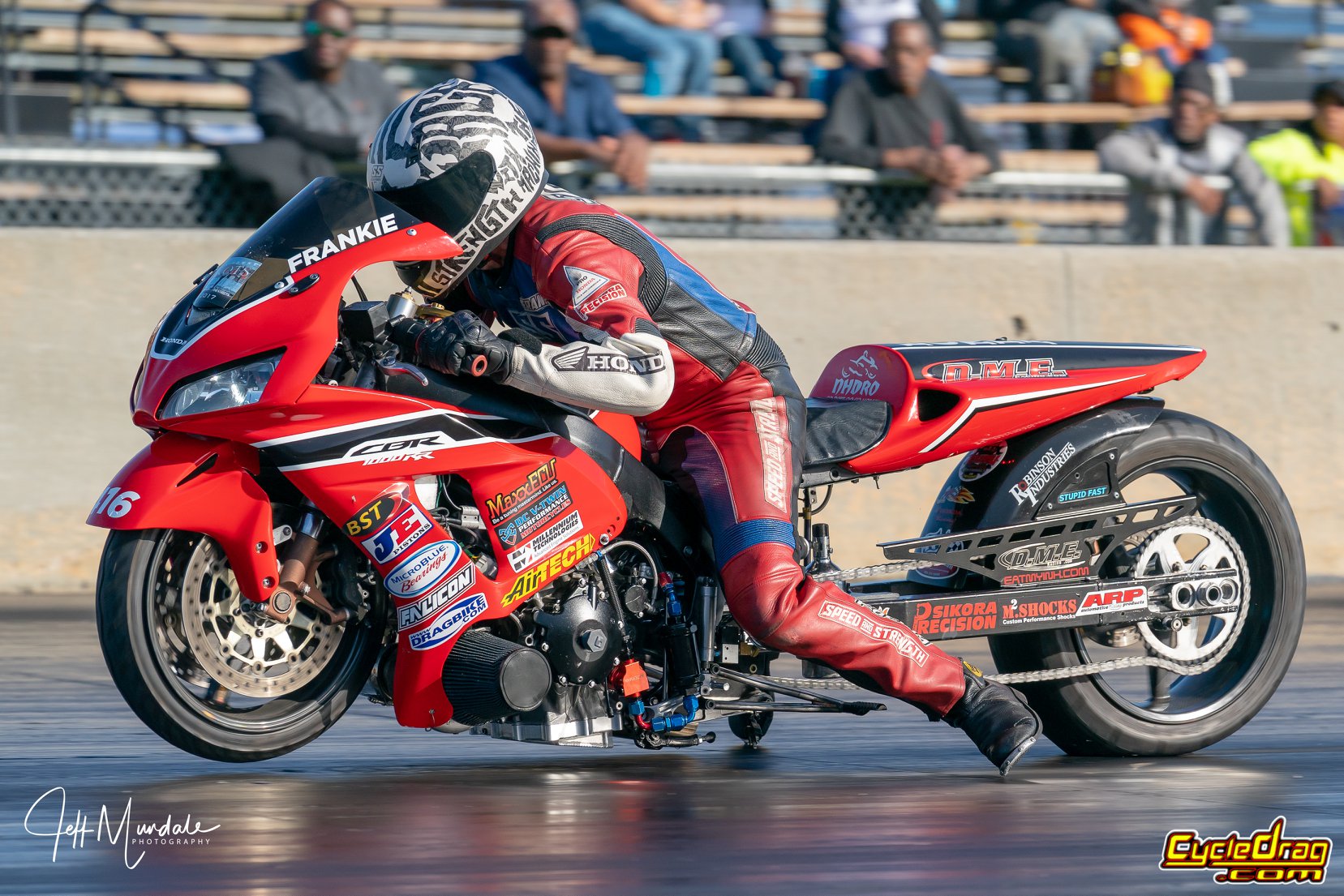 Less than six months after Stotz's epic 6.60, Teasley somehow jumps to 6.49, then a 6.42 two months later. It's mind-boggling.
Some have raised legitimate safety questions and concerns about pushing no-wheelie bar, street tire bikes into this echelon of performance. The good news is the class has an excellent history of safety.
It's fair to wonder if the creators of the now discontinued Michelin Power 1 ever thought about the possibility of racers going 0-232 mph in just 1,320 feet on this street tire? It's safe to say that was never brought up in a production meeting.
It's the knowledge, attention to detail and technological advancement by those passionate about the category helping to keep these racers safe at historic speeds.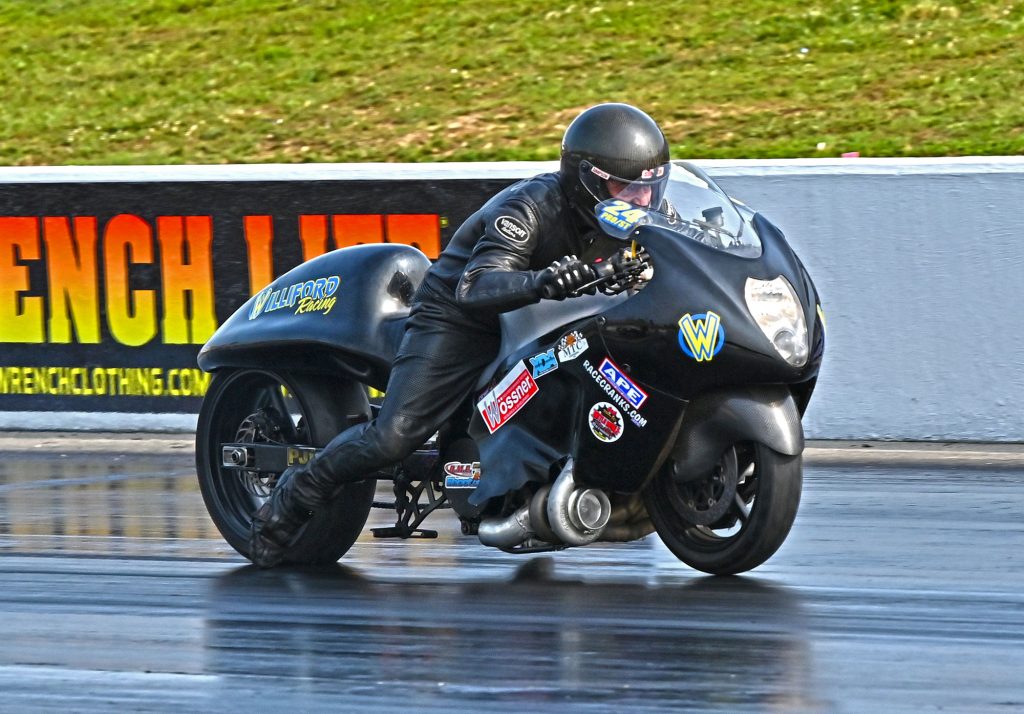 Surely this advancement trend is due to slow a bit, but even so, we will soon see 6.30s on DOT tires with no wheelie bars.
This would have sounded like hyperbole at the beginning of the season but at 6.42 it's quite possible Teasley's GSXR 1000 could compete, if not go rounds, in the sport's quickest and fastest class, Top Fuel. Nitro racer Mitch Brown rode his consistent 6.20s to a Man Cup Finals victory in one of the toughest fields the organization has even seen.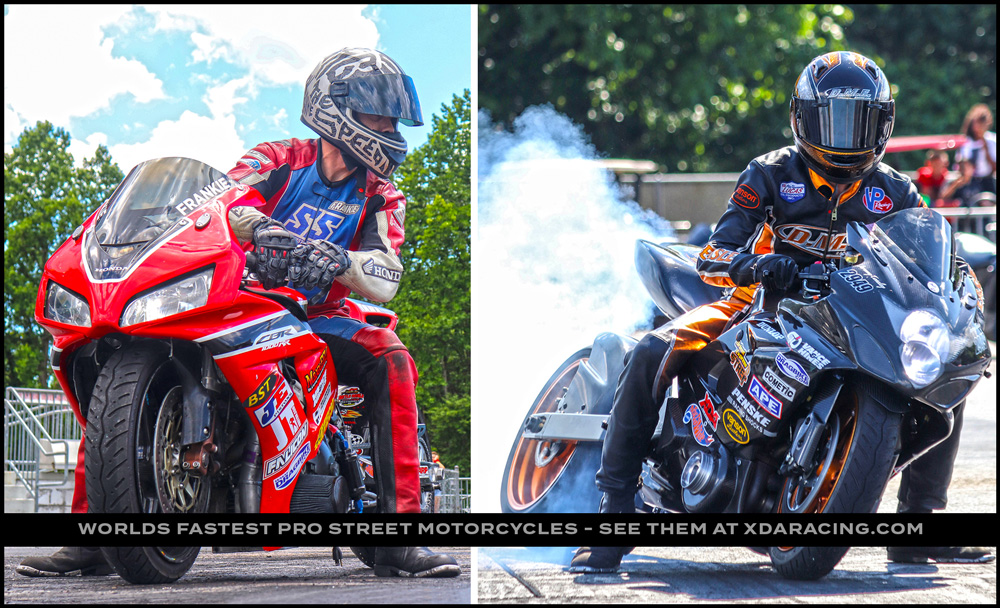 If you have been around this sport for a long time, I'm sure it's easy to agree Teasley's 6.42 feels a lot more like a Funny Bike number.
Speaking of Funny Bike, we are now on the cusp of a rise in interest in turbo-charged wheelie bar racing.
Funny Bike was home to the world's quickest turbos up until around 2002 when AMA Prostar's Keith "Scooter" Kizer was forced to cut the class due to dwindling participation, despite a small group of accomplished racers like the late, great Gary Clark, Rick Perry, Chip Ellis, Korry Hogan, Keith Lynn, Rob Giard, Glen Nickelberry and others still running some impressive and progressive elapsed-times. It became increasingly difficult to get all of them tot he same event and bike counts suffered.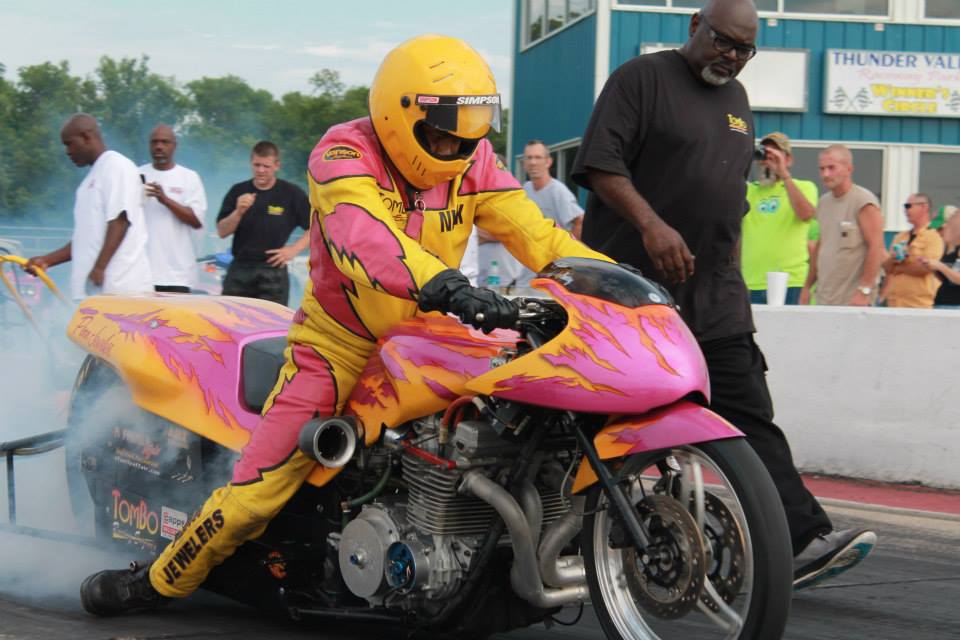 At the time Kizer said stepping up to Top Fuel would be an option for the remaining Funny Bikes, hoping the platform could be used as a gateway to a full-blown nitro Bike.
What happened was all the turbo technology shifted to no-bar racing and excluding the recent breakout performance of some new builds, the Funny Bike numbers have not evolved much in the past 20 years. The late, great Gary Clark set the Funny Bike record at 6.45 at Gainesville Raceway in 2000.
It took the class about 15 years to pick up a tenth.
Interest in the class had declined and the funding, research and development and experimentation came to halt. It's the inverse of what happened in Pro Street.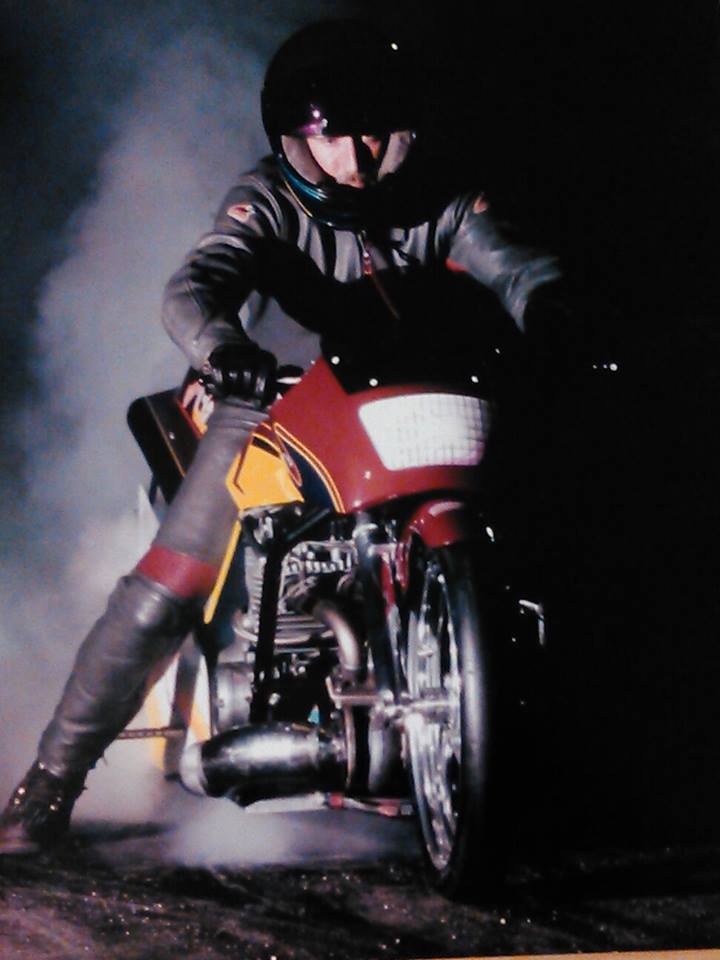 Some talented racers such as Chris Cutsigner, Travis Davis and Mark Paquette (before selling his bike) have continued pushing the wheelie bar combination while most turbo racers headed for the no-bar class. Cutsinger and Davis both recorded 6.34s on their Timblin Chassis bikes with Davis officially holding the record up until Nov. 2018 at a 6.347.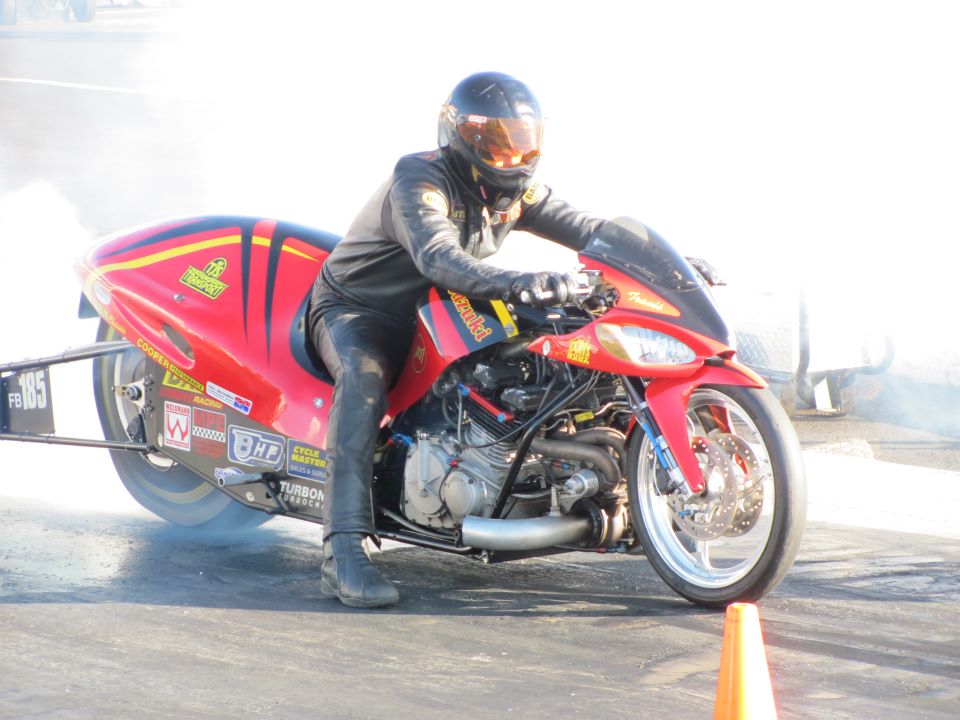 With all due respect to those talented racers, 6.45 to 6.34 since 2000 is not a huge leap or anything even remotely close to what we have witnessed in Pro Street.
That's why so many were excited to see Pro Street technology gurus come back to wheelie-bar bikes again.
That trend could continue.
Check out the Timblin Chassis, Dan Wagner build of Kevin Clarke that got everyone talking.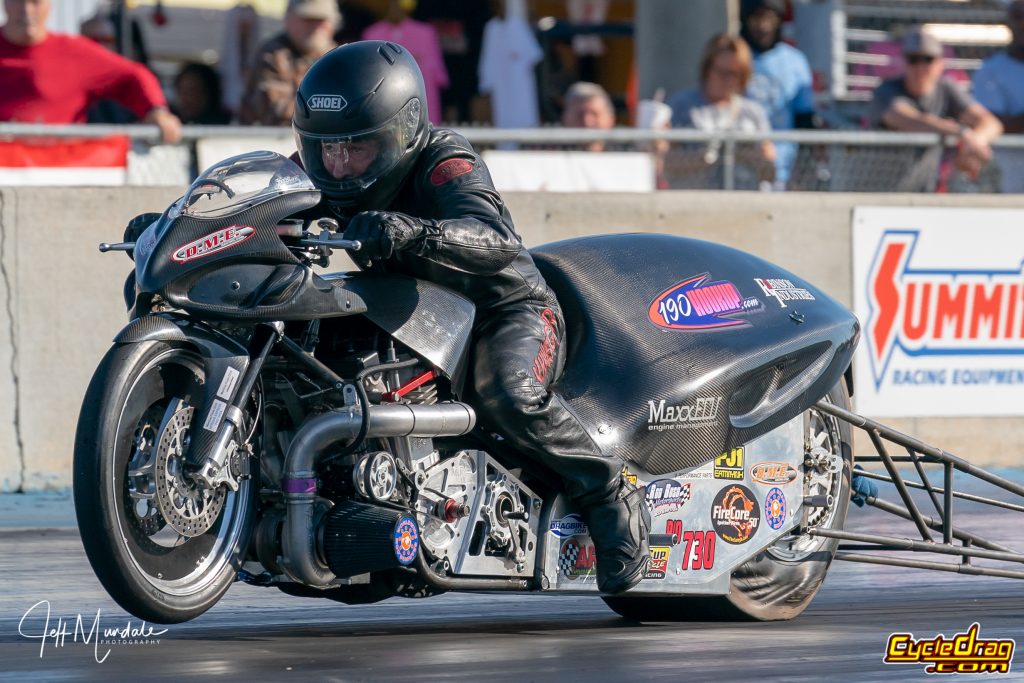 The cutting edge, Pro Street inspired, modern day turbo Suzuki GS Clarke captured the attention of the racing world with a new PDRA record of 3.91 in the eighth and a new Man Cup record of 6.19 in the quarter during it's first handful of passes.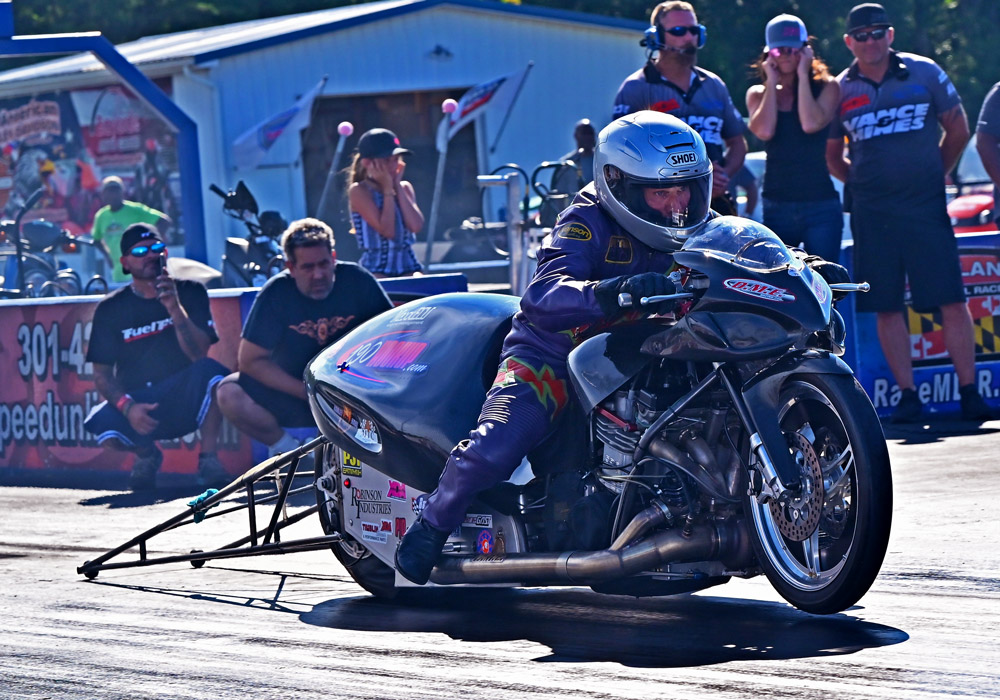 This past off-season there was a lot of discussion and debate about the possibility of turbo-charged motorcycles being allowed to enter Top Fuel to help speed up the advancement. Larger purses and more prestige is something the new builders longed for.
Turbos have raced in Top Fuel in the past, perhaps most notably in the late 80s and early 90s when legends like "Mr. Turbo" Terry Kizer and Kawasaki-backed Steve Rice would often find success against their supercharged, nitromethane counterparts.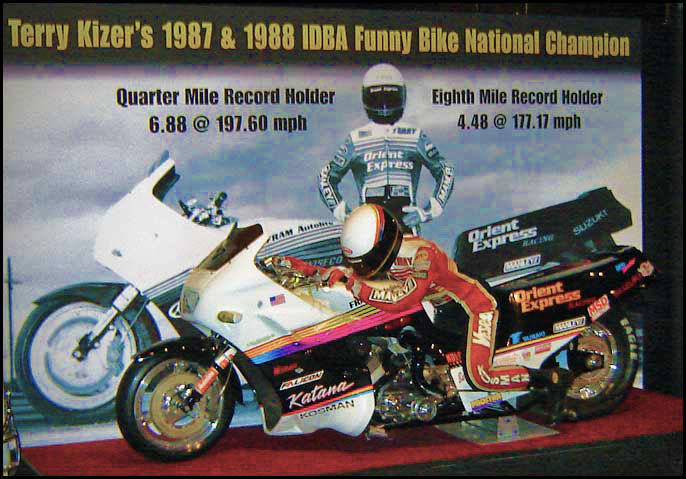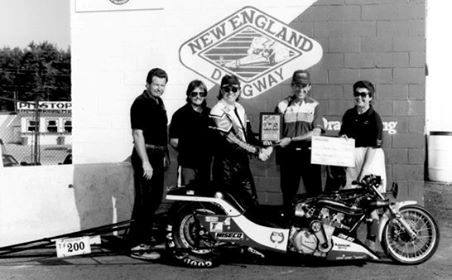 For the past two decades Top Fuel has remained almost exclusively a blown, nitro class – not necessarily by rule book wording but by participation.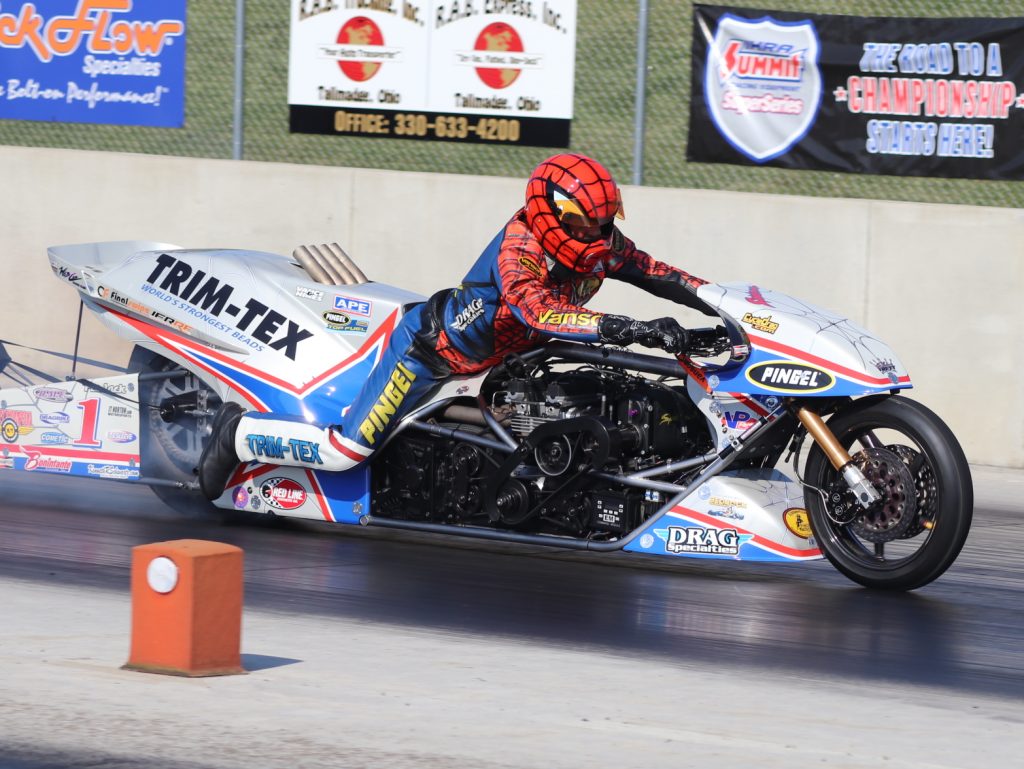 Could a spark in turbo technology ignite a turbocharger vs. supercharger battle much like we have watched a turbo vs. nitrous battle across all platforms or drag racing?
Turbo wheelie bar interest continues to increase with old and new Funny Bikes surfacing from coast-to-coast. The Western Pro Extreme Association's season-opening event at Auto Club Speedway in Fontana, Calif. in late April saw a healthy mix of modern and classic turbo drag bikes with Hayabusa racers Craig Brown and Vince Testa leading the way in performance and legend Rice returning.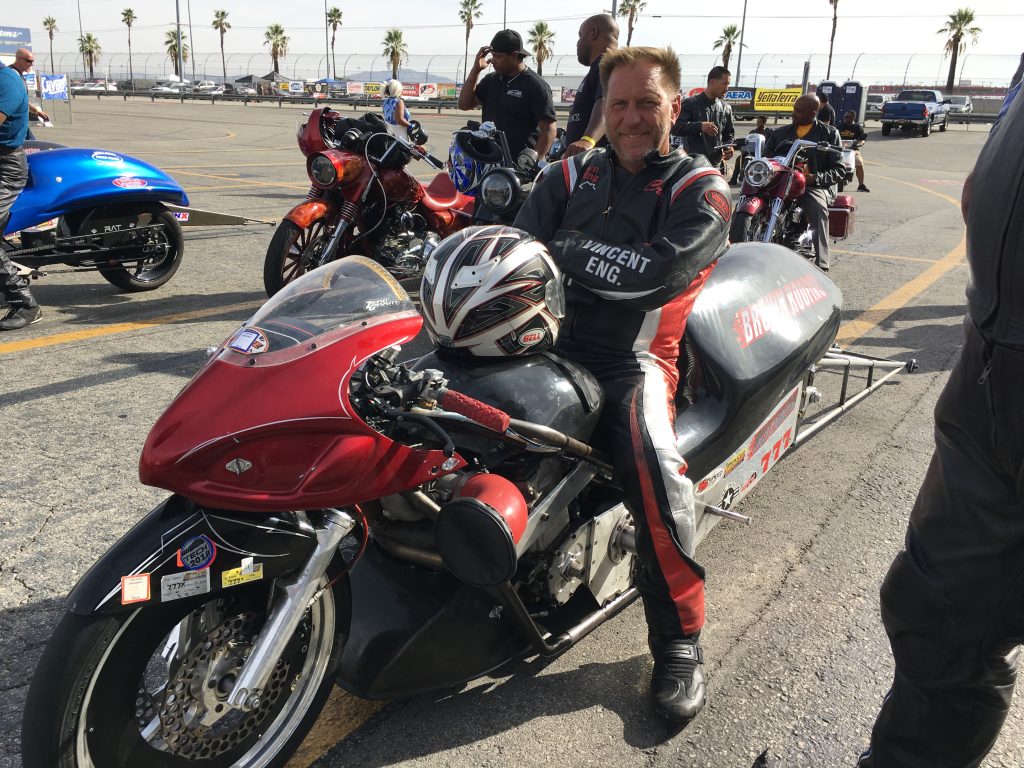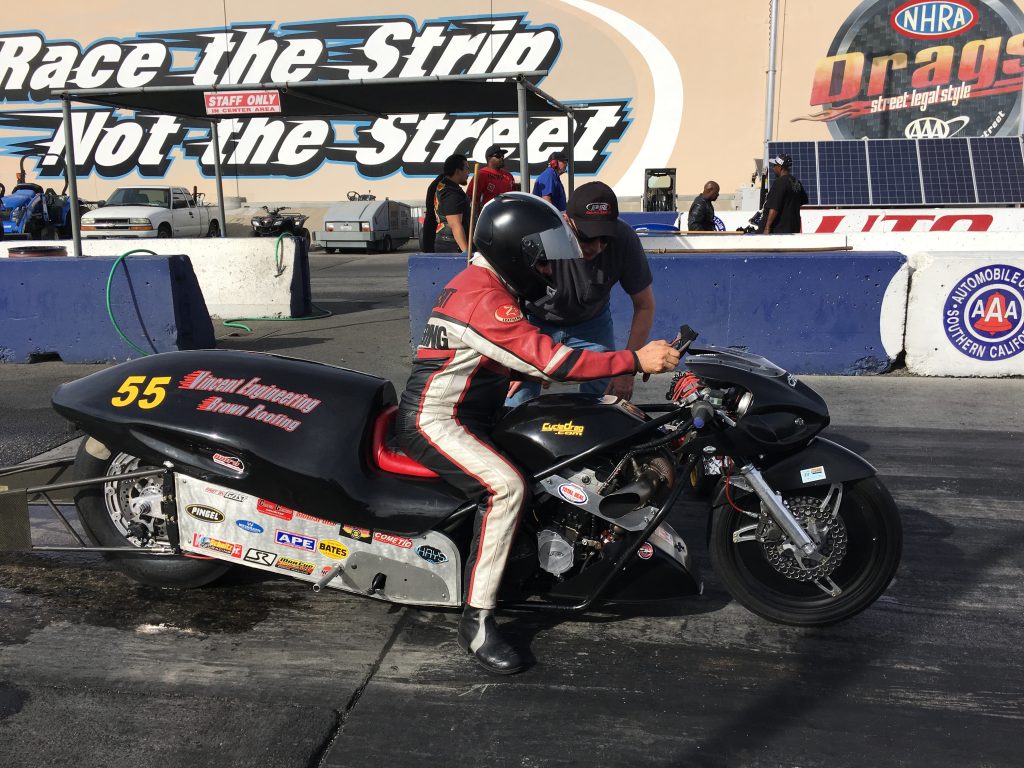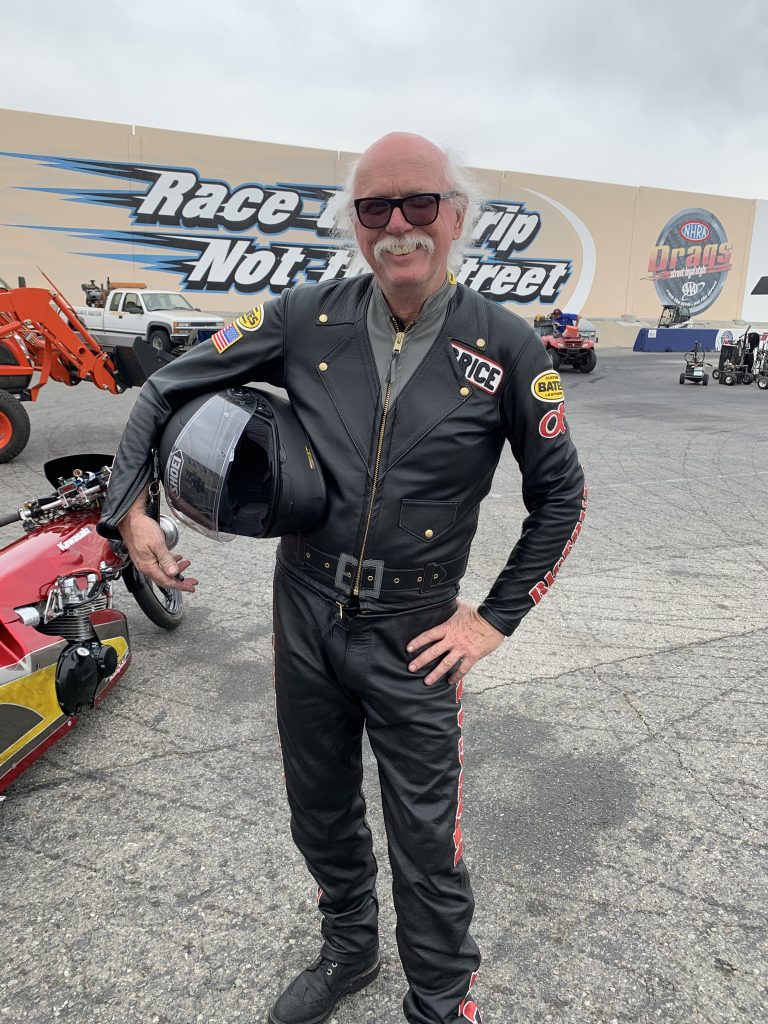 The numbers are coming back to Funny Bike, which means larger sponsorship, purse money and performance-pushing research and development and technology could be soon to follow.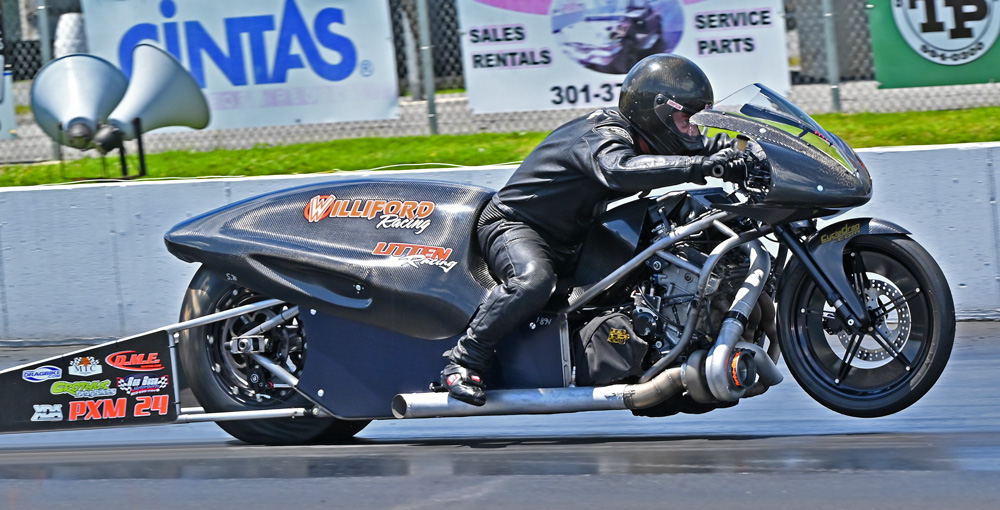 If the same trend in Pro Street continues with the influx of modern Funny Bikes we could be on the precipice of a revolution.
Turbos could be poised to be the new go-to. If performance and fields increase, Top Fuel may not be able to ignore them.
Please share your thoughts on the rapid advancement of the turbos and where you see the future of this sport going.
Popular Turbo Videos from the CycleDrag YouTube channel
There are more videos on the Cycledrag Youtube channel (please subscribe here) and the Cycledrag.com Facebook page (Please like here) and more will be coming soon. Check back daily.