It's all coming together.
In early December at the Performance Racing Industry show from Indianapolis, Ind., 15-time Top Fuel Motorcycle champion Larry "Spiderman" McBride announced an exciting, new partnership with longtime sponsor Trim-Tex Drywall products.
At the time the agreement was in its infancy. Now we are inching closer to a new season of racing and more information is starting to emerge.
"I am excited and nervous at the same time," McBride said. "It's an awesome deal with an amazing company. Now we just need to finish all the details on the new bike to be ready to race."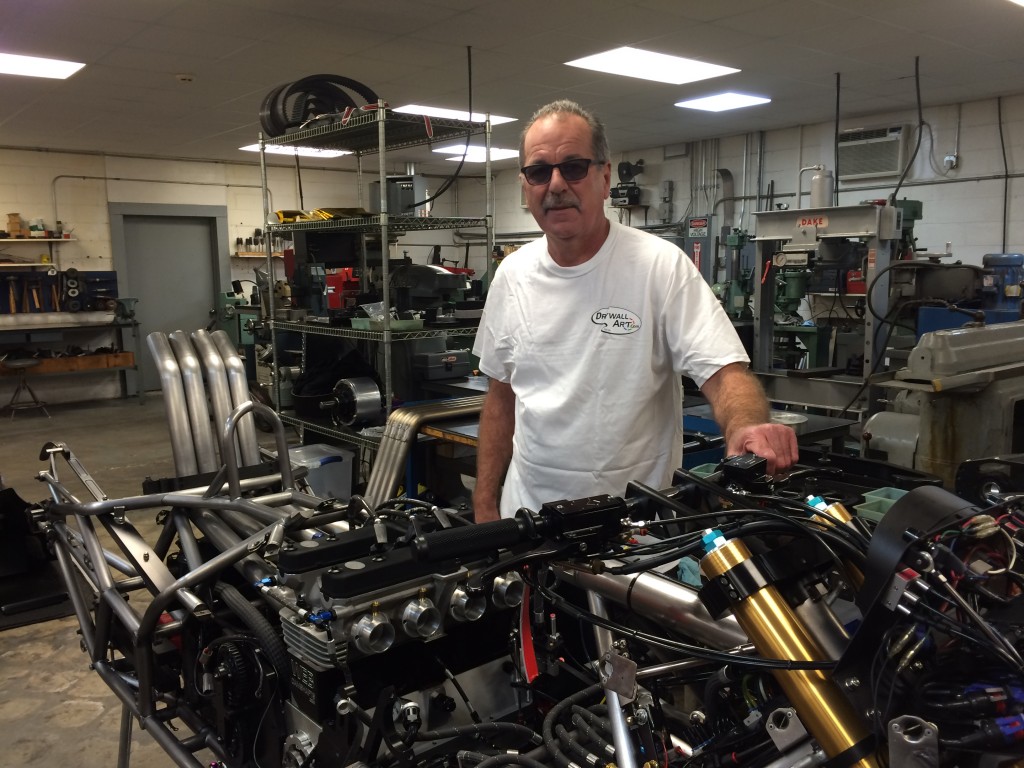 The biggest challenge for McBride will be successfully debuting his state-of-the-art nitro bike – a marvel of engineering more than seven years in the making.  As a successful racer himself and team owner of Geno Scali's 2003 NHRA Pro Stock Motorcycle championship-winning team, Trim-Tex's Joe Koenig fully understands the massive challenges ahead for Team McBride.
"The main goal is to leave Larry and Steve alone for a while to let them do what they need to do. They are the best, but the fact remains, the new bike has not even done a burnout yet. A lot goes into getting a bike like this competitive," Koenig said.  "It's wonderful to be excited, but we all have to realize that this is their livelihood and they have to methodically go through the phases of getting everything where it needs to be."
McBride is making plans to introduce the impressive machine to a drag strip very soon.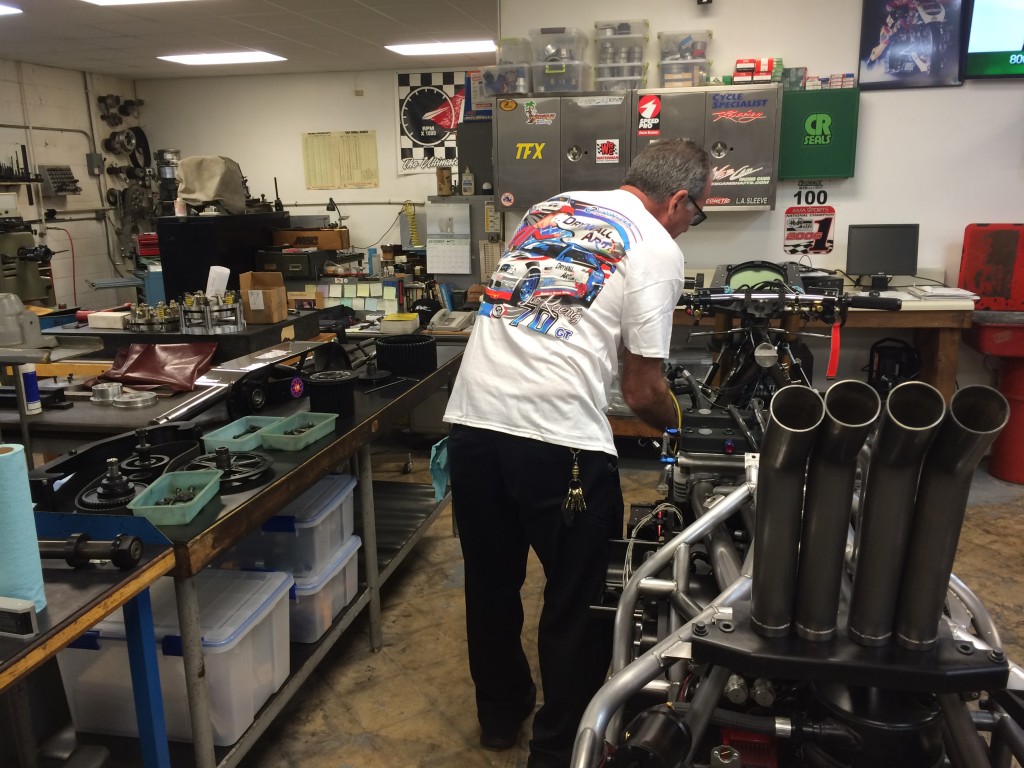 "We want to test this month, provided we can get a track down south," McBride said. "We are looking in Florida at Bradenton, Orlando or West Palm Beach."
There is much work to be done before the first test session.
The new bike is currently stripped down, after the McBride brothers made an engineering improvement to the exhaust system, inspired by Vance and Hines genius Byron Hines, and switched to a stronger, 630, triple-side-plate drive chain,  like what is in use on most nitro Harleys.
"We made several improvements," McBride said. "I have faith, but you are always nervous about anything that is not proven yet.  Steve knew every part of the old bike like the back of his hand. It will be a challenge to learn all the new components."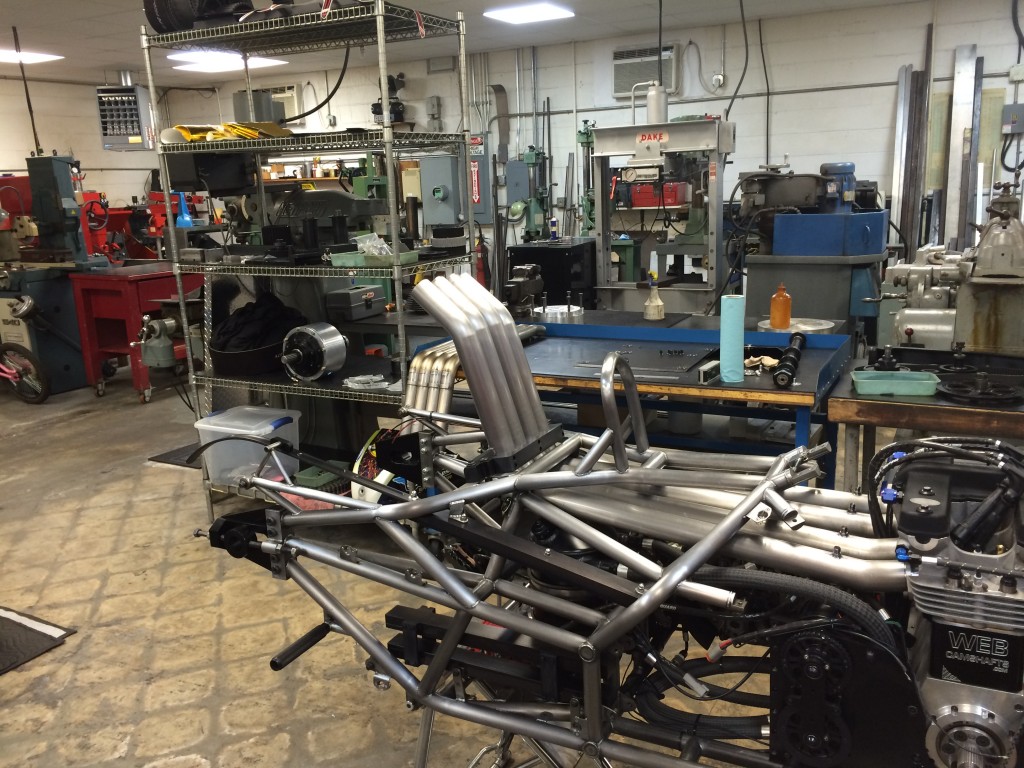 McBride's historic motorcycle of more than 20 years and the first in the five-second-zone, affectionately referred to as "Blue" was nearly a total loss after exploding at a race in September.
Fans, friends and supporters of McBride came together to donate more than $20,000 via GoFundMe to help rebuild the bike. It's a process that is well underway.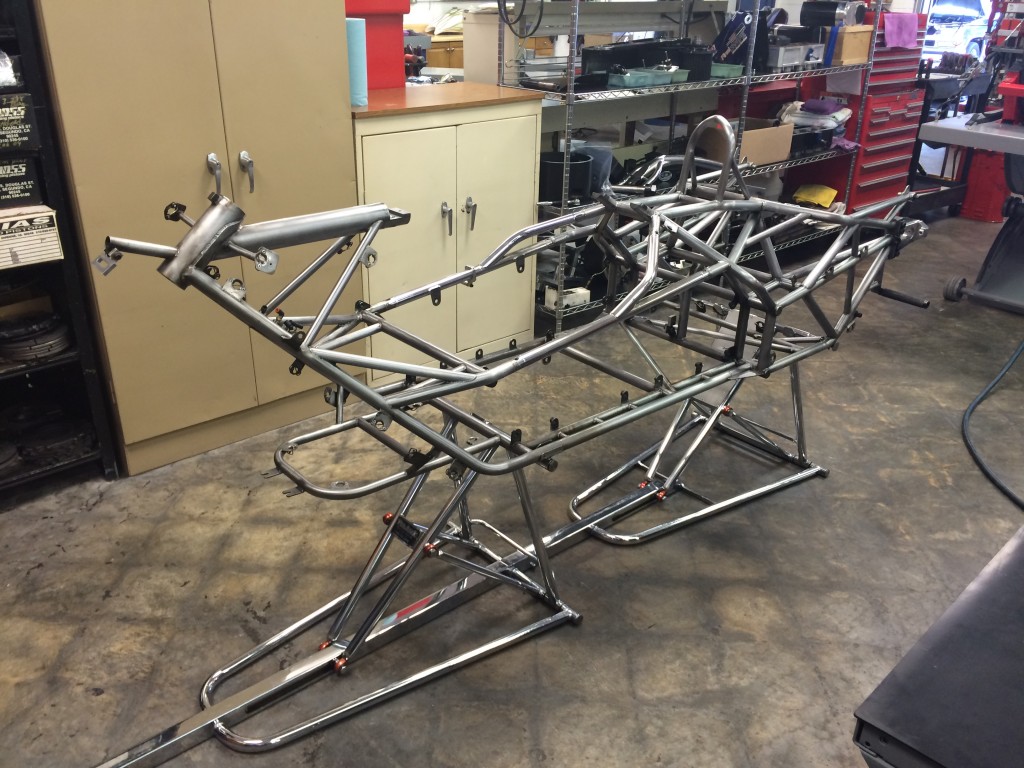 "It's at the chassis shop. We are hoping to get the frame back by the end of the month, then it's just a matter of getting bodywork and putting everything together," McBride said. "We are hoping to have Blue running by the end of the year so we can retire it with a five-second pass."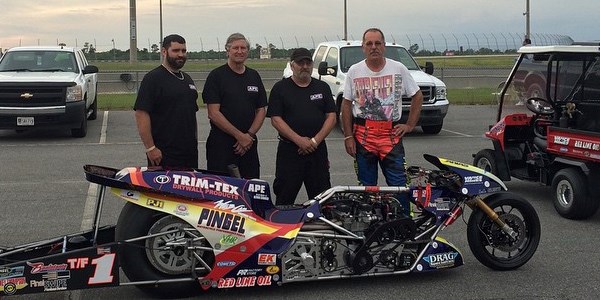 As initially reported in December, Koenig and McBride would also like to eventually field a two-bike team, to give the class yet another entry, thus further improving an already entertaining show.  Due to the one-off nature of many of the new components and the intense labor of putting a new nitro bike together, the team is aiming  for the end of 2016 or the beginning of 2017 for the completion of another motorcycle. It has not yet been announced who the rider of the second machine will be.
"I think Top Fuel Motorcycle is back. We want a full field at every race. It will inspire more sponsorship and bigger purses. We want to grow the class," Koenig said. "It does not even have to be a nitro bike; if you have a fast bike, bring it. Steve Rice (legendary Funny Bike racer) will tell you all about winning in Top Fuel with a turbo. I'd love to see somebody on a Walt Timblin chassis with a 14-inch wheel, like the one he just built for Paul Gast, with a top-notch DME turbo motor. I think you'd have 6.10s."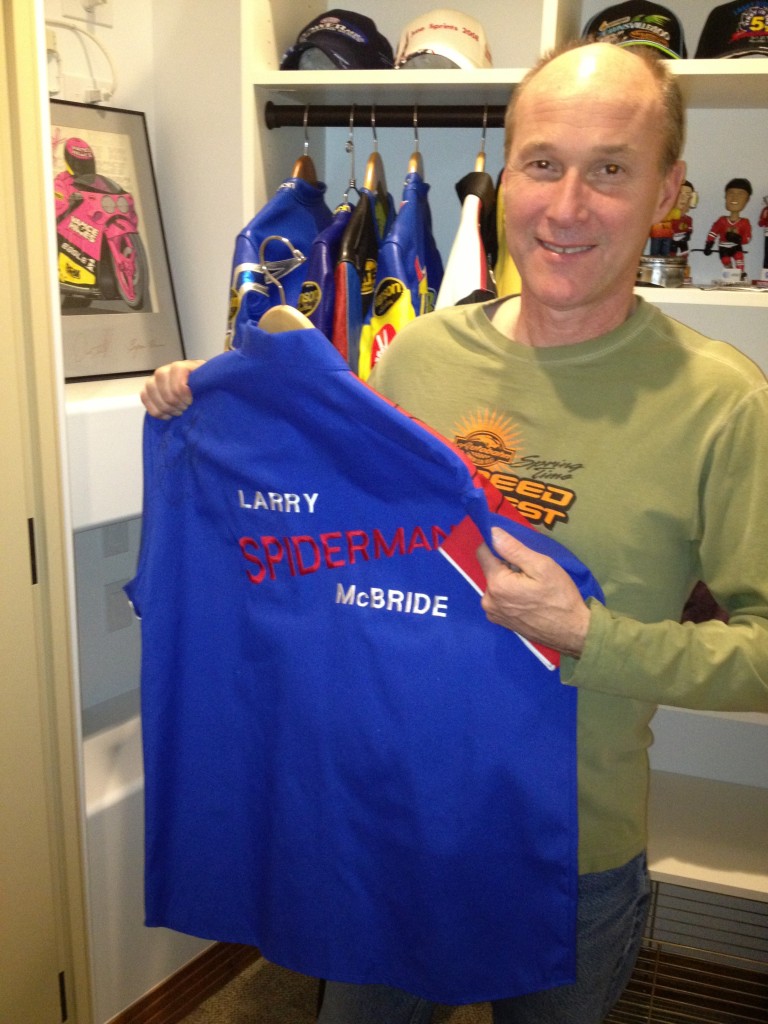 A big part of Trim-Tex's mission is to not only help team McBride, but to help the class, what Koenig feels is one of the greatest attractions in motorsports.
"The future will be awesome. I love brainstorming and masterminding so I'm excited to help grow this class. I want to be the guy who is the catalyst for all this new excitement," Koenig said.  "Now that it is officially 2016 I'm getting even more excited to be involved with motorcycle drag racing again. This is my therapy. I need to be involved in motorsports, whether it be behind the wheel, behind the handlebars, or helping run a team. I love it."
The team is also working on a new graphic design for the motorcycle, hauler, crew shirts, pit vehicles and more.
"It's going to look really awesome," McBride said. "We are really looking forward to seeing everyone this season."
McBride thanked his primary sponsors; Trim-Tex Drywall Products, Pingel Enterprise, Drag Specialties-Parts Unlimited, Red Line Synthetic Oil Corporation and Final Swipe Merchant Services.
Web-Cam, Vance & Hines Motorsports, Portable Shade, PR Factory Store, Ferrea Valves, Kibblewhite, Precision Machine, World Wide Bearings, Vanson Leathers, Millennium Technologies, Belt Drives Ltd, Simpson Race Products, Nitrous Express, APE, EK Chain, Arias Pistons, Cometic Gaskets, B&J Transmission, Carolina Cycle, L.A. Sleeve, PJ1, Mickey Thompson Tires, Valco, Goodridge, Carlisle Belts and Gates Belts.