On Friday October 11th, 2019, the 28th Annual Jim McClure Nationals, hosted by the AMRA will kick off with a test & tune from 2-8PM to kick off the weekend with the sounds and smells of Nitromethane in the air as if Ol' Jim McClure "Da Judge" was there his bad-self, racing with us once again. No one who raced with Jim & Phyllis McClure will ever forget his signature sounds and that great smile of his. Jim May have left this mortal life, but his passion for nitro Harley drag racing lives on, as does his legend.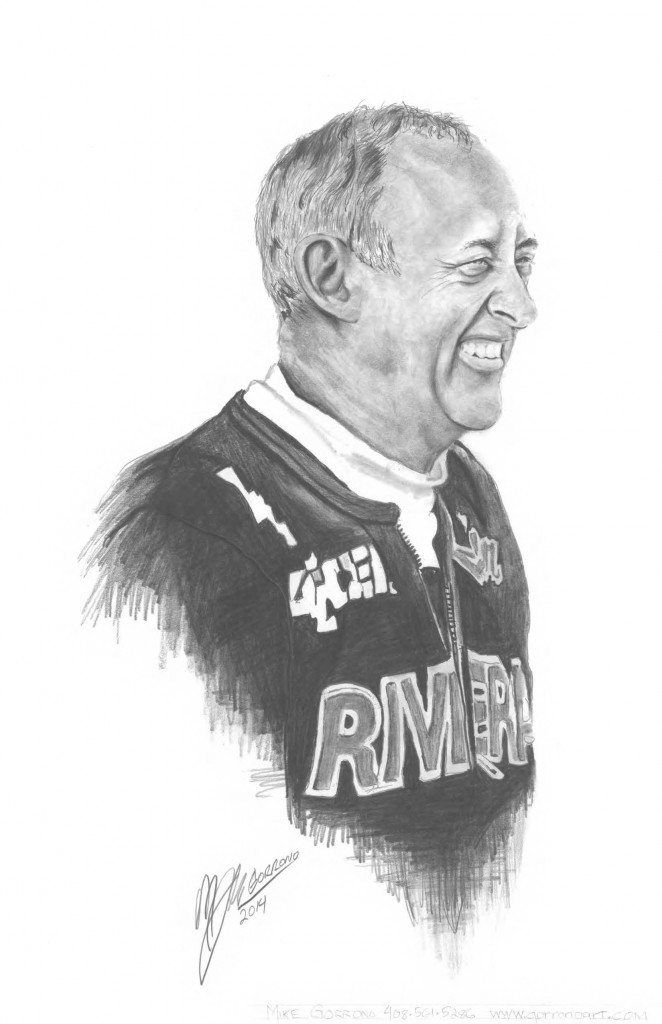 His passion for racing and winning never waned and when Jim passed on in 2004, he was called home, but his love for the sport thunders on!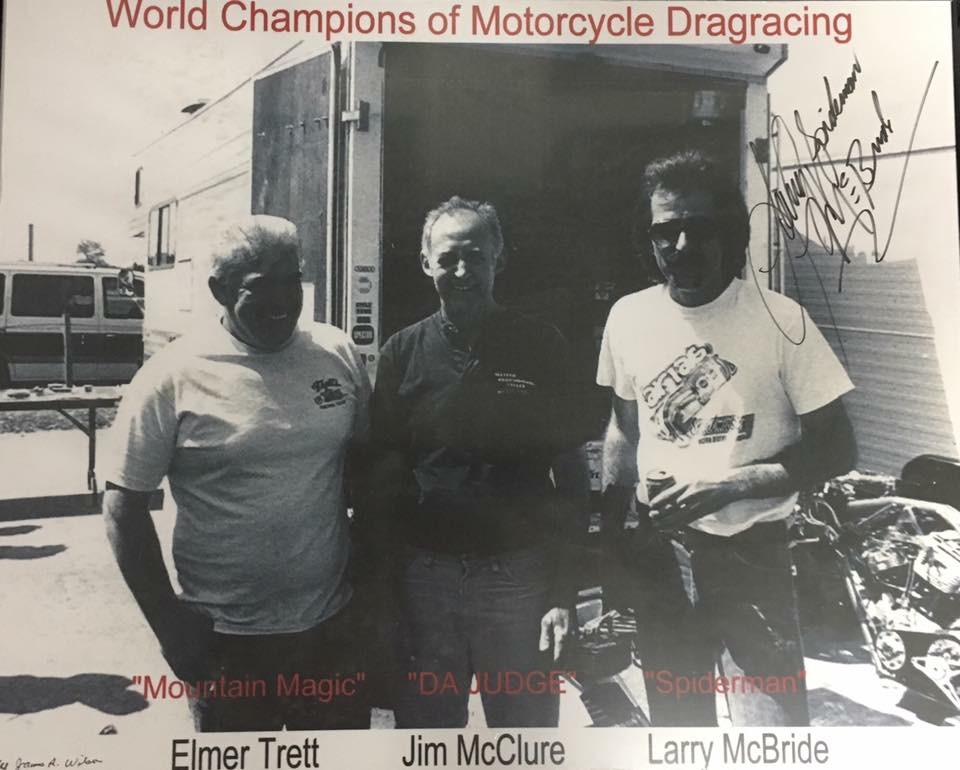 The race named for his legacy in 2019 will feature close to two dozen Harley Fuel bikes thundering down the 1320 of fabled Rockingham Dragway beginning with a test & tune session on Friday from 2-10PM.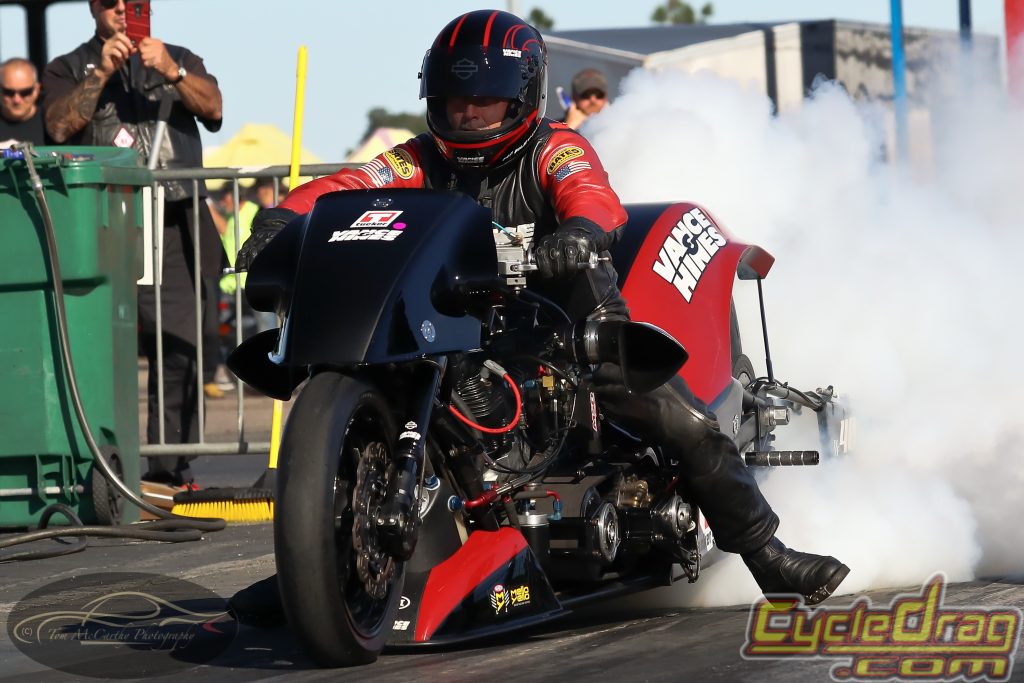 The thunder you'll hear will be from the motorcycles in the Top Fuel, Nitro Funny Bike and Pro Fuel classes, you'll see, feel and hear the power from Jay Turner Racing, Randal Andras, Rich Vreeland, Jake Stordeur, Tracy Kile, Jim Fagan, Doug Vancil, Tii Tharpe, Don Becker, Dan Grindie, Ryan Peery, Jim Doyle, Rocky Jackson, Jordan Peterson, Hal Cort, Janette Thornley, Denis Waldron, Jim Martin, Sam White, Jay Beasley, Tyler Wilson, Chaz Kennedy, Curt Sexton, David Larson, John McConnell, Kirby Apathy and others!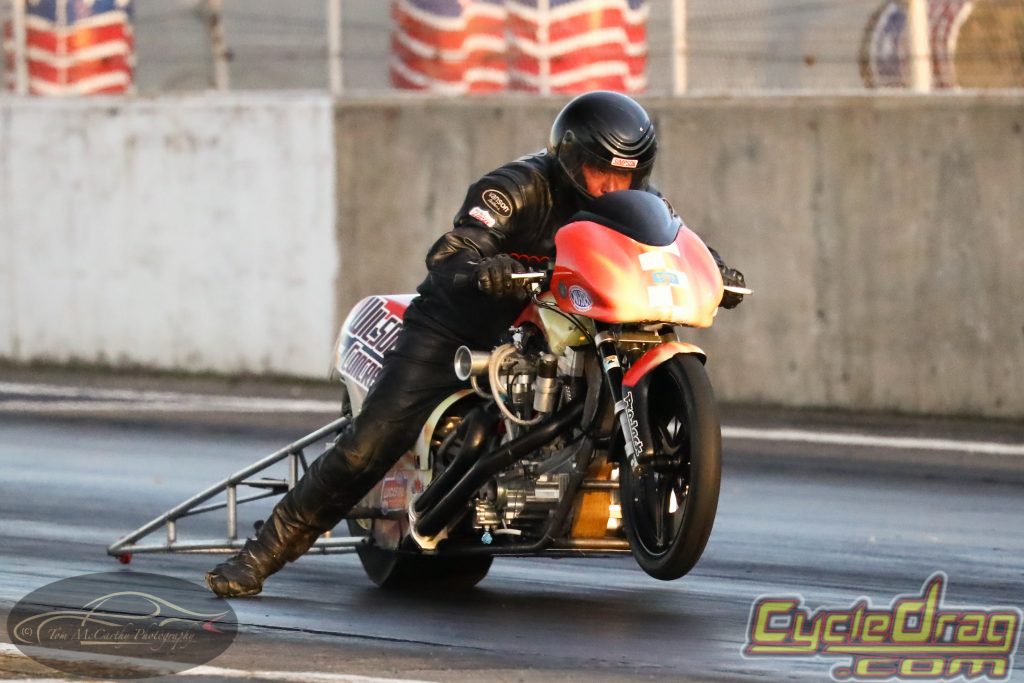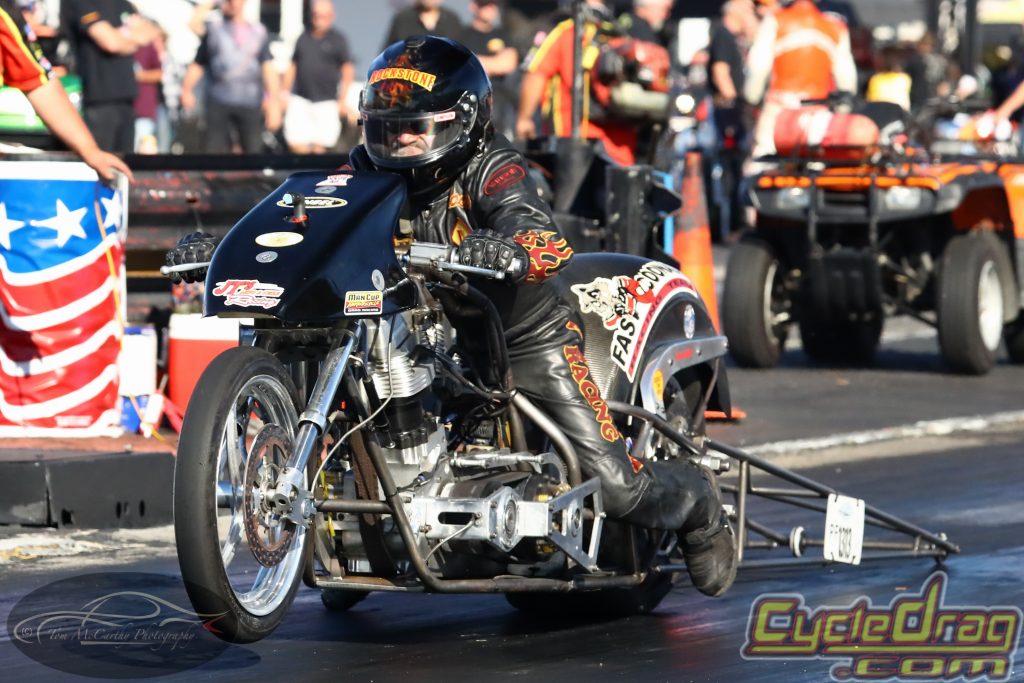 On Saturday, there will be open Test & Tune from, 10-11:30 followed by a drivers meeting at noon. Qualifying will begin at 12:30 for all classes. There will be three rounds of qualifying; spectators are encouraged to arrive early. Most of the professional teams will be arriving Thursday and Friday to begin testing Friday and Saturday morning, so don't miss out on all the action, camping is only $10!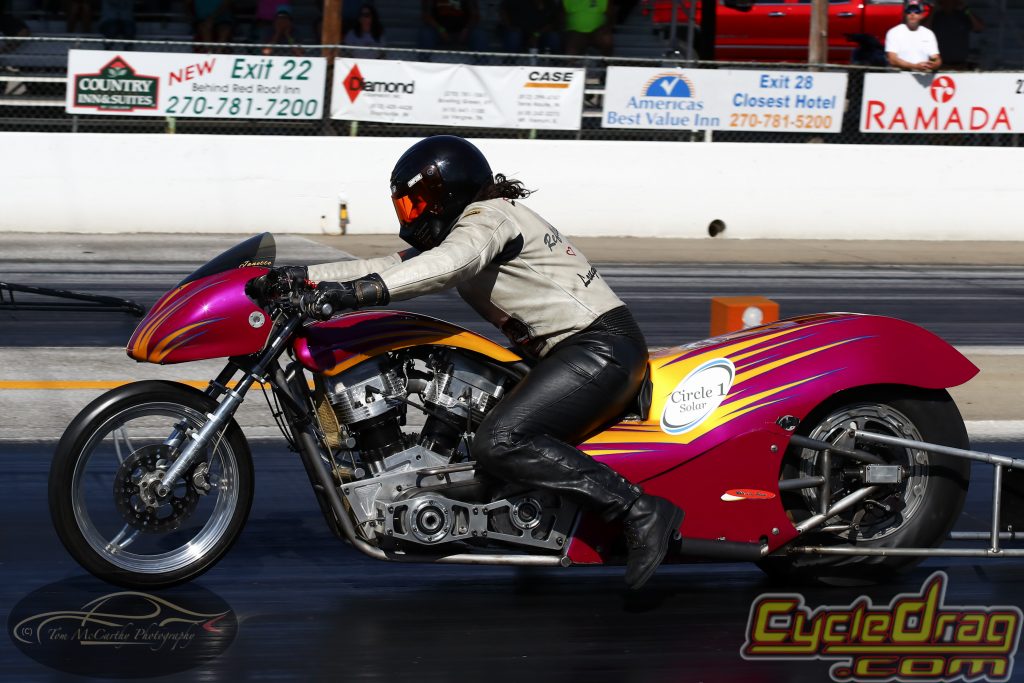 In Top Fuel competition: Randal Andras is currently holds first place in championship points and is followed by Jay Turner, Armon Furr and the Sushi Man from across the pond. This race will decide the AMRA National #1 plate for these talented racers.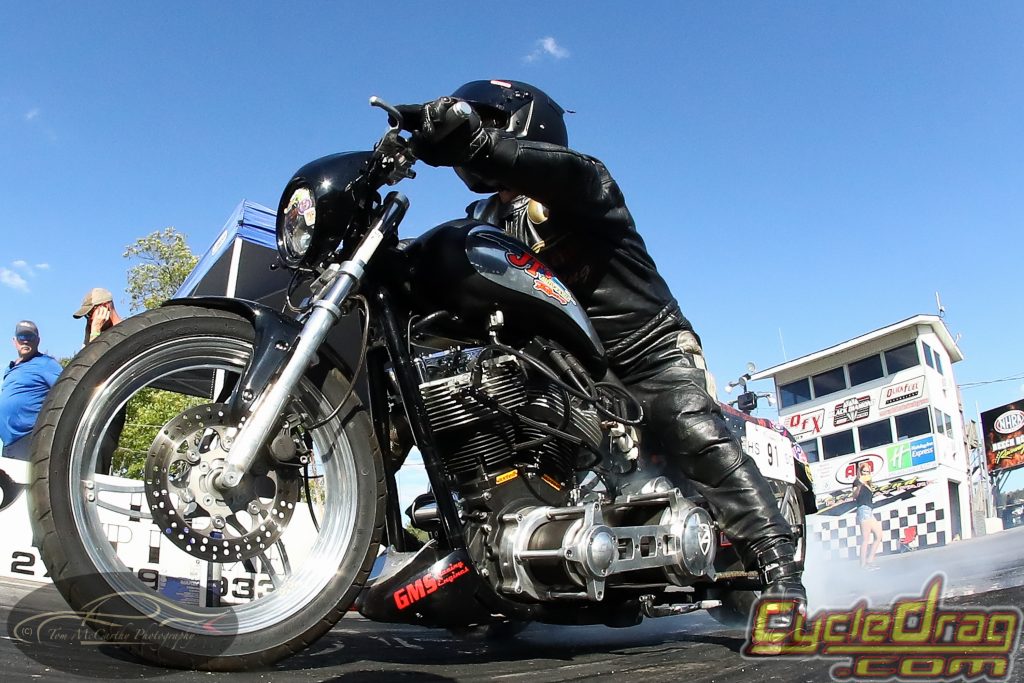 In Nitro Funny Bike competition: Ryan Peery is in the #1 spot with 1580 points, followed by Rich Vreeland (1255) and Gary Stroud (1205). Any one of these three racers can still take the Funny Bike crown. The action on Sunday will determine who carries the #1 plate next year.
Pro Fuel racing is currently lead by Denis Waldron, who has a 200 point lead over Janette Thornley. She has won the title before and would love to win it again – but Denis and his team will fight her for all they have and it will be great battle indeed for these two strong racers! Not to mention with Kirby Apathy and Sam White at the event: there are a BUNCH of very fast/quick P/F bikes that can trailer either of them, any round. This will be a tough class to win!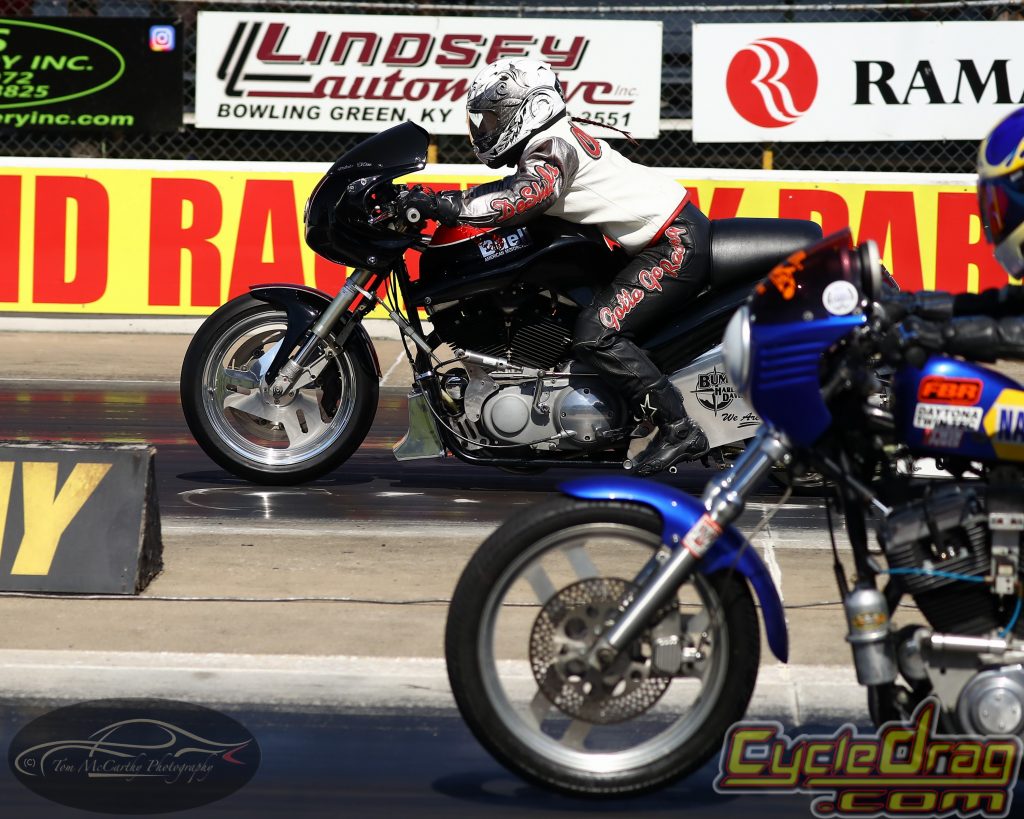 In Pro Gas: Donnie Huffman, who has quite possibly won more rounds of drag racing than any other racer – Donnie is in the #1 spot with 1375 points, followed by Greg Frost with 855 points and they will battle for sure. But when the smoke clears, only one will hold that #1 plate for the end of the season.
Pro MOD: One heck of fast class of drag bikes is currently led by Billy Doherty with 1880 points and he's out distanced Richard Boone, John Price, Shane Pendergrast, Keith Carper, Gary Douglas and Kyle LeBlainc. Billy has been leading the way all year and looks to be a shoe-in for the championship.
The sportsman classes are lead by:
Donnie Huffman – Super Comp
Gary Douglas – Modified
Tim Grindle – Brock's Performance Outlaw Street
Brian Conely Jr – Horsepower Inc. Hot Street
Charley Douglas – Zipper's Performance Super Street
Assim Chaudry – Energy One Dressers
David Doremus – Vreeland's HD Top Eliminator
Michael Rutherford – Vreeland's HD Super Gas
David Doremus – Super Pro
Crosby Blair – Pro Eliminator
Terry Mason – Baker Drive Train Super Eliminator
Kevin Winters – Thundermax Eliminator
All of these points leaders will be fighting to hold on to their points leads for the championships in their respective classes and will have their hands full on Sunday.
Only one racer can stand above the fray and hold that #1 plate high at the end of the season. Good luck to all the racers heading to Rockingham Dragway for October 11-13, for the Jim McClure Nitro Nationals! We'll see you on the starting line!
There are more videos on the Cycledrag Youtube channel (please subscribe here) and the Cycledrag.com Facebook page (Please like here) and more will be coming soon. Check back daily.