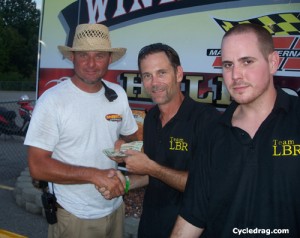 Multi-time motorcycle drag racing champion Chip Ellis sure didn't make any new friends during his return to the MIROCK series at the WPGC Bike Fest from Maryland International Raceway, July 17-18.
Ellis ran the table in HTP Performance Real Street by qualifying on the pole, winning the event and establishing a new elapsed-time record of 7.838.
This is one of the biggest wins of my career and I've won a lot of races," said Ellis, a former AMA Prostar Funnybike, Supersport and Superbike season champion and six-time NHRA event winner. "We found something last Saturday when we tested at ORP (O'Reilly Raceway Park, Indianapolis, Ind.)  We ran .08 quicker there than we ever have, so we knew we'd have a good chance when we got to MIR."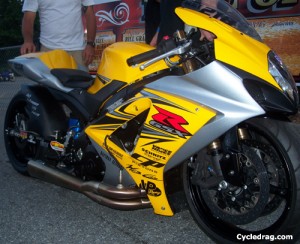 Perhaps Ellis' biggest accomplishment of the weekend was doing something nobody has been able to do all season, beat Jeremy Teasley. After Ellis defeated Teasley in the final, he collected his $1,000 first place payout and also scored an extra $400 bounty MIROCK officials placed on Teasley.
"I'm glad we won this money.  We were wondering how were were going to afford to get home," joked Ellis in the winner's circle. "I wasn't nervous at all heading into the final. I had a lot of confidence in our bike. Everything went just the way we wanted it to. The only bad part of the weekend is that we had to drive all night to get back home to Indianapolis, but a win like this makes the drive a lot easier."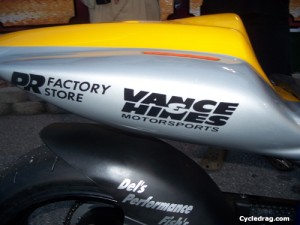 Ellis may have inadvertently created a new rivalry for himself. Teasley and company will no doubt be looking to put Ellis on trailer real soon. Not only did Ellis end Teasley's unbeaten streak, he removed Teasley's name from the record book, surpassing Teasley's 7.839 from earlier this year in Rockingham, with his 7.838.
"I don't care if we broke the record by .001 or one mile," Ellis said. "A record is a record and I'll take it."
Ellis attributed the successful weekend to his crew chief and Vance and Hines co-worker Blake Ritter.
"Blake has done one fantastic job building and tuning this bike. He is very analytical and has an incredible hold on the reliability of the bike.  I told him what I need to make the bike work well for my riding style and he set it up perfectly," Ellis said. "He's probably the best tuner I have worked with, and I've worked with some really good ones."
Next Ellis plans to again compete at the NHRA US Nationals aboard a Vance and Hines Suzuki, and possibly another NHRA event in 2010.  Ellis also plans to begin racing Pro Mod later this season when the team completes his bike.