Gaige Herrera continued his perfect run in Pro Stock Motorcycle on Saturday at Bristol Dragway, winning the Mission #2Fast2Tasty NHRA Challenge and securing his fourth straight No. 1 qualifier at the NHRA Thunder Valley Nationals.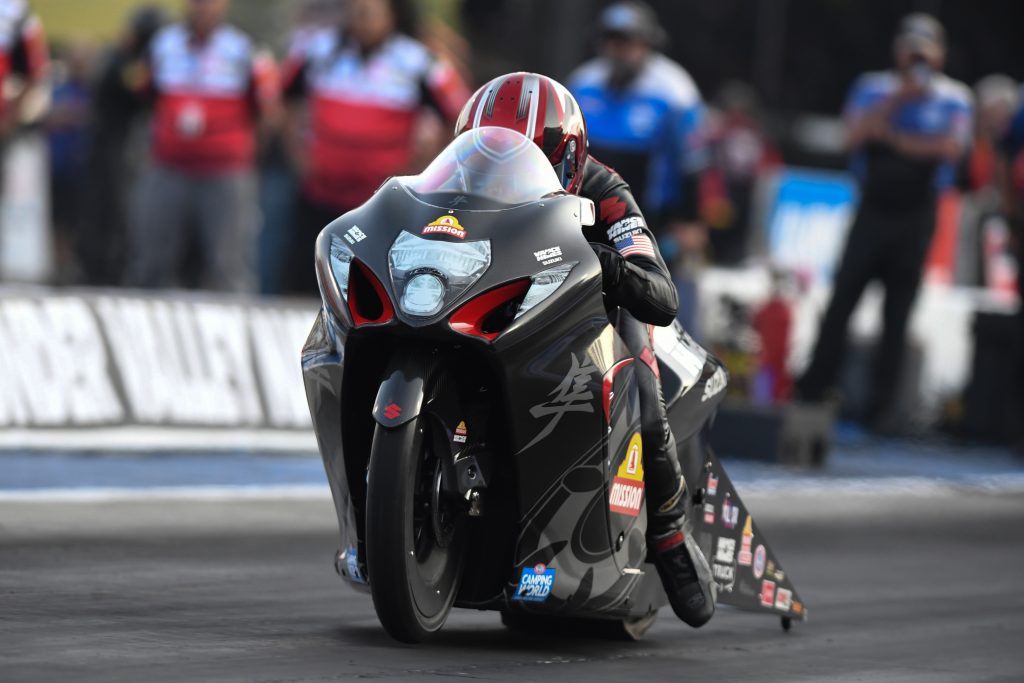 In the final round of the bonus event, Herrera was quicker on the starting line against Hector Arana Jr., posting a .009 reaction time and a run of 6.849-seconds at 194.83 mph on his Mission Foods/Vance & Hines Suzuki. It's Herrera's second Mission #2Fast2Tasty NHRA Challenge victory this season, with his run of 6.808 at 198.61 earlier on Saturday giving him the No. 1 qualifier. Herrera hasn't lost a round in 2023 and will aim for his fourth straight win on Sunday as he opens eliminations against Ron Tornow in what also is Herrera's Thunder Valley debut.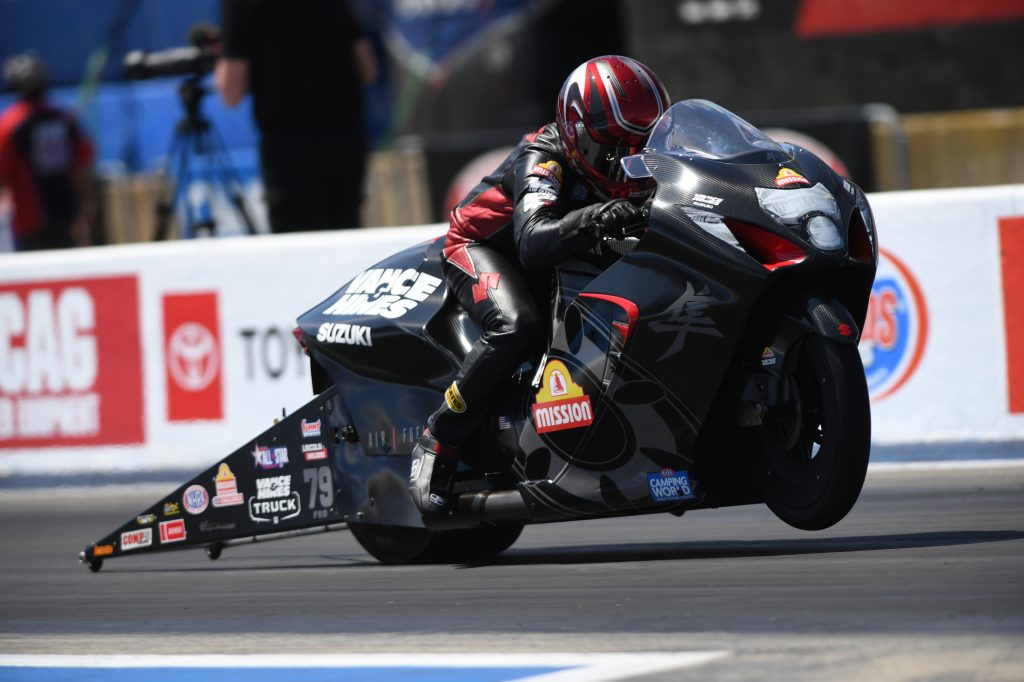 "It makes me feel better that I went out there and did my job," Herrera said. "I had to fight the bike a little bit from going towards the wall, and I think that's why we slowed up a little bit. But that was a good run with Hector. I was glad to get the holeshot and come out on top. Just to be a part of the whole Mission Challenge is very cool.
"It's been a wonderful journey so far. This whole season has been a dream come true, like I've been saying, and to do it like we've been doing it is just incredible. I'm just glad to be part of it."
Arana Jr. qualified second with a 6.839 at 199.02 and Eddie Krawiec's 6.855 at 198.03 put him third.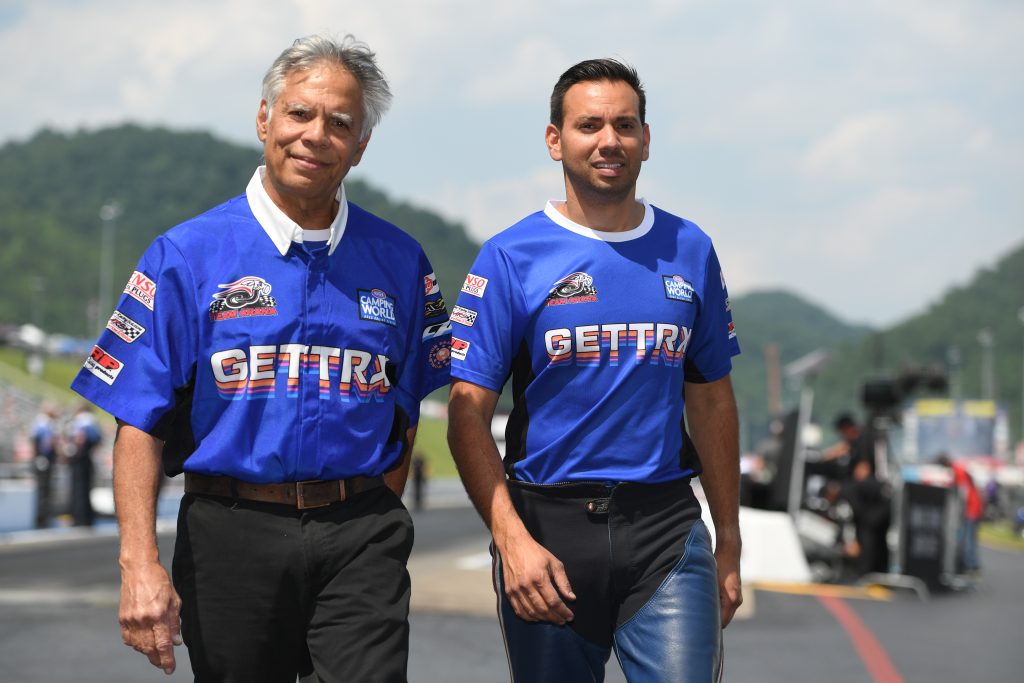 Eliminations for the NHRA Thunder Valley Nationals begin at 10 a.m. ET on Sunday at Bristol Dragway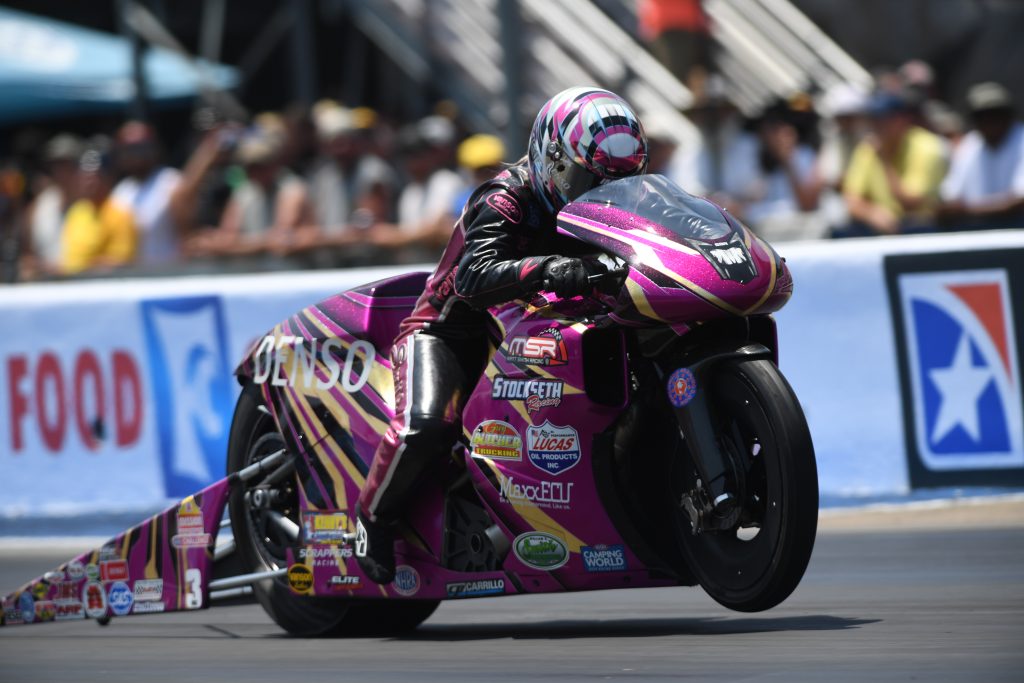 Pro Stock Motorcycle — 1. Gaige Herrera, Suzuki, 6.808, 198.61 vs. 16. Ron Tornow, Victory, 7.062, 189.71; 2. Hector Arana Jr, EBR, 6.839, 199.02 vs. 15. Marcus Hylton, 7.057, 189.58; 3. Eddie Krawiec, Suzuki, 6.855, 198.03 vs. 14. Kelly Clontz, Suzuki, 7.014, 193.79; 4. Angie Smith, EBR, 6.856, 197.36 vs. 13. Jianna Evaristo, Suzuki, 6.984, 193.65; 5. Chip Ellis, EBR, 6.857, 196.73 vs. 12. John Hall, Buell, 6.943, 193.57; 6. Steve Johnson, Suzuki, 6.875, 195.36 vs. 11. Joey Gladstone, Suzuki, 6.942, 193.52; 7. Marc Ingwersen, EBR, 6.891, 194.16 vs. 10. Ryan Oehler, EBR, 6.928, 195.28; 8. Matt Smith, Suzuki, 6.904, 196.39 vs. 9. Chase Van Sant, Suzuki, 6.911, 193.85.
Did Not Qualify: 17. Lance Bonham, 7.260, 181.89; 18. Chris Bostick, 7.346, 186.30.
There are more videos on the Cycledrag Youtube channel (please subscribe here) and the Cycledrag Facebook page (Please like here) and more will be coming soon. Check back daily