In a major upset in the Pro Stock Motorcycle ranks, veteran Steve Johnson won in the final when points leader Gaige Herrera went red and suffered his first loss of the season at the 22nd annual NHRA Thunder Valley Nationals on Sunday.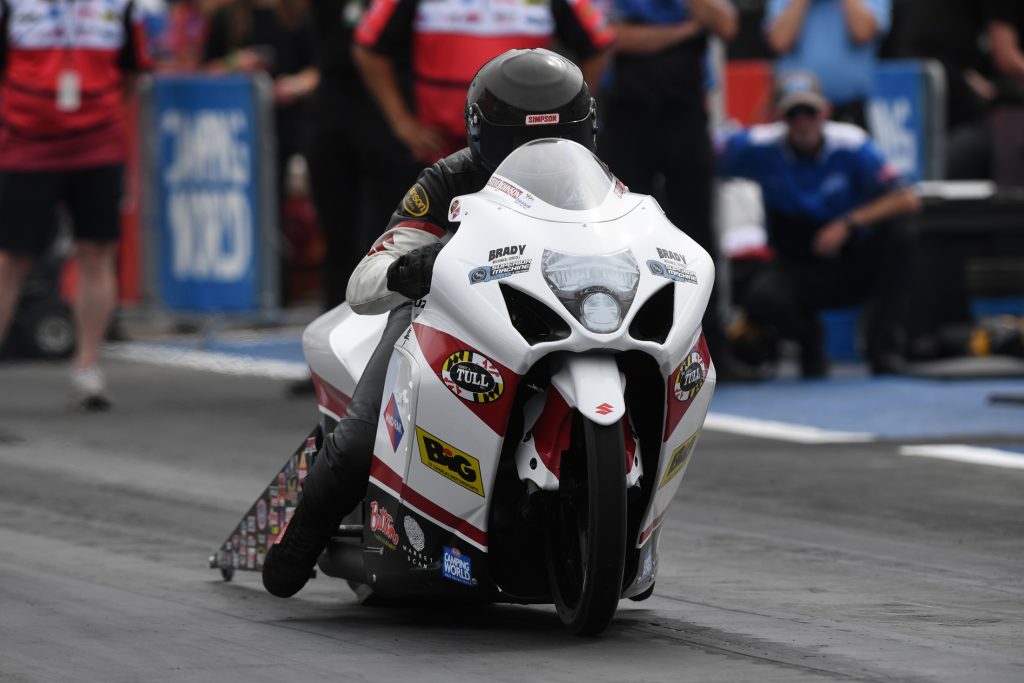 Johnson went 7.174 at 158.63 on his to earn his 12th career win, denying Herrera his fourth straight victory to open the season. Herrera entered the championship round 15-0 in 2023, but he left too soon by .011, handing Johnson his first victory of the season and his first win at Bristol Dragway.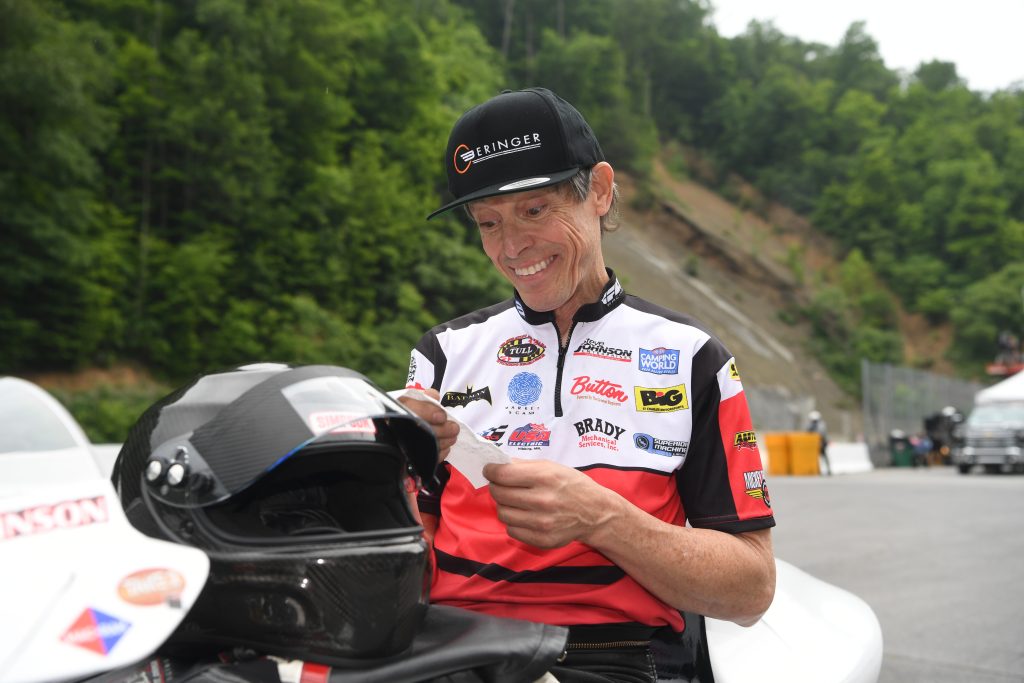 Johnson reached his first final round this season with victories against Joey Gladstone, Eddie Krawiec and Hector Arana Jr., setting up the win against a rider who had dominated in the class up until that point.
"The Suzuki Hayabusa Gen 3 body is the newest coolest thing in Pro Stock Motorcycle racing," Johnson said. "We got it, it's the 25th anniversary of Suzuki next year and we're really into trying to promote it. It's totally different. It looks the same, but the feel and how the motorcycle rides down the track it's totally different.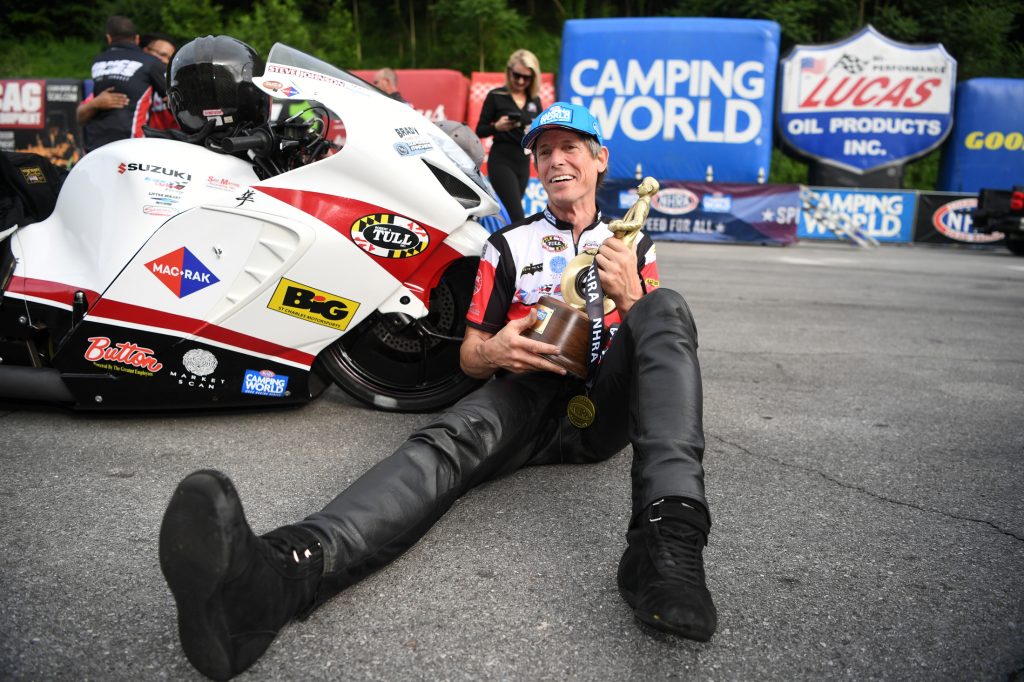 "In the finals racing Gaige, he's got a really, really fast Suzuki and I was like, okay, what do you want to do? We talked about timing, jetting, all these things, but it was like, we just have to throw the kitchen sink at it. But we didn't have one. So, we said we'll just do what we can. We did some stuff that probably wasn't right, but I looked up and saw our win light, and I let off to save the parts. I was pretty happy with it, but it's pretty shocking."
Herrera, who was the No. 1 qualifier, easily maintained the points lead, advancing to his fourth straight final round with wins against Ron Tornow, rookie Chase Van Sant and Angie Smith.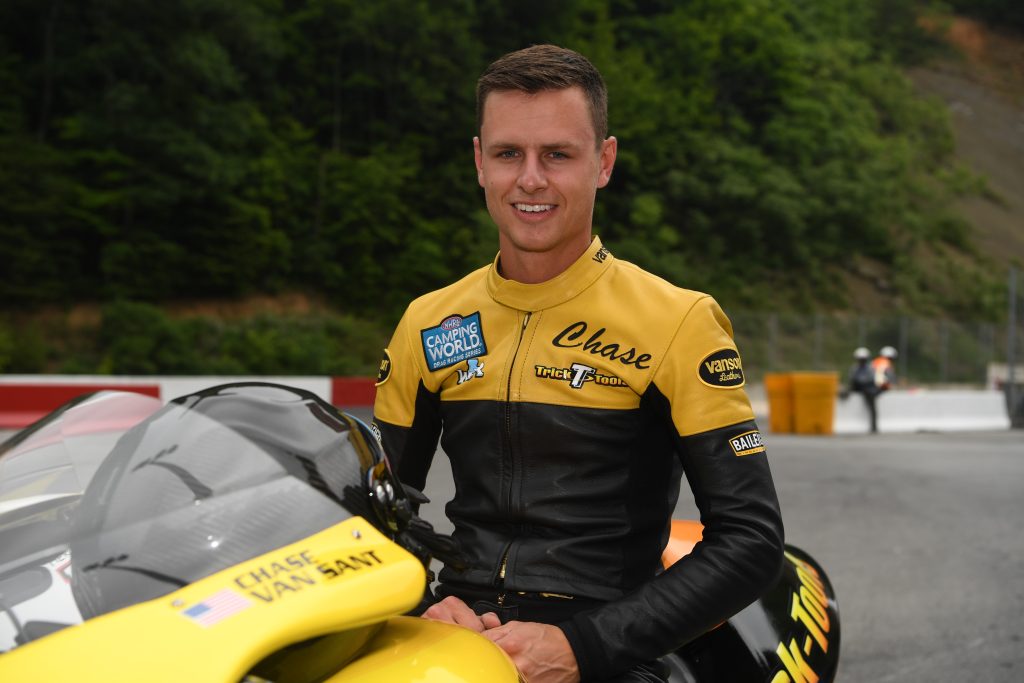 The NHRA Camping World Drag Racing Series returns to action June 22-25 with the 17th annual Summit Racing Equipment NHRA Nationals at Summit Racing Motorsports Park in Norwalk, Ohio.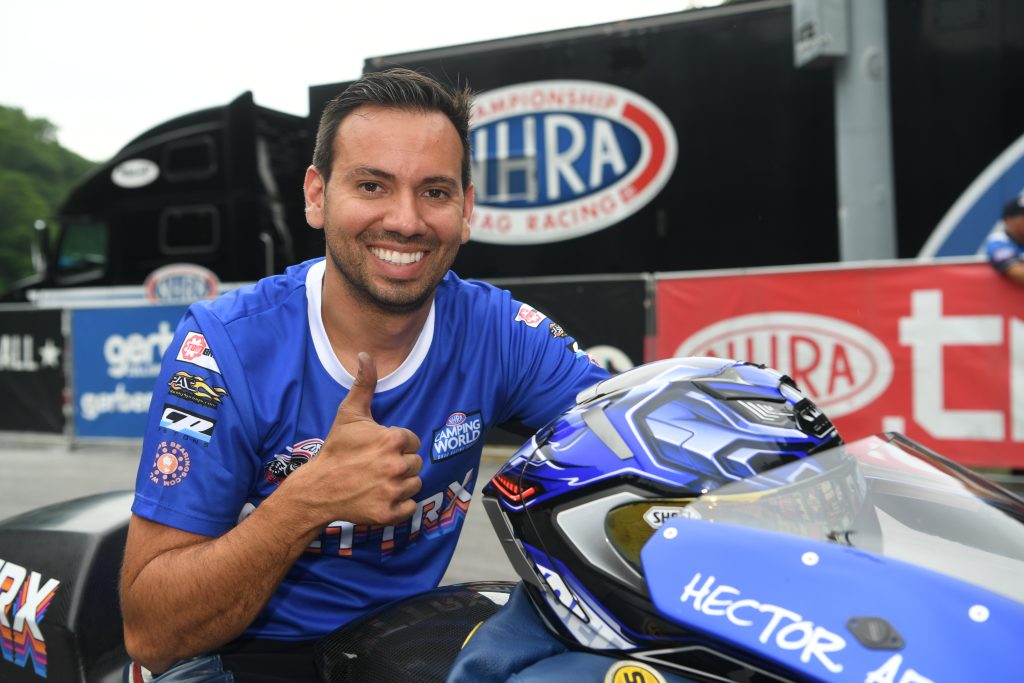 ROUND ONE — Angie Smith, 6.917, 196.93 def. Jianna Evaristo, Suzuki, 6.988, 193.63; Chip Ellis, 6.894, 194.02 def. John Hall, Buell, 7.438, 144.32; Chase Van Sant, Suzuki, 6.929, 195.00 def. Matt Smith, Suzuki, Broke; Ryan Oehler, 7.112, 193.60 def. Marc Ingwersen, Foul – Red Light; Steve Johnson, Suzuki, 6.880, 193.54 def. Joey Gladstone, Suzuki, 6.937, 192.71; Hector Arana Jr, 6.883, 198.00 def. Marcus Hylton, 16.313, 44.04; Eddie Krawiec, Suzuki, 6.864, 196.50 def. Kelly Clontz, Suzuki, 7.033, 192.80; Gaige Herrera, Suzuki, 6.816, 195.73 def. Ron Tornow, Foul – Red Light;
QUARTERFINALS — A. Smith, 6.984, 192.41 def. Ellis, Foul – Red Light; Arana Jr, 11.764, 69.96 def. Oehler, Foul – Red Light; Johnson, 6.899, 192.85 def. Krawiec, 6.870, 196.99; Herrera, 6.805, 196.99 def. Van Sant, 6.976, 193.10;
SEMIFINALS — Johnson, 6.894, 194.13 def. Arana Jr, 8.682, 105.42; Herrera, 6.845, 195.73 def. A. Smith, 6.933, 196.07;
FINAL — Johnson, 7.174, 158.63 def. Herrera, Foul – Red Light.
Pro Stock Motorcycle Points
1. Gaige Herrera, 488; 2. Eddie Krawiec, 272; 3. Steve Johnson, 264; 4. Hector Arana Jr, 246; 5. Matt Smith, 240; 6. Angie Smith, 237; 7. Chase Van Sant, 222; 8. Joey Gladstone, 194; 9. Chip Ellis, 190; 10. Jianna Evaristo, 168.
There are more videos on the Cycledrag Youtube channel (please subscribe here) and the Cycledrag Facebook page (Please like here) and more will be coming soon. Check back daily.
To take advantage of some amazing discounts at Brock's Performance, click – http://brocksperformance.com?aff=12
USE cycledrag5 coupon code.