An impressive weekend for defending NHRA Pro Stock Motorcycle champion Matt Smith ended with a victory at the 19th annual Dodge NHRA Nationals Presented by Pennzoil at The Strip at Las Vegas Motor Speedway.
Smith picked up his first playoff victory of 2019 thanks to his 6.855 at 195.90 in the final round on his Denso Auto Parts/Stockseth/MSR EBR. He outlasted Steve Johnson's 6.863 at 194.04, picking up his second win this year and 24th in his career. He knocked off Katie Sullivan, Angie Smith and Andrew Hines to reach the final round. Smith, who won for the second time in Vegas, is fourth in points and trails Hines by 117 points.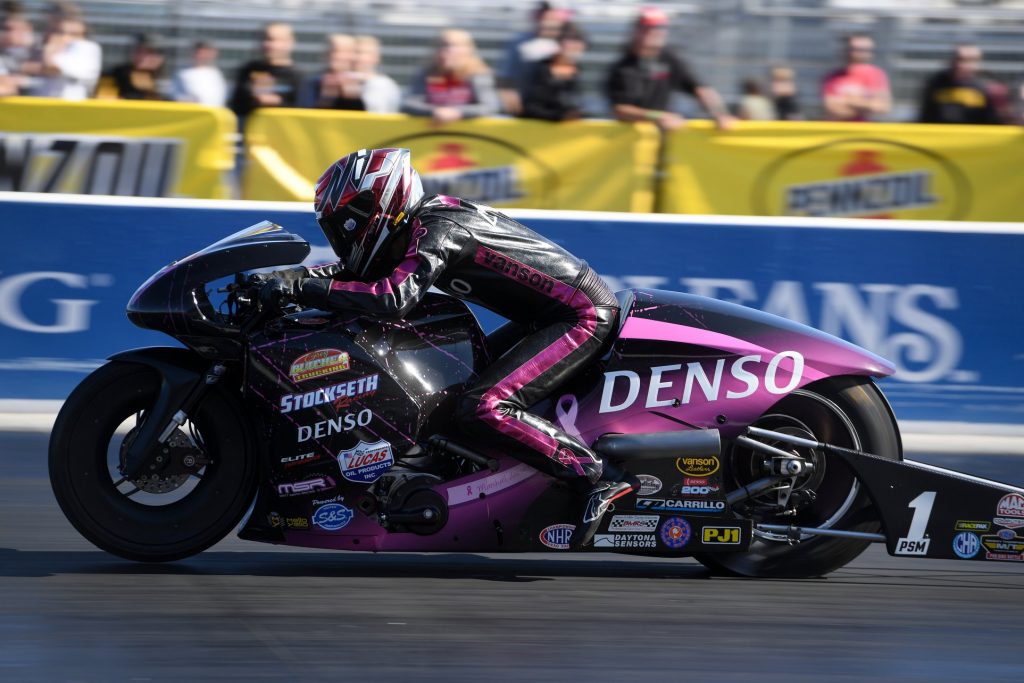 "I can't say enough about my guys and this team," Smith said. "We took it into our own hands (against Andrew) and it's not totally and mathematically over yet. I told everybody we were going to shoot for the moon in the finals, and it stuck. When it stuck, there's nobody going to catch us when it runs like that. We just pulled it off in the final and did our job."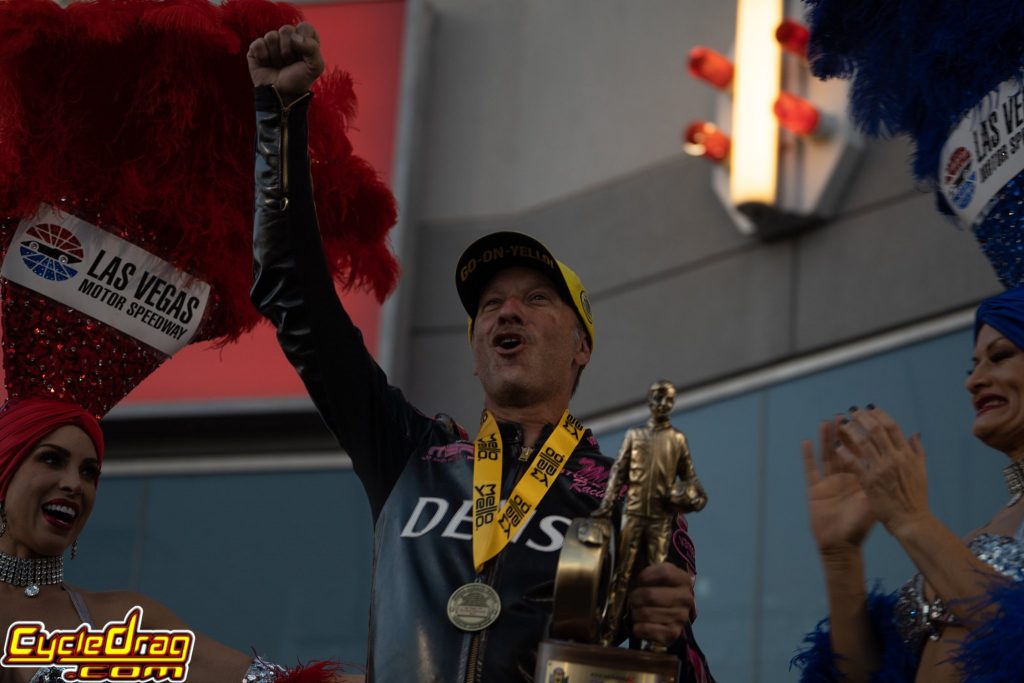 Trying to play playoff spoiler, Johnson reached his second final round this year by beating Ron Tornow, Angelle Sampey and Scotty Pollacheck. Hines leads Jerry Savoie by 115 as he closes in on his sixth world title.
The Mello Yello Drag Racing Series continues Nov. 14-17 with the final race in the 2019 season and the Mello Yello Countdown to the Championship playoffs, the Auto Club NHRA Finals at Auto Club Raceway at Pomona.
ROUND ONE — Angie Smith, 6.994, 191.92 def. Karen Stoffer, Suzuki, 7.105, 192.99; Angelle Sampey, Harley-Davidson, 6.915, 192.22 def. Hector Arana Jr, Foul – Red Light; Scotty Pollacheck, 6.917, 194.46 def. Hector Arana, Foul – Red Light; Andrew Hines, Harley-Davidson, 6.910, 193.79 def. Melissa Surber, Buell, 11.776, 61.13; Jerry Savoie, Suzuki, 6.875, 195.05 def. Ryan Oehler, 7.446, 190.54; Steve Johnson, Suzuki, 6.860, 192.55 def. Ron Tornow, Buell, 7.100, 185.69; Eddie Krawiec, Harley-Davidson, 6.902, 195.19 def. Kelly Clontz, Suzuki, 7.006, 190.16; Matt Smith, 6.897, 196.99 def. Katie Sullivan, Suzuki, 7.153, 184.65;
QUARTERFINALS — Pollacheck, 6.926, 194.21 def. Krawiec, 6.960, 192.82; M. Smith, 6.903, 195.85 def. A. Smith, 6.970, 192.91; Johnson, 6.888, 189.92 def. Sampey, Foul – Red Light; Hines, 6.937, 193.54 def. Savoie, 6.901, 194.58;
SEMIFINALS — M. Smith, 6.895, 196.19 def. Hines, Foul – Red Light; Johnson, 6.876, 193.82 def. Pollacheck, 6.953, 194.83;
FINAL — M. Smith, 6.855, 195.90 def. Johnson, 6.863, 194.04.
POINTS
1. Andrew Hines, 2,540; 2. Jerry Savoie, 2,425; 3. Eddie Krawiec, 2,424; 4. Matt Smith, 2,423; 5. Karen Stoffer, 2,416; 6. Hector Arana Jr, 2,306; 7. Angelle Sampey, 2,302; 8. Angie Smith, 2,233; 9. Ryan Oehler, 2,191; 10. Hector Arana, 2,160.
There are more videos on the Cycledrag Youtube channel (please subscribe here) and the Cycledrag.com Facebook page (Please like here) and more will be coming soon. Check back daily.