Top Fuel Motorcycle competitor Dave Vantine will match race his mentor Larry "Spiderman" McBride at three MIROCK events this season. The duo will compete at Maryland International Raceway, July 25-27 and Oct. 3-5, and at Atco Raceway in N.J., Sept. 5-7.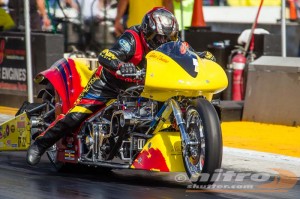 "I'm very excited. For me it's great seat time and practice. And to be able to do this with Larry will really help in my development," said Vantine, who competes on the motorcycle owned by Stephanie and Greg Pollard. "Larry is essentially my riding coach. He's building me a third engine and we use his tune-ups. He is our go-to guy. We don't make a lot of moves without running it by the McBrides."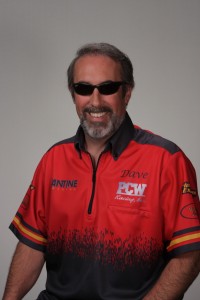 "Dave has been apart of our team for a few years now, so he had a lot of knowledge before he even made his first pass," McBride said. "He has exceptional talent and he listens. I think he will go far."
Vantine will also compete in the MANCUP series this year.
"I know how important it is to get more laps under my belt," Vantine said. "This should be very beneficial."
Vantine has come a long way since debuting in the nitro class last season. It helps that the veteran has been drag racing a motorcycle since 1987 and has spent the past 17 years racing a Pro Mod. Still Vantine knows he has a long way to go to master the unforgiving nature of a Top Fuel motorcycle.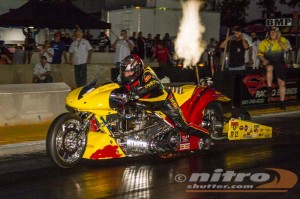 "Its going to continue to be a steep learning curve. It will take time to learn to stay ahead of the motorcycle and to get comfortable at the big end. The Fuel bike just keeps on pulling. It's constant correction. I haven't hit my shift point right once," Vantine said. "I have confidence and I believe if I continue to work at it, it can be something I'm really good at."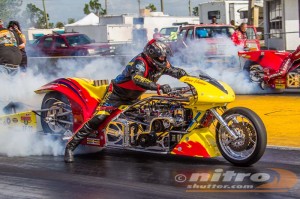 "Match racing will not have the same amount of pressure as a regular race. This will really help get him acclimated," McBride said. "He will be able to get his feet up sooner and hit his shift quicker. This bike is 400 lbs heavier than a Pro Mod. It's much different."
With a best ET of 6.14 and a top speed of 224 mph, most would agree Vantine has already accomplished a great deal in his rookie season. The team's lofty goal for this year is to secure the last spot in the MTC Five Second Club.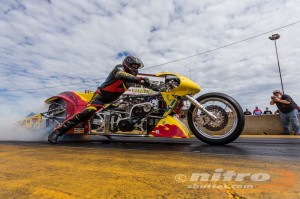 "That's what we want more than anything," Vantine said.
"He can definitely run a five," McBride said. "The bike is proven and we are going to great tracks this year. If he would have hit the shift on the 6.14 pass, it could have been a 5.99. He's almost there."
Will this be the year of the five for Vantine?
He will have plenty of opportunities.
Photos courtesy of Ivan Sanson and Rose Hughes