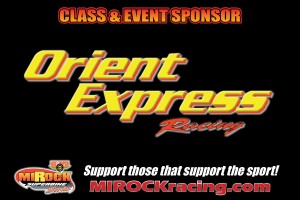 Orient Express has renewed their sponsorship contract for the famous Pro Street class featuring the World's Fastest Streetbikes in the MIROCK Superbike Series for the 6th year in a row. These street legal machines can cover the 1/4 mile at over 210mph in just 6-seconds on a DOT street tire.
Orient Express is responsible for posting the guaranteed $5,200 total purse in the Pro Street class: $2,500 to win, $1,000 to runner-up, $250 to semis, $150 to 1/4 finals, and $75 to 1/8 finals. Even with this large purse the entry fee is kept at only $150 and includes the rider's weekend admission.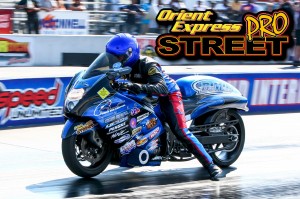 Pro Street racers are also looking forward to the 2nd annual "Orient Express Pro Street Battle Royale" that will have the World's Fastest Pro Street Bikes competing for $10,000 to win and a total purse over $17,000! The 2nd annual "Orient Express Pro Street Battle Royale" will take place at Maryland International Raceway at the Fast by Gast Fall Nationals on October 3-5, 2014. More details  and sponsors on this event will be announced soon.
"The Orient Express Pro Street class draws in the baddest street bikes in the world. We have riders from the states, as well as Aruba, South Africa, Curacao, and other countries competing at MIROCK." Stated by MIROCK's Promoter Jason Miller.
Orient Express President Skip Dowling confirmed, "Joe Hahn and I are glad to be back with MIROCK for the 2014 season. We're really excited to see new records set by the world's fastest street bikes! By once again sponsoring the Orient Express Pro-Street class, we hope to give back to all the racers and customers who have shown us their ongoing support."
About Orient Express: Orient Express is a warehouse distributor serving the needs of racers worldwide since 1973, and is proud to be your source for high performance parts and engine services. For more information about the products and services we offer, please visit www.orientexpress.com, call 800-645-6521, or email sales@orientexpress.com.
Remember… Support Those That Support Your Sport!
The next event for the Mickey Thompson Tires MIROCK Superbike Series will be the Adams Performance Spring Bike Open at Rockingham Dragway on March 21-23, 2014. 
2014 MIROCK Schedule
March 21-23 ….. Adams Performance Spring Bike Open – Rockingham, NC
April 25-27 …….. Fast by Gast Spring Nationals – Budds Creek, MD
May 30-June 1 .. Fast by Gast Summer Nationals – Budds Creek, MD
July 25-27 ………. WPGC Bike Fest – Budds Creek, MD
August 15-17 ….. FBR Shop Summer Sizzler – Rockingham, NC
September 5-7 .. Orient Express Motorcycle U.S. Nationals – Atco, NJ
October 3-5 ……. Fast by Gast Fall Nationals – Budds Creek, MD
Oct 31-Nov 2 ….. Lee's Performance World Finals – Rockingham, NC
For more information on the Mickey Thompson Tires MIROCK Superbike Series please visit: www.mirockracing.com