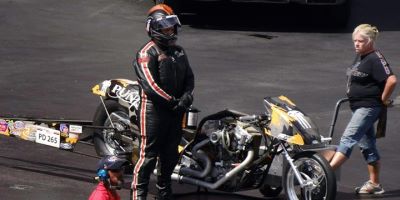 Dale Nilles finished the weekend with a win and the championship for the Manufactures Cup Series. Dale won 2 of the events summer and fall and runner up in the spring event, giving dale 304 points to win this year's championship.
In the NHRA Harley Davidson Screaming Eagle Series, Dale competed in 9 of the 10 races this season. Dale won 5 events. Houston, Atlanta, Epping, Cordova, and Las Vegas. Dale also had 3 runner ups. Virginia, Norwalk, and Denver.
In the American Motorcycle Racing Association, Dale competed in 6 of the 7 events this season. Two events were rained out, winning 3 events, Mason Dixon, summer Bowling Green, and Zenia. Reaching the quarter finals in Baton Rouge.
Dale competed at Sturgis in the WMDRA Race at the Rally, winning the event and the Championship for the 2013 season.
Dale also competed at the 110th Anniversary All Harley Drags at Cecil County Dragway. Winning the event
For the 2013 season Punisher Racing finished with 13 Event wins and 4 Runner ups out of the 21 events we competed in. We won 52 rounds and lost 7 rounds. We were #1 qualifier 11 times and #2 qualifier 8 times.
Punisher Racing also helps in the Hawaya Racing Nitro School twice a year at Rockingham Dragway. Dale is an October 2011 graduate of the Hawaya Racing Nitro School and this is his second full year riding the 122CI Derringer powered ProDrag bike. 
For the 2014 season Punisher Racing is planning to attend 10 of the NHRA events, 6 of the AMRA events and 3 of the Manufactures Cup Events.
Our goal is to continue to compete in the Pro Fuel Harley class while seeking the opportunity to run amongst the Nitro Funny Bike and Top Fuel ranks.
We are currently seeking sponsors for the 2014 season to help offset the fuel cost of this travel.
Punisher Racing consists of:
Dale L. Nilles – Owner, Pilot, Tuner  
Jan Nilles- Crew Chief, Mechanic
Hometown – Wilkesboro, NC.
Punisher Racing would like to thank the following for their ongoing support:
Northern Colorado Cabling
Dave and Sandy Israel
Parts Plus, Kendall Oil, Deckman Oil, Timken
Hawaya Racing Products, Johnny Vickers, Stephen Vickers, Leanne Purvis,   www.Hawayaracing.com
PR Factory Store, Don Plesser,    www.prfactorystore.com
Chris Martin Print and Design   www.chrismartinprintdesign.com