As motorcycles owners we all have that "one that got away." It's that special motorcycle that was sold long ago, which has now skyrocketed in value and collectibility. For many drag bike racers it's the Kawasaki H2 750 two-stroke triple or the iconic 1973 Kawasaki Z1-900. Today, both of these legendary machines can easily command more than $15,000.
Imagine the anguish of Cycledrag follower Richard who saw our coverage from the amazing Las Vegas Mecum Motorcycle auction in January. He recognized the star of the show, an ultra-rare 1939 Crocker Big Tank that sold for more than $700,000 with commissions, as a motorcycle that his father once owned. In fact it's possible it is the same motorcycle that belonged to his dad.
Richard, writes, "My dad had one of these. I attached a picture of his. He had it at Gunnery School in Oklahoma with the Naval Air corps. He got his orders to ship out to the South Pacific and didn't have a way of storing it. He sold it to some guy from California that was also on the base. They only made about 20 of this model so there is a chance that this (the motorcycle sold at Mecum) is his because the guy that bought was a wealthy kid from California and that sort of correlates if he survived the war."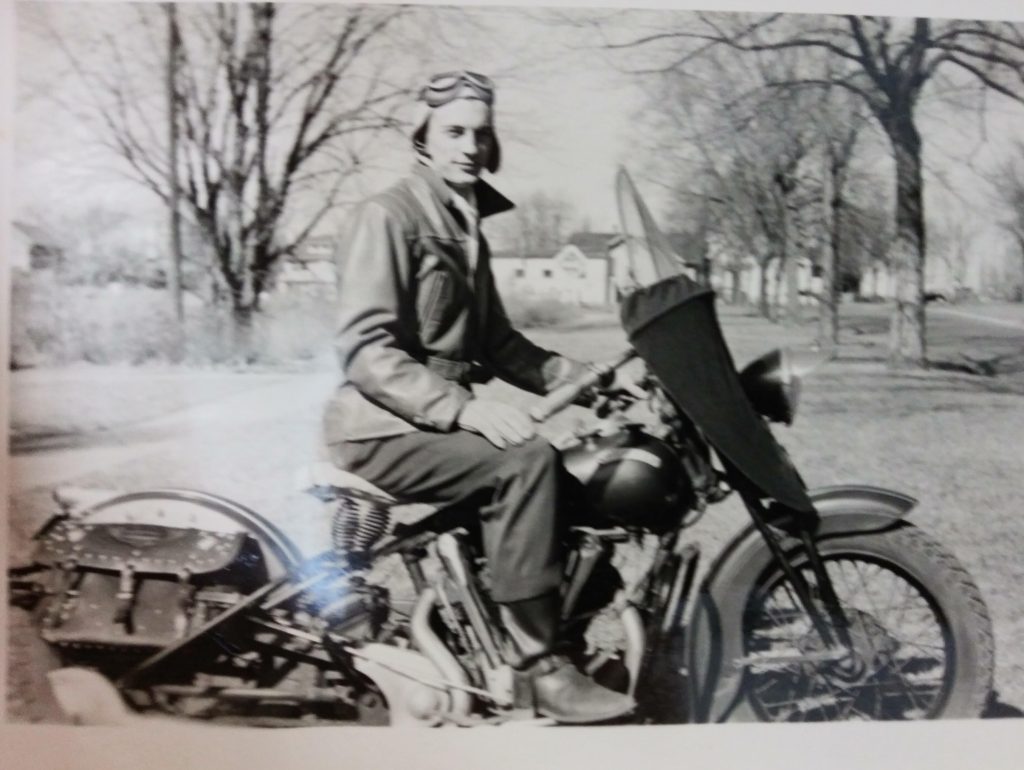 The 1939 Crocker is an unique piece of motorcycle history many high-level collectors crave.
According to Crocker historians, approximately 72 of the V-twins were built between 1936 and the end of production in 1942. Early versions of the motorcycle had a 2.5-gallon cast aluminum fuel tank, with the Big Tank versions appearing in 1938.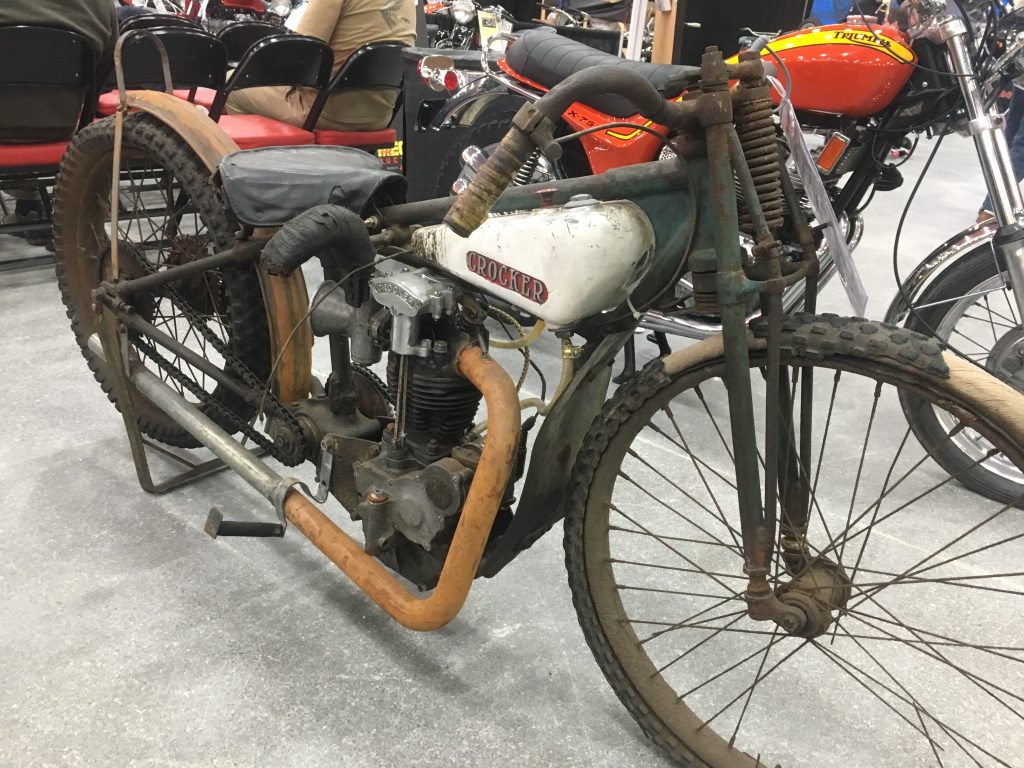 "This was my father's only mode of transportation for something like two years and drove it down to the Omaha Steel works all winter long where he worked as a metallurgist around 1941-42," Richard said. "He laid it down on an ice covered road and almost slid under a car in the other lane."


The 62 cubic inch motor was ahead of its time for 1939. The Crocker motors were in a constant state of development, with various head and valve designs.
"He said it was the fastest thing in Omaha," Richard said.
Richard's father bought it used from famous motorcycle racer Otto Ramer, who started Ramer Motors in Omaha.
"The engine lost compression so he took it back down to Ramer Motors. They couldn't get parts because Crocker was out of business. So Ramer re-machined a set of Harley-Davidson pistons to fit," Richard said. "Ramer was a famous fabricator. He built an Offenhauser powered IndyCar from scratch that did run at the Indianapolis 500. This was between 1933 and 1940 because my dad was working at the Omaha National Bank during that time and my dad would go down and watch him work on it during his lunch hour."
Part of the legendary MC Collection of Stockholm, the Crocker Big Tank had its restoration supervised by Crocker expert Chuck Vernon and performed by Michael Weigert in Germany.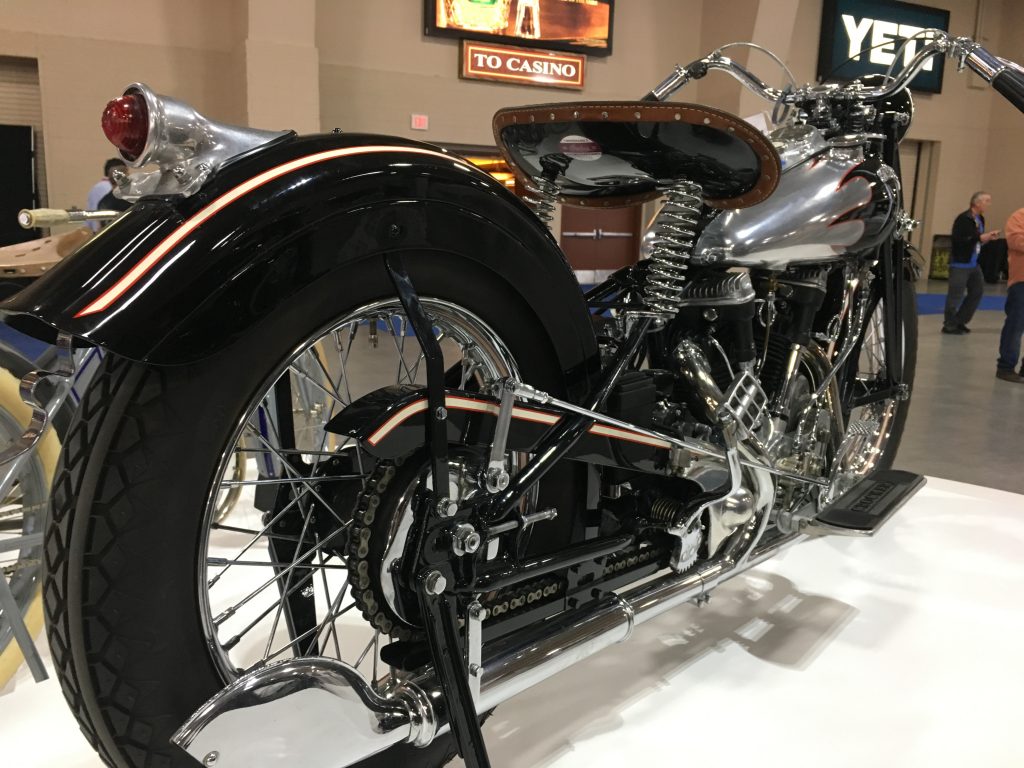 Some speculated Jay Leno was the one who bought the 1939 Crocker at Mecum. Perhaps we will soon find out if it pops up on an episode of Jay Leno's Garage.
For Richard, it would be worth a couple beach houses and maybe more if the rare machine was still in his family's possession. Nonetheless the memories of his father's passion are priceless.
What motorcycle did you or your family ounce own that you wish you still had?
There are more videos on the Cycledrag Youtube channel (please subscribe here) and the Cycledrag.com Facebook page (Please like here) and more will be coming soon. Check back daily.