After not competing in the first two International Hot Rod Association (IHRA) Nitro Jam Series events of 2014, Mark Cox on the No. 41 Romine-prepared Harley-Davidson has managed to climb to fourth in the point standings in the Nitro Harley class of the IHRA Nitro Jam Series.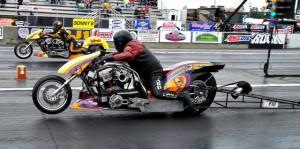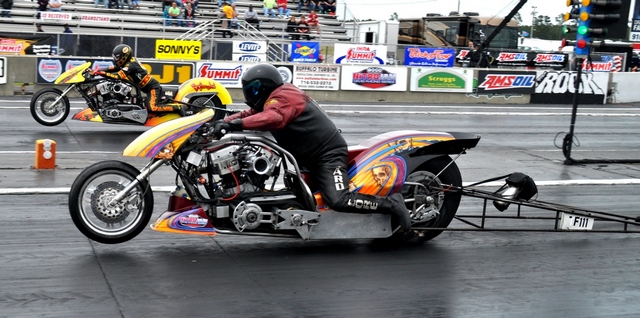 Mark Cox most recently competed at the IHRA Nitro Jam Spring Nationals at Rockingham Dragway on May 17 and 18, where Cox and the Romine Racing-built Harley-Davidson made it to the semi-final round of the event after qualifying third. Cox clocked the fastest qualifying speed of all eight bikes in the Nitro Harley class, with a top speed of 223.00 miles per hour.
"We competed at Rockingham in the IHRA two weekends ago and qualified a respectable third, but couldn't get the bike responding like we wanted to," said rider Mark Cox, who won the Nitro Harley class at Bradenton Motorsports Park in April in his first IHRA appearance this season. "We feel like the clutch system we had held us back a little and gave us a bit of a challenge, as we were about a tenth of a second off from where we wanted to be. We made it to the semi-finals, but went out that round because the clutch system was not responding. However, it's positive that in just three short races, we have climbed to number four in the points after missing the first two IHRA races of the season, and we're continuing to climb."
After racing at Rockingham in the IHRA Nitro Jam Series, Cox and his team will again take to the North Carolina Dragway this weekend, May 31 through June 1, to compete in a one-off event in the American Motorcycle Racing Association (AMRA) in the Top Fuel Harley class. Mark Cox, which races on a bike owned by IHRA racer Alvin Kobernusz, is looking to bring a successful finish once again at Rockingham.
"Mike Romine, my crew chief, did not return back to his home town of Sturgis, Michigan, after the IHRA race and instead went to another racer's shop to work on the bike. He made the necessary updates to the clutch management system, so we have much higher expectation going into the AMRA race. I'm very excited that we were able to get the clutch updated and this will be a little bit of a different machine than we raced at Rockingham two weeks ago. We're using this AMRA race as kind of a tune-up before we head to Budds Creek (Maryland) for the next IHRA event. Bojangles is such a core market in the Rockingham area and we're excited to give a good show to all of our supporters, both two weekends ago and this coming one, and can hopefully capture a win for Bojangles and Alvin Kobernusz."
Mark Cox Racing's 2014 schedule includes the following: April 11-12, IHRA Bradenton, Fla.; May 2-3, IHRA Palm Beach, Fla.; May 17-18, IHRA Rockingham, N.C.; May 31-June1, AMRA Rockingham, N.C.; June 13-14, IHRA Budds Creek, Md.; June 20-22, IHRA Grand Bend, Ontario, Canada; July 18-19, IHRA Cordova, Ill.; Aug. 1-2, IHRA Pittsburgh, Pa.; Aug. 8-9, IHRA Martin, Mich.; Oct. 10-11, IHRA Memphis, Tenn.; Nov. 14-16, Manufacturer's Cup, Valdosta, Ga.
Mark Cox 2014 contributing sponsors are: Gates Belts, Le Bleu Water, Simpson, Vanson Leathers, Plots Plus of NC, Chromatic Plating, and Romine Racing.
Founded in 1977 in Charlotte, N.C., Bojangles' Restaurants Inc. serves only the highest quality and most flavorful food to its loyal customers, with all of its proprietary menu items made from scratch. A special blend of seasonings gives the food its unique flavor, including Bojangles' core menu selections of World Famous chicken, fresh made-from-scratch buttermilk biscuits and legendary iced tea steeped the old-fashioned way. Bojangles' also offers biscuit sandwiches that are served all day. Unique sides like Dirty Rice®, Cajun Pintos® and Seasoned Fries™ are just a few of the flavorful fixin' choices. First franchised in 1978, Bojangles' boasts close to 500 locations in 10 states, primarily in the Southeast. The company was named one of the top 10 growth concepts in 2009 by both GE Capital and QSR magazine. Its strong performance in all three day parts is what sets Bojangles' apart from all other restaurants. For more information, visit www.bojangles.com.
Follow us on Facebook at "Mark Cox" of Fleetwood, NC.