The Star Racing team plans to build on the impressive numbers they posted at the March NHRA Mello Yello Series Pro Stock Motorcycle (PSM) season opener at Gainesville as they travel to Charlotte, N.C. this weekend to compete at the NHRA Four-Wide Nationals. At the Gatornationals season opener in Gainesville, the team claimed the No. 1 qualifier position, set the low ET and top speed for the weekend, and set new company records for both ET and speed.
"I'd like for us to pick up where we left off Saturday night at the Gators and see if we can run as fast as we did in Gainesville, but more consistently. We're going with the same 'horse' that took us to that No. 1 spot. The bike will have the same engine and same setup exactly, except with a new tire," Star Racing co-owner and team crew chief George Bryce said.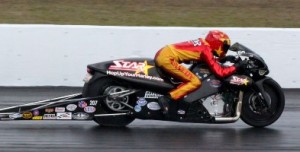 Star Racing drivers Michael Ray and Chaz Kennedy hope to channel this successful performance as they try to conquer the new challenge of the Four-Wide racing style that is unique to zMAX Dragway in Concord, N.C.
The Four-Wide setup provides a four-lane dragstrip instead of the regular two lanes. This one-of-a-kind racetrack and its staging procedures are unlike anything racers are accustomed to, especially since the Christmas tree is made up of four sets of bulbs instead of the normal two sets.
"In a way, I know what to expect from having to run the Four-Wide last year. I know what four sets of Christmas tree bulbs look like shining in my face. When I roll up to that starting line, I'm going to just take a deep breath and get ready to get punched in the face, because it happens so fast that you don't really have time to think about it. I'm not really going to change my routine, though. If you start to change your routine for one race, then it can mess you up for the fourteen after it. You just have to be clean and green and hope that you can beat three other people instead of just one person," Ray said.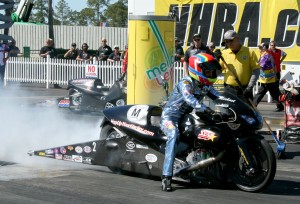 Last year at the team's first ever Four-Wide event, Star Racing set the low ET of the weekend, while also posting a new team career best ET and advancing to the final round of competition. Rookie of the Year contender Chaz Kennedy had an opportunity to learn from observation at last season's Four-Wide, without the pressure of driving at the event.
"I feel prepared. I paid attention last year at Four-Wide when I was just a crew guy, and I've also been watching a lot of videos of the race. Knowing that I would eventually be riding and competing at that event, I made sure to concentrate on the tree. I think that will really give me a head start for this year, so that I will at least have a decent idea of what's to come. I'm excited for the new experience," Kennedy said.
With the Four-Wide setup, all four racers must stage their vehicles simultaneously, requiring each to be aware of the other three competitors' actions on the starting line. Once all four racers are pre-staged, the first driver to turn on their stage light begins the seven-second clock for the other three to stage their vehicles before the start sequence begins.
In addition to the different staging lights and starting line procedures, the Four-Wide event also modifies the structure of the elimination brackets for Sunday, since four competitors run at one time. During the first two rounds of eliminations, the first and second racers to cross the finish line on each run will advance to the next round. The third and final round of eliminations will include the final four competitors from the previous rounds, with the drivers winning first through fourth place in the order they cross the finish line, barring any red light starts.
Although the unique Four-Wide experience will present its own challenges, the Star Racing team feels confident in the abilities of their racers and in the consistent performance of their S&S-powered Buell motorcycles.
"I've studied the Four-Wide and tried to mentally prepare myself the best I could. My game plan going into this is just to stay calm and pay close attention to the tree. The first qualifying pass will definitely be a learning experience, but I know I'll pick up on it pretty quick and be right there with the rest of the field," Kennedy said.
"We've been able to get in a few runs and shake off the first race jitters at Gainesville, so I think we should improve this weekend. I think the main thing to focus on is being consistent overall. Getting No. 1 qualifier is great, but it doesn't necessarily win races," Ray said.
"I'm going to sit down with both of our racers before qualifying begins and let them explain to me what their plan is and what concerns or questions they have about the Four-Wide procedures. After that, we can come up with a game plan that suits all of us. Then, we can go learn and hope that we learn enough by Sunday to be competitive and consistent," Bryce said.
ESPN2 television coverage of the NHRA Four-Wide Nationals begins with qualifying from 9 – 10 p.m. (EST) on Saturday, April 12 and final eliminations from 8 – 11 p.m. (EST) on Sunday, April 13.
The Star Racing Team would like to thank the following sponsors: Star Racing, Georgia International Raceway Park (formerly the Americus Motorsports Complex), HopUpYourHarley.com, Underground Professionals Inc. (UPI), S&S Cycle, Daytona Sensors, Worldwide Bearings, Arrow M, Jay Warner, Carlan Services, Tri Jet Services, and Uncle Hal Gottspeed Racing.
The HopUpYourHarley.com campaign represents Star Racing's state-of-the-art upgrade options for Harley-Davidson® and other Big Twin street motorcycles. Star Racing offers a full range of S&S Cycle V-Twin replacement engines for Harley-Davidson® Dyna™, Softail®, and Touring models that deliver huge increases in horsepower and torque. For 2007 and up Harley models, Star Racing has also developed a 107" Thrasher Upgrade Kit that produces 120+ horsepower while maintaining the stock appearance and reliability.
Star Racing Fast Facts:
Based in Americus, Georgia
Six-time NHRA Pro Stock Motorcycle Championships
80 NHRA national event wins with 10 different riders
Owned by George & Jackie Bryce
Michael Ray Fast Facts:
From: New Braunfels, Texas
Job: Harley-Davidson Motorcycle Salesman
Years in drag racing: 12
Chaz Kennedy Fast Facts:
Age: 19 years old
From: Ormond Beach, Florida
Job: Sovereign-Star Racing crew member
Years in drag racing: 4