The American Historic Racing Motorcycle Association (AHRMA) in association with Luke's Racecraft confirmed it will host the 1st Inaugural Classic Drags at the AHRMA Classic MotoFest®.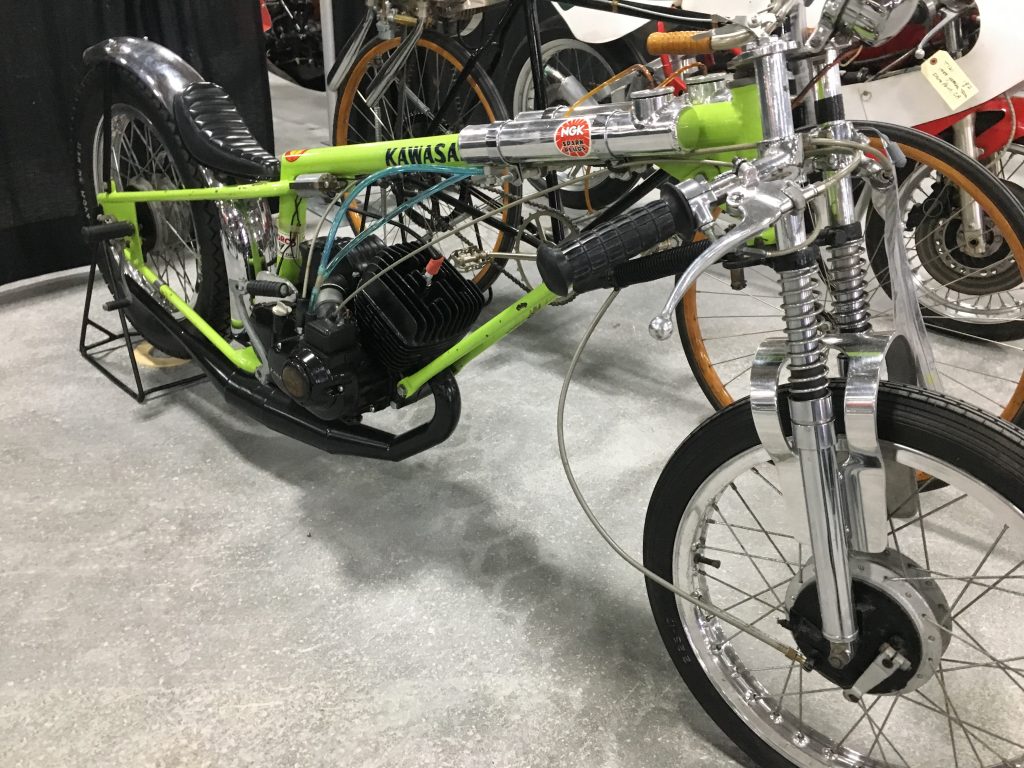 The event will take place Saturday, May 29th at the world class NHRA sanctioned quarter mile drag strip at Heartland Motorsports Park, Topeka KS and will feature five classes of vintage and next generation super bike drag racing under the lights in single elimination, king-of-the-hill format. Single elimination grudge matches will also be offered to competitors. Look for 3 wheel sidecar rigs as well as modern electric bikes in the mix as well as exhibitions of exotic multi-engined and semi-pro team rigs. The intense head-to-head competition will get underway at 6:30PM and run until all class champions are crowned.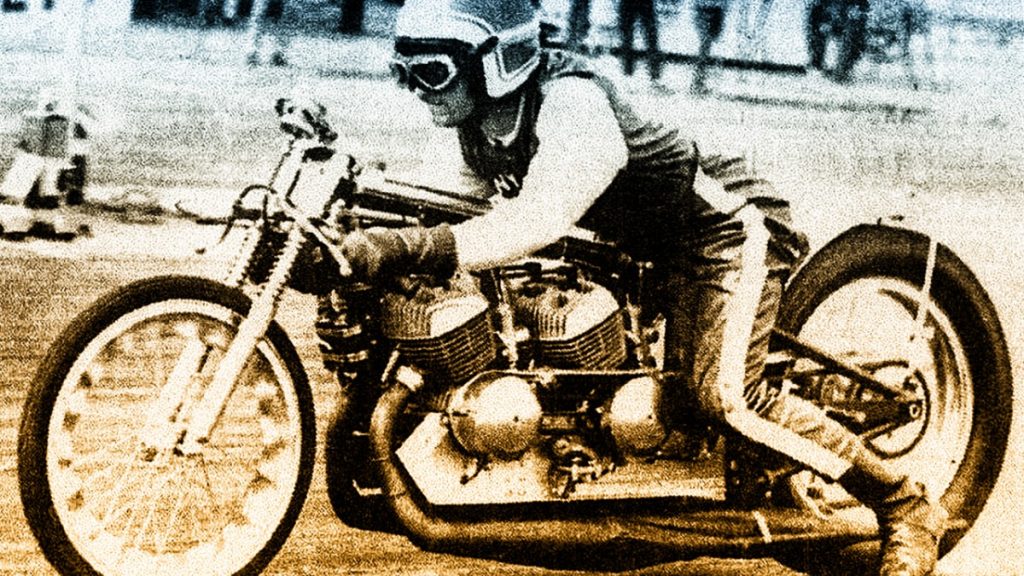 Competition classes include Vintage Flyweight 0-250cc, Vintage Lightweight 251-500cc, Vintage Middleweight 501-750cc, Vintage Superbikes up to 1982, and Next Generation Superbikes from 1983-1992
"I have been intimately involved with promoting and increasing AHRMA membership for some time and with the growing sport of vintage drag racing globally, I feel that drag racing is a natural fit for AHRMA," said Luke Conner (Luke's Racecraft, the 2021 series sponsor). "Drag racing started here, and it's an American Sport. AHRMA is the premier motorcycle racing program and we are truly multi-disciplined, so AHRMA events are a great place for vintage motorcycle drag racing."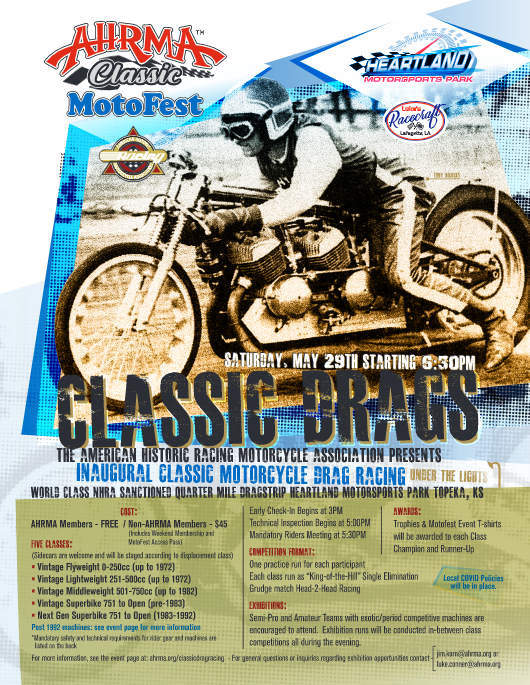 For details on the event including schedules and specific machine technical requirements, see ahrma.org/classicdragracing
For general questions or inquiries regarding exhibition opportunities contact luke.conner@ahrma.org or jim.korn@ahrma.org
Classic Drag Race Class Cross Reference AHRMA Drag Race Class AHRMA Road Race Class
Vintage Flyweight Class 1
200/250 Grand Prix
Formula 125/250
Novice Historic Production Lightweight
Vintage Lightweight Class 2
Pre-1940 Grand Prix
500 Premier
Class C / Class C Handshift
Classic 60's 650
Classic 60's (up to 500cc)
350/500 Grand Prix
Formula 250/500
Sportsman 350/500
Vintage Superbike Lightweight
Sound of Singles 3
Novice Historic Production Heavyweight
Vintage Middleweight Class 3
Formula Lightening/Extreme
Formula 750
Sportsman 750
BEARS
Sound of Singles 1/2
Next Gen Superbike Lightweight
Vintage Superbike Class 4
Vintage Superbike Middleweight
Vintage Superbike Heavyweight
Thruxton Cup
Battle of Twins 1/2
Sound of Thunder 1/2/3
Open Two Stroke
Formula Thunder
Next Gen Superbike Middleweight
Next Gen Superbike Class 5
Phillips Island Challenge
Next Gen Superbike
Next Gen Superbike 2
There are more videos on the Cycledrag Youtube channel (please subscribe here) and the Cycledrag.com Facebook page (Please like here) and more will be coming soon. Check back daily.