Australia's quickest man on two wheels has sent a clear message to his competitors at the opening round of the new Thunder 400 Series at Perth in December 2015. Matheson a multiple Australian Top Fuel Motorcycle Champion has not raced his record breaking Nitro Voodoo machine for some twelve months, he has been developing new engines for the machine.
Matheson said "our old power plants were fatigued and had become unreliable. We bit the bullet and decided to develop a new improved billet engine, with the ability to take us to the next step in our quest to break records.
We've run numerous 6.0's, however, that's not good enough on the World stage, we want to run quicker and run with the top dogs in the States. We need to find 2-3 tenths and it's going to be a challenge".
Matheson said "we have only made a handful of passes, none under full power and already the signs are good. You will never beat the leaders if you simply run all the same equipment, we need to be innovators and develop new packages to go quicker".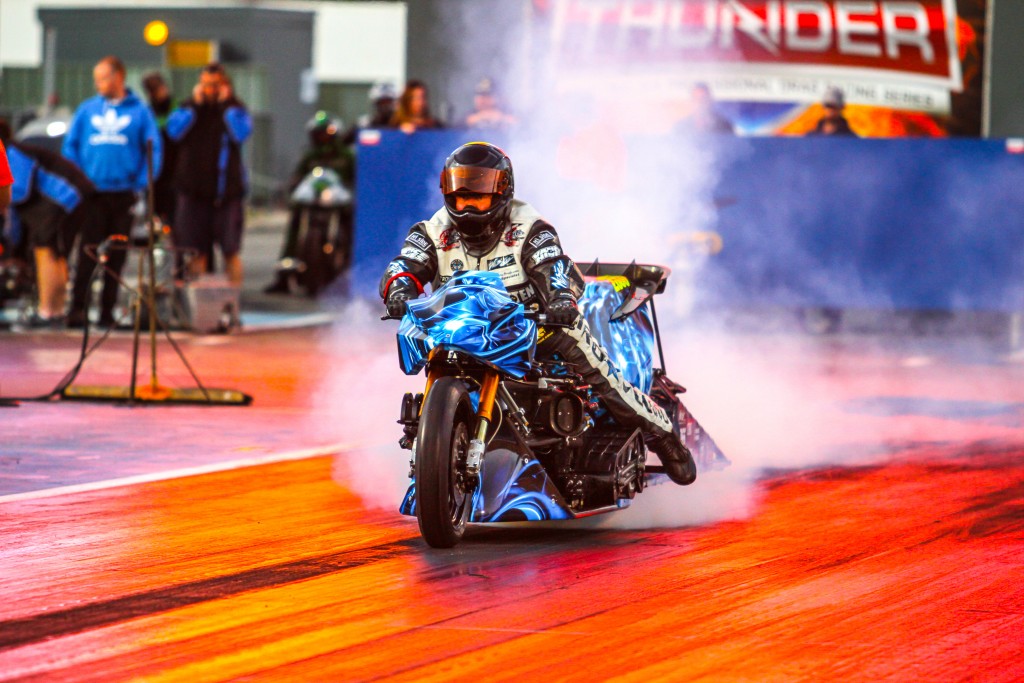 Matheson, a glass half full guy, is no stranger to challenges, in his five years of Top Fuel Motorcycle racing, he has a record of 3 National Championships, 2 Seconds and last season a Third on his Nitro Harley in its debut season.
Matheson had a major crash in May 2013, which nearly took his life, he suffered significant injuries, when he was blown off his machine at nearly 400 kph (237 mph) at Sydney Dragway. First race back he top qualified, only to be eliminated on race day with oil pressure problems. Second race back, he was electrocuted, when a cylinder spark plug blew out striking him, putting some 45,000 volts through his body, hospitalizing Matheson.
After that I knew it was time to make some drastic changes and that I did. The new engines are proving to be very reliable, with minimal maintenance, yet extremely powerful, we just need to calm them down so we can dial them in to the tracks.
Matheson said "he cannot wait to run at Calder Raceway in Victoria later this month, I haven't been this excited since I first rode the Voodoo machine a few years back. It's a handful, but a handful of something good, it's an absolute weapon".
The ANDRA Australian Nationals will be held at Calder Park Raceway over the weekend of 23rd & 24th January 2016.
Thank you once again to our Sponsors & Supporters:
GT Radiators & Machining, WebCam, Rocket Industries, CRC Industries, PDS Graphics, Kitten Car Care Products, Worldwide Bearings, BlackAdda, Hi-Side Leathers, Boninfante Friction Inc. Special thanks to Steve and Larry McBride.