Team Half Fast Drag Bike Racing of Ypsilanti, Michigan is proud to continue with Discount Tire
(www.tires.com) as a Major Sponsor again for the 2015 Race Season.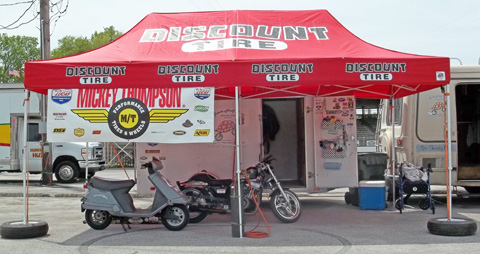 Discount Tire was founded in 1960 in Ann Arbor, Michigan, and they now have over 900 stores
across America. With over 50 years of experience and expertise and the largest selection of
name-brand tires at the lowest prices, they are Team Half Fast's go-to for tires for the RV,
trailer, and cars! Discount Tire is also committed to its support of racing, which is evident
through its many motorsports partnerships including NASCAR, Supercross, and AMRA riders.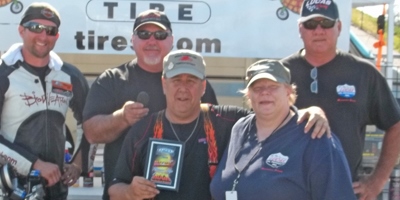 "We're ecstatic to once again have Discount Tire partner with us as a major sponsor again this
year," says Chip Sutinen, racer for Team Half Fast. "Discount Tire is such a great fit for the
team. Both my wife and I have been loyal customers for decades. They were an invaluable
addition to our team for the last two seasons, and we're thrilled to be expanding our
partnership again this year." Sutinen adds, "Be sure to stop by our pits at the races – we have
some great giveaways, including koozies and tire gauges, courtesy of our great sponsors."
Also renewing their support for Team Half Fast Drag Bike Racing for 2015 are: Lucas Oil
Corporation, Vega Helmet, Wheels Through Time Museum, Design Engineering, Inc.,
Mickey Thompson Tires and Wheels, Vital Virtual Services, Goodson Tools and
Supplies, PBI Sprockets, Supernate of Super V Cycles in Florida, and Airgas of Ann Arbor,
Michigan.
Chip Sutinen, Team Half Fast's rider, finished 5th nationally in the "E" (Eliminator) Class and 6th
nationally in the PE (10.90) class of The American Motorcycle Racing Association 2014 Race
Season.