Rider Chip Ellis and the Junior Pippin/PiranaZ Pro Stock Motorcycle team were just getting on top of their Buell's tuning when the NHRA Carolina Nationals ended much too soon for them. Ellis came up .008 of a second short against Angelle Sampey in the first round of eliminations.
Ellis and engine builders/tuners Lon Moyer and Brad Moore figured they had a better piece than their 7th place qualifying (6.912 and 193.57 mph) showed. "We changed the gearing a little bit for today, changed a couple ratios in the transmission, and it worked," said Ellis.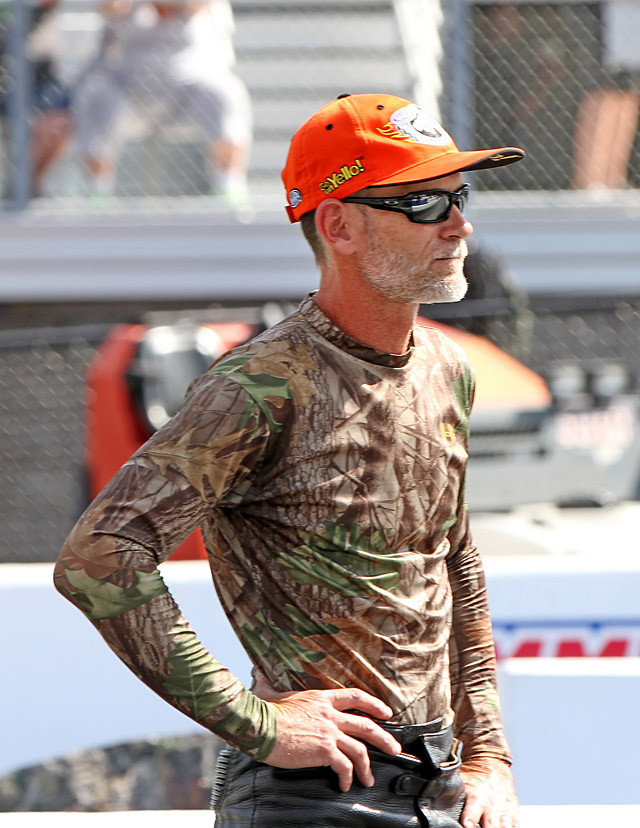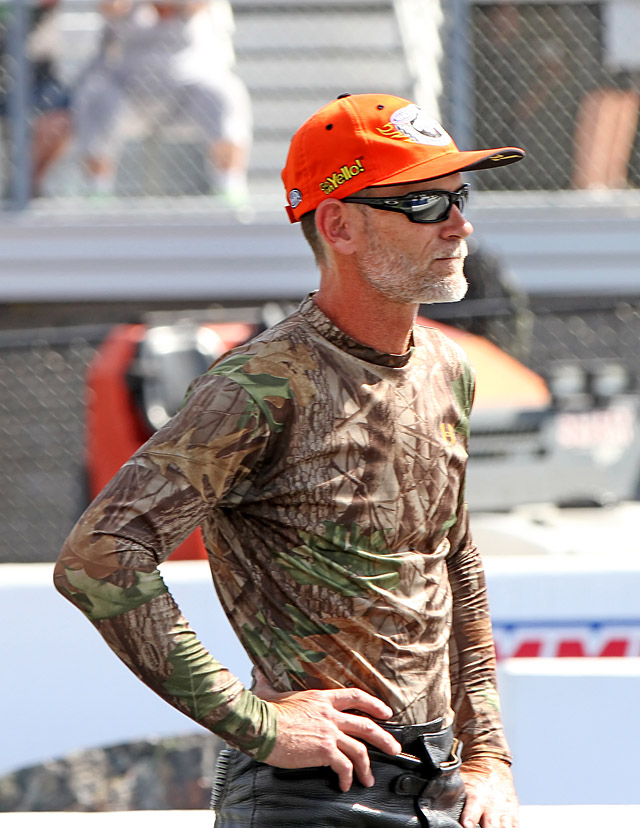 Worked enough that he outran Sampey but left the starting line just a tiny bit tardy. "We had a good light—I don't think an .041 is a bad light. She had an .023 and beat me by .008. It was a good race. The old girl did a good job and we did a good job too—we just got beat. That's just racing."
Right after the loss, Ellis jumped in to help repair Sampey's bike for the next round. For the most part, the NHRA Pro Stock Motorcycle pits are one big family.
"We'll try it again next week in St. Louis and see what happens," continued Ellis. "All-in-all, things are coming together, we're making progress. For me personally, I'm happy. I had good lights in qualifying. The guys gave me a great bike, as always. We ran consistent all weekend. We just came up a little short.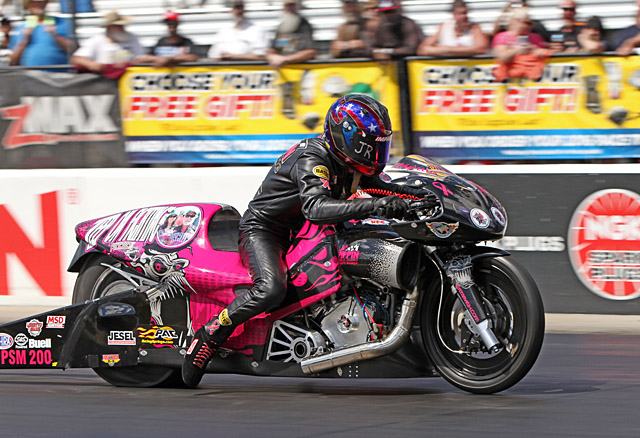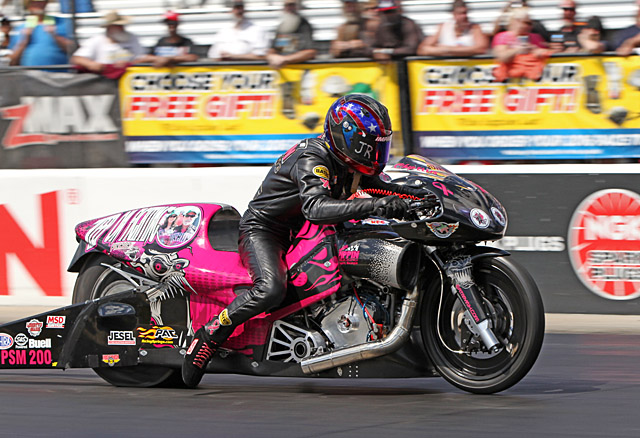 "Junior told us 'Good job' today, and I tell you, I really enjoy working with these guys. I had a great time. The only downside with this deal right now is Pippin ain't out here with us. I really miss him." Bike owner Pippin is recovering from heavy doses of chemotherapy and radiation on recently discovered, inoperable, stage 4 cancer.
"Another good thing about this weekend is my mom Frankie and dad Dale were here. My uncle came up from Columbia (South Carolina) and my old buddy Steve Rice even showed up."
Ellis rode Rice's record-breaking Kawasaki turbo Funnybike to an AMA/Prostar championship—one of three Prostar season titles Chip earned while riding vastly different kinds of motorcycles.
Pippin engine customer Redel Harris had one of his best weekends ever, qualifying 13th and taking out E1 opponent Karen Stoffer on a holeshot. Eventual runner-up Matt Smith ended Harris' day in round 2.
"It was a good weekend for the Pippin Trucking/PiranaZ team," concluded Ellis, who maintained his 8th place in the Countdown to One championship standings. "Now we're just looking forward to St. Louis."
Chip Ellis and the Junior Pippin/PiranaZ team race next September 25-27 at the NHRA AAA Insurance Midwest Nationals at Gateway Motorsports Park just outside of St. Louis
Junior Pippin and Chip Ellis would like to thank PiranaZ http://www.piranaz.net , Junior Pippin Trucking, Paul Bost Trucking, B&R Automotive, Lisa Pippin, Lon Moyer, and Brad Moore