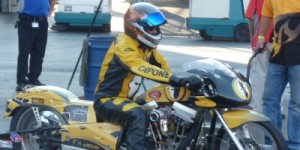 Team HeadBlade/Capone Racing with Frank Capone brought home another Wally after the NHRA Lucas Oil Drag Racing Series presented by Frito Lay at Thunder Valley, Bristol, Tn. 
Capone says, "The NHRA Lucas Oil Drag Racing Seires and Harley-Davidson Drag Racing Series are a blast. It was a weird weekend, we were having transmission problems but fate was on our side and after our competition either red-lighted away their chances or even in the finals, Jay Wegman who we were supposed to run came over before the round and said they'd blown up their motor.  Although we'd rather run for the win, at Bristol a bye got the job done."
"This weekend, we can't even begin to hope for that to happen again, there'll be lots of bikes at Beech Bend Raceway Park and a huge party crowd.  And we'll have Holly Keller back in the saddle again riding our bike that is for sale (hint hint;-)
Capone encourages all their fans and friends to come to Bristol Dragway and hear the THUNDER, in Bristol, Tn. for the Harley-Davidson Drag Race Series.
Next on Team HeadBlade's calendar     
Oct. 12-13- AMRA/Jim McClure Nitro Nationals, Rockingham, NC
Capone's team consists of Mark Godin, Craig Fisher, Lorne Buchanan, Katy Miller and Kelcie Edwards.
.
Capone Racing sponsors and friends supporting Capone include: HeadBlade Inc. G&G Engineering, DAS Performance, L. Buchanan Co., Gannos Machine, Energy One Clutches, PR Factory Store, Vanson Leathers and all the staff at Capone Landscape.
Capone can be reached at:
781-224-0700
Friend—Frank Capone and Holly Keller on Facebook.