In racing there is a saying – speed costs money.
You don't have to remind Pro Stock Motorcycle racer Steve Johnson.
Perhaps no other competitor is savvier when it comes to the ins and outs of dragbike racing than veteran Johnson, 55, of Irondale, Ala. After 29 years of racing Johnson can not only cut a light, tune a clutch, and assemble a team with the best of them, he also has gained an immense knowledge of the business behind the sport.
The economics of the class have become increasingly important and changed a great deal from Johnson's NHRA debut in 1987, when he would drive his 17-foot box van to the hotel every night and hope his motorcycle didn't get stolen. Now lavish 18-wheel rigs and state-of-the-art tools have become commonplace. Expenses have risen considerably and securing necessary funding has become a science.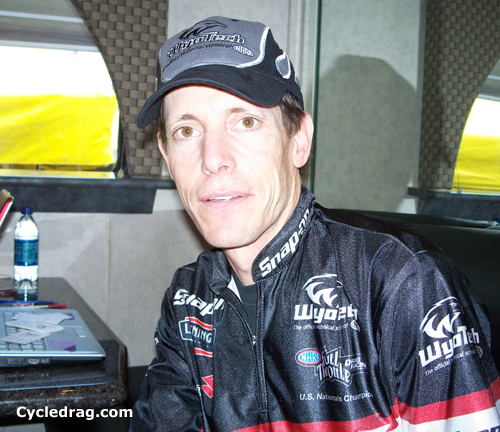 "It's a fine-tuned business model. Paying your bills and getting sponsorship are everything," Johnson said. "How much funding you have directly affects how you tune your motorcycle."
In the late 80s, Johnson's business strategy was simple – make a run, then head up to the Winston suite to schmooze potential sponsors. Now Johnson spends more time than he ever imagined educating companies on the worth of his sport.
"We provide a value for corporate America to convey messages, and with FS 1 as a partner, we can do it in an entertainment venue," Johnson said. "Every ticket is a pit pass. You come right into our locker room. Where else can you do that? Plus, it takes between 2-4 million to run a Top Fuel team and only $700,000 to run a Pro Stock Motorcycle team."
Johnson believes the responsibility to improve the financial landscape of the Pro Stock Motorcycle category lies squarely on the shoulders of all the racers themselves.
"If you don't realize at the end of the day, you get what you negotiate for, you have your blinders on. No one is going to come over and hand our race team a million dollars. NHRA isn't going to come over and say what can we do for you guys," Johnson said.
The experienced racer dealt with plenty of financial issues when he represented PSM for over ten years in an organization called PRO2. Before stepping down in the beginning of 2008, Johnson made plenty of progress during his tenure. He even fought to change the name of the class from Pro Stock Bike to Pro Stock Motorcycle, citing that professional riders don't race $100,000 "bikes."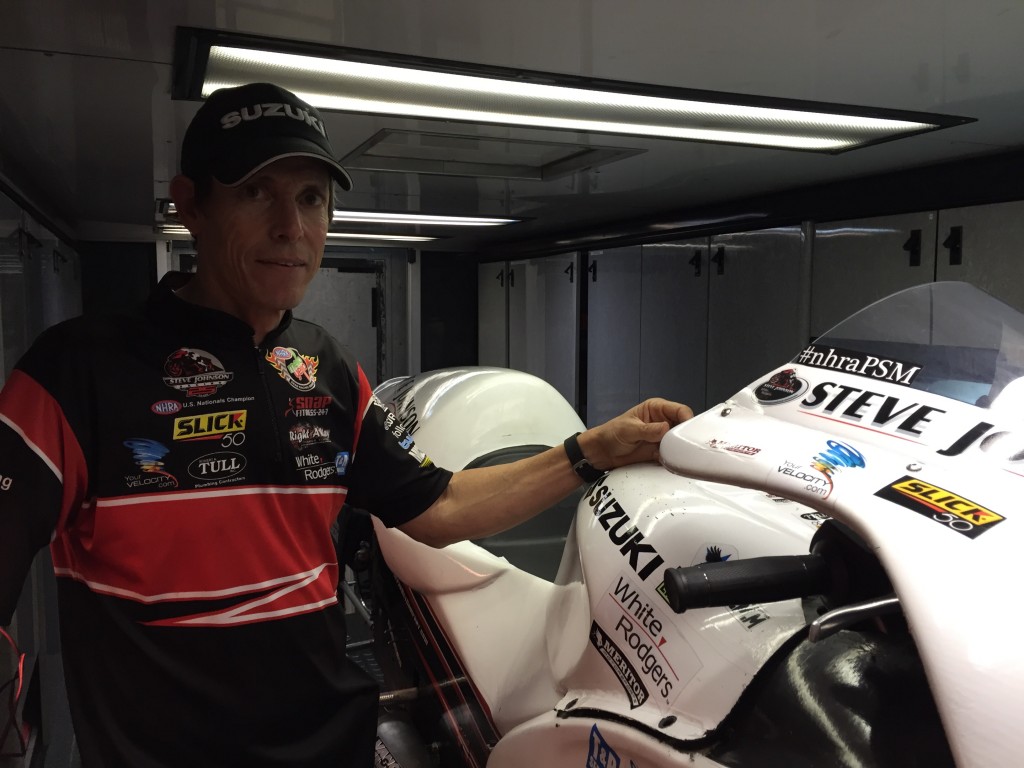 Major sponsorship deals have become scarce. For many teams, getting through a season financially has become more of an exertion than turning the win light on.
"There's nothing more important than paying the bills. We need to survive, that's what companies try to do," Johnson said. "We'd like to win every event, but if we can keep racing and stay in the top ten, it's a great accomplishment."
Joshnson says he is closing in on 3.5 million frequent flyer miles from nearly 30 seasons of traveling to races, trade shows, appearances and meetings.
"It sure doesn't make your motorcycle go quicker," Johnson said. "That's a full time job in itself."
Although he performs his own maintenance to minimize expenses, Johnson chooses not to build his own motors. He buys his motors from class juggernaut Vance and Hines because he believes they will always be the pinnacle of the sport.
For now Johnson's ultimate goal is to one day win an NHRA championship. He knows it will take a lot of hard work, luck and most importantly funding.