The world is all-too familiar with the nitromethane fed, in-line four cylinder monsters of Top Fuel Motorcycle. With a good selection of the bikes on hand at the 43rd annual FuelTech World Finals, Nov. 21-24, The Manufacturer's Cup was setting up to be a weekend to remember, especially for world record holder Larry "Spiderman" McBride who was in pursuit of a 2oth Top Fuel title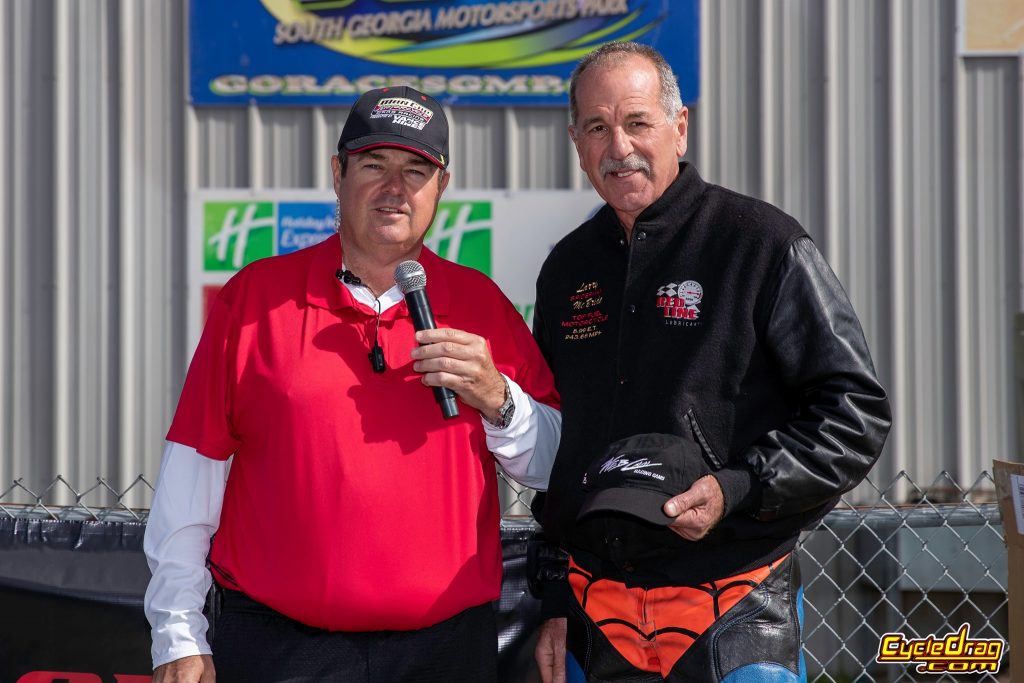 Just a few short weeks earlier, McBride and crew held true to their fashion at Rockingham Dragway, in the finals against Dave Vantine's camp. McBride laid down a staggering 5.607 elapsed time and trapped a speed at just over 263 miles an hour. Little did we know, just weeks before the Mancup finals at SGMP that we would see the record books thrown out the window.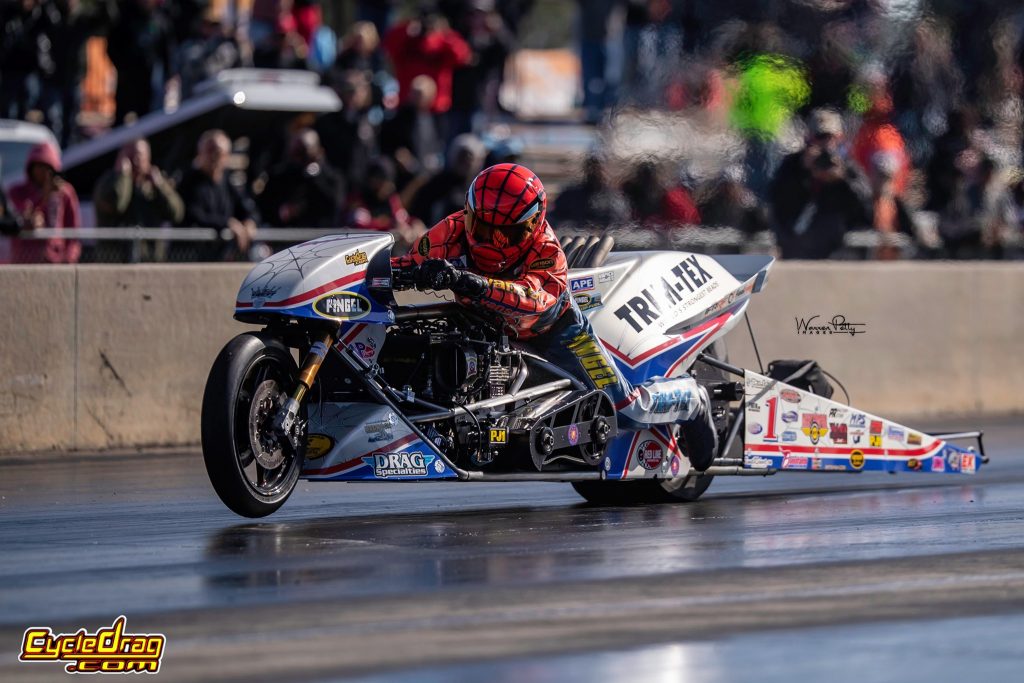 McBride, along with several other Top Fuel jocks were testing on Thursday night, November 21st. Larry's first pass off of the trailer was a 6.22 at 157.48, shutting the bike off just shortly after the thousand-foot markers. The bike had rocketed to a 3.697 half-track, at 202.94 miles an hour. Larry's older brother, Steve was elated to hear the news from a bystander after I had called out the incrementals on the microphone.
Let that sink in.
From a standstill to over two hundred miles an hour, in just over three and a half seconds. It takes that amount of time for a 2011 Audi R8, equipped with a 5.2 litre V10 engine, to reach 60 miles an hour. These bikes have some serious power, and McBride's team had shown right off the trailer that they were at South Georgia Motorsports Park with their sights set on earning their twentieth title.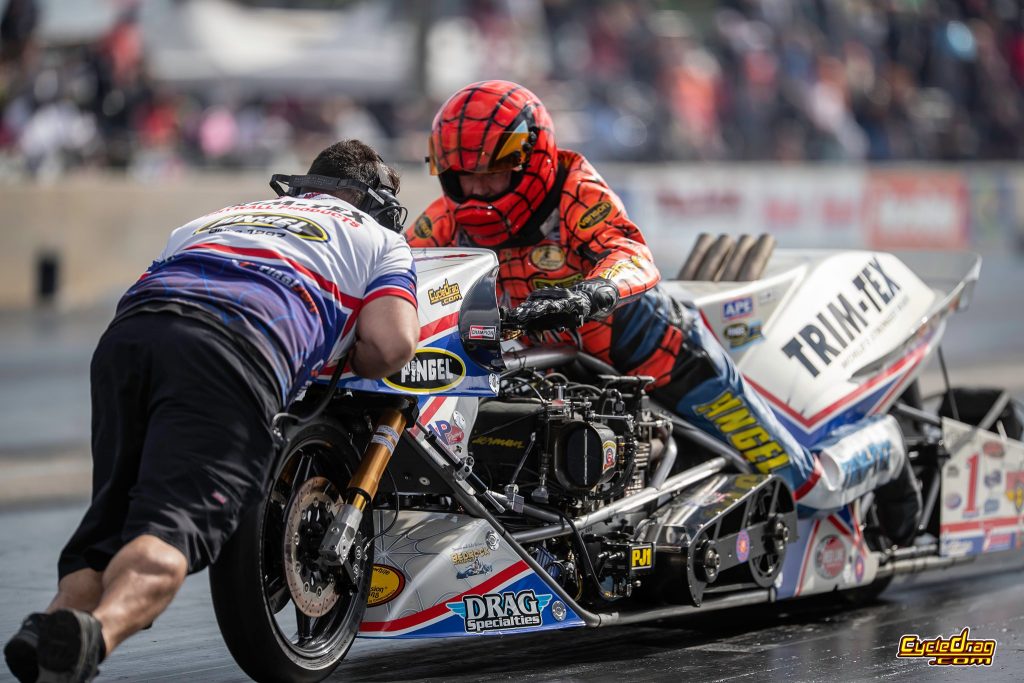 Later in the day Thursday, as activity started to settle down and racers were getting into their nighttime attire, they lined up one last time along the fence lines to watch another session of Top Fuel testing before putting the tools away and tucking in for the chilly night ahead. Vantine, Mitch Brown, Ian King, and Tommy Grimes had come up to get a feel for the track. The air was getting to that signature South Georgia cool – the density altitude at the time was somewhere around 300 feet above sea level. Conditions were "Perfect," as one could say.
As the crew pushed Larry into the beams, Steve and Roland had pulled the fuel mixture levers and stepped away from Larry and Star. The bike was away, header flames eight feet in the air.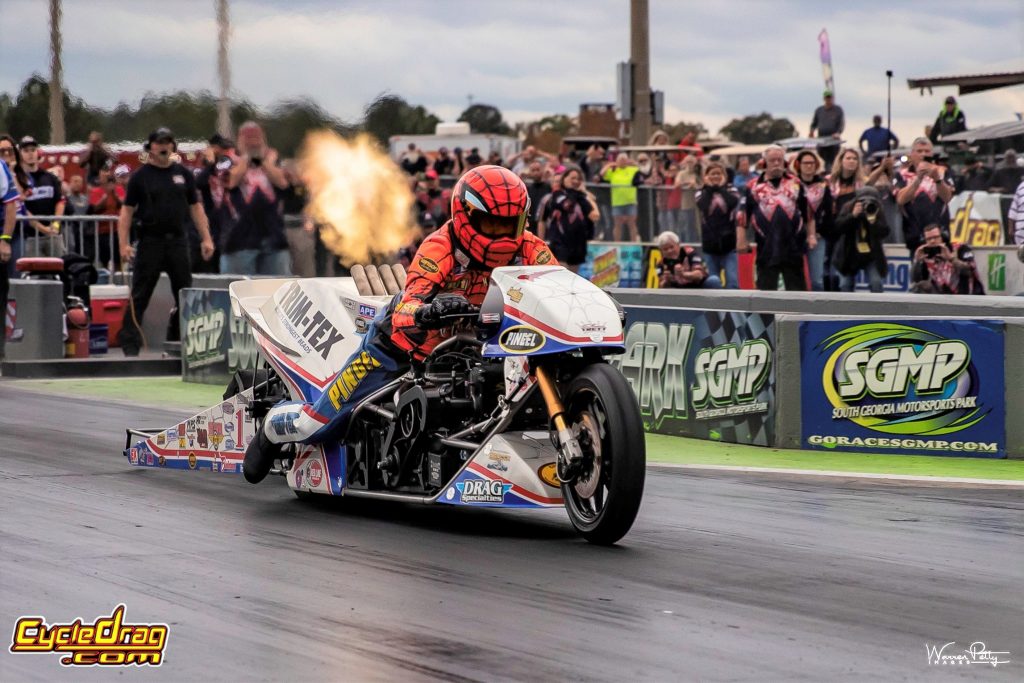 It's always a sight to see, my eyes were fixed on the bike until I took a glance back to the announcer's screen. Larry was off to a 1.01 short time and a 3.676 half track, and had already reached 215.31 miles an hour. It was at this point, I knew that this bike was on an absolute rip of a pass, definitely somewhere in the 5.50s.
All that I could manage at this point was, "Watch Larry McBride, he's on a pass!"
By the time I had finished the sentence, the scoreboard had illuminated at the end of the track in the right lane, and I didn't believe what I saw at first. 5.58? 5.56? Nah.
5.507 at 264.96!
There are more videos on the Cycledrag Youtube channel (please subscribe here) and the Cycledrag.com Facebook page (Please like here) and more will be coming soon. Check back daily.
The world's quickest and fastest man on two wheels had just gotten quicker and faster. Here I am- trying to call this pass and struggling for words, but I did manage something.
"Five point five-zero-seven seconds, Two-hundred and sixty-four miles an hour, Not for the record books, but Motorcycle Drag Racing History."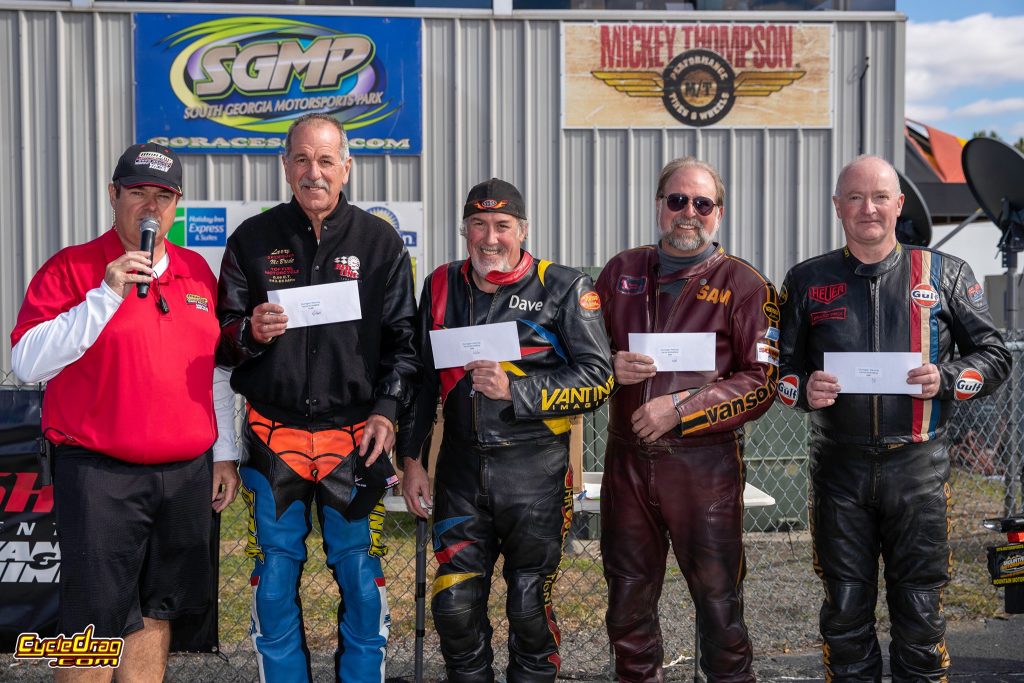 I had not ever called a single run in my four year career as an announcer, that brought me to tears. The Gods of Speed were definitely with us that night – Elmer Trett was sure one of them. The moment could only be described as "incredible."
I had to leave the tower and think about what had just happened. We had just seen quite possibly the biggest milestone – that five years ago – seemed unreachable. I remember marvelling at the 5.80s that were being posted in 2004, when I and my family had attended an AMA Prostar race at Gateway Motorsports Park. I was only seven years old at the time.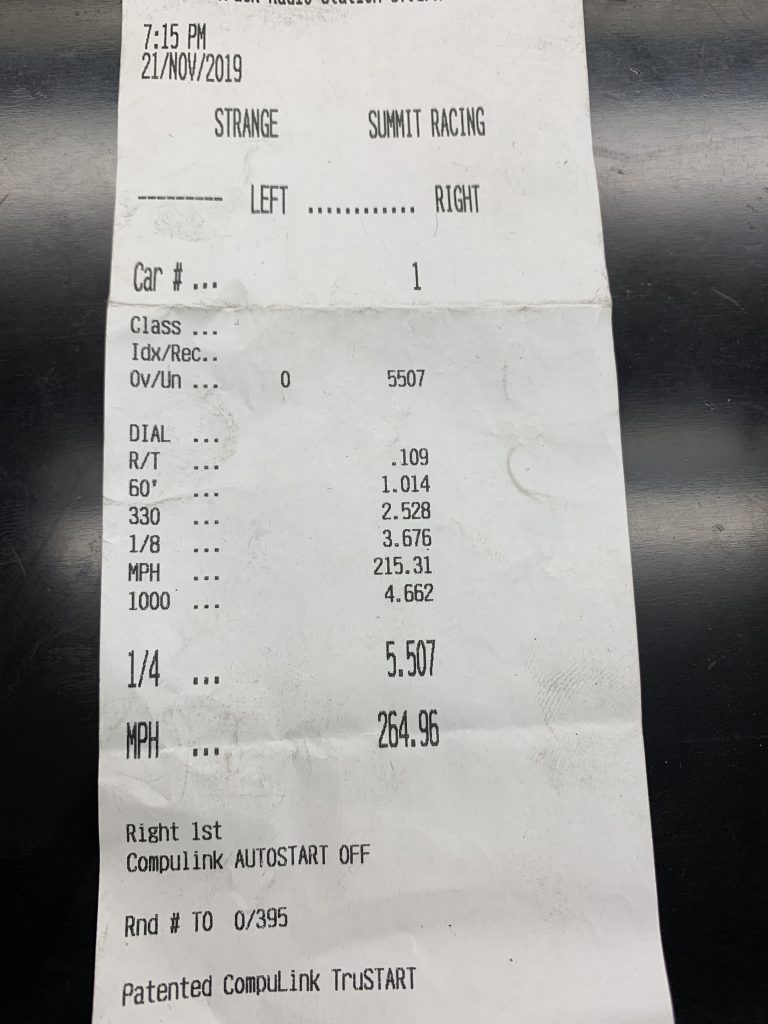 Yet, here we are, in the moment, we were so close to seeing a motorcycle sprint a quarter mile in under five and a half seconds.
On the walk to the McBride pit, The McBride crew took their celebration to the return lanes; Steve was honking the horn over and over again, and the crew all had giant smiles on their faces. The biggest of those, of course, was Larry's.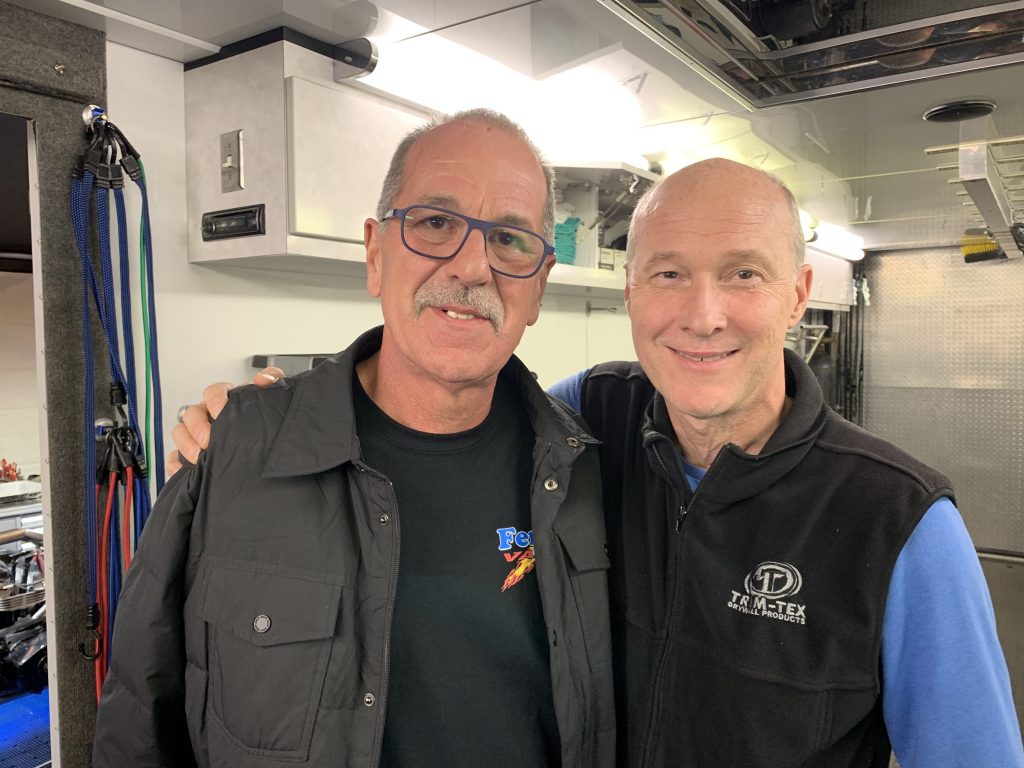 As the crew arrived back to the pit, I had the chance to ask Larry about what had just happened.
"Larry, How do you feel?"
"A little nervous," he smiled. "Really nervous — That was fast, real fast."
"I was absolutely speechless, you had me at a loss for words," I added.
"Should've been me!" Larry charmed. There were so many people gathered in the pit area to congratulate Larry and crew on their achievement.
Wayne Pingel added, "It was unbelievable. It left us so quick on the line."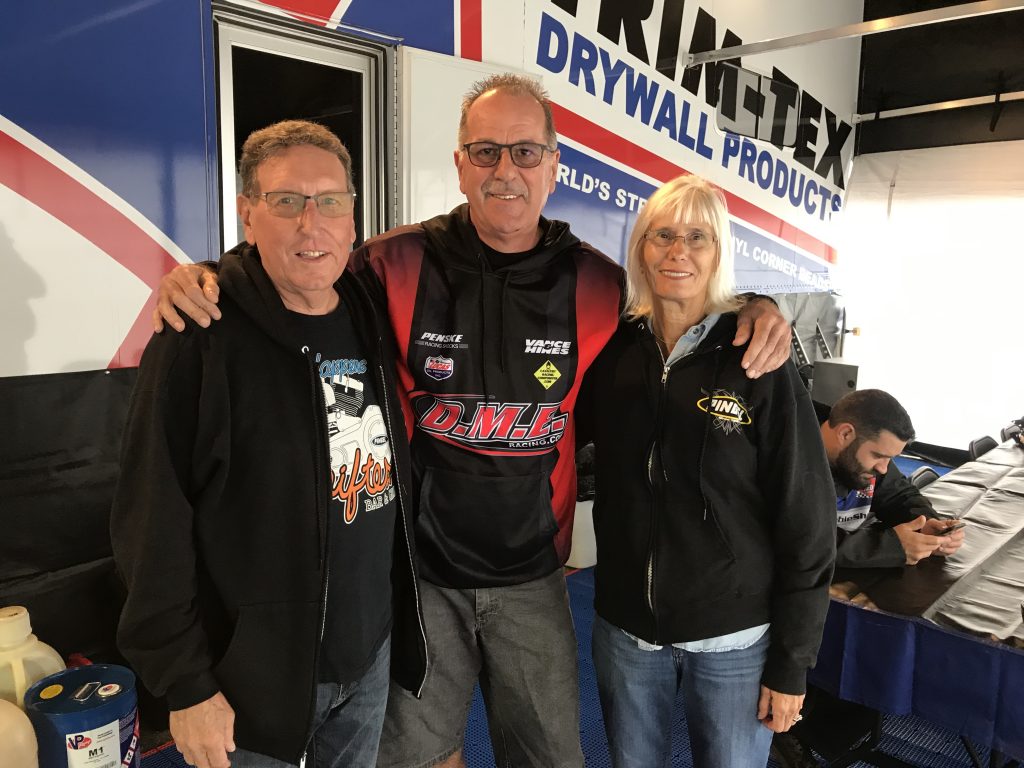 George Bryce said, "Awesome job brother, I'm so happy for you."
Among the crowd, was a man named Craig that had just seen the run from the stands. "Well done. I come all the way from bloody Australia to see that!? Unbelievable — Unbelievable!"
The McBride crew would go on through the weekend, completing the race on Monday, to earn their twentieth championship title. What will we see from the Top Fuel teams next year – will there be another competitor in the 5.60 and 5.50 zones?
Stay tuned with us here on CycleDrag.com for the latest.
There are more videos on the Cycledrag Youtube channel (please subscribe here) and the Cycledrag.com Facebook page (Please like here) and more will be coming soon. Check back daily.
For all the continued support McBride thanked his primary sponsors; Trim-Tex Drywall Products, Pingel Enterprise, Drag Specialties-Parts Unlimited, Final Swipe Merchant Services, Web-Cam, APE, Donnie and Julie Wilson and Kibblewhite Precision Machining.
Vance & Hines Motorsports, Red Line Synthetic Oil Corporation, Federal Mogul, PR Factory Store, Ferrea Valves, World Wide Bearings, Vanson Leathers, Belt Drives Ltd, Simpson Race Products, Nitrous Express, EK Chain, Arias Pistons, Cometic Gaskets, B&J Transmission, Carolina Cycle, L.A. Sleeve, PJ1, Mickey Thompson Tires, Valco, Goodridge, Carlisle Belts, ProJack, Bullseye Visual, Gates Belts and Cycledrag.com
There are more videos on the Cycledrag YouTube channel (please subscribe here) and the Cycledrag.com Facebook page (Please like here) and more will be coming soon. Check back daily.