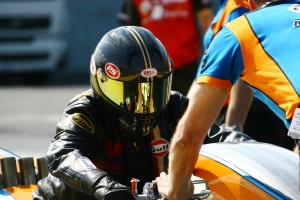 In a perfect partnership of iconic motorsport brands Gulf Oil Dragracing are pleased to announce that the Bell Helmets brand will be proudly carried on the Gulf Oil Dragracing – Grand Prix Originals Top Fuel Bike for the 2011 season.
Founded in 1954, Bell started manufacturing protective headgear for auto racing and moved to the leading edge of helmetry in 1957, introducing the use of a non-resilient polystyrene liner.  One of the first open face BELL helmets, the 500-TX was selected by the Museum of Modern Art in New York for Excellence of Design.
In 1968 BELL introduced the first full-face helmet, the Star. It was worn by Dan Gurney at the 500 Miles of Indianapolis. These products innovations, like expanded polystyrene liners (EPS) or full face helmets, generated a reputation throughout the world for providing state of the art quality helmets.
In 1971 BELL diversified into the motorcycle helmet market and developed the first full-face motorcycle helmet and the first full-face off-road motorcycle helmet.
Since the 1980s, BELL has pioneered an outstanding number of innovations in all areas of modern helmetry:  lightweight composite material shells, ventilation systems, advanced aerodynamic designs, fog free shields, the list is very long.
More world champions have worn Bell Helmets than all other helmet brands combined. From Grand Prix F1 racing through Indy 500 to Olympic cycling, Bell helmets have played a vital role in protecting sportsmen and women for generations.
Bell recently introduced the M5X Carbon, designed and built to comply with the strictest safety standards. The M5X motorcycle helmet was created in 'Ultralight' weight and with a very thick; 3.2mm flat racing visor with 'NoFog+NoDrop' treatment.
In 2010 new safety ratings for motorcycle helmets were announced by the UK Government, the `Sharp' scheme –  www.sharp.direct.gov.uk/home.
32 impact tests are conducted to assess how well the helmet will protect the brain in the event of a crash. All Bell helmets tested to date have been granted the maximum 5 star rating under this most rigorous of helmet tests.
For more information on Bell Helmets go to www.bell-motohelmets.com
2011 Calendar – FIM/UEM European Drag Bike Championship
28th April-1st May: Kunmadaras, Hungary
27th-30th May: FIA Main Event, Santa Pod Raceway, England
10th-12th June: Tierp Motorpark, Sweden
30th June-3rd July: FHRA Nitro Nationals, Alastaro, Finland
5th-7th August: Sunoco Drag Challenge, Gardermoen, Norway
12th-14th August: NitrOlympX, Hockenheim, Germany
8th-11th September: FIA European Finals, Santa Pod Raceway, England
Picture courtesy of Ivan Sansom & Rose Hughes