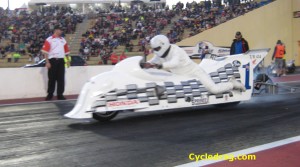 For Top Fuel Motorcycle fans there is no mistaking the one-of-a-kind record setting machine of Australian nitro racer Jay Upton.  With an aerodynamic full fiberglass body, which even covers the front tire, Upton recorded the quickest dragbike pass in Australia with a 6.19 at 219 mph.  Now, the fearless Aussie wants more.
"I also know that when we get it right we'll be on course for the World Record," Upton said. "It would make the struggle worthwhile for all concerned."
Upton spent a season competing in the United States in 2004 where he recorded his fastest pass ever at 228 mph in Gainesville Raceway in Florida – a track Upton admits has a much longer shutdown area that most tracks overseas.
However Upton's 6.19 record blast came at an ANDRA event in Western Sydney, Australia, in May of 2004. At the time of this writing Upton is ranked No. 13 on the list for the world's quickest dragbike racers.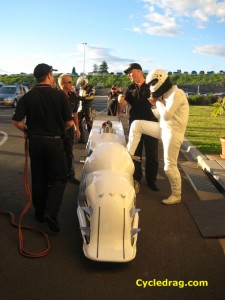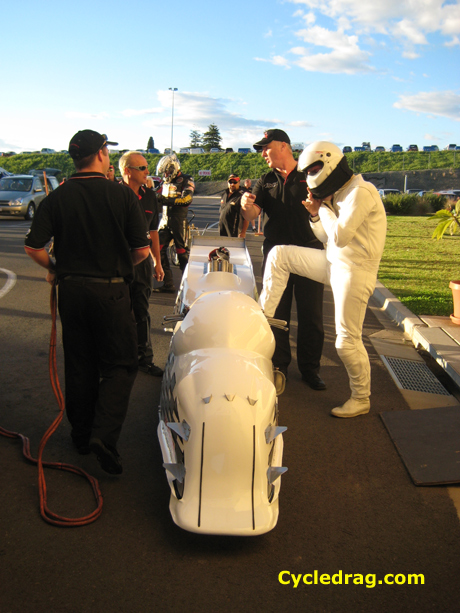 Now Upton is ready to take a shot at the world record.  Earlier this season when American Top Fuel Motorcycle icon Larry "Spiderman" McBride set the world's record at 5.79, the eight-time champion  partially credited his success to a new drive system.  Upton has also underwent an update in this area and is very optimistic.
"During this season we have also upgraded to the new Gates GT Carbon series of belt drives which have performed fantastically and will easily handle the extra power we're making now.'
For now Upton plans to forgo competing until September. The time off will give Upton the ability to further improve his unique machine.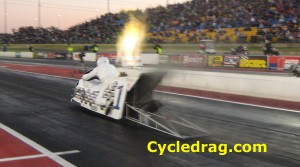 "It's a tough decision for me," Upton said. "I haven't missed a national race for something like ten years, but I feel we need to do this"
Upton, who sometimes transports his racing equipment by train, had an unfortunate start to the 2008 season. The traumatic season started with a nasty transit damage incident that seriously hampered the planned development of new motor parts. The accident was a major factor in Jay Upton and his Top Fuel Promotions Honda Top Fuel Bike Team's decision to sit out the upcoming Winternationals in favor of being better prepared for next season.
"After the transit incident we are really nervous about using the train network, as we have for the past several years and have also really outgrown our purpose built container unit," Upton said. "For the last year we have been looking for a suitable semi trailer without much luck, but now hope to have one operational for the new season."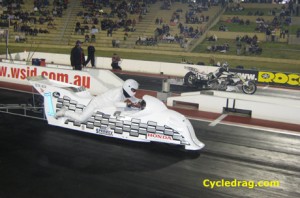 Upton went on to explain, "The team has a new chassis and body just about complete and chassis builder extraordinaire, Clyde Carstairs of Bravo in Perth (Australia) is also building new tin work, fuel and oil tanks and wheelie bars to go with it.  In addition we have new Sprintex Race Blowers and Carbon Injectors that have been shelved till now while we sorted out the new Honda engines and outrageously powerful MSD 44 amp magnetos we have run this year.'
For now Upton continues his rigorous research and development campaign in hopes pushing his team into new performance barriers.
'We have a couple of other programs underway such as longer stroke cranks and an upgrade of our data logging systems," Upton said. 'We actually have enough equipment to run two bikes now, but realistically we are more likely to field a vehicle in another class than to run two Top Fuel Bikes'
Upton and his team have improved over the last couple of events, qualifying in the top half of the field and looking more like the dominant force Upton is renown for in Australia. Despite the improvement Upton still longs for more.  The competitive racer wants to be the world's quickest.
"This year has been hard for all of the team, our sponsors and our fans," Upton said. 'I really appreciate the continued support from our sponsors, our team members and our loyal fan base around Australia through this difficult phase of development."
The Next event for Jay and his team is the Australian Nationals which has been relocated to Western Sydney International Dragway and will be held over three days, 12-14 September 2008.
The team continues to be supported by Honda Motorcycles and Power Equipment, Sprintex Superchargers and Gates Belts and Hoses.
World's Quickest Dragbike Racers List
1. Larry McBride    USA   5.799  AMA Dragbike, Valdosta, Georgia, 2 March 2008
2. Jimmy Brantley   USA   5.800  Prostar, Gainesville, Florida, 4 November 2006
3. Tom Perry        USA   5.957  AMA Dragbike, Memphis, Tennessee, 3 May 2008
4. Ron Webb         USA   6.040  Prostar, Gainesville, Florida, 15 November 2003
5. Chris Hand       USA   6.041  Prostar, Gainesville, Florida, 11 November 2005
6. Roel Koedam      NL    6.046  UEM, Santa Pod, GB, 5 September 2003
7. Elmer Trett      USA   6.069  Prostar, Indianapolis, Indiana, 12 August 1996
8. Tony Lang        USA   6.081  Gainesville, Florida 1996
9. Brian Johnson    GB    6.101  Prostar, Gainesville, Florida, 18 November 2000
10. Korry Hogan      USA   6.141  Prostar, Memphis, Tenn., 10 June 2007
11. Peter Svensson   SWE   6.143  NHRA, Indianapolis, Indiana, 4 September 1998
12. Sverre Dahl      NO    6.147  UEM, Santa Pod, GB, 5 September 2003
13. Jay Upton        AUS   6.192  ANDRA, Western Sydney, AUS, 13 May 2004
14. Tommy Smith      USA   6.193  Prostar, Indianapolis, Indiana, 11 August 2000
15. Doug Vancil      USA   6.207  AHDRA, Atlanta, GA, 25 May 2008
16. Eric Teboul      FRA   6.2089 UEM, Santa Pod, GB, 7 September 2007
17. Tak Shigematsu   JPN   6.245  AHDRA Richmond, Virginia, 23 September 2006
18. Tommy Grimes     USA   6.256  NHRA, Joliet, Illinois, 2 October 2005
19. Mike Romine      USA   6.260  NHRA, Joliet, Illinois, 3 October 2004
20. Tracy Kile       USA   6.275  AHDRA, Rockingham, NC, 14 Oct. 2006
21. Jay Turner       USA   6.276  AHDRA, Rockingham, NC, 15 Oct. 2006
22. Steve Stordeur   USA   6.292  IHRA, Rockingham, NC, 19 October 2002
23. Mark Conner      USA   6.294  NHRA, Joliet, Illinois, 2 October 2004
24. Joey Sternotti   USA   6.296  AHDRA, Las Vegas, Nevada, 18 November, 2007
25. Bob Malloy       USA   6.308  AHDRA, Pomona, CA, 10 November 2007
26. Steve Woollatt   UK    6.318  ACU, Santa Pod, GB, 7 April, 2007
27. Ian King         UK    6.319  UEM, Hockenheim, D, 20 August 2005
28. Phil Schmidt     USA   6.323  AHDRA, Las Vegas, Nevada, 17 November, 2007
29. Ray Price        USA   6.331  IHRA, Rockingham, NC, 17 November 2002
30. Drums Bracaccio  USA   6.350  AHDRA, Rockingham, NC, 14 Oct. 2006
World's Fastest Racers List
1. Larry McBride    USA   248.66/400.18  Prostar, Valdosta, Georgia 4, March 2006
2. Jimmy Brantley   USA   239.87/386.03  Prostar, Gainesville, Florida, 13 November 2005
3. Sverre Dahl      NO    237.91/382.88  UEM, Gardermoen, Norway, 5 Aug 2005
4. Tony Lang        USA   237.52/382.25  NHRA Richmond, Virginia, May 1997
5. Roel Koedam      NL    235.89/379.63  UEM, Santa Pod, GB, 5 September 2003
6. Elmer Trett      USA   235.10/378.36  Indianapolis, Indiana, August 1996
7. Chris Hand       USA   234.98/378.16  Prostar, Memphis, Tennessee, 3 October 2004
8. Brian Johnson    GB    234.11/376.76  UEM Santa Pod, GB, 12 September 1999
9. Mark Cox         USA   232.75/374.57  NHRA, Bristol, Tennessee, 27 April 2003
10. Eric Teboul      FRA   229.64/369.57  UEM, Santa Pod, GB, 7 September 2007
11. Ron Webb         USA   228.94/368.44  Prostar, Montgomery, Alabama, 3 October 2003
12. Doug Vancil      USA   228.77/368.17  IHRA, Shreveport, Louisiana, 4 May 2002
13. Jay Upton  AUS   228.65/367.98  Prostar, Gainesville, Florida, 6 November 2004
14. Tommy Grimes     USA   226.39/364.34  NHRA Topeka, Kansas, 3 June 2007
15. Mark Conner      USA   225.45/362.83  NHRA Joliet, Illinois, 28 September 2003
16. Phil Schmidt     USA   225.07/362.21  AHDRA, Pomona, CA, 10 November, 2007
17. Korry Hogan      USA   224.88/361.91  Prostar, Memphis, Tenn., 10 June 2007
18. Jay Turner       USA   224.66/361.56  AHDRA, Rockingham, NC, 15 Oct. 2006
19. Mike Romine      USA   224.62/361.49  NHRA, Bristol, Tennessee, 30 April 2006
20. Ray Price        USA   224.21/360.83  IHRA, Shreveport, Louisiana, 5 May 2002
21. Ronny Aasen      NO    222.49/358.06  UEM, Alastaro FI, 30 June 2006
22. Steve Woollatt   UK    221.99/357.26  ACU, Santa Pod, GB, 24 March 2008
23. Bill Furr        USA   221.92/357.15  AHDRA, Norwalk, Ohio, 6 June 2003
24. Steve Stordeur   USA   221.85/357.03  IHRA, Cayuga, Ontario, CAN, 11 August 2002
25. Ron Houniet      CA    221.82/356.98  AHDRA, Pomona, CA, 10 November 2007
26. Peter Svensson SWE   221.78/356.92  NHRA, Indianapolis, Indiana, 4 September 1998
27. Johnny Mancuso   USA   221.52/356.50  IHRA, Cordova, Illinois, 19 May 2002
28. Charley Karling  SWE   221.52/356.50  UEM, Santa Pod, GB, May 2002
29. Joey Sternotti   USA   221.52/356.50  AHDRA, Las Vegas, Nevada, 18 November, 2007
30. Geoff Pollard    CA    220.58/354.99  Prostar, Indianapolis, Indiana 13, August 2005