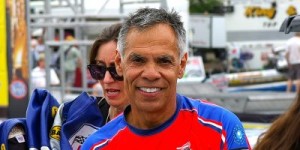 Lucas Oil Buell rider Hector Arana Sr. is ready to get the Pro Stock Motorcycle portion of the NHRA Mello Yello Drag Racing Series season going, even if he has plenty of questions as the NHRA Gatornationals begins this weekend at Auto-Plus Raceway.
The 2009 Pro Stock Motorcycle champion built a new chassis for the 2015 season, and the two-bike Arana Racing team will have a new body style.
"Yes, we are pumped," Arana said. "We worked hard over the off-season, and we've got a new body style that we're coming out with. We're anxious to see what it's going to do for us, whether it's a performance advantage."
But since neither he nor his son Hector Jr. were able to get the new pieces on the racetrack, questions remain.
"Is it going to run? Is it going to go straight?" Arana said. "We have all those questions that haven't been answered because we haven't had a chance to go test. We're looking at the weather, and it's showing the possibility of a lot of rain. Is it a good choice to run this bike now, or should we bring out the old bike? The old bike is something we know can make good runs. That's where we are."
Arana will have two motorcycles at his disposal this weekend, the new chassis and the older, trusted model. He'll make a decision as to which he will run in competition later this week.
"We know that chassis, we know everything about that bike," Arana said. "His (Hector Jr.) just has a new body for it. Everything is new on my bike, but I'll take the old one just in case I don't have a chance to run the new one."
The new season brings optimism for the veteran racer, and Arana is recharged for the year.
"We have a lot of questions," Arana said. "We have a lot of things happening."