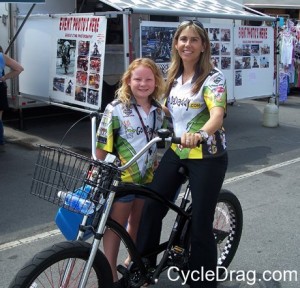 In 2015, Quicksilver Powersports Lubricants will help power seven-time land speed record holder Valerie Thompson on her quest to reach record speeds at the Southern California Timing Association (SCTA), East Coast Timing Association (ECTA) and Utah Salt Flats Racing Association (USFRA) events. Thompson, known as "America's Queen of Speed," will use Quicksilver Lubricants exclusively in her specially prepared BMW S 1000 RR land speed motorcycles at every event on her 2015 racing calendar. Noteworthy events include the Ohio Mile, Bonneville Speed Week and the World Finals at the Bonneville Salt Flats.
"Quicksilver Powersports Lubricants is proud to partner with Valerie Thompson Racing in our worldwide marketing efforts," said Eric Reilley, Quicksilver Product Manager, Aftermarket Products. "Ms. Thompson has a rich record of accomplishments on the track and backs it up with charity and celebrity appearances off the track. We are proud to have her represent the Quicksilver brand."
Thompson said Quicksilver Powersports Lubricants provide the protection and advantage she needs to succeed in the world of land speed motorcycle racing.
"If there is one thing I have learned about racing motorcycles in the quarter-mile and land speed racing, it's the importance of using the best oil that maximizes performance while protecting my equipment," she said. "Land Speed Motorcycle engines are subjected to extended periods of severe high rpm use. Quicksilver's 10W40 full synthetic formula provides the extreme engine protection and clutch performance needed for success in a wide variety of racing conditions. I'm delighted Quicksilver Powersport Lubricants will be part of our winning effort this year."
Thompson will kick off her 2015 land speed racing efforts March 27 at The Texas Mile event. The Texas Mile is a premier biannual motorsports festival and Land Speed Racing venue that draws the fastest vehicles from all corners of North America in much the same way the legendary Bonneville course draw the world's fastest vehicles.
In addition to owning seven motorcycle land-speed records, Thompson is an official member of the BUB Speed Trials 201 MPH Club, Mojave Magnum 200 MPH Club, Texas Mile 200 MPH Club and ECTA 200 MPH Club, and is a lifetime member of the prestigious Bonneville 200 MPH Club.
For more information visit www.quicksilver-products.com. 
Follow Quicksilver on Facebook at: facebook.com/QuicksilverPerformanceProducts
Valerie Thompson Background
Valerie Thompson, often referred to as "America's Queen of Speed," is a seven-time motorcycle land-speed record holder and owner/driver for the Valerie Thompson Land Speed Racing Team. In addition to many accomplishments in land speed-racing, she has competed in the All Harley Drag Racing Association and National Hot Rod Association drag racing series. She set a personal best top speed of 217 mph (350.53 KM/H) on her CTEK sponsored BMW S 1000 RR during the October 2014 Texas Mile land speed competition. Thompson is also an official member of the BUB Speed Trials 201 MPH Club, Mojave Magnum 200 MPH Club, Texas Mile 200 MPH Club, ECTA 200 MPH Club and a lifetime member of the prestigious Bonneville 200 MPH Club.
Valerie Thompson Racing Sponsors
Quicksilver Powersports Lubricants, CTEK Battery Charger, HP Race Parts, TROON Enterprises, Magic Bullet Advanced Fuel Treatment, NPmoto Wear Products, Metro Auto Auction, Akrapovič Exhaust, Speed-Way Shelters, Forma Boots, Schuberth Helmet, alpha Performance USA, Champion Systems, ARP, Worldwide Bearings, Stand-Up Photos, Vision Wheel, Go AZ Motorcycles of Scottsdale and Bullseye Leveling.
ABOUT QUICKSILVER POWERSPORTS LUBRICANTS
Since 1950, discriminating customers in the marine and powersports industries have depended on the Quicksilver brand for their parts, accessory, and engine care product needs.
Quicksilver Powersports Lubricants are engineered to meet and exceed OEM (Original Equipment Manufacturer) testing standards just like the industry-leading Quicksilver Marine Lubricants. In addition, all Quicksilver Powersports lubricants are full synthetic formulas that maximize protection in all applications. Look for the Motorcycle, ATV/UTV, V-Twin Motorcycle, Personal Watercraft and Snowmobile product lines at Wal-Mart and other major retail locations near you.
Quicksilver motorcycle oils are formulated specifically to address these demands, with full synthetic, wet clutch-compatible formulas that provide outstanding high-temperature protection, excellent shear stability, enhanced corrosion protection and lower volatility that reduce oil consumption.
Additional Information Sources & Photos
http://www.quicksilver-products.com 
https://www.facebook.com/ValerieFanPage
Bonneville Stories by Lou Fischer: 201 MPH Club Video: http://youtu.be/psT4OhmFxAw