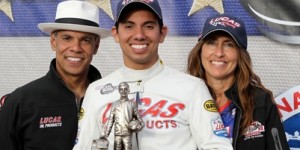 Pro Stock Motorcycle racer Hector Arana Jr. is hoping to kick off the 2015 NHRA Mello Yello Drag Racing Series season with a win at the NHRA Gatornationals at Auto-Plus Raceway at Gainesville, which would begin a winning streak.
Arana won the final race of 2014 in Pomona, Calif., and hopes to carry that momentum into this season.
"It's been an interesting off-season for me," Arana said, "but I'm glad to finally be able to get back on my bike. I've had to adjust to moving to New York and my job at Curtiss-Wright, but I've loved it so far.
"I have been counting down the days until I leave for Gainesville. Winning the last race of the season in Pomona has me even more excited to get this season started already. I feel like we will have momentum on our side going into this weekend after our win at the season finale in Pomona."
Following the changes to his personal life, Arana now finds himself in a position that he has never been in before. In previous racing seasons, he would typically spend most weekdays working on his Lucas Oil Buell, but he now has to rely more heavily on his Arana Racing team to have the bike ready for race day.
"It's been weird for me not working at the shop getting the bikes ready for this weekend," Arana said. "I've never been in a situation like this since I started my career riding.
"I know the team will have my bike and Dad's bike ready to go. I have 100 percent faith in them and will be ready to go as soon as the first qualifying session starts."