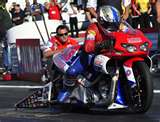 Hector Arana Jr. might be a rookie in the Pro Stock Motorcycle class in the NHRA Full Throttle Series this year, but in the eyes of his father, 2009 series champ Hector Arana Sr., the young rider has been handling the new Lucas Oil Buell in testing like an old pro.
"We took out our new bike to shake it down," Hector Sr. said on Wednesday, February 2. "I put Hector (Jr.) on the bike and he ran 7.03, 7.03, and 7.04 during his runs. So when we start the year, he's going to be riding the new bike. I want to make sure he gets a fair chance to do well and win some races."
New bike or old, Hector Jr. was just glad to be making some laps.
"It felt good to finally get some quarter-mile passes on the bike," he said. "Everything felt really amazing and I'm looking forward to Gainesville. The first pass seemed so fast, but with each pass I made things got slower and slower and I was able to focus more on shift points and riding the bike better."
What impressed the elder Arana the most was his son's instincts when things didn't go so perfectly.
"One of my concerns was how he was going to handle quicker times and more speed from when he got his license," Hector Sr. said. "I wondered how he was going to make decisions at a quicker pace. But when we had an issue with the bike he was able to keep it under control and nothing happened.
"He did a lot better than I thought. This is a guy who only has five runs on the quarter-mile."
Hector Jr. said that when things happened there wasn't time to panic, just react.
"I was in third gear getting ready to shift into fourth," he said. "All of a sudden the handlebars turned all the way to the right and I couldn't get it to straighten out. What had happened was the front brake locked up and wanted to wash over to the right, so I leaned left and pulled as hard as I could. Of course, I crossed the center line, but I was able to keep the bike up and straighten it out. I felt in control the whole time, but when I got the bike stopped – my whole body was shaking."
The Aranas completed this first phase of preseason testing before the start of the Pro Stock Motorcycle schedule, which occurs March 11-13 at the 41st annual Tire Kingdom NHRA Gatornationals in Gainesville, Florida. Now it's back to the shop to make some engine adjustments and give the new bike the proper Lucas Oil paint job.
"We're on our way back home now," Hector Sr. said. "We're going to get a paint job on the bike, put in the race motor and dial it in. Hopefully we'll be able to go back out testing so Hector Jr. can get more seat time."