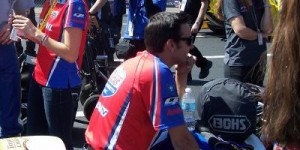 Lucas Oil Buell rider Hector Arana Jr. put up a fight but came up short Sunday in the AAA Insurance NHRA Midwest Nationals at Gateway Motorsports Park.
Arana posted a better elapsed time than Jerry Savoie in their first-round matchup but came up .024 seconds short at the finish line due to Savoie's stellar .015-second reaction time, which gave him a .041-second head start.
The quick launch negated Arana's quicker 6.861-second run at 192.55 mph, with Savoie taking the victory with his slower but winning 6.878 at 193.01 mph.
After qualifying three spots better than Savoie, Arana said he felt no pressure to push the Christmas Tree and chance fouling out, but he also felt his light was better.
"I didn't want to push it too hard and red-light because that's just really ridiculous," Arana said. "I just got beat. Jerry has been running good and was good at the Tree that time, and I was just dead late."
Although the first-round loss dropped him out of first place for the first time all year, Arana remains in the thick of the chase. He is now in second place, 75 back of Matt Smith, who won Sunday's event.
With three of the six-race Countdown to the Championship events left, Arana is confident he can fight back.
"We are still in it and there's still plenty of time," Arana said. "We will be okay. This is just going to make us dig deeper, work harder and go for it.
"We saw today how quickly a points lead can change. We're only halfway through the playoffs and this Lucas Oil Buell is as strong as ever."